The set-up: OPKO Health (OPK) is a stock with a fundamental case for a long-term trade, but the underlying chart for a good day trade. The big picture is bringing investors to the stock, which helps the day-traders get the volume and action that they need.
The back story: Look at the company's drug pipeline: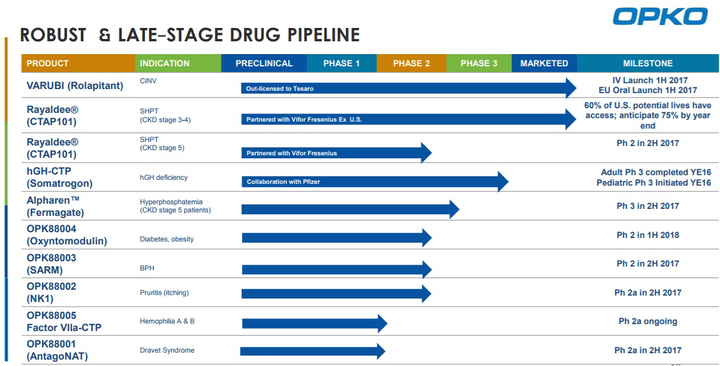 OPKO has a bunch of data announcements for the rest of the year; it's going to be a busy five months.
Just as important, the company's chairman and CEO, Dr. Philip Frost, has been building his stake in the company in recent months. He's a billionaire biotech investor and I can't imagine he'd be doing this if the company was in as bad a shape as its price-per-share suggests
The long-term play: I'm looking for a $10 target on the stock by year's end. There are a number of potential catalysts that could push it in that direction or stop it short, but I think Frost knows his stuff.
For the long-term investor with that target, a strict entry point is unnecessary; OPK will move up and down a lot on its way to $10 but we don't want to see it go below recent lows again. That's a stop area if considering a good risk reward ratio.
The day trade: OPKO is pennies away from its 52-week low and is forming a nice bottom set-up. I day-traded it on Monday for a profit when I saw the volume enter, and I would trade it again I'd be looking for a small pullback at the open and would enter if I saw any reversal  with some relative volume behind it, expecting a red-to-green move and a push past Monday's high, targeting the $6.60 area.
#-#-#
   Taylor Conway is the lead day trader at PennyPro.com. He is a short-term day trader of stocks and ETFs.  At the time this article was published on RagingBull.com, he had no open positions, options or orders in OPK, but he traded it Monday, July 31 for a profit, the first time he traded the stock this year.
Related Articles: