XOMA Corporation (NASDAQ: XOMA) shares were up over 10% on the day after the company presented "positive" data from its pre-clinical studies of its anti-PTH1R antagonist monoclonal antibody (mAb). Now that we know the catalyst, let's get right into the data.
XOMA Corporation Presents Data for PTH1R
XOMA Corporation is a pioneer in the research and development (R&D), and development of therapeutic antibodies. XOMA presented its results at the American Association for Cancer Research and Endocrine Society annual meetings. The company indicated that the anti-PTH1R antagonist monoclonal antibody could be a potential first-in-class therapeutic agent used to treat hyperparathyroidism and humoral hypercalcemia of malignancy.
The data presented at the annual meetings earlier this month showed that PTH1R antagonism in vitro by the anti-PTH1R monoclonal antibody rendered effective in vivo activity. The company's antibody libraries allowed for the discovery of functional antibodies against G-Protein Coupled PTH1Receptor, which is considered a complex target. The data indicated that the anti-PTH1R mAb improved hypercalcemia, as well as other morbidities.
In addition, the XOMA Chief Executive Officer Jim Neal indicated that the company is looking to partner with other companies that have an extensive commitment to drug development, as well as expertise in the field, that are interested in licensing the company's first-in-class antibody, and potentially taking it to the clinical development stage. The data demonstrated efficacy, and the anti-PTH1R could potentially be used for the treatment of hyperparathyroidism and hypercalcemia of malignancy.
Moving on, let's take a look at the company's statistics and valuation ratios.
XOMA Statistics, Valuation and Fundamentals
XOMA traded in a range between $6.74 and $8.13 today. XOMA traded between $3.96 and  $19.00, over the past 52 weeks. Consequently, it's currently over 55% below its 52-week high and 80% above its 52-week low. XOMA trading right around its 200-day SMA, and it's trading above its 20- and 50-day SMA.
Here's a look at the stock's performance on the daily chart: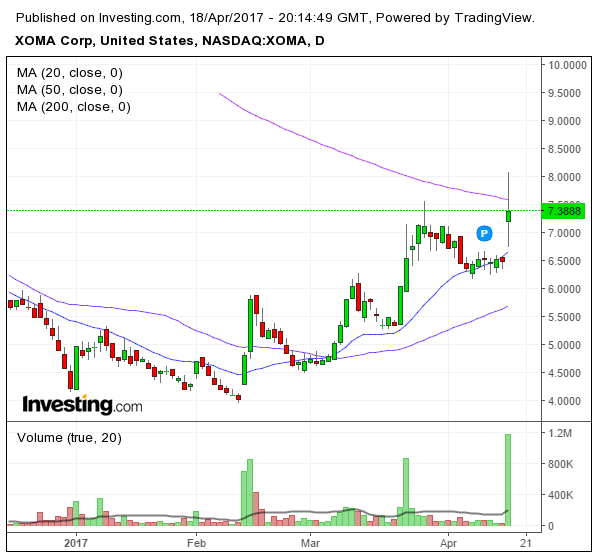 Source: Investing.com
XOMA has a book value per share (BVPS) of -7.721, and consequently, it's trading at a negative price-to-book ratio. XOMA has a price-to-revenue ratio of just over 9. Additionally, based on next year's revenues estimates, the company has a forward price-to-revenue of 3.5. Moreover, it has a trailing 12-month P/S of over 8, which is above the industry average. XOMA Corporation has 7.6M shares outstanding, approximately 5.68M shares floating and a short ratio of 10.05%. Since the stock has a low float, it could see an extreme move due to the demand and supply aspects, if there is another catalyst, the stock could continue to be volatile.
The company's 4Q 2016 revenue fell by over 95%, when compared to its 4Q 2015 revenue. Additionally, XOMA 's 4Q 2016 net income fell over 160%, year over year. Consequently, the company's EPS fell by over 160%, year over year.
XOMA Corporation is expected to report its earnings on May 3, 2017*, and according to Zacks Investment Research, based on two analysts' estimates, the company is projected to report a net loss of $1.29 per share for the quarter. *Note: XOMA Corporation's earnings date is subject to change.
Final Thoughts
XOMA Corporation announced "positive" data from its pre-clinical studies that investigated the activity of its anti-PTH1R mAb. That in mind, the company is looking for partners to potentially take this product to the clinical development stage. Now, the company reports earnings in a few weeks, and it'll be interesting to see the company's comments and financial results.
Related Articles: