XOMA Corporation (NASDAQ: XOMA) shares ended the day down just over 8%, despite releasing positive Phase II proof-of-concept results for X213 in physiological hyperprolactinemia (HPRL). Now, we'll get to that later, but, first, let's see why shares slid today.
XOMA Form 8-K Filing
XOMA filed an SEC Form 8-K on April 21, 2017, after the market close. The company stated that it received notice from Novo Nordisk A/S, Novo Allé, Bagsværd, Denmark of Novo Nordisk's termination of its exclusive license agreement with XOMA due to business and strategic reasons. That said, the termination would be effective 90 days from April 20, 2017.
Moving on, XOMA also lowered its prior guidance regarding the potential milestone payments payable under the license agreements with XOMA's partners over the next 3 years. The company lowered its previous guidance from $50M to $40M.
Let's get to XOMA's Phase II proof-of-concepts results.
XOMA Phase II Results
XOMA announced that it achieved positive Phase II proof-of-concept results for X213 in HPRL, as stated earlier. Now, the study was open-labelled, randomized, single-dose, multi-centered and controlled, and X213 was intravenuously administered in women who wished to suppress lactation, following childbirth.
The results of the Phase II study, which was conducted at multiple medical centers in Spain, indicated a single 700mg intravenuous infusion of X213 during the first day of postpartum was effective in suppressing lactation. Additionally, it was able to suppress breast pain and engorgement in 100% of the women in the study. Moreover, the study showed X213 was safe and well tolerated, and did not cause any significant adverse events.
According to Dr. Shlomo Melmed, endocrinologist, Dean of the Medical Faculty and Professor of Medicine, Cedars-Sinai Medical Center, Los Angeles, "The findings from this proof-of-concept study are encouraging and confirm that X213 inhibits prolactin signaling and thus, may be effective in blocking effects of symptomatic hyperprolactinemia…New classes of drugs such as X213 may offer benefit to the up to 20 percent of patients who do not respond to, or are intolerant of, current standard of care involving dopamine agonist medications."
Moving on, let's take a look at XOMA's statistics.
XOMA Stats
According to finviz, XOMA has 7.24M shares floating and a short float of 10.53%. Moreover, the only 1.10% shares of insiders own XOMA. Consequently, this should raise a red flag. A low insider ownership could potentially indicate that insiders are not bullish on the company. Now, this doesn't mean that the stock can't go up.
Since XOMA is a low float, the stock could continue to move due to supply and demand aspects, as there are not as many shares that are tradable.
Let's look at XOMA's recent performance. Prior to today, XOMA was up over 40% over the past month, over 68% over the past three months, and 83.18% year to date. Consequently, it significantly outperformed the biotech industry.
Here's a look at XOMA on the daily chart: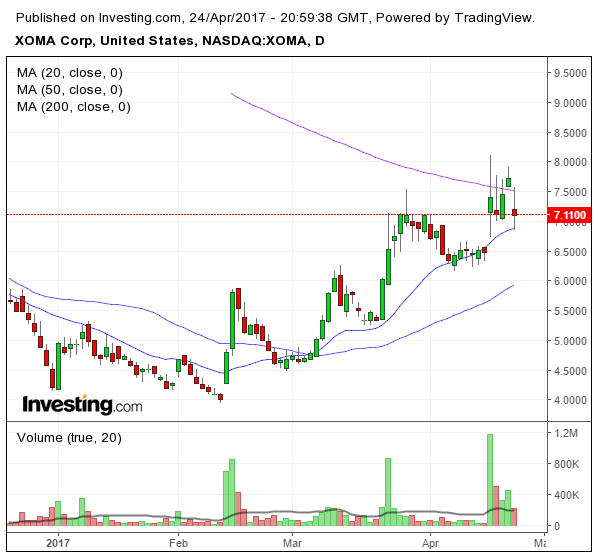 Source: Investing.com
Despite falling over 8% today, XOMA's 20-day simple moving average held as support, as shown in the chart above. Now, we would need to see the stock have a clean break below that area to say that the stock has a reversal in its current uptrend.
Final Thoughts
XOMA had two catalysts today, but one overshadowed the other. The termination of the exclusive license agreement and guidance cut outweighed the positive Phase II results. Consequently, XOMA shares dipped due to the less optimistic outlook.
Related Articles: