I talk a lot about worthy breakout setups – and they keep popping all over the place, so I'll continue to do so until the pattern breaks.
Breakouts are great – once a formerly pressured stock sets free, no one really knows how far it can go.
There is, however, one more area that I've left behind – the dips.
Dips have their pros and cons: for one, there's less meat on the bone as you're buying a move in progress.
On the other hand – there's also less uncertainty, as you're not guessing. You're entering something that's already picked a direction.
Dips are often easier and higher probability, even if less lucrative money-wise.
Today I want to show you two stocks that have dipped and look attractive right now.
I start with Bio-Rad Labs (BIO).
The company specializes in life sciences research and medical equipment and solutions for the diagnostics industry.
Although if you know me, you'd already figured the fancy business overview is not what gets me excited about the stock.
This does: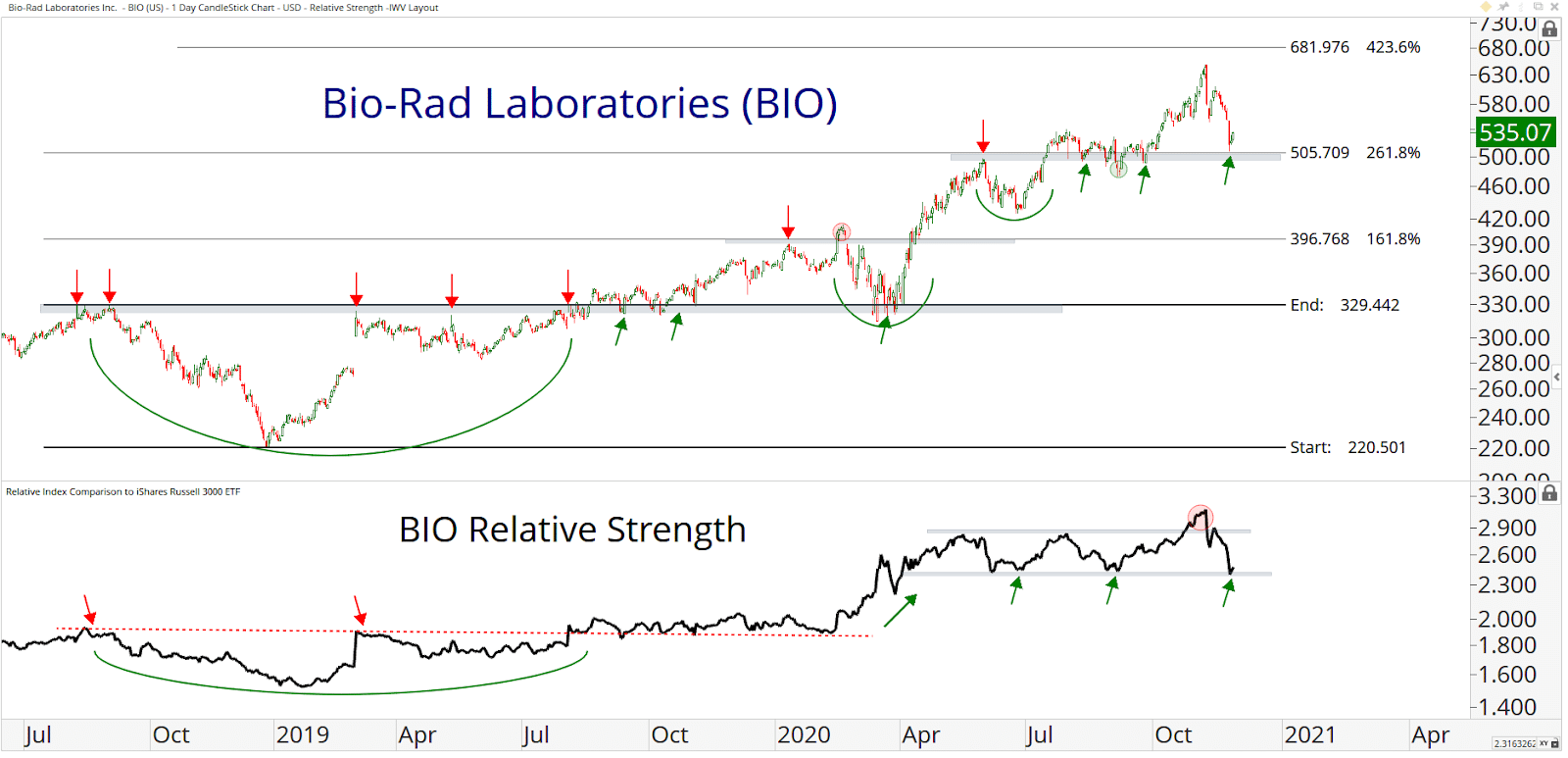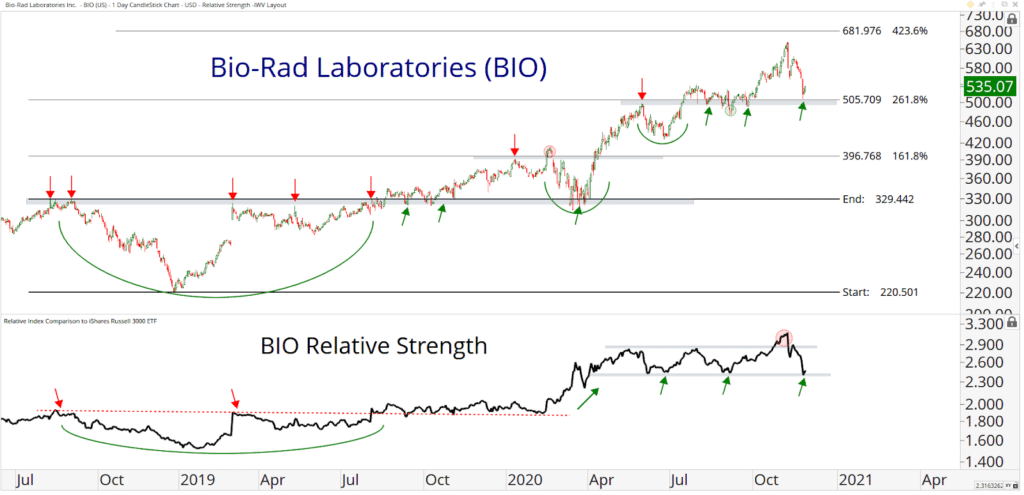 BIO has been a secular leader for years now.
And by no measure is it slowing down – just last month it made new all-time highs on both absolute and relative basis.
The stock is now pulling back into its former resistance territory.
I really want it to do 2 things: turn former resistance at $505 into support and hold it and simultaneously not snap below the support area in relative performance.
If it happens, I'm very bullish on this dip and see another leg higher to $682.
If owning a medical equipment producer doesn't excite you, here's something a bit more cool and fun.
Silvergate Capital (SI) is considered one of the leading banks for innovative business in fintech and digital assets.
It has all the buzzword, which might explain it's explosive performance: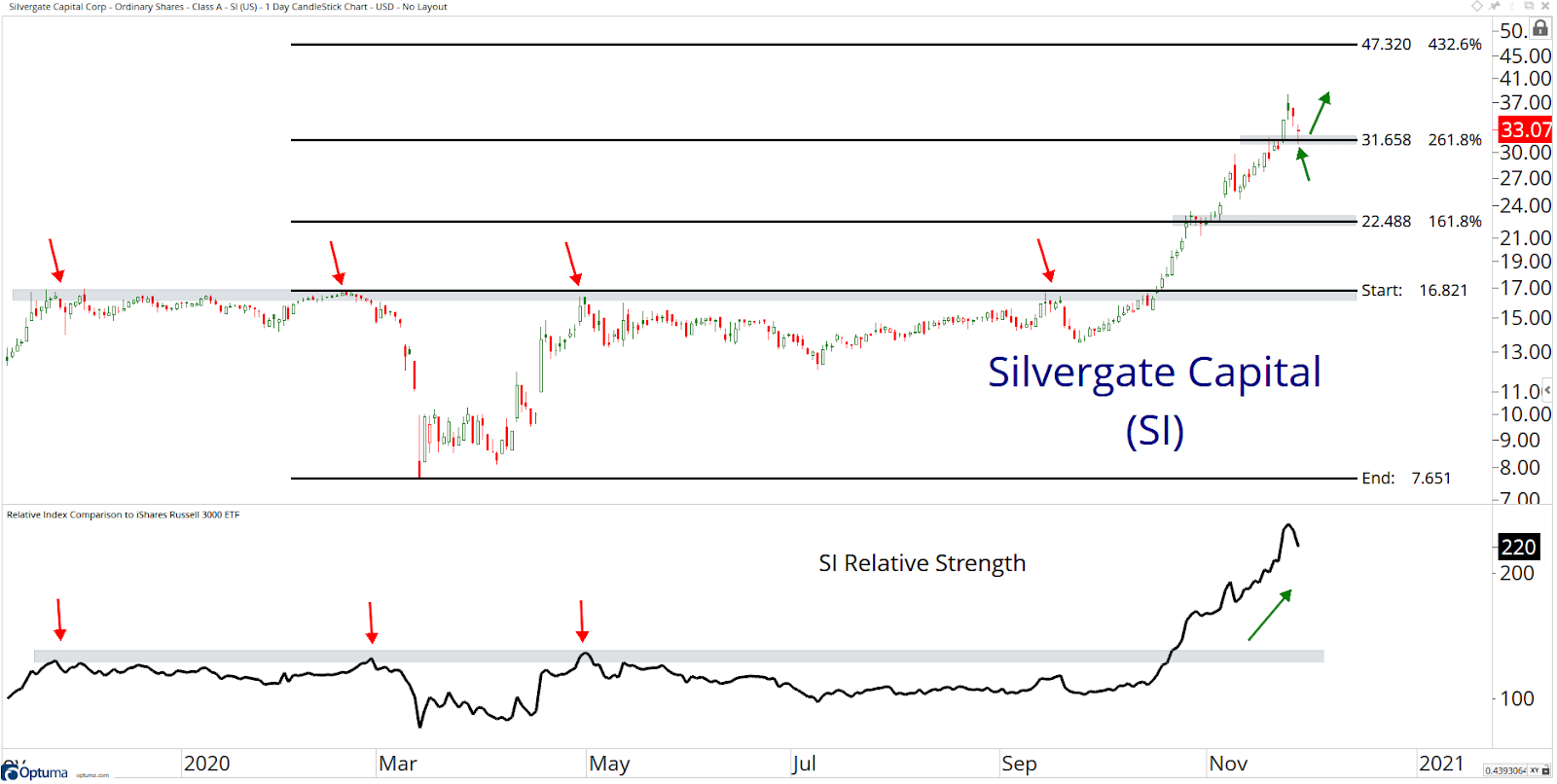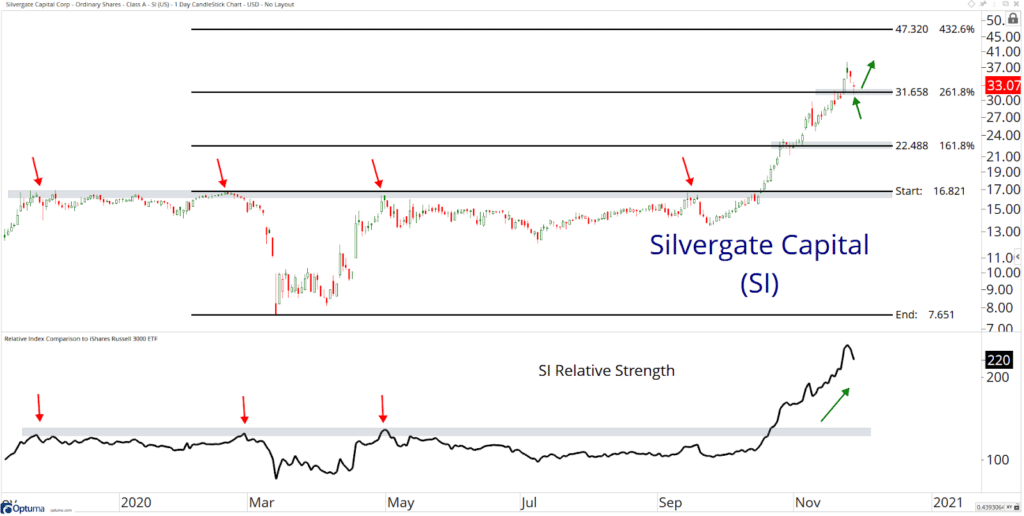 Less than 2 months ago the stock broke out of a year long consolidation on both absolute and relative basis.
I can say It hasn't looked back, although that would be an understatement.
Regardless of "why", SI has clearly assumed leadership in the long-lagging banking sector.
As the data points to a broader scale rotation to the banking and financial sectors, I'm definitely interested in the leaders of the space.
As long as SI holds this dip to $31, I'm all bullish with a price target at $47.
Listen, right now, it's important to follow the price action as the market gets dicey at these levels. If you're struggling with anything trading related, drop a comment below, and I'll try to answer your questions in my next letter.