It's been exactly one week since I pointed out notable moves across the semiconductor space.
Alongside the rest of the market, the semi stocks looked ready to smash through their long time resistance levels.
Not that I want to brag, but this is exactly what we see happening right now.
Back then I said the sector is poised to move higher should the breakouts hold.
Well, the "should" part is now out of the picture.
The three names I mentioned – KLAC, LSCC, SMTC – have either moved higher or are holding above their defined resistance turned support levels.
If you missed that email – worry not, I got more for you coming right up…
Semiconductors, much like the rest of the market, just keep shaping up prettier as we speak.
The SMH – sector's main index has been nothing but up since my call and is currently hanging about in the clear sky territory.
If you're looking to catch a piece of it, there are 2 plays I'm currently eyeing:
Here's a semiconductor equipment manufacturer – Ambarella (AMBA).
I mean, just look at this chart: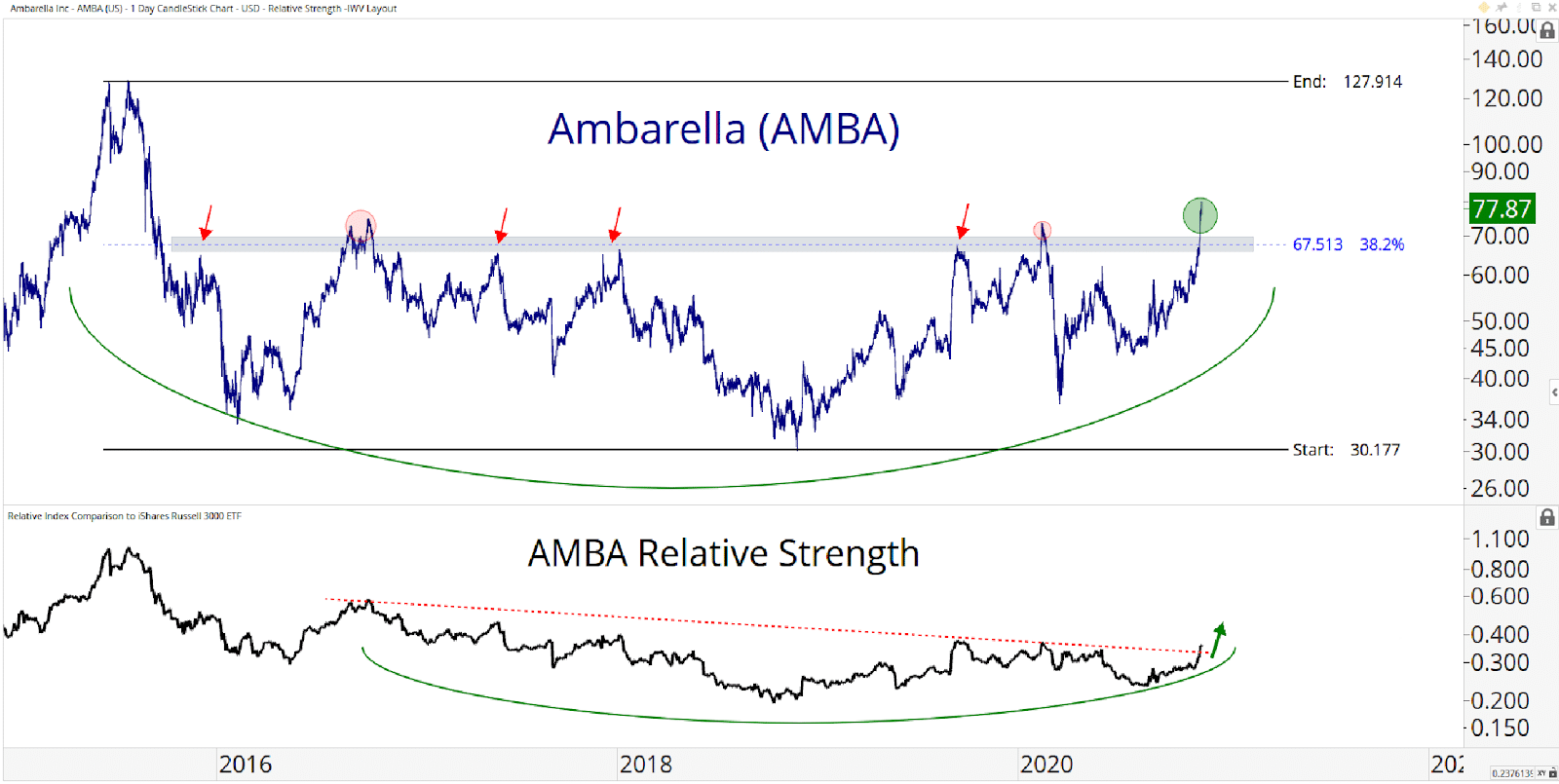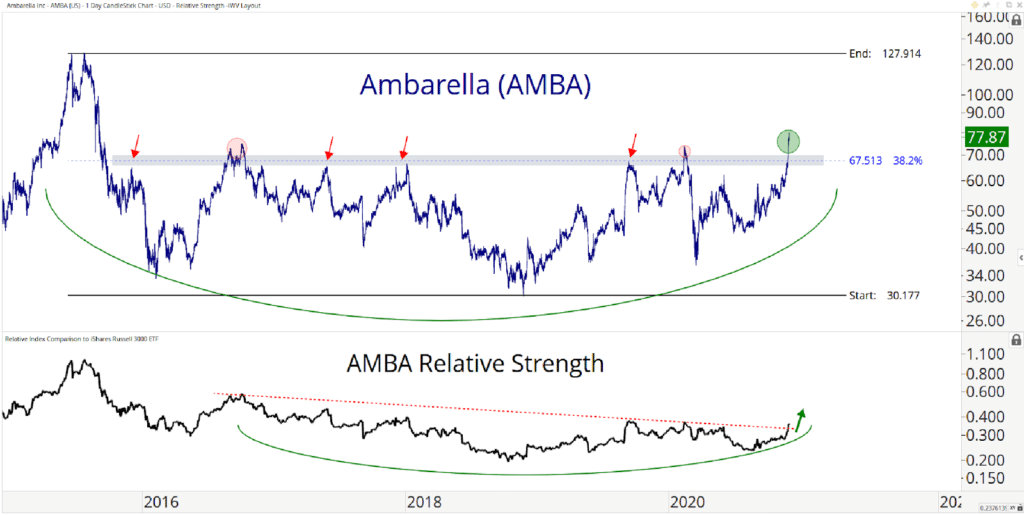 The stock gained 18% past week as it slid right out of a multi-year base and took out a key resistance level area at $68-$80.
It's now sitting at a 5-year high and by the looks of it, the setup doesn't get much better than this.
There is, however, a concern here: the stock has been a chronic relative underperformer.
But, as with so many laggards recently turned leaders, this may all be about to change.
It's relative strength is currently breaking out of a long-time downtrend.
As long as that continues and $67.50 holds – I'm bullish and $128 is my target.
Speaking of reversals in relative performance – here's Alpha & Omega Semiconductors (AOSL) for you: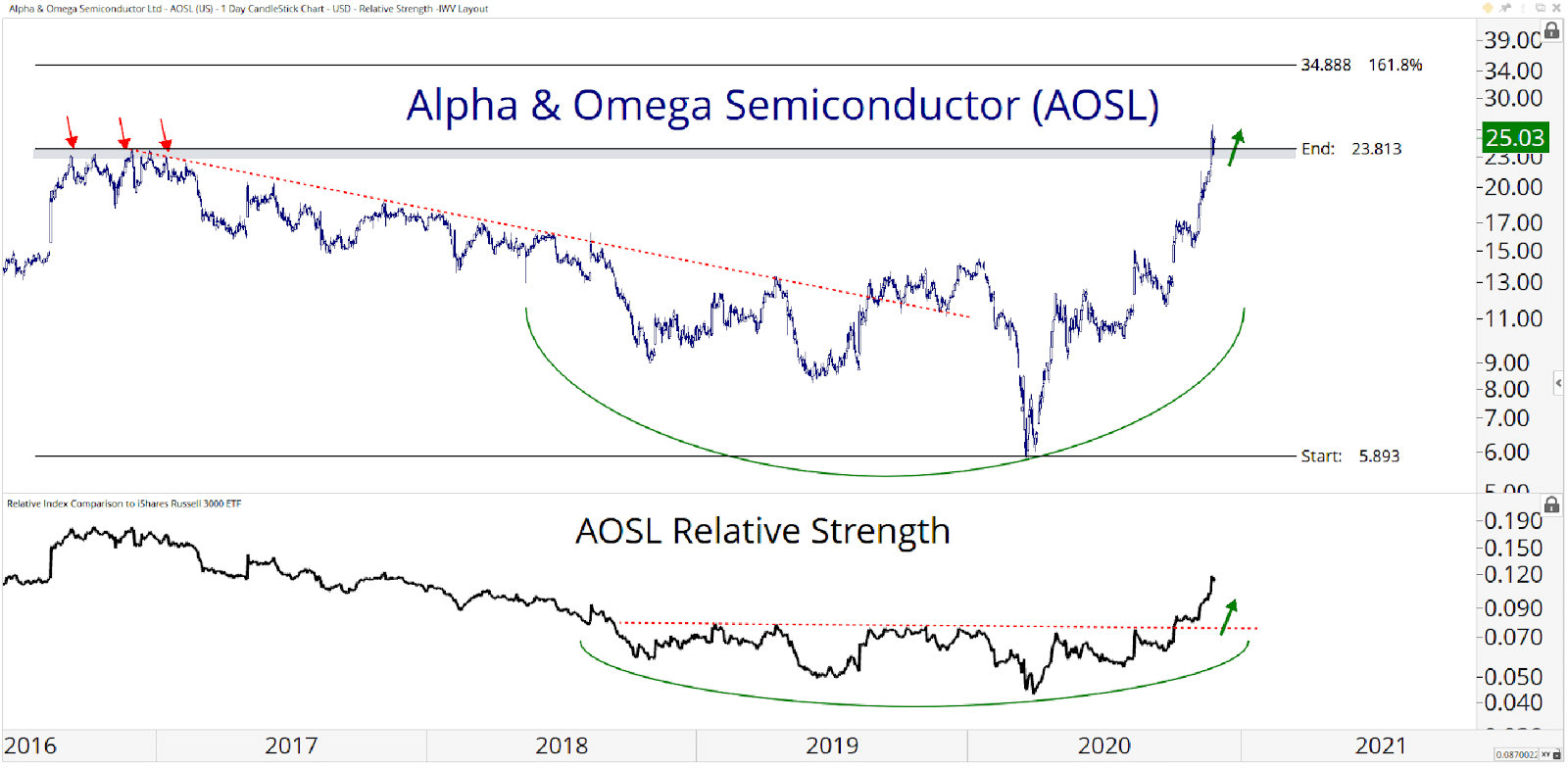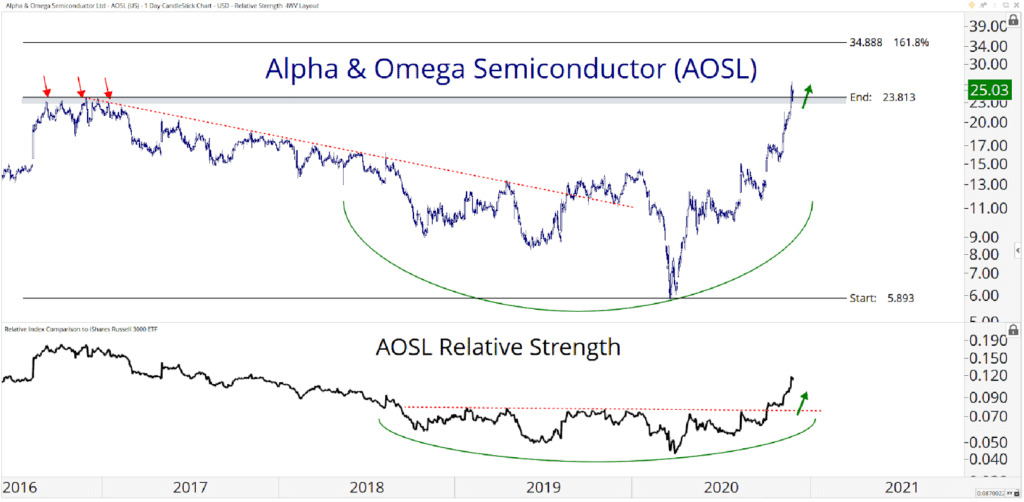 Much like AMBA, until very recently it's been a steady underperformer.
However, ever since it broke the downtrend, the stock's been nothing but up on both relative and absolute basis.
This is the pathway I expect AMBA to follow.
Back to Alpha & Omega though – I don't have to tell you why this chart looks great.
Between following the general market theme of bearish-to-bullish reversals and a recent breakout to the highs – this name has a lot going for it.
As long as it holds above its former multi-year base level at $24 – I'm bullish with a price target at $34 – $35.
I'll let you know if I have any more ideas, but feel free to drop a comment below and let me know your thoughts on these plays.