I've got so many people telling me we're in bubble territory and this move is unsustainable.
To be honest with you, when I look at the price action… it tells another story.
The more logical thought is the market is closer to another uptrend than it is to the end of an old one.
Of course, if you missed out on all the opportunities and buying stocks when they were "cheap"… that's completely fine.
You see, my techniques have been uncovering a plethora of trade ideas — and there are three stocks that are so compelling to me right now.
Listen, my trade ideas come directly from my top-down approach. I look at the macro level, find sectors that look interesting, then further drill down to find specific stocks to watch.
Peloton Interactive Inc. (PTON) is one interesting stock right now.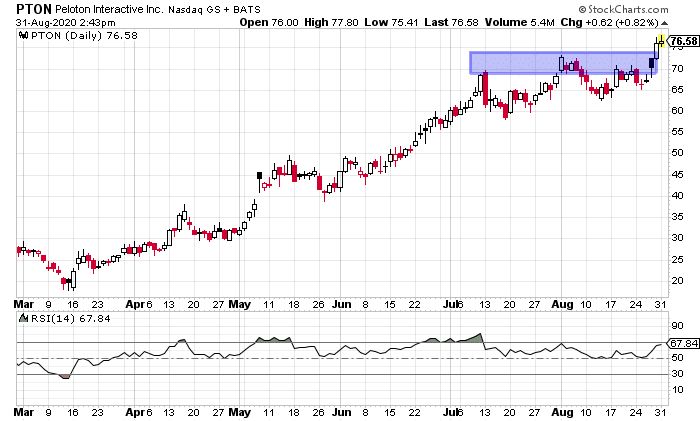 It's broken out from a key area around $68 (the blue area in the chart above), and buyers seem to have control of the stock. The stock has shown consistent strength in relation to the overall market, and I like the price action in this name.
With PTON trading around the $77 area, I think the demand can pick up and it's got another 30% upside from here.
Why?
Well, PTON cleared the $68 area, which happens to be the 261.8% Fibonacci extension level. The next target I see here is the $99 level (the 423.6%) Fibonacci extension level.
Next up, NIO Inc. (NIO) is on the radar.
NIO has continued to show strength, and it's consolidating right above a key Fibonacci extension level. I think the stock will need to take a breather, but as long as it remains about $18, the price action signals NIO has upside potential.
The next area to target here is $28.30 (the 261.8% extension level).
Last, but not least Visa (V) is on my watchlist.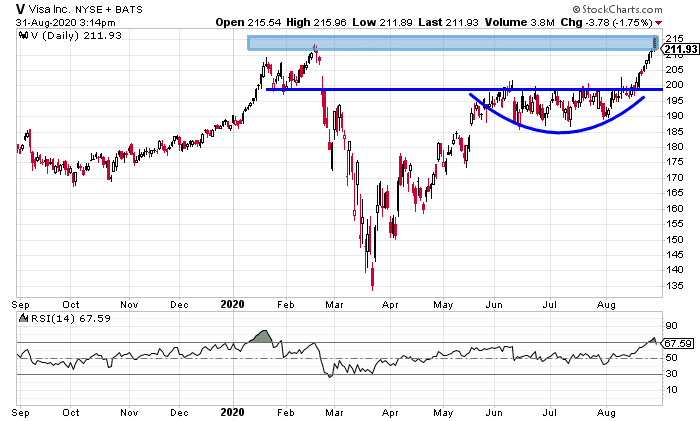 I like V long above $210 with a 2-4 month target at $263. I believe V offers a favorable risk-reward around that area. I do think there can be some consolidation around the blue rectangular area… and the stop-loss would be just under $200.
If V breaks above $214, I wouldn't be surprised if it runs up to the 161.8% extension level ($263).
I'm going to be on the lookout for other stocks with my favorite setups, and I'll be sure to let you know if I come up with anything from my top-down approach.
Related Articles: