So much stuff is moving higher it's getting hard to keep up.
I won't add any more ideas to the confusion and will simply recap 2 key themes I pointed out last week because they're still in play:
Continuing rotation down the market cap scale into mid- and small-caps.

A rebound and a break higher in tech – the sector took a breather over the past month or so, but is surely plotting a come back.
This brings up a simple question – how do we capitalize on this?
Easy enough, by getting into the strongest names of both categories!
You hear a whole lot about Russia on TV, and I'll join in on that, albeit in a slightly different tone…
My first pick is Yandex (YNDX) – commonly known as Google of Russia, and of most ex-USSR for that matter.
Here's where it stands: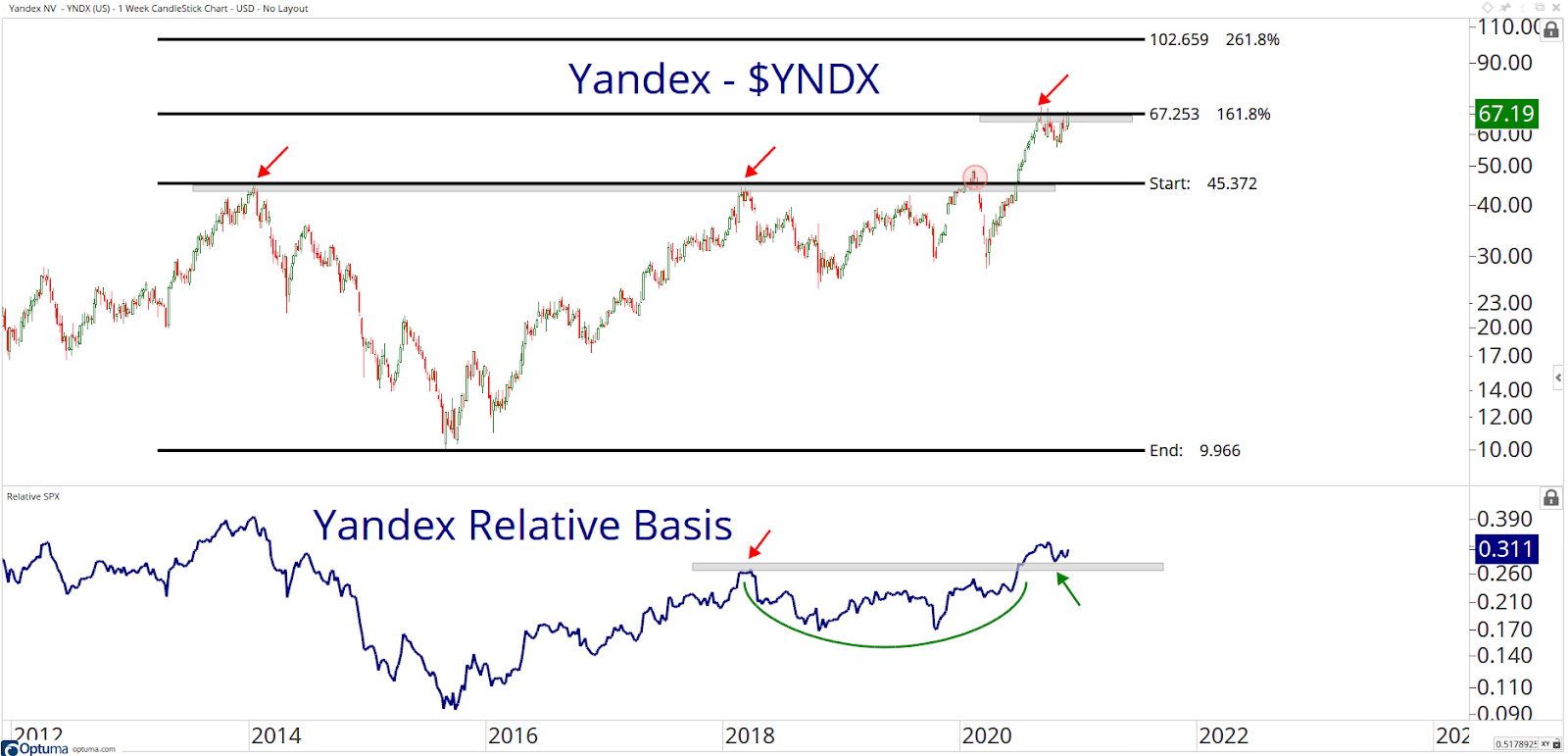 After years of chop, it is finally up and firing.
Ever since it broke out of a multiyear base, YNDX has been consolidating neatly at the highs.
Notably, the stock is also forming a relative strength base and by the looks of it – the next absolutely has to be higher.
This is very bullish as long as it holds above the $67 level with a price target of $100.
Next one up is Bill.com (BILL).
This $10B cloud-based software company specializes in back-office solutions for small businesses.
It IPO'd less than a year ago, but needless to say the performance has been impressive: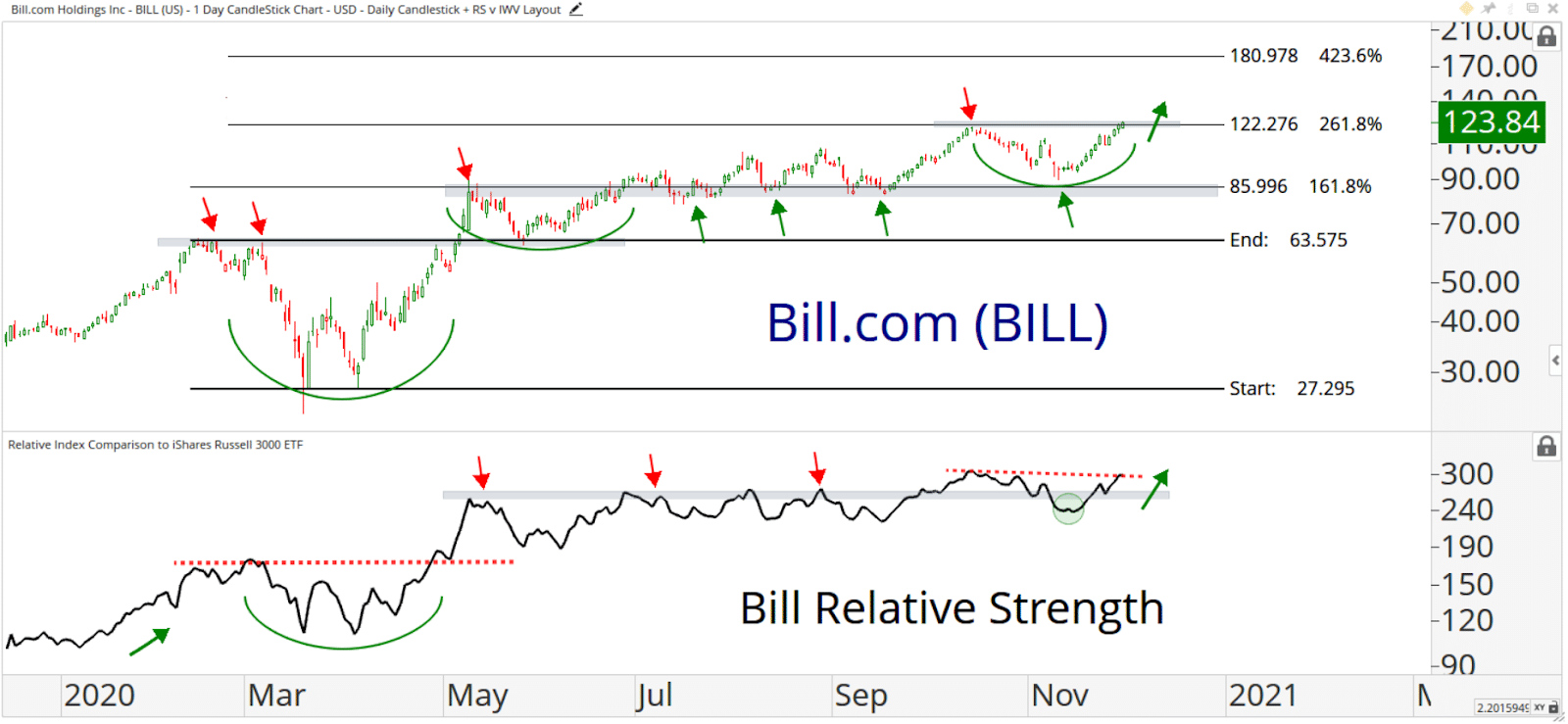 After moving swiftly higher off the March's dip, the stock has been cleanly consolidated higher with a strong support in $85 area.

Having spent over 5 months in that range it's now closing in on both relative and absolute all-time highs and looks eager to keep going.
I'm bullish as long as it's above the key level of $122 with the price target at $181.
And, of course, I save the best for last.
I'm sure I don't need to explain to you what Take-Two Interactive (TTWO) does.
The famed Grand Theft Auto maker is a secular leader in its space – their biggest video game competitors such as Electronic Arts (EA) or Activision (ATVI) have been lagging and lagging badly.
I mean just look at this relative strength: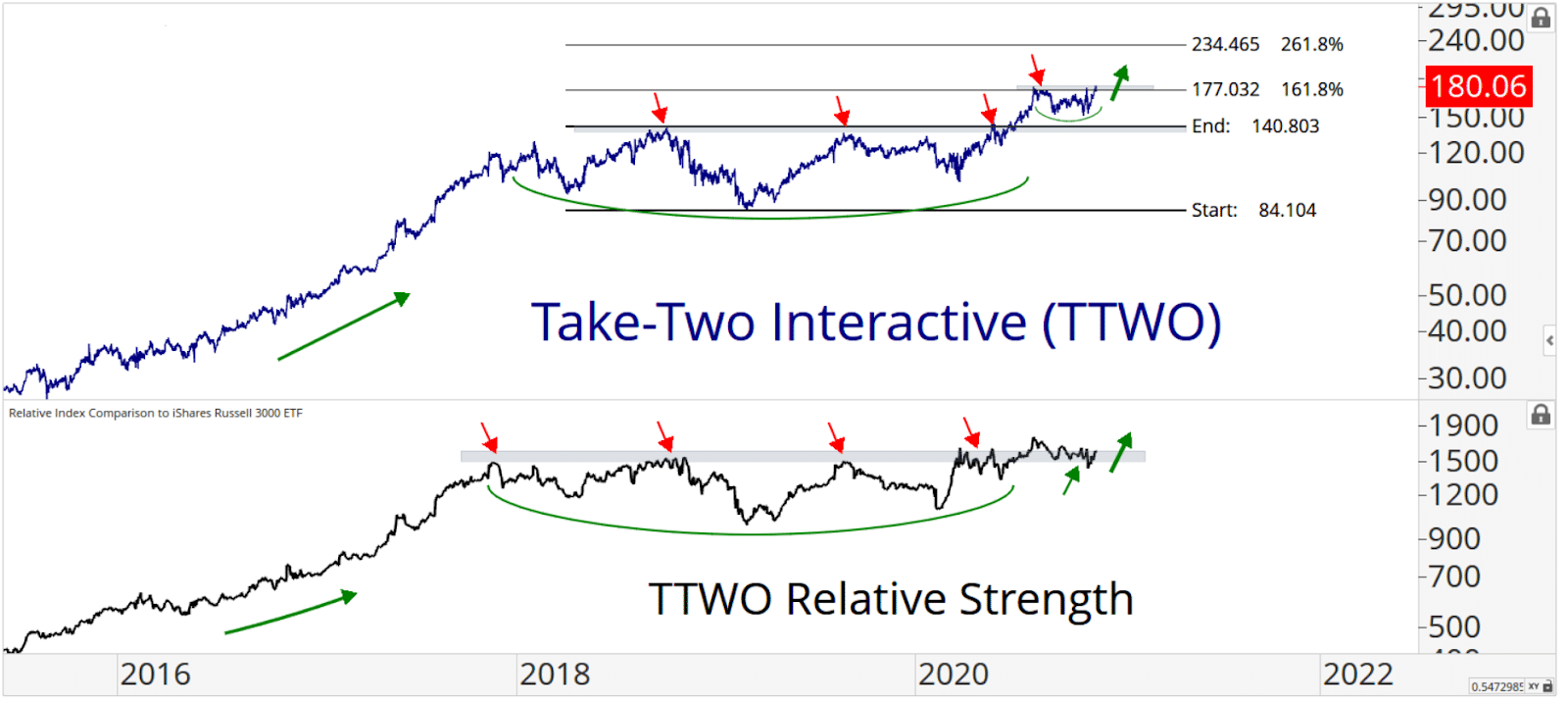 The best part? The stock just broke out of a multi-month base following a much larger base breakout earlier this year.
This makes sense considering its very strong underlying uptrend.
It's trading at all-time highs, both absolute and relative – one characteristic you know I love.
And it has a clear level to go long against with nothing but clear skies above.
I'm very bullish above $177 with a short term price-target of $234.
I want to hear your thoughts on the market and what you think of these themes heading into 2021. So just drop a comment below, and I'll have my team collect them. I'll answer the most FAQ in my future letters.