When the markets were in turmoil just a few sessions ago, I mentioned to you how it was good ole' fashion sector rotation.
You see, the one chart the bears didn't want you to see was this…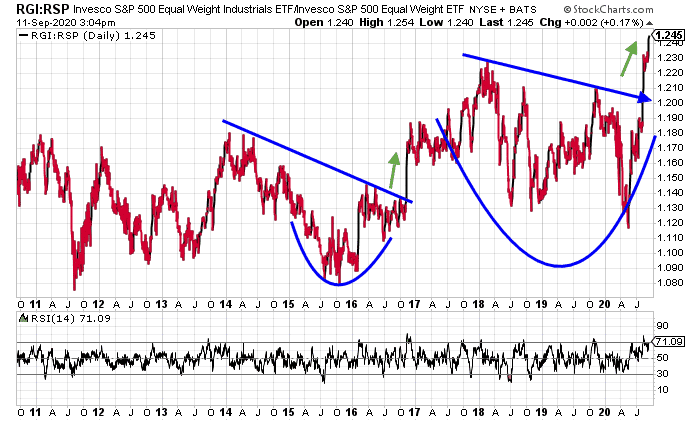 That chart paints an entirely different picture of the market to me, and from what the data is telling me… stocks are headed higher for the time being.
From all the information I've analyzed, whether it's measuring increasing interest based on large institutional purchases, unusual options activity, or simply my proprietary lists of trending tickers…
I've narrowed down a list of three stocks I believe can break out.
The arguments for the bears are typically, Stocks are too high… they're overvalued and we're due for a pullback… there's so much risk on the table, people are going to start selling their positions and getting defensive.
I don't know about you, but with the way the price action has been… to say something is "too high" is just not justified.
Instead, it's more important to focus on price action, and I want to show you how I utilize charts to my advantage.
The best way to do so is by providing actionable ideas of specific stocks I believe can move.
Fiverr International (FVRR)
This is the Israeli-based E-Commerce platform, Fiverr International (FVRR).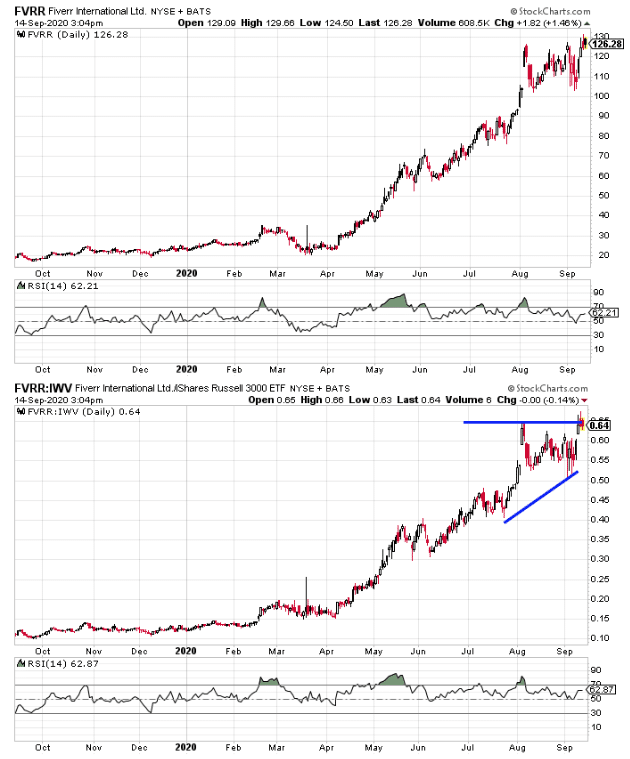 Note the incredible relative strength from Fiverr since coming public last summer. It's showing no signs of stopping either as the stock just made a new record relative high as it resolves higher from a continuation pattern.
The question that remains is will it resolve higher from its multi-month continuation pattern on an absolute basis as well?
Considering the way its resolved higher from its last two consolidations, and constructively paused at logical levels of resistance to digest gains before accelerating higher, this trend should be treated as innocent until proven guilty.
I want to buy FVRR on strength above the recent closing high of 125 with a 3-6 month timeframe and target at 200.
Pinduoduo (PDD)
Next is another online retailer from outside of the US. Regardless of where these companies are from, this is one of the hottest industry groups in the market right now.
I like to stick with what's working, and just like Fiverr above, this next name definitely has been. Here's the Chinese mobile E-Commerce platform, Pinduoduo (PDD).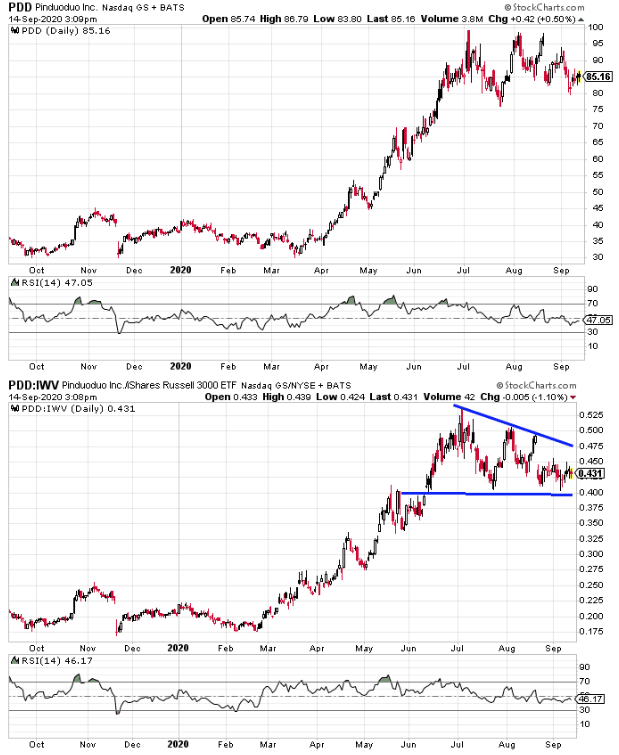 Following a strong move off the March lows, Pinduoduo has been consolidating above my most recent price objective for the past three months. At the same time, it's been coiling in a bullish continuation pattern relative to the overall market.
Price isn't far from all-time highs on both relative and absolute terms. The risk is very well-defined at $77, a level that buyers have already successfully defended twice.
I like how this stock has corrected mostly through time instead of price, constructively digesting its recent gains while its uptrend remains intact. I think it's ready for another leg higher.
As long as PDD above $77, the risk is to the upside and I like PDD long with a 1-3 month target at $114.
Zillow Group (Z)
Sticking with the "tech of non-tech" theme, here is the tech of real estate, Zillow Group (Z).
The company operates in the internet-content space for the most part, but does have exposure to real estate- both indirectly and now directly (which is an interesting new company-initiative… worth looking into), and is thus classified in that sector.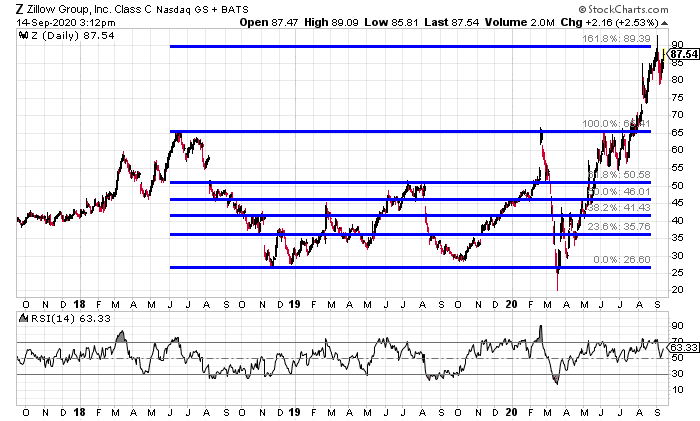 Multi-year base breakouts to fresh all-time highs on both absolute and relative terms
Price is now consolidating just beneath our objective at the 161.8% Fibonacci extension of its base. I want to buy Zillow on strength back above this $90 level with a 3-6 month target at $129.
I want you to keep an eye on these stocks because I wouldn't be surprised if they all get to my targets. Stocks have been following specific patterns, and through my data-driven approach, they typically play out to my expectations.
Related Articles: