Most traders are focused on the potential stimulus and listening to the talking heads on the tube to try to uncover trade ideas.
For me personally, I've been focused on the data and price action. It's what's worked for me for more than a decade — and if you can understand charts, then I truly believe you can uncover trade ideas.
That said, I want to show you the bullish activity I've noticed in a tech industry that might pop off very soon — and two trade ideas I want to keep on radar.
Semiconductor sector as a whole has been a steady and strong out-performer throughout the current run-up.
It's shown a nearly 100% grind higher from March's lows and gave virtually no dips along the way.
Even more so, semi's have shown great resilience to the recent market calamities and were among the first ones to break out to all time highs. Just take a look at SMH – the most liquid ETF in the space: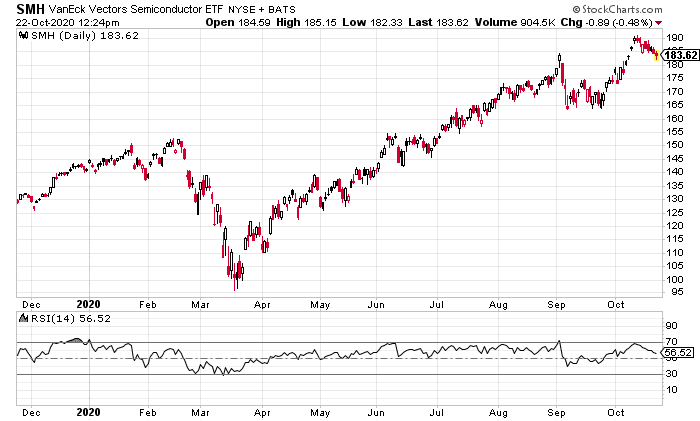 We're currently in the all time highs territory and pulling back into early September's resistance. Should this support level hold, there's only one way this can go.
Here're 2 stocks that I like most for another leg higher:
Our current top pick from the sector is the $10 billion semiconductor equipment manufacturer – IPG Photonics, IPGP. Take a closer look below: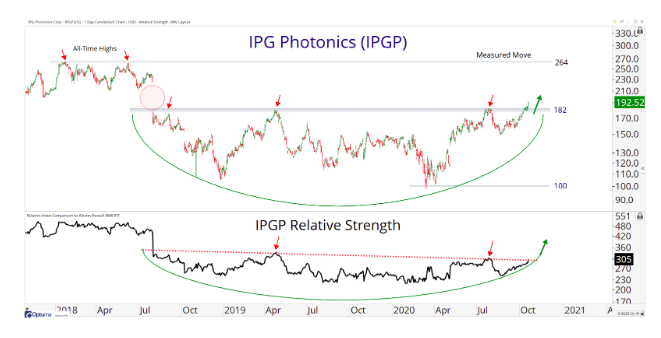 Since the March's lows, IPGP has been remarkably strong in both absolute and relative terms. More importantly, the stock has managed to move above $182 – big resistance at the top end of its multi-year base. The breakaway gap lower back in 2018 left lots of empty space to fill on the way back up.  
As long as IPGP holds above the breakout area of $182, I want to be long with a target at $264 – stock's all time highs. The $264 level also coincides with a measured move from the breakout base. I'm currently looking at a 2-4 months time frame for this trade to play itself out.
IPG Photonics is not the only name that excites me in the semiconductor space. Switzerland-based ST Microelectronics – STM – is a larger company, currently priced close to $30B, and I have every technical reason to believe it's about to get even more expensive.
Here's the chart: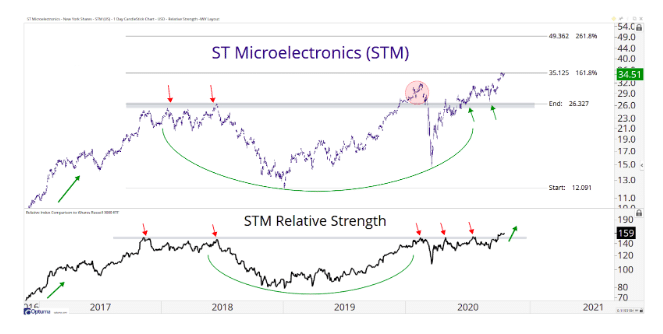 Much like its smaller peer, STM has been shaping up on the multi-year time frame and has demonstrated great strength throughout.
What makes it stand out is that it's already pushed through my first price objective and broken out to all time highs.
There's no new resistance in sight, but the stock has faced some pressure at $35. As soon as that level clears, I want to be long with a target of $49 2-4 months out.
Listen, while I do provide you with complimentary trade ideas from time to time, you'll need to understand how to trade them. I want to teach you how to trade based on the data, and not the talking heads.
It's great that you want to learn more about price action and trends, but in order to take the next step and learn how to become a better trader… you'll want to check out Data Driver.