There's been choppy price action in the market the last few sessions, and while most traders are waiting to see what the talking heads will say…
I'm on the hunt for the hottest opportunities in the market.
There's one sector on my radar right now, and although some of the leaders have pulled back today — I believe there's some more juice behind the move, based on my key indicators.
With that being said, I want to show you which sector I have my eye on, and the two stocks that have the potential to break out very soon.
I want you to take a look at this chart below.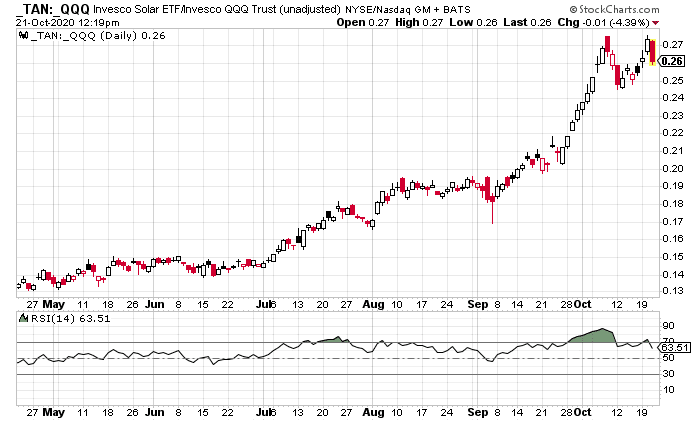 This is the Invesco Solar ETF (TAN) in relation to the Nasdaq-100 ETF (QQQ). So it's a ratio chart, and TAN actually has been outperforming the tech-heavy QQQ and I don't think this run is over. It's in a clear uptrend, and if you know anything about trading… the trend is your friend.
The strength of the solar industry signals that demand can build up based on the chart.
So one stock on my radar is Enphase Energy (ENPH). The strength of the solar energy space is illustrated by ENPH strong outperformance.
Although the stock pulled back today, it's still on my radar. You see, the stock hit a key Fibonacci extension level (the 261.8% extension around $120).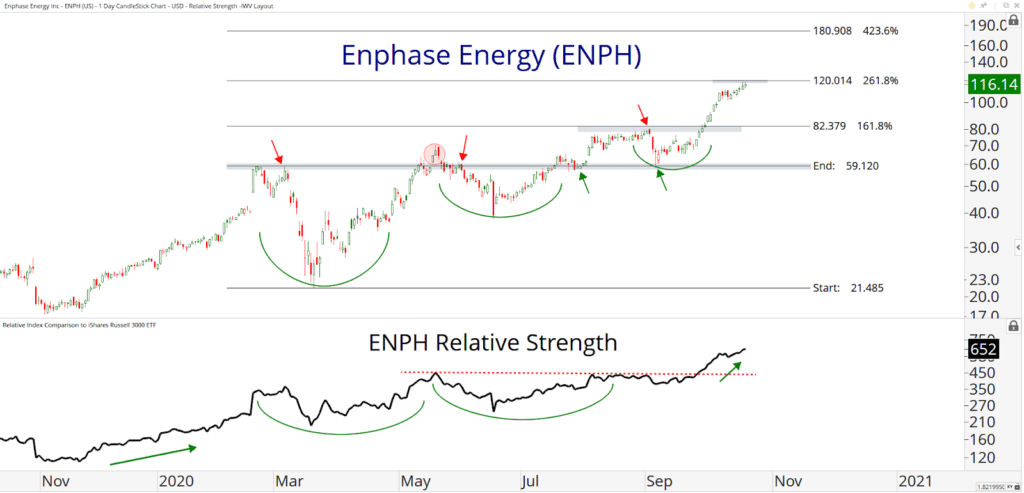 Right now, this is one setup that I want to be patient with. With this specific setup, it's expected there will be some consolidation of its recent gains. I'm looking to buy strength in ENPH.
I believe it's important to understand where the stock came from… and it was trading in the $20s back in March, more than five times higher from those lows. Since this is a stock with heavy momentum, the digestion of gains is healthy and actually welcomed.
If ENPH breaks above $120, I think the stock can take off and run to $180 within three to six months.
Another solar stock on my radar is Canadian Solar (CSIQ).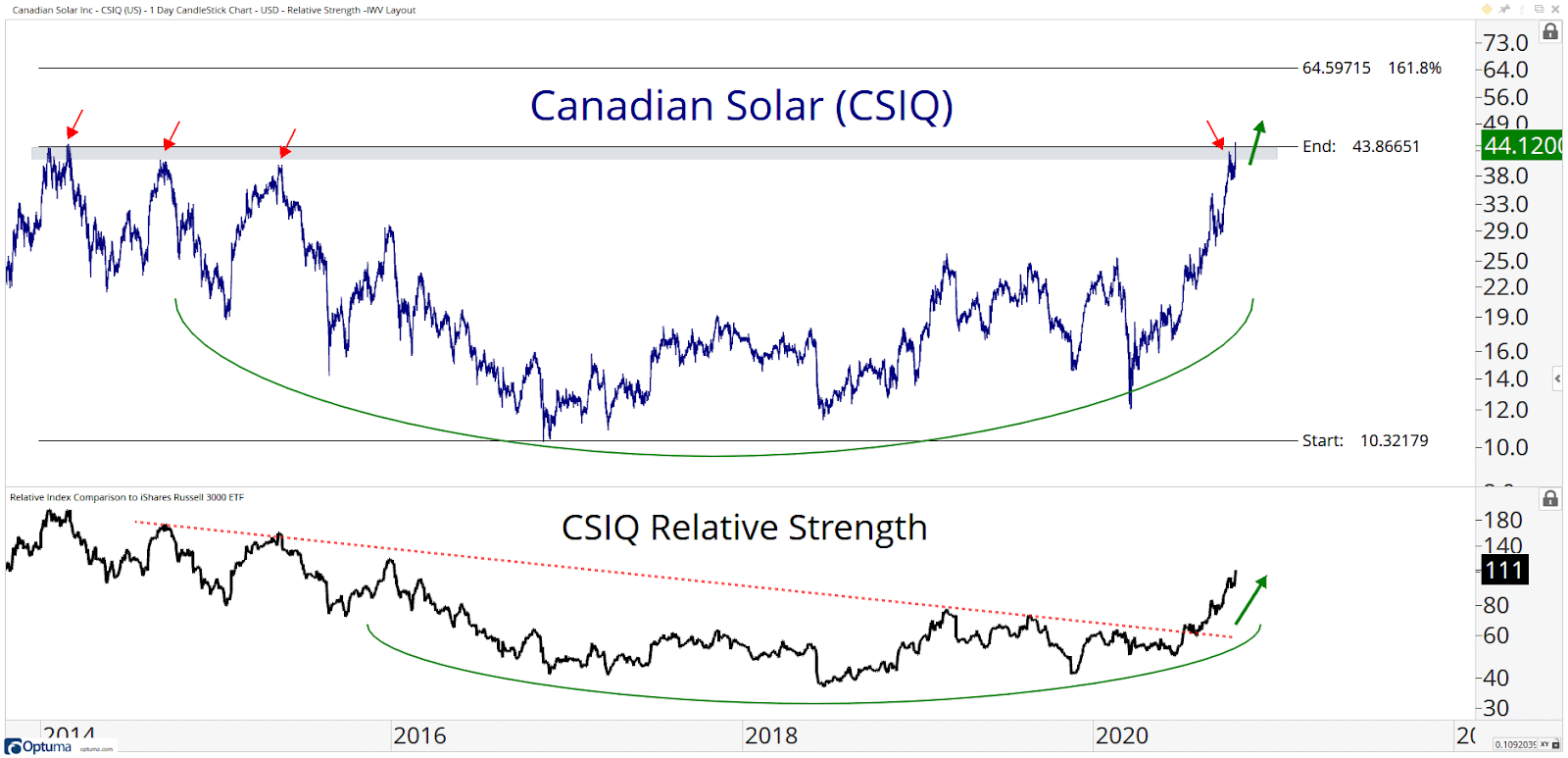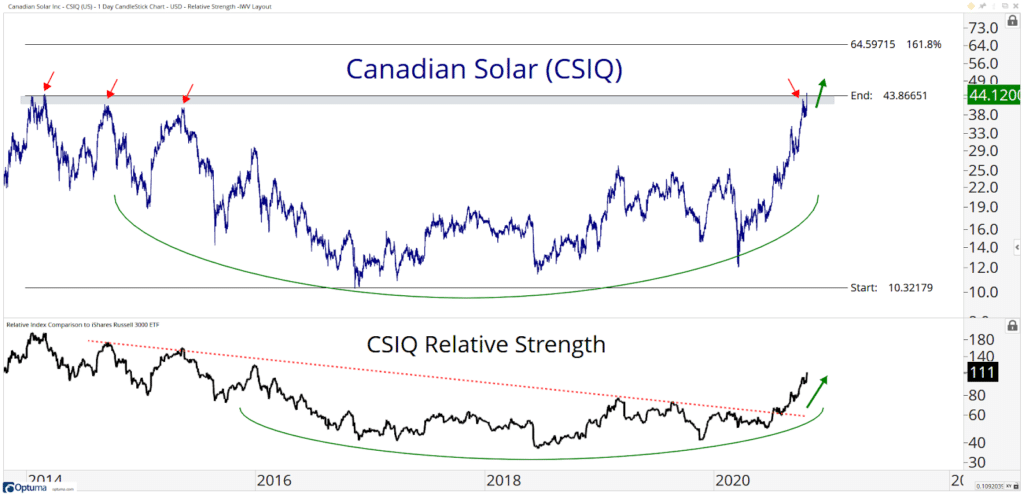 Although the relative performance isn't as strong as I would like over the long-term, it's picked up this year as the entire solar industry has been outperforming. I like this name and believe it can play some serious catch-up right now.
With price pulling back slightly after its massive run, I want to keep it on my radar in this consolidation period. As long as the stock is above previous highs at $44, I like CSIQ long and have a target at $65 within the next two to four months.
Listen, right now, I'm a firm believer that the data can show you where the hottest opportunities are.
If you want to receive my extensive research that I provide to hedge funds, then there's only one place to get it.
Come see what Data Driver is all about and how it can help you become an elite trader.