It's no surprise healthcare stocks are breaking out to all-time highs. To be honest with you, I'm not really looking at this where I'm waiting for them to pullback.
I truly believe this is just the beginning of a large potential move for healthcare stocks.
Why?
The price action signals a run higher.
You see, when I look at the charts, I'm noticing upside in some healthcare names, with some targets 10% higher.
Will they move where I think they will?
Only time will tell.
I want to show you what I'm watching in the healthcare sector, and why I may look to start buying names in this area.
Check out the weekly chart in the Health Care Select Sector SPDR Fund (XLV).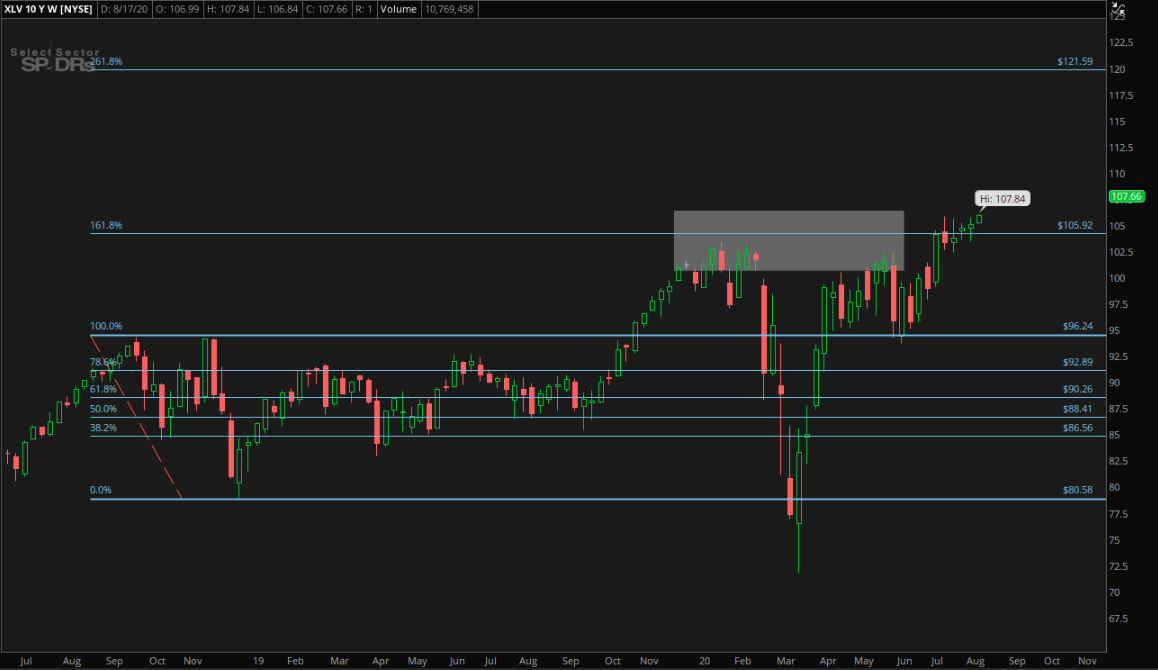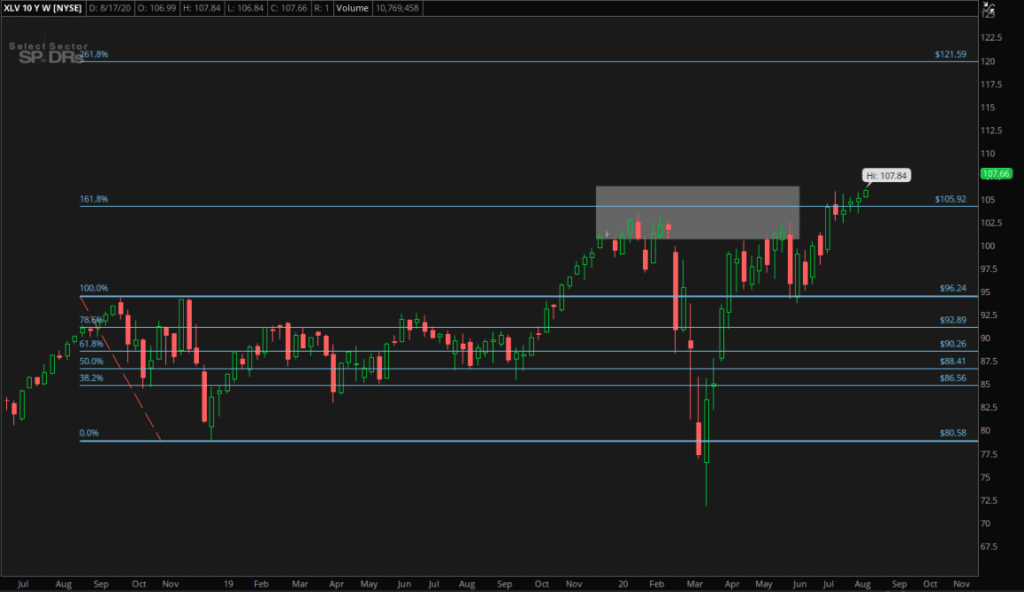 If you don't know what XLV is, it's widely-followed exchange-traded fund (ETF) that tracks healthcare stocks.
If you look closely at the chart above, you'll notice key Fibonacci levels. For me personally, I like to go further back to draw extension levels. For XLV, I went back to 2018, and just found the high and low point of a specific time period.
By doing that, I found there are key levels to watch.
XLV just broke above the 161.8% level, and that indicates there is more demand than supply. You see, these Fibonacci levels help to identify key areas where they may be support and resistance.
With XLV breaking out to all-time highs, the next level I'm looking for it to get to is the 261.8% Fibonacci extension level, which is right around the $121 – $122 area. If I were to play this, I would look to buy and stop-out if it breaks below the 161.8% area (about $105)… and look to target $121 – $122.
Of course, when you think Healthcare, there are a lot of different ways to play it. But for me, UnitedHealth (UNH) has been one of my go-to names in the space for years.
As traders and investors, we tend to go where we've been treated best. The breakout from this base in UNH gives us a price target above $370.
Why?

Well, take a look at the daily chart in UNH.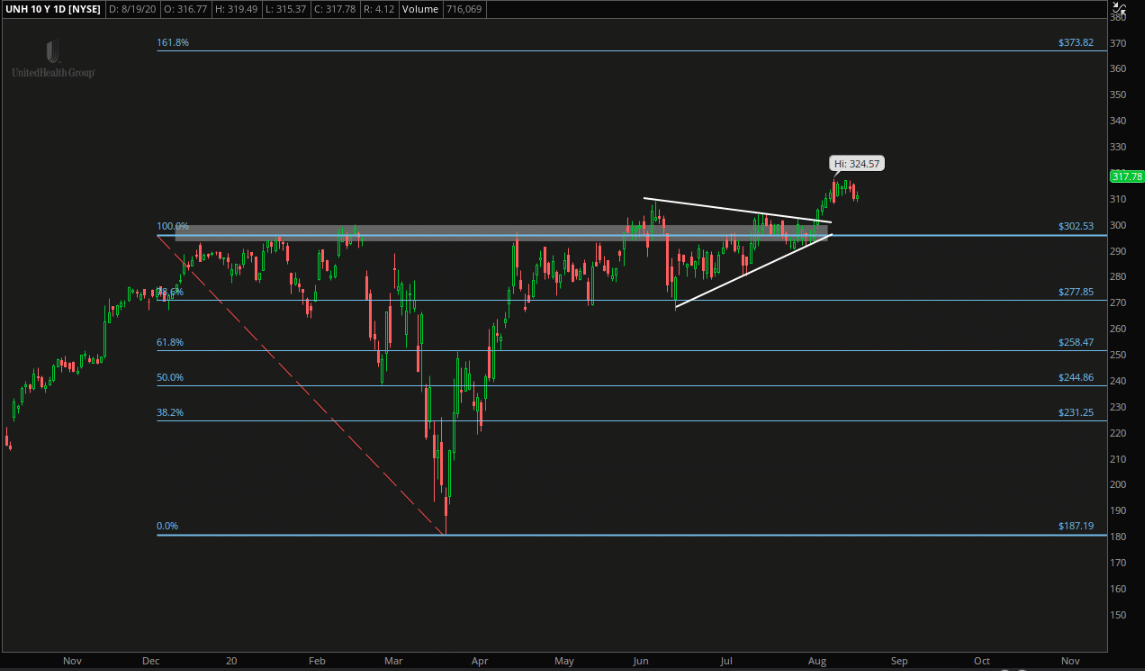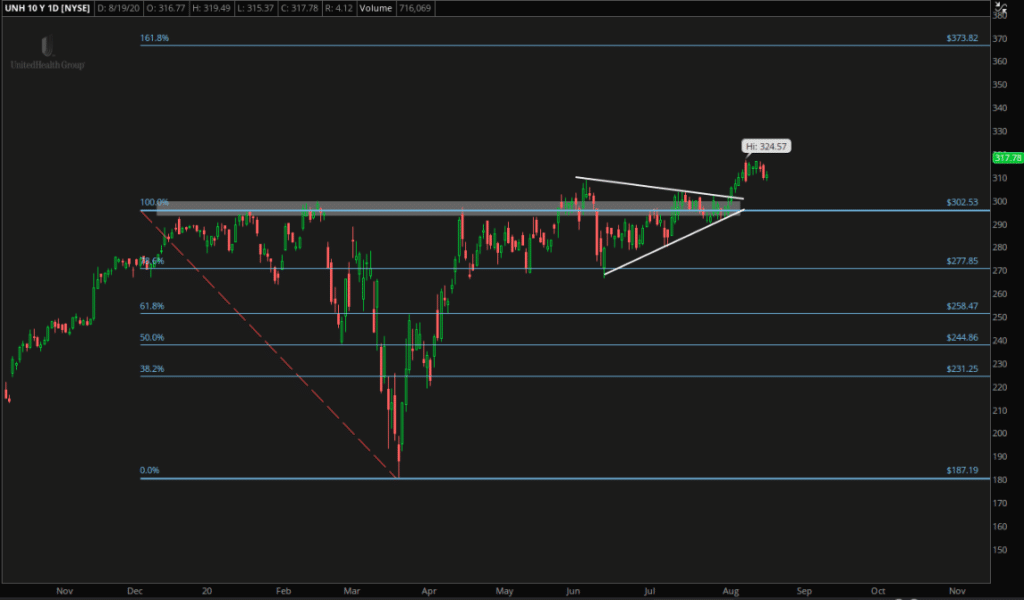 It's broken out of this consolidation area and recent highs. That's an indication there's a lot of demand for this stock. Right now, the next level I think UNH can get to is around $373 – $374, at the 161.8% Fibonacci extension level.
I'll be keeping an eye on these two names right now, and if I come up with any other hot names in the healthcare sector to keep an eye on, I'll make sure to provide an update.