With volatility picking up late last week, traders probably wondering if this is just a correction…
Or is this the start to another bear market?
Listen, I don't believe it makes sense to just go out on a limb and let emotions get the best of us.
That's why I just focus on the data and the charts…
The price action actually uncovered a unique opportunity, and there is one specific sector on my radar.
You see, something weird happened last week.
The Nasdaq, as well as some of the major large-cap U.S. Indexes, were under pressure for a couple of days.
But there was one specific sector that was outperforming.
Looking at this a little deeper, if Financials were ever going to start to outperform, this would be a perfectly logical place for that to start. In fact, this is exactly where they started to outperform after the Financial crisis…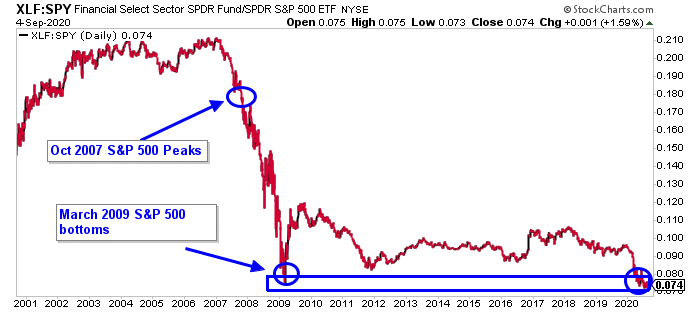 The great Louise Yamada often says, "The bigger the collapse, the longer the need for repair". And when it comes to market collapses, the great financial crisis was exactly that. 
Can you believe that it's already been over 11.5 years of basing?
That's a long time.
Listen, there's one thing I want you to keep in mind…
Financials does not mean banks. There are different subindustries and they all differ from each other.
For example, insurance is performing relatively strong against the S&P 500…
While regional banks, brokers & exchanges, and financials have been making lower lows (in terms of relative strength).
Right now, insurance is showing a little more relative strength in comparison to its peers.
That's why there are specific levels I'm watching in some insurance names.
Willis Towers (WLTW) has always been a leader in the re-insurance group. I like it long if we're above $213 with a target above $257.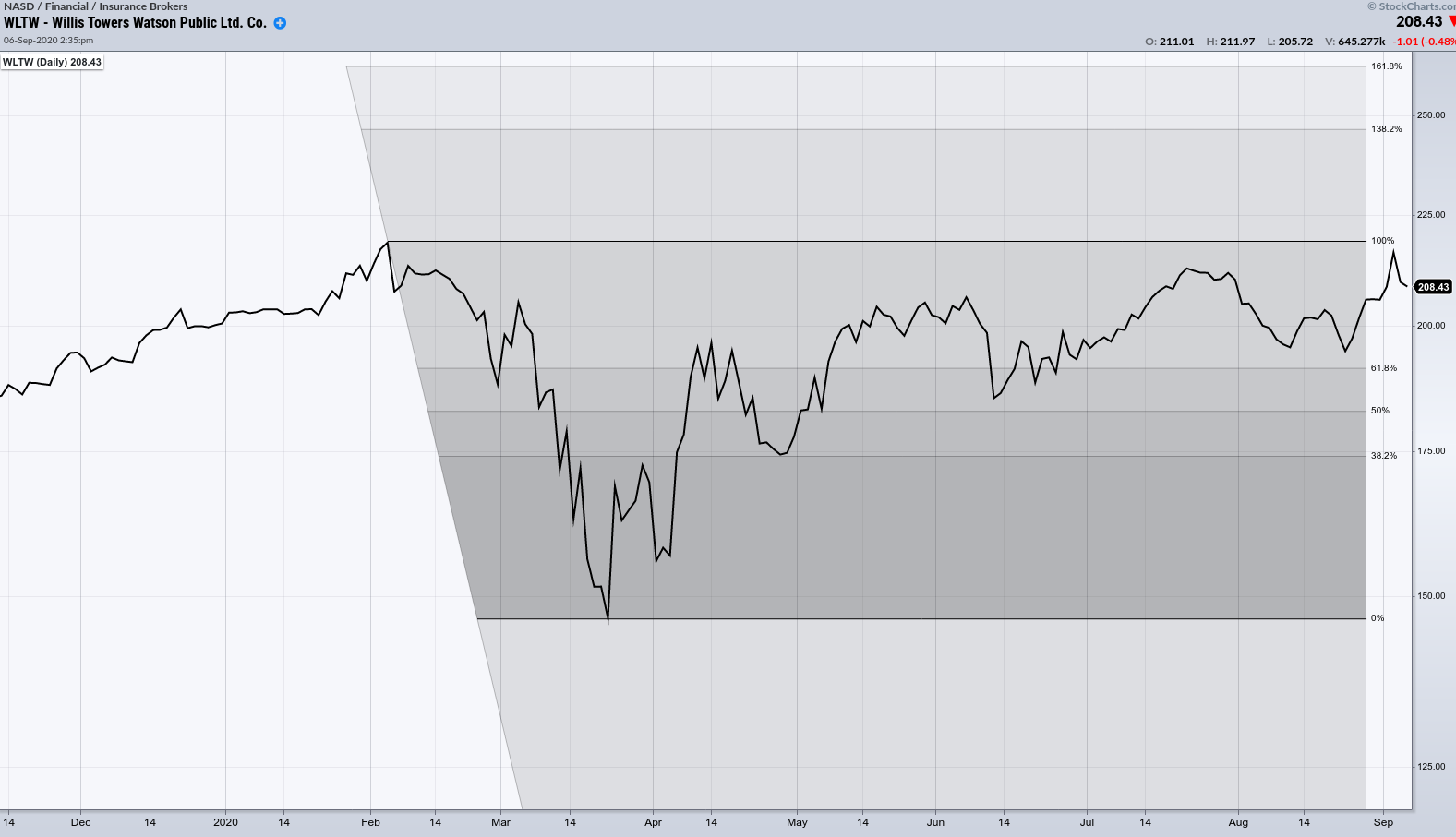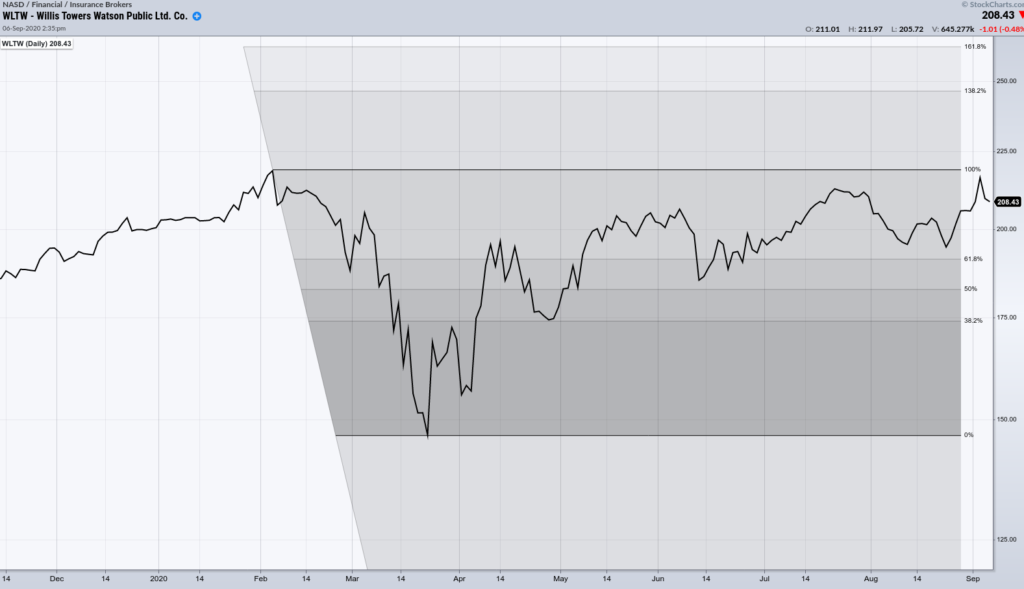 You see, the 161.8% extension level is right around $257. If the stock gets above $213, I wouldn't be surprised if it explodes higher.
Marsh and Mclennan Co. (MMC) is another leader in the re-Insurance space. I like MMC long if it's above $120 with a target above $148.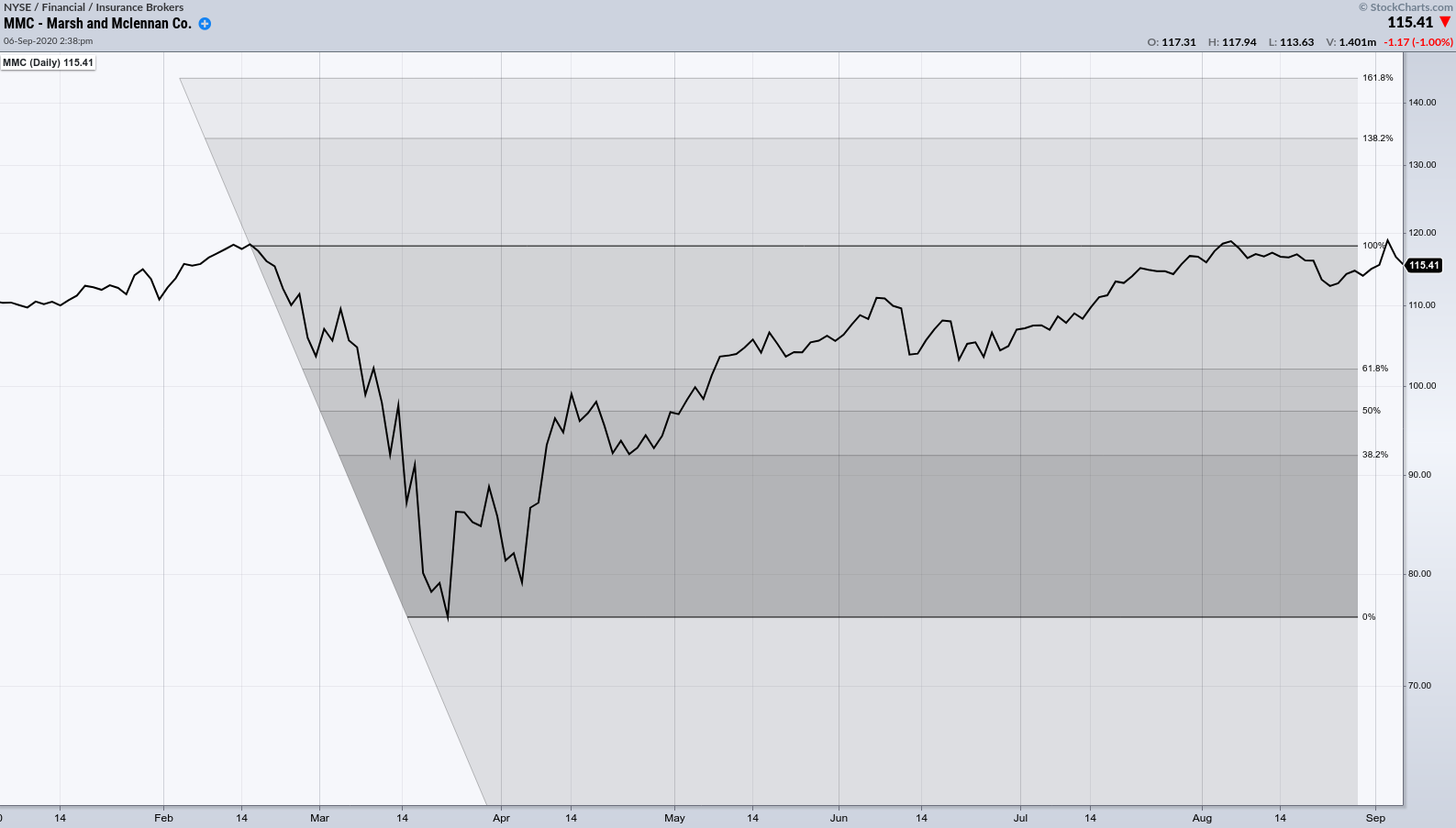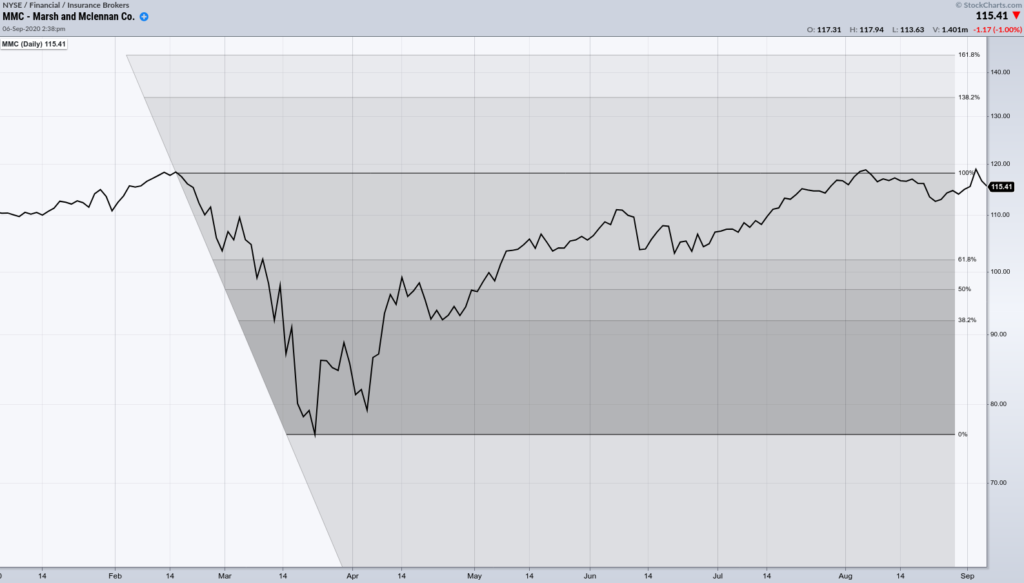 The $120 area would signal MMC is breaking out, and if it stays above… I think it can reach the Fibonacci extension around the $148 level (the 161.8% extension level).
Last, but not least… Berkshire Hathaway (BRK/B) is on my radar because it's definitely got some insurance and re-insurance exposure.
It is also the largest holding in the Financials Sector Index Fund, representing over 13% of the Index. If BRK/B is above $192, I see little reason to be bearish Berkshire, or stocks in general.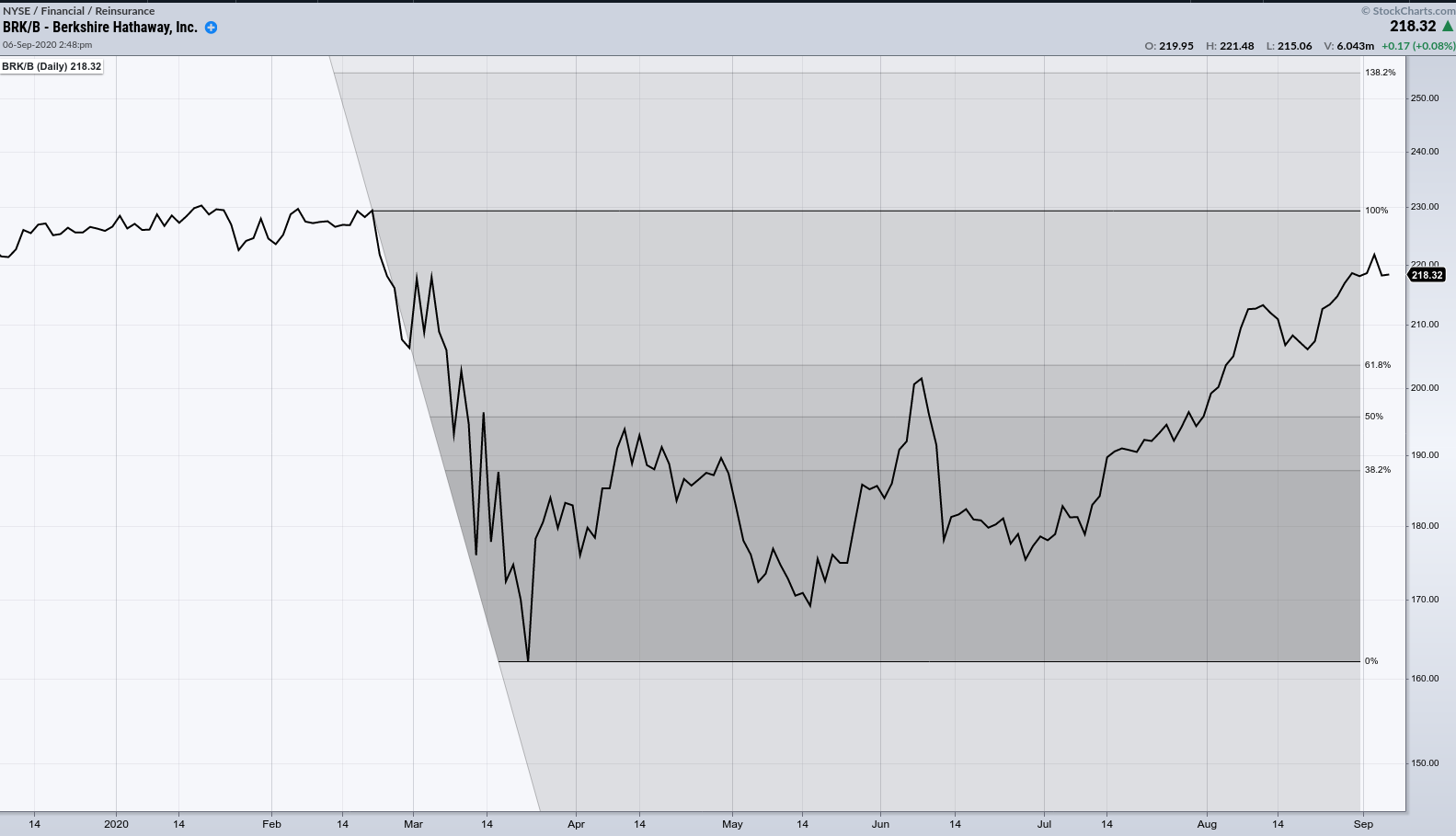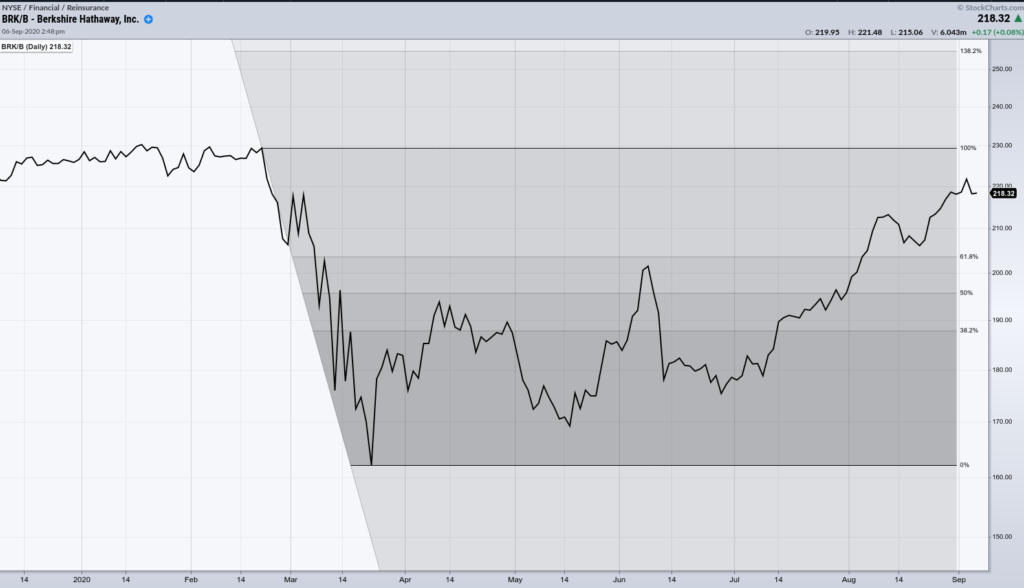 Listen, there are so many opportunities out there… you just have to know where to look and understand how to utilize chart patterns.
Related Articles: