This is the first time some traders are tasting volatility for a while — they've been conditioned to buy the dip and chase momentum stocks.
To be honest with you, from what the data is telling me, it's a pretty solid idea. 
You see, there's a pattern I noticed this week — and it's one the shorts, permabears, and "doom and gloomers" do NOT want you to see.
Why?
It's such a bullish chart, and I'm surprised no one is really talking about it.Let me show you what I'm talking about, and what it's so crucial to focus on the data.
If there's one chart I can point to that signals where the market will most likely head it's the Invesco S&P 500 Equal Weight Industrials ETF (RGI) and the Invesco S&P 500 Equal Weight ETF (RSP).
More specifically, I'm comparing the two to show reveal to you why stocks can head higher, and you just have to know where to look.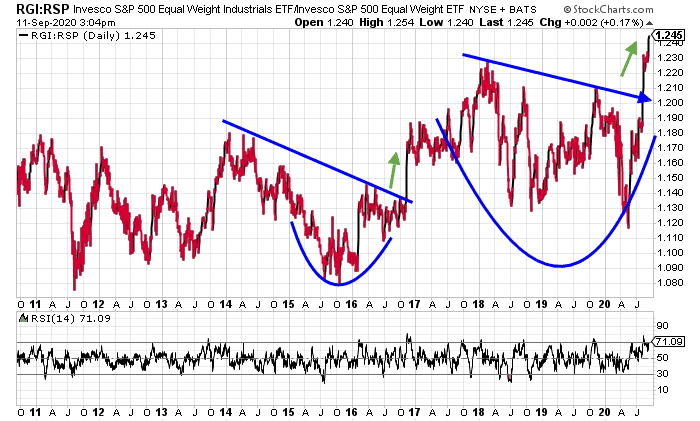 Take a look at RGI in relation to RSP.
In my opinion, the equal-weighted charts tell a broader story. This ratio shows us there is healthy rotation into specific stocks… not a scenario in which the entire market collapses. 
Just to be clear, it's not consumer staples breaking out in relation to the market. That would actually be a characteristic of a weak market. This rotation is into the offense-focused sector.
For example, RGI includes names such as FedEx Corp. (FDX), United Parcel Service (UPS), Deere & Co (DE), just to name a few.
To me, the pullback in tech is just hedge funds and institutions looking for other areas of opportunity.
While the market has seen some volatility in the last few sessions, I'm not too worried about it. Another chart I'll be focused on is the QQQ:TLT.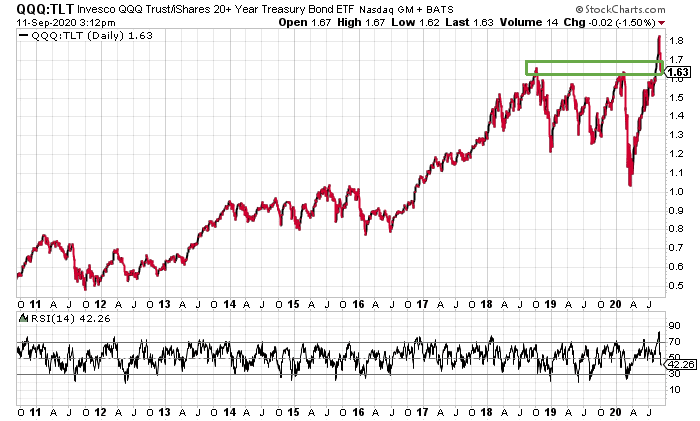 Unless I see the QQQ:TLT ratio break below that green box and continue lower, I don't think there's a reason to start fearing a market crash.
I know what you're thinking, "How does this all help with becoming a better trade?"
Well, if you can figure out where the money is flowing into and focus on the data, I believe it's possible to uncover some hefty winners.
Related Articles: