It's been the same old story for the past few months— tech stocks continuing their rally…
But the market just flipped the script.
Tech stocks have been under a bit of pressure, and some are wondering whether they'll lead the entire market lower.
To be honest with you, I just can't buy into that because all the data that I'm looking at tells me otherwise.
Instead, all of the price action and market activity I'm constantly analyzing tells me we're still in a bull market…
A market where traders are generally rewarded for owning stocks if they know where to look.
I will admit there is some sector rotation going on, and the so-called "laggards" of the market may now become the leaders.
Let me show you what I've uncovered and which specific stocks I'm looking to get into.
When money is coming out of one sector and going into another one, it's known as sector rotation. It's a classic characteristic of a bull market.
Let's go back to February. At that point, we were seeing laggards dragging the market lower. Things like Financials and Materials were making new relative lows and had already begun their declines. 
In fact, both of these sectors peaked in December, months before the overall market peaked. That's part of why I got so bearish.
So anyone who tells you that this year's crash "came out of nowhere", is really just fooling themselves.
This year's stock market crash came after more warning signs than any crash in U.S. history. I've said it before and I'll stand by that.
The reason I bring this up is not to take a victory lap. That doesn't add any value. My point here is that today we are seeing the exact opposite of what we saw then. The laggards were lagging and dragging back then. Today, those laggards are the leaders!
Financials are hitting new relative highs, NOT new lows (like they were in February).
Materials are making new all-time highs! And after doing nothing for 32 months, the higher probability here is that Materials are just getting started!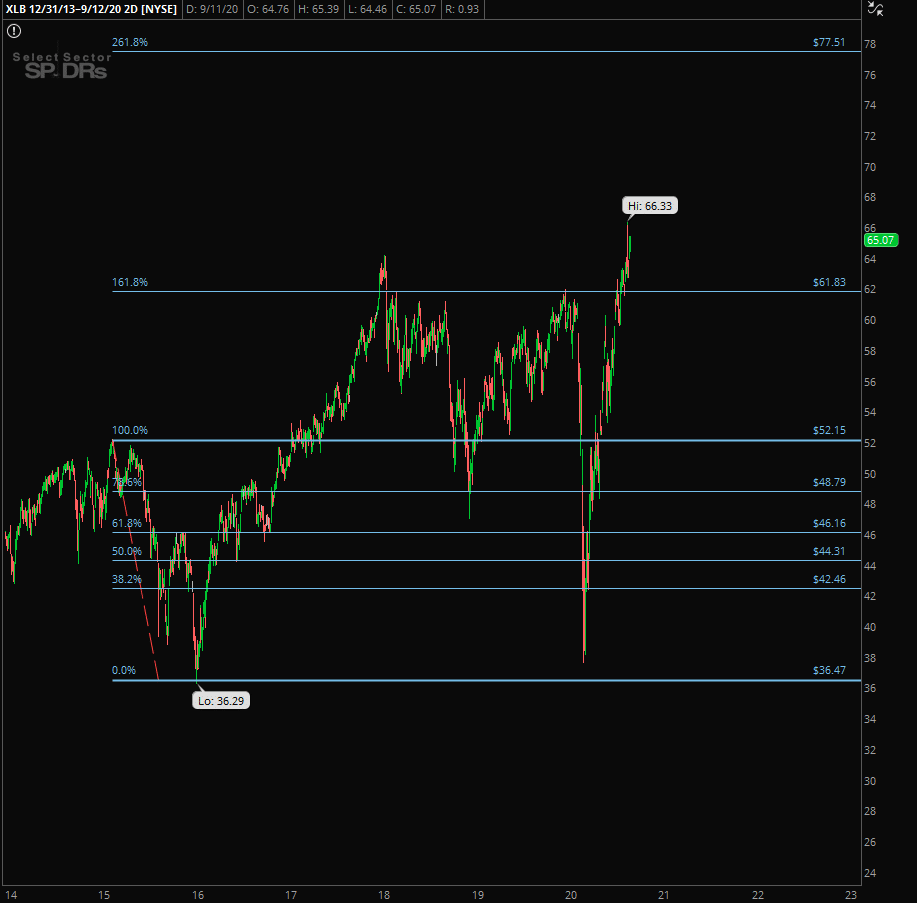 With XLB breaking above $62, I think it makes a move to $78 and we'll see more materials stocks pop off.
Who's pulling Materials higher? Look at Chemicals breaking out of this monster base to new all-time highs.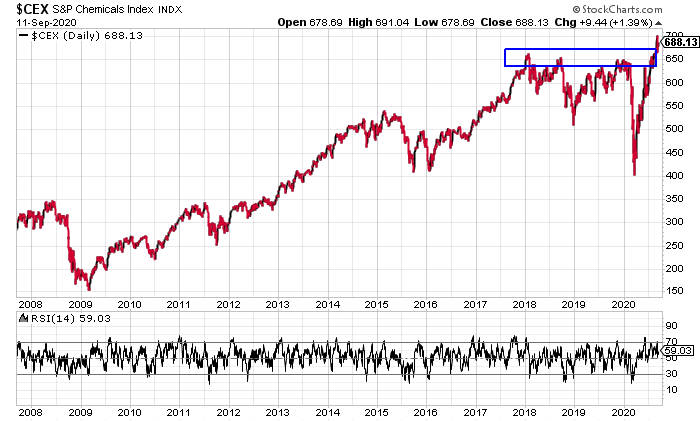 Here's how these guys look on a relative basis…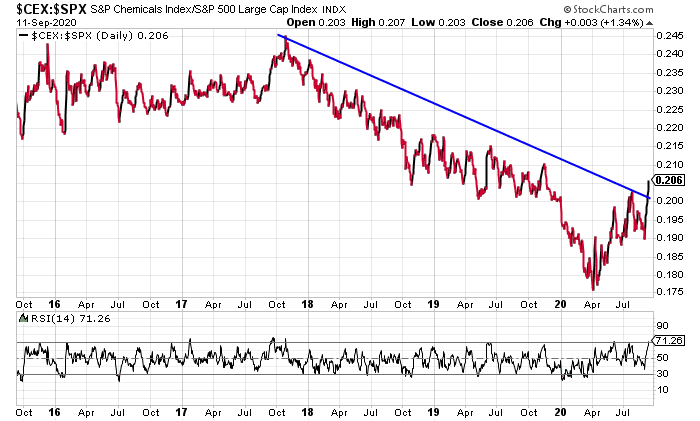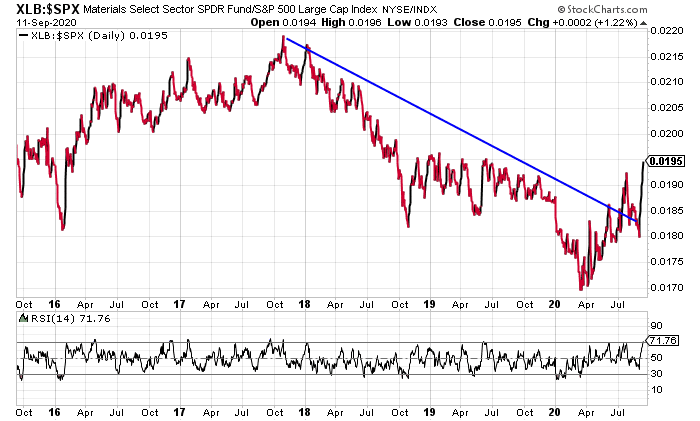 Outside of Chemicals, it's hard not to think of Freeport-McMoRan (FCX) when we're talking about Materials. And what is FCX doing?
New Multi-year highs for the 3rd consecutive week: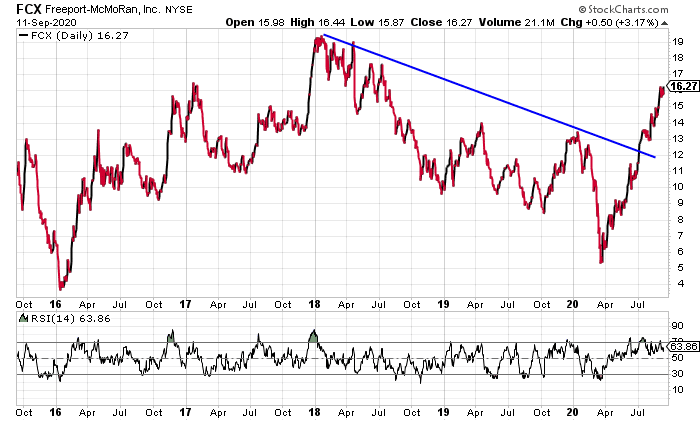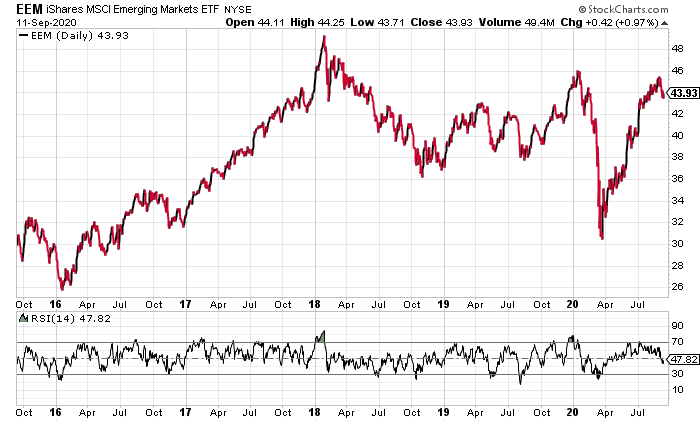 There are serious global implications here as you can see above. If emerging markets are ripping higher and money is rotating into the lagging sectors (that needed to see rotation, I might add), then what does that mean for equities as an asset class?
Higher or lower?
To me it means higher! And probably much higher!
So we're spending our time looking for stocks to buy.
The best part of this whole thing, in my opinion, is that since a lot of these names we're describing have relatively small weightings in the major U.S. indexes, you see the lazy talking about market crashes and "Tech Wrecks", and they're totally missing the rip-your-face-off rallies taking place outside of Tech.
Listen, I take all this information and use my "funnel" to filter down all this information and turn it into actionable ideas. Let me show you how to do it. Click here to sign up for this exclusive event.
Related Articles: