While most traders are turning to the talking heads to uncover their next trade ideas…
I'm focused on what the market is actually telling us, and it says stocks are starting off on a new bull run.
Of course, there are specific pockets in the market where I'm looking for the hottest opportunities… and tech has been hot.
For me, I'm looking at sector exchange-traded funds (ETFs) and drilling down to uncover my next big plays.
Now, when you think of tech, you probably think of the tech-heavy Nasdaq 100, but there's actually another ETF that's outperformed the QQQ since March lows…
Right now, this innovative tech ETF is at a key level, and if it can get above, I believe it can run another 40%+.
The ETF I'm referring to is the Ark Next Generation Internet (ARKW). Here's a look at the chart and key levels and indicators I have my eye on.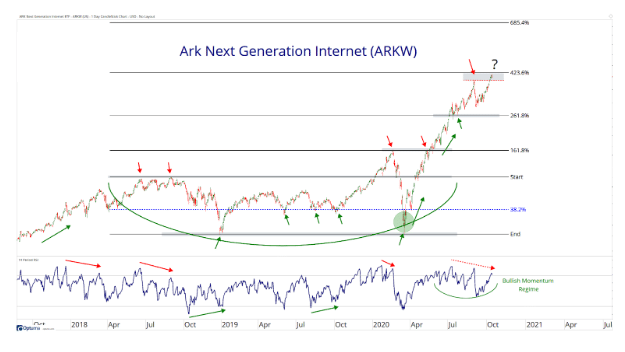 Its components include some of the strongest tech names in the market, so it's no surprise the ETF is outperforming as aggressively as it is.
The companies included in ARKW are primarily focused on:
Cloud Computing & Cyber Security

E-Commerce

Big Data & Artificial Intelligence (AI)

Mobile Technology and Internet of Things (IOT)

Social Platforms

Blockchain & P2P
Tesla (TSLA), Roku (ROKU), Square (SQ), Facebook (FB), and Pinterest (PINS) are some of the highest weightings.
As you probably already know, these are among some of the strongest stocks in the market…
These market leaders have helped propel ARKW higher as it continued to post new all-time highs this week. Sure, there was a pullback after that, but that price action is warranted.
You see, the ETF is up more than 200% since its March lows, so I do want to approach this with a bit of caution. It's right around a key Fibonacci extension level, and there may be some supply there.
In terms of the bearish momentum divergence, I'm not too concerned about that as it continues to print bullish readings above 70.
Even if RSI is making lower lows it is still hitting overbought extremes on a regular basis. This is unequivocally bullish.
If and only if ARKW is above $120, I believe the ETF can take off and get to $170.
In this market environment, it's important to look for long ideas with asymmetric risk-reward profiles. In other words, the reward significantly outweighs the risk.
Listen, I've already been putting out long ideas in many of these names. 
The thing is, I can always dig deeper and find more money-making opportunities.
There's one crucial factor to highlight: this incredible outperformance is not just an ARK Next Gen ETF (ARKW) story, I'm seeing it from just about all the ARK ETFs.
You can see this very clearly, in my opinion, in the chart below.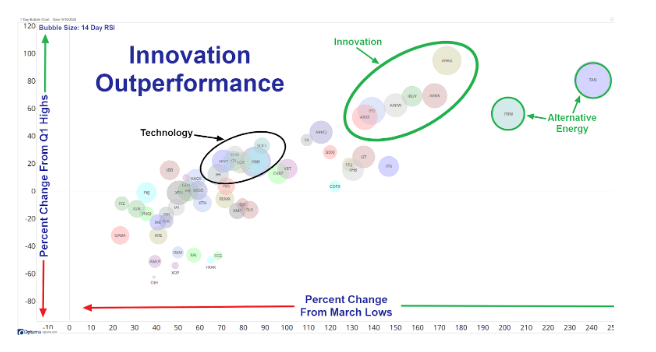 The majority of these haven't just outperformed off the March lows (x-axis, or the horizontal line) but are also very much above their Q1 highs (y-axis, the vertical line). As you can see, this is not something that many areas of the market have been able to achieve… at least not to the level of the ARK ETFs.
The multi-pane chart below shows a handful of these innovation-focused ARK ETFs.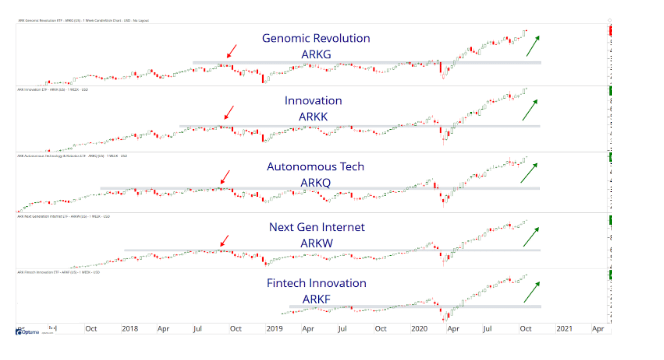 These charts you see above simply reinforce the pattern I uncovered in the bubble chart. These are all very strong uptrends, and as we know, the great thing about uptrends is that they are likely to resume higher in the direction of the underlying trend.
I bet you're still wondering about ARKW and how strong it is.
Well, ARKW has been outperforming one of the leading industry groups, the Dow Internet Index ETF (FDN) by a landslide.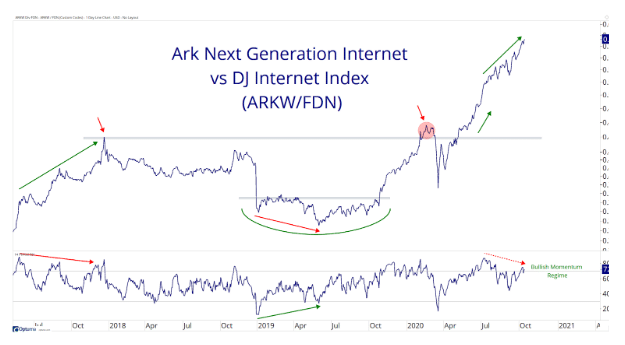 You'd be hardpressed to find many ETFs that can say the same. FDN has been a secular leader for several years. The fact that ARKW has outperformed it by a mile since the March lows is an indication that this is an area traders should be focused on, in my opinion.
As you know, I'm constantly sifting through the data to uncover leadership as well as opportunities to invest in the strongest names within the strongest areas of the market. This is definitely one of them.
Thus naturally, we want to continue to focus on this area, as well as the other ARK ETFs in the months/quarters ahead.
If you want to receive my unique research to attack the market, then there's only one place to get it.
Data Driver subscribers get my best trade ideas every single week, and if you want to find out how I easily utilize charts and technical indicators to uncover some of the best opportunities out there, then click here to get all the details about the service.