There's one factor that matters right now in this market environment…
And if you guessed fundamentals or anything that you've seen on the media, I'm sorry to say — but you're mistaken.
You see, no matter what the market environment is, there's one key item that's important to me and signals where stocks can go…
DATA
I went live with Jeff Bishop on The Bullpen this week to show everyone why it's of the utmost importance to focus on the data, no matter what type of trader you are.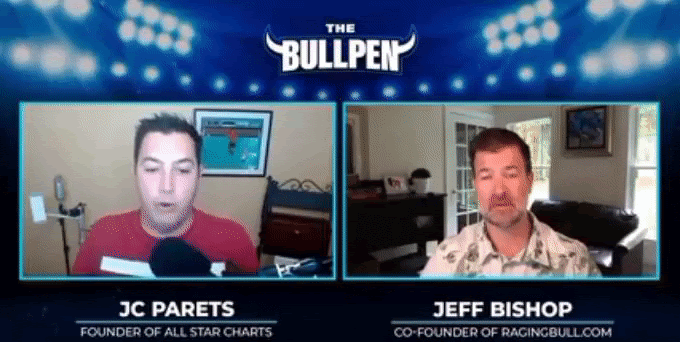 I even mentioned on Bloomberg on Friday that I want to be a buyer in specific stocks and sectors…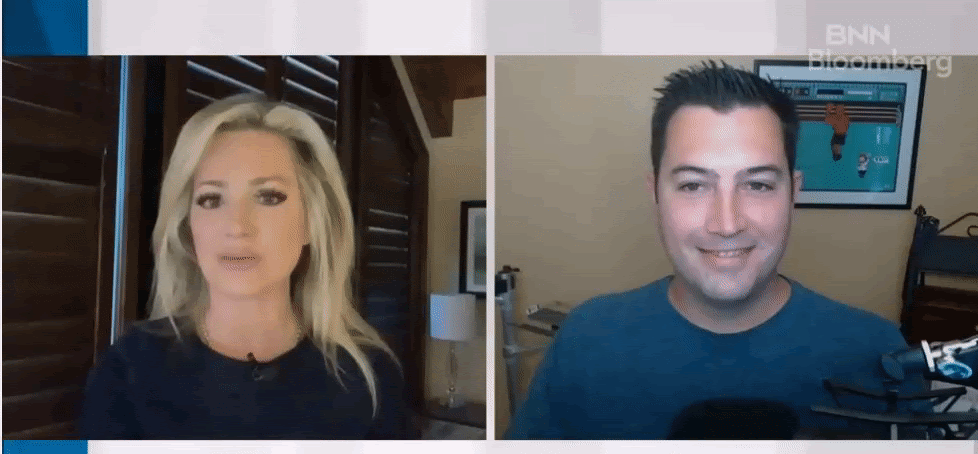 Of course, you're probably wondering, where these opportunities are and where the market is going…
Allow me to show you what data I'm seeing in this market, and where we're likely to head.
Listen, I'm all about a specific type of data… and that doesn't involve anything the media is talking about right now, to be honest.
So if you're nervous about the election, the stimulus bill, or what the markets are doing — it's time to take a step back and reflect to see the bigger picture.
You see, September is over and the fourth quarter starts tomorrow. As a person who loves data, it's like Christmas for me because we'll have a fresh batch of monthly candles to review.
You better believe I'm going to thoroughly review all of the long-term trends to tune out the media and noise in the market.
In the meantime, I want to show you some charts for potential trade ideas.
Check out the Dow Transports vs. S&P 500 (SPY) ratio below.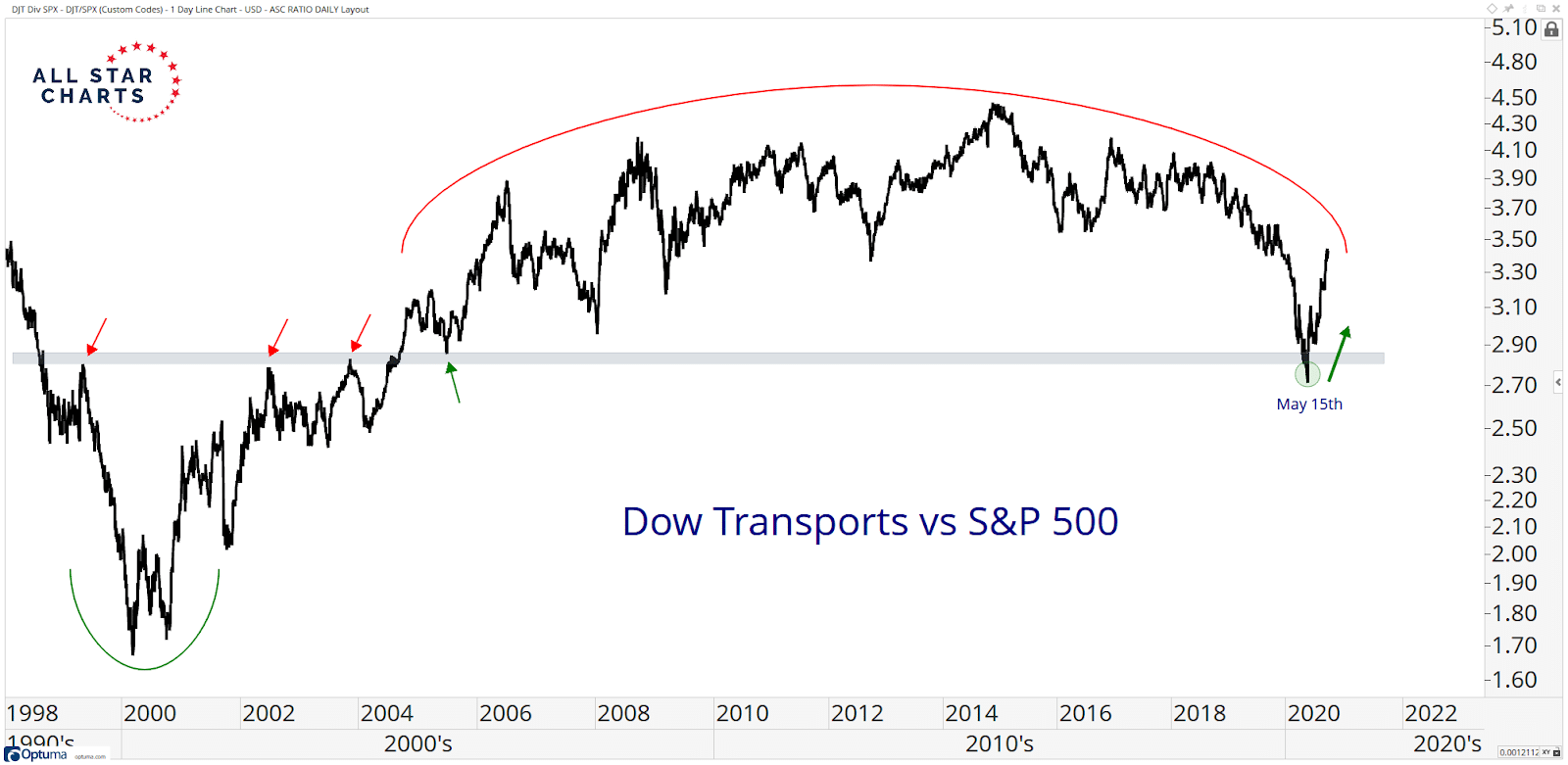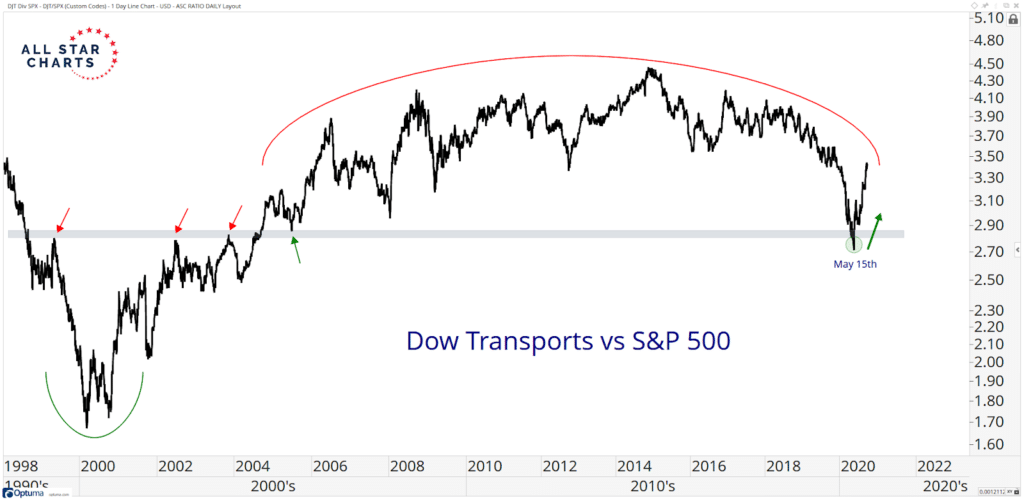 A failed breakdown at a previous key resistance area turned into support, which sparked a move higher. I think some mean reversion is normal after such a strong relative move, but to be honest with you, I don't think it's necessary and is not likely to happen.
That's why the transports look attractive. Here is the daily price chart.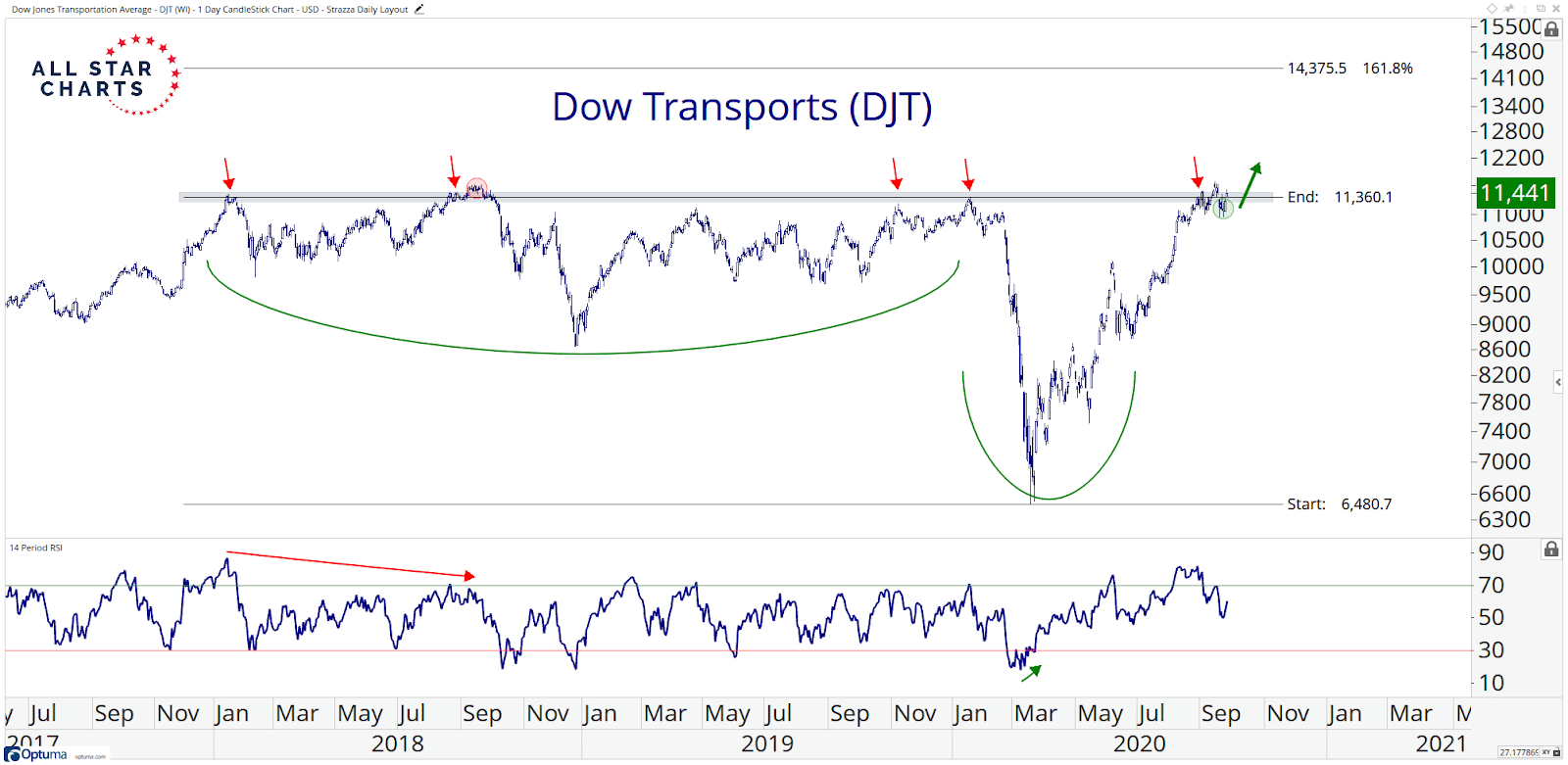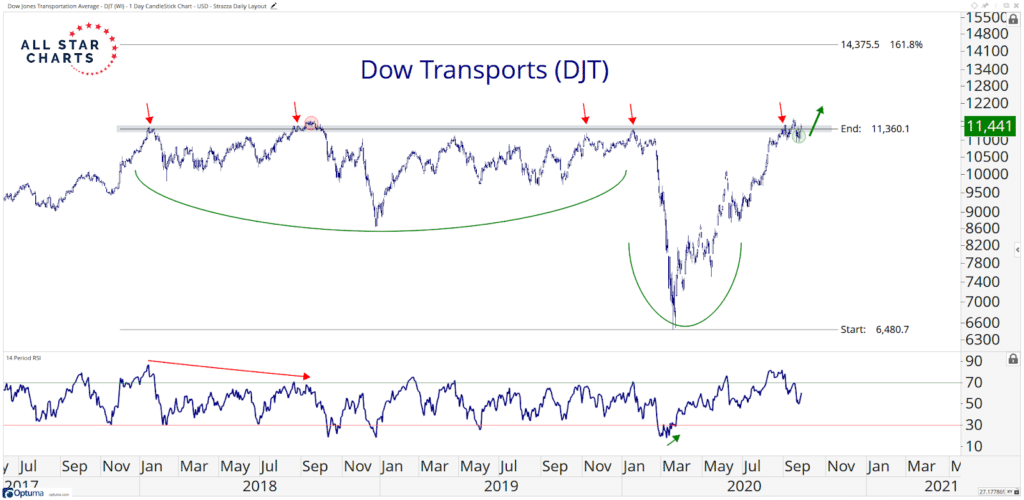 I believe the risk is also very well-defined at the index level right now. If DJT is above 11,360, I'm looking at 14,375 as a one- to three-month target.
That would be a break of the key resistance area shown above, and the target would be right around the 161.8% Fibonacci extension level.
So with this data, I would use my top-down approach to uncover specific stocks to potentially trade.
Another area I'm eyeing is the Consumer Discretionary sector.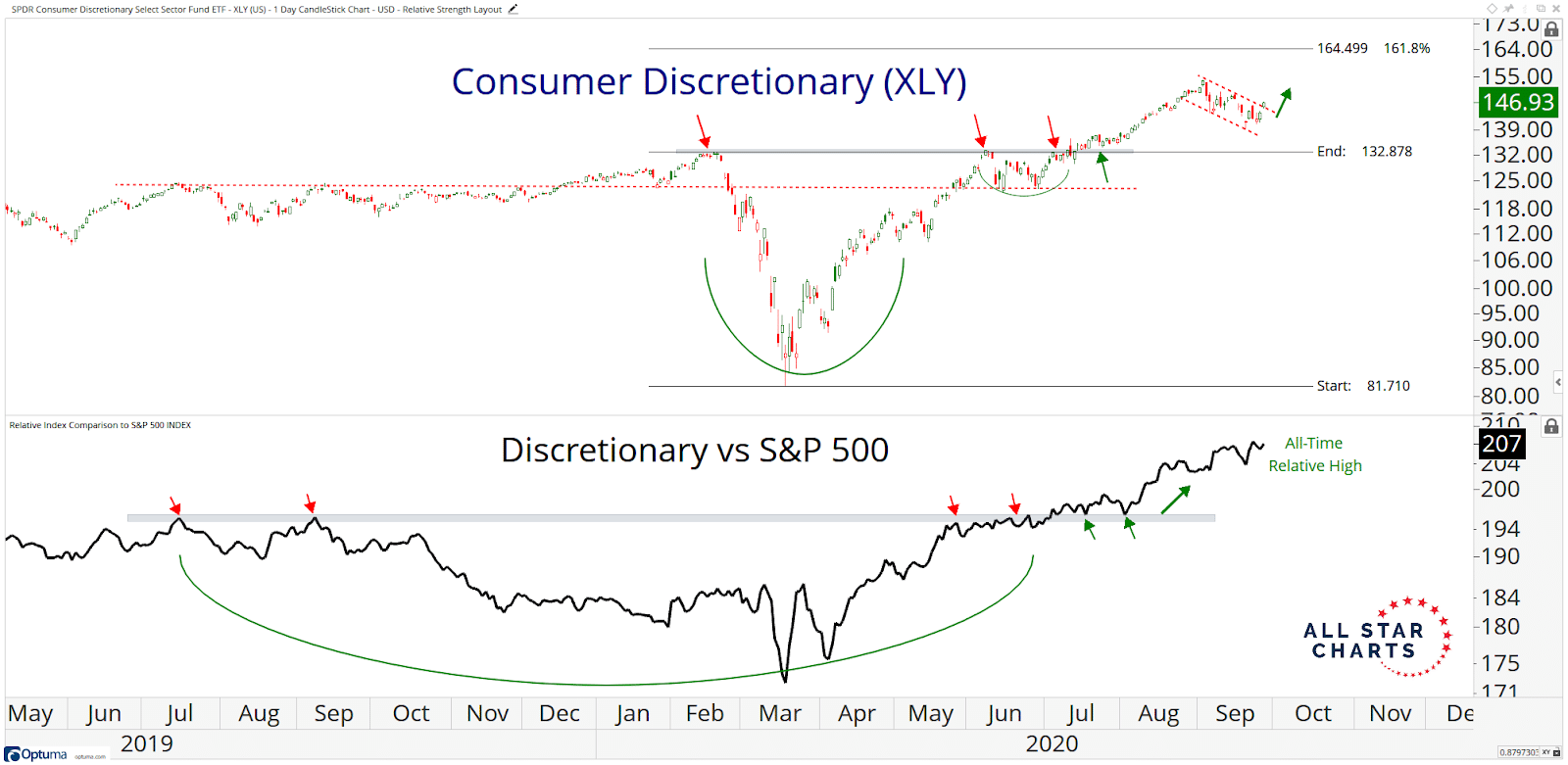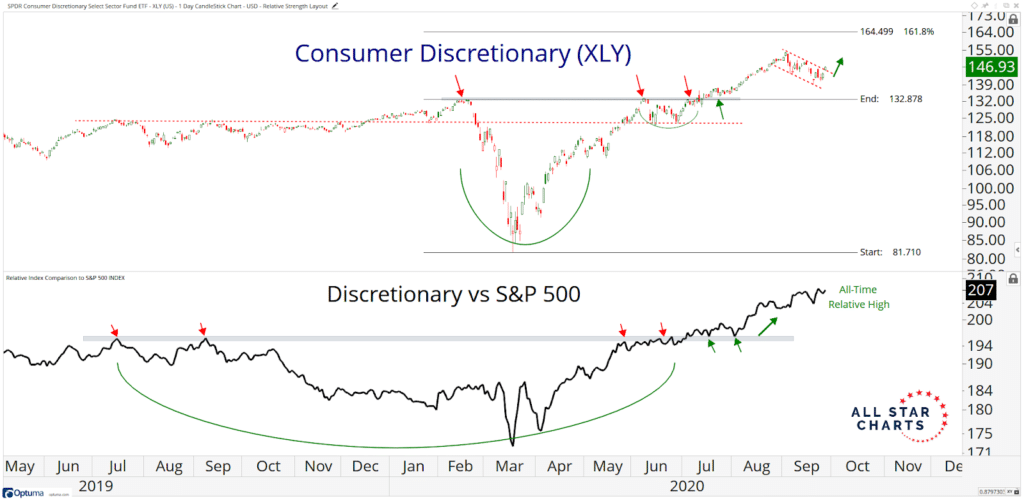 That's what allowed me to uncover this trade idea in Rollins Inc. (ROL).
Rollins Inc. specializes in pest management and sanitation services for the food industry. I thought most restaurants were shutdown… but it doesn't seem to be affecting this stock's performance.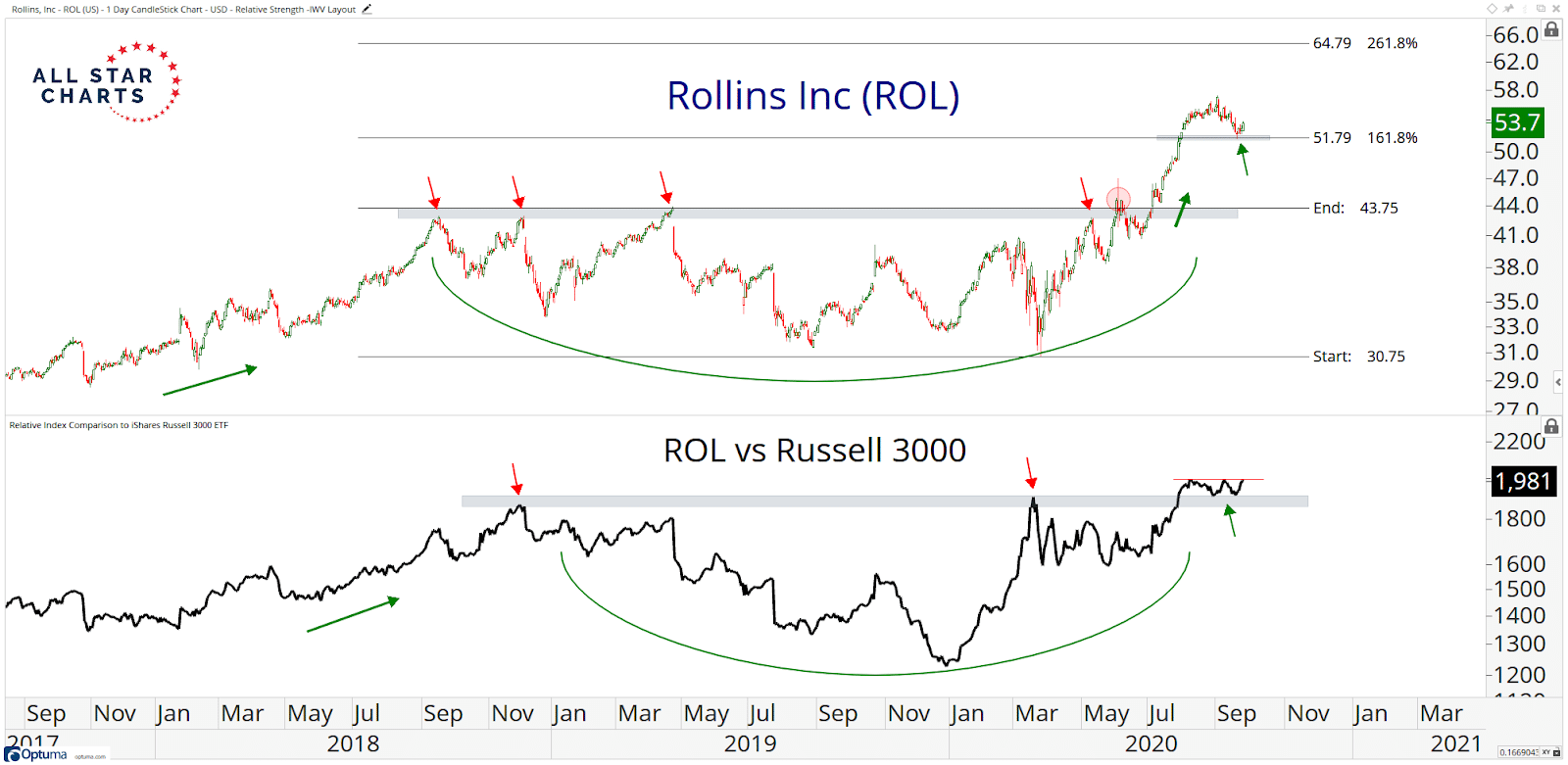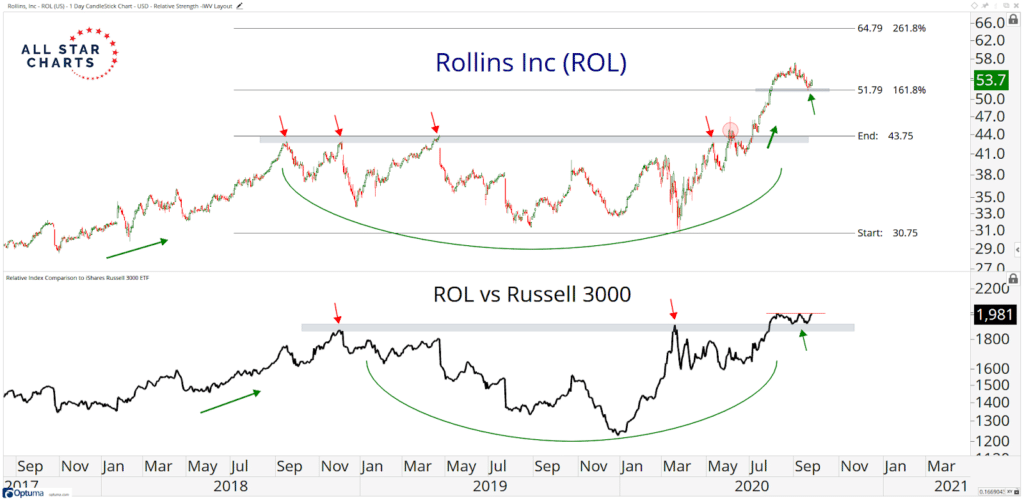 Rollins printed a strong breakout from a multi-year base on both relative and absolute terms this summer.
This month's pullback brings this name back to our prior price objective near $52. Rollins has also remained resilient during the September pullback relative to the broader market.
The stock is now regaining momentum. We want to own Rollins as long as the price is above 52 with a 1-3 month target at 65.
If you want to find out all about my top-down approach, and how I utilize it to uncover monster trading opportunities, then click here to see what Data Driver is all about.