If you've been focused on just chasing tech stocks at these levels, you'll want to listen up. 
Although the overall market has continued to march higher, it's hard for an entire group of stocks to continue this rip-your-face-off rally without some rotation.
I mean, if you think about it, most of the brightest minds on the street have been buying for the last months, and they'll look to take profits soon. My charts are signaling to me there will be some rotation into some underperforming areas.
Transports have been on my radar for quite some time now, and the trend is here to stay.
The Dow Jones Transportation Average is one to keep an eye on, in relation to the Nasdaq 100 ETF (QQQ).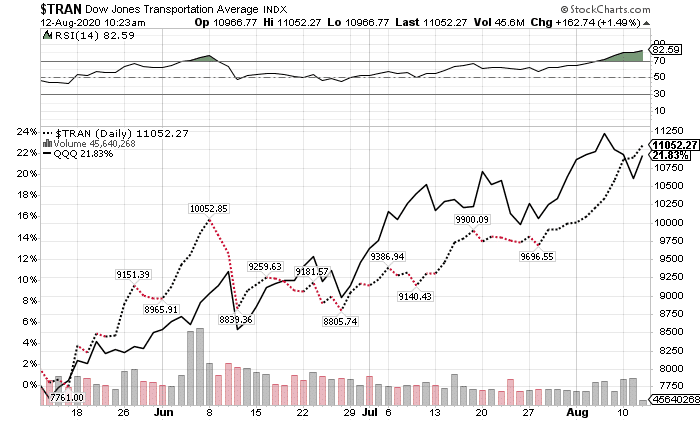 The dashed line is the Dow Jones Transportation Average ($TRAN) and the solid line is the QQQ.
Notice how on the daily chart above, we've started to see some pullbacks in the QQQ, while $TRAN has been on a tear?
I wouldn't be surprised if we start to see heavy rotation into transport stocks. Of course, there have been some industries leading within the transportation sector.
Shipping & logistics stocks have been relatively strong, but where the true value lies is in airlines and railroads.
It's pretty obvious to me this area needs to be on every single trader's radar, and I believe you'll start to find some hidden gems once you start to dig deeper.
I know what you're probably wondering, "What stocks are on your radar?"
I've got three that can provide some hefty returns, and the charts are a screaming buy on these.
J.B. Hunt Transport Services (
JBHT
)
Check out J.B. Hunt Transport Services Inc. (JBHT).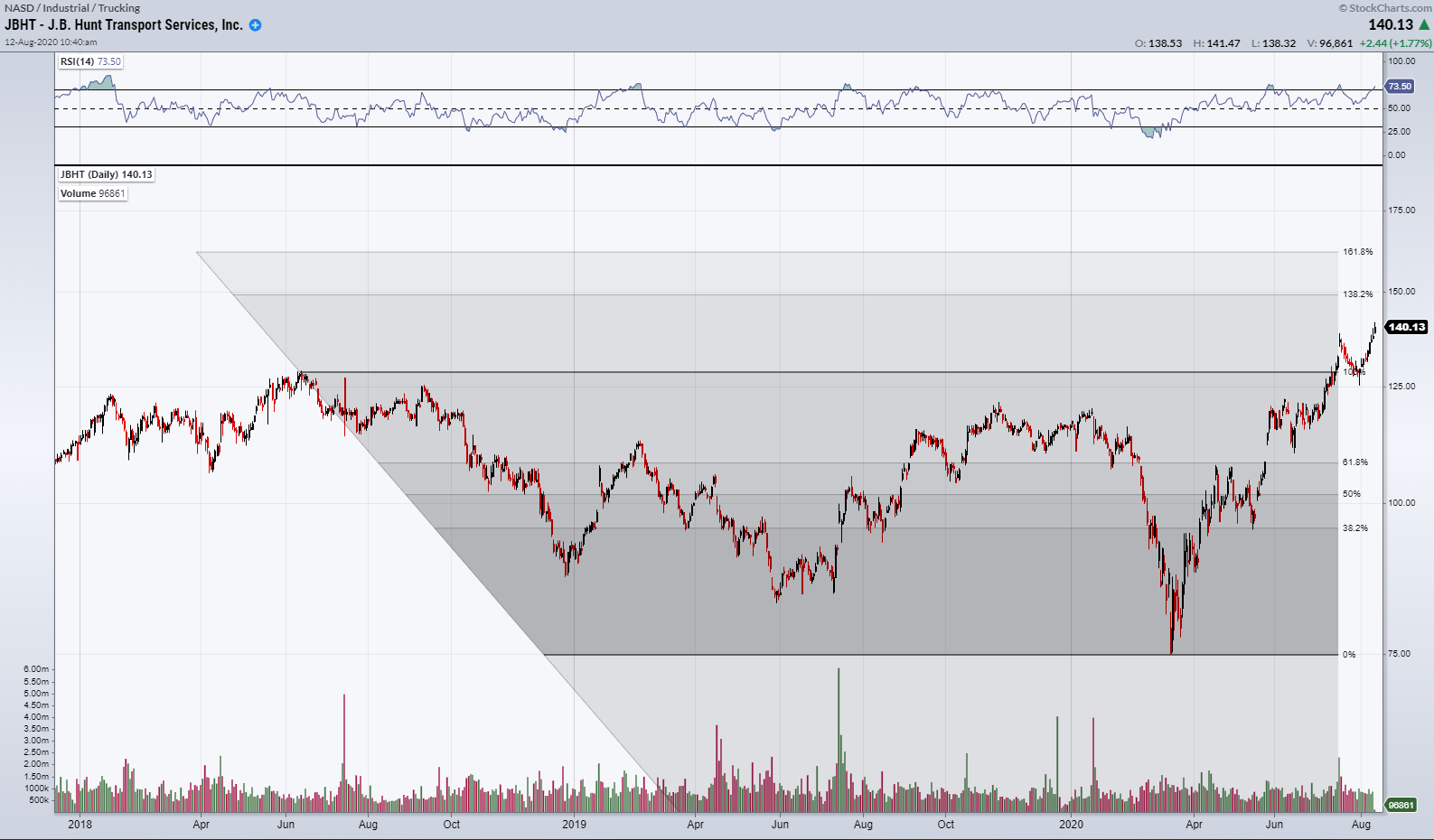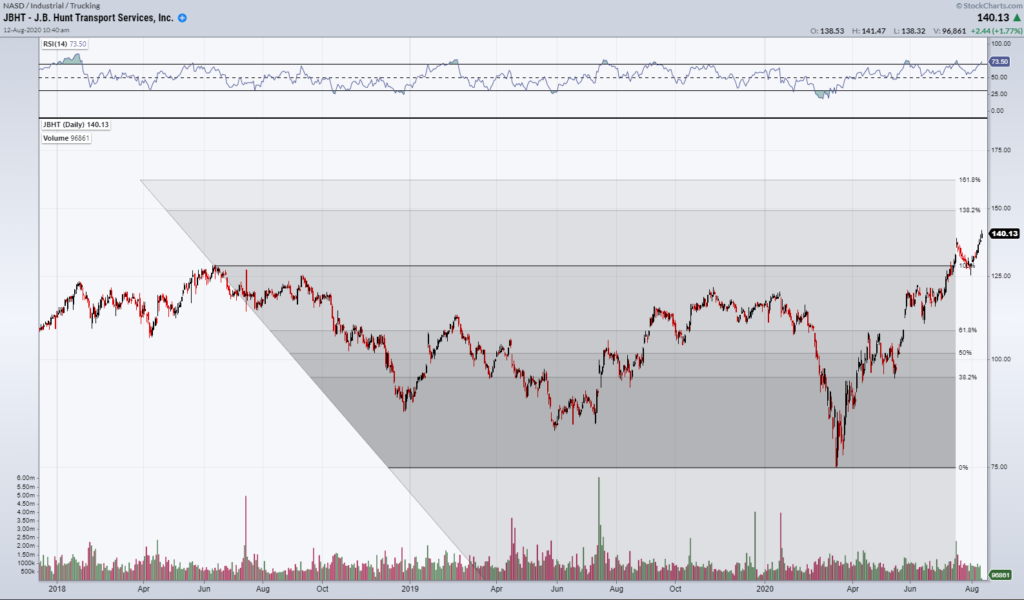 The stock has made a move and recently broke above 2018 highs right around the $130 level. I think this stock has room all the way to about $164, where the 161.8% Fibonacci retracement level lies.
If I were to play this, I would look for pullbacks to look to get in with a stop-loss below the $130 level with a target at $164.
CSX Corp. (CSX)
CSX is a railroad company that's approaching its pre-coronavirus levels.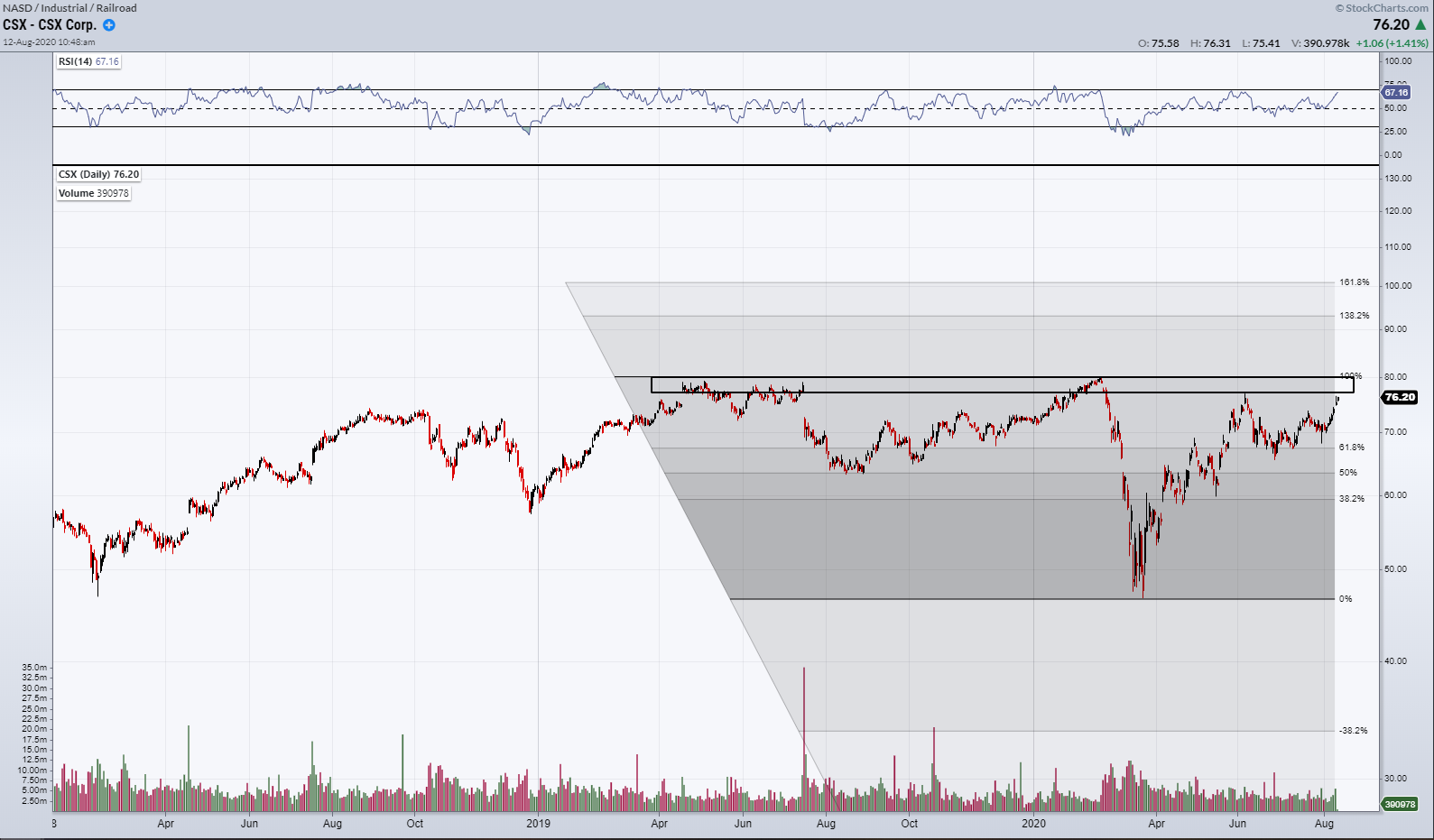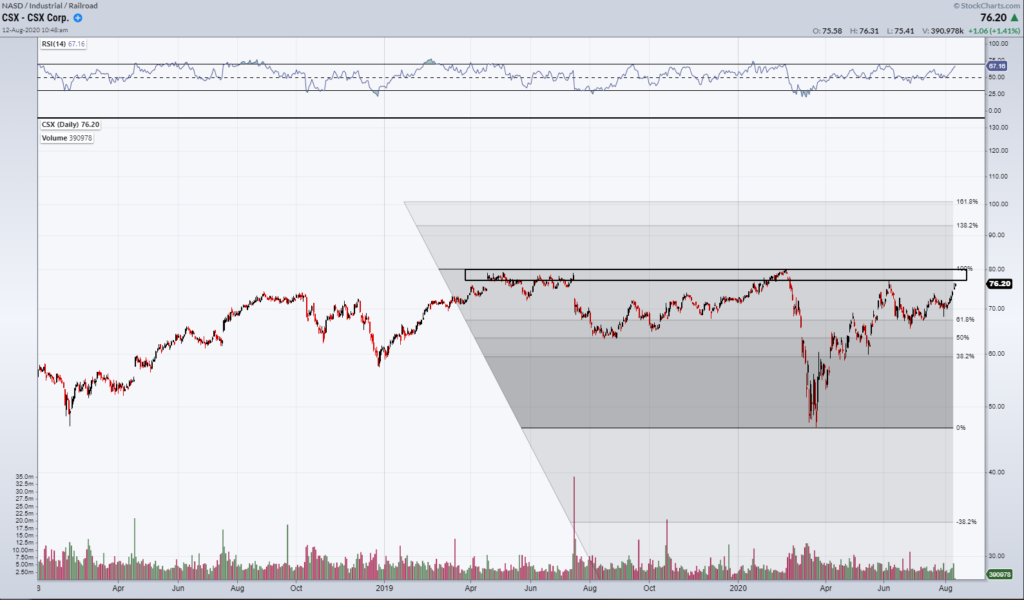 With this play, I actually love it above $76, and the price action signals if it stays above there… it's got room all the way above $90, and I wouldn't be surprised if it attracts some longs who want to play it for a move to the $100 level.
C.H. Robinson Worldwide Inc. (CHRW)
Another stock in $TRAN that looks interesting to me right now is CHRW. This one seems like a no-brainer to me. 
It's starting to break out and is flirting with the $100 level. I think it's a long if it breaks and stays above that area.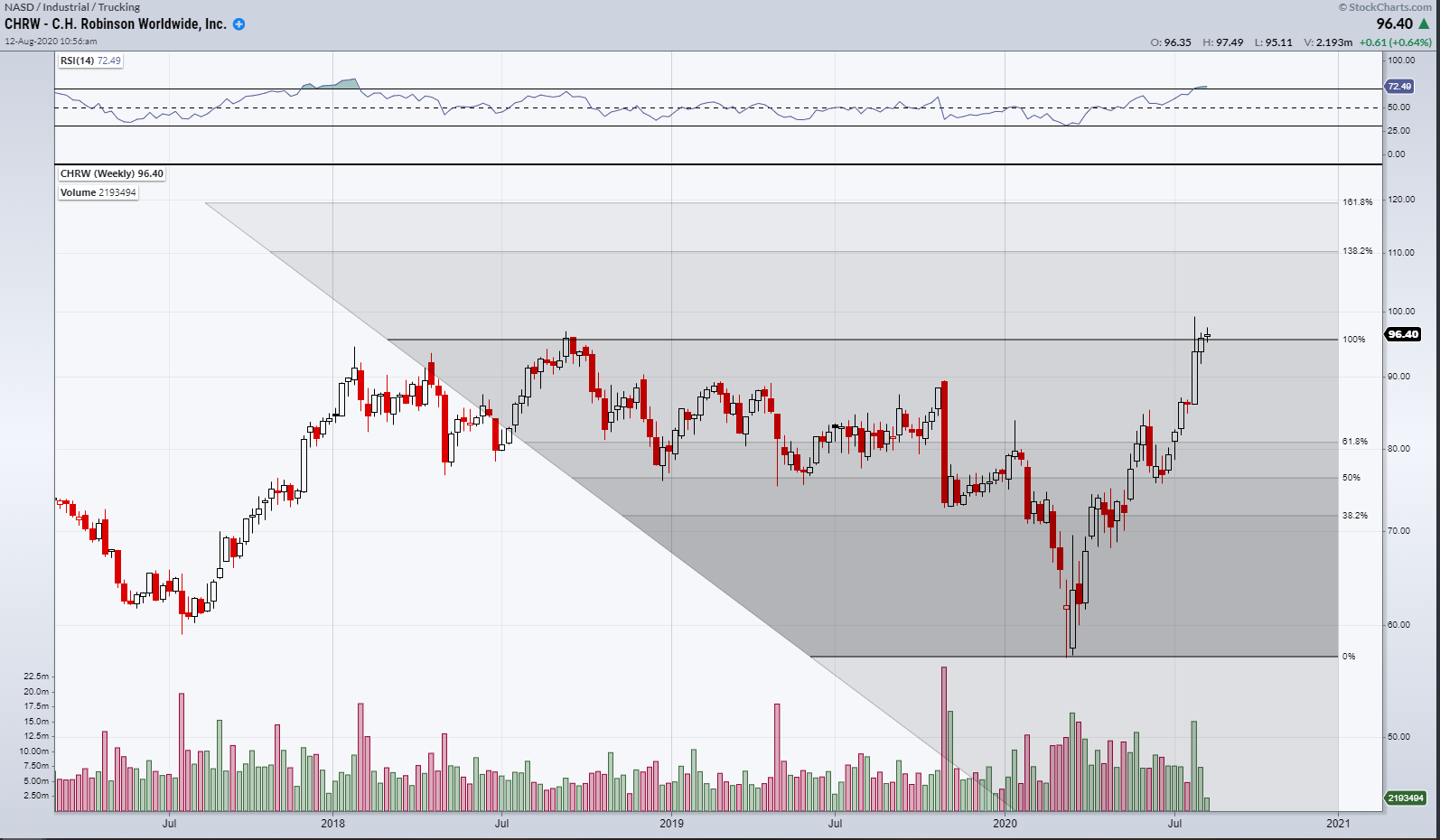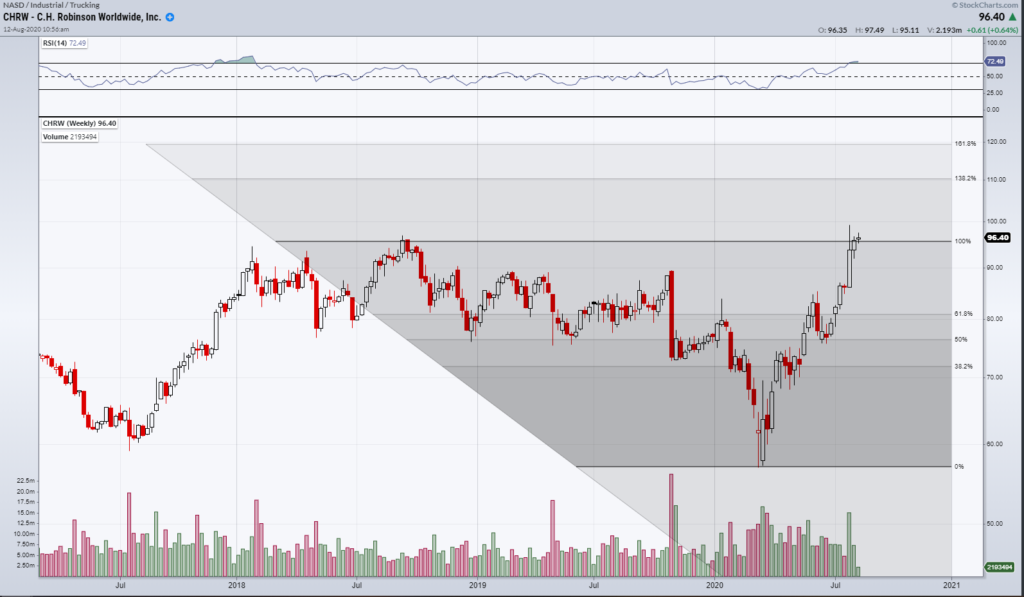 The target here would be $126, and I wouldn't be surprised if it gets there quick given the strength the stock has had recently.
Just by starting from the top-down, I uncovered three actionable trade ideas that I believe can produce 20%+ returns in a relatively short period of time. I truly think these are some names many traders are overlooking because they're so focused on tech stocks.
Related Articles: