There's been a lot of red in the crypto market the past week- so today I want to show you a few key bitcoin support levels that I'm keeping a close eye on– especially as we continue this choppy downward trend.
These BTC support levels are really the key factors to keep in mind when planning out a trade or looking at potentially profitable zones to finally make your first move into crypto.
There has always been a new BTC all-time high, it is programmatically designed to increase in value over time. More than any assets on the planet. 
With that in mind, let's dive into some key support levels.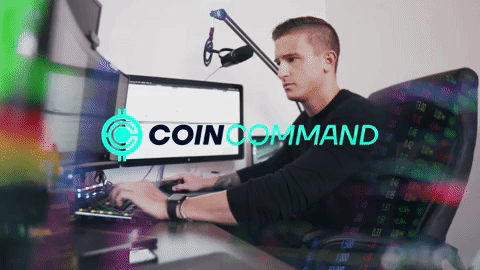 As we continue with this slow bleed for the last BTC all-time high of 69,000, the major area of support I'm looking at is the last area we found support in 2021.
The 30k range is crucially important and more supportive simply because that's where we found support before. Well, it was around 28k, which I called for being the lowest we would see back in May of 2021…
And that's exactly what happened.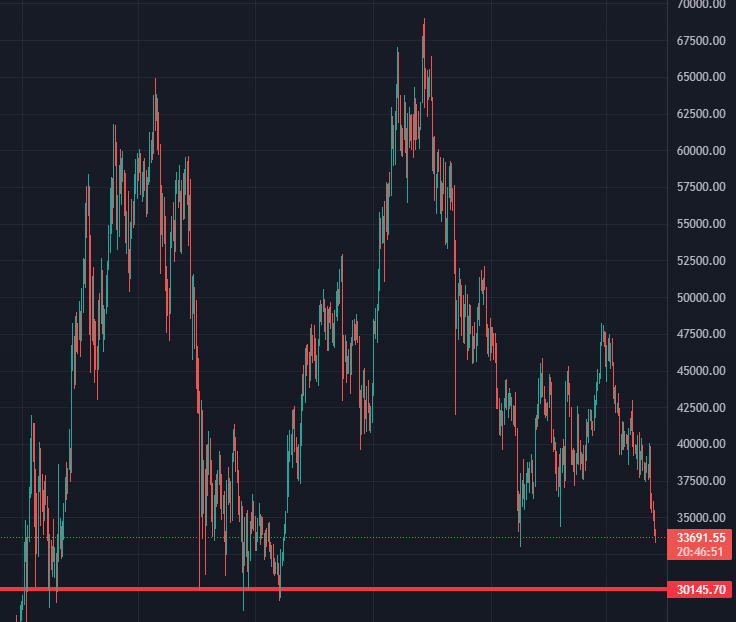 This time around I'm looking at the same area for some sort of relief bounce, depending on the instability of the macroeconomic environment with the war and Ukraine, inflation, and many other factors.
Besides the 30k range, our previous all-time high from 2017 is around 19k. If we fall below 30k, then 19k would be another major supportive zone.
However, as I'm writing this we're also in another supportive zone in the 33k range.
Now, 33k is not as supportive as the 30k-28k range, simply because of where past trading activity and volume accrued. But, if there is enough volume that picks up overnight from overseas trading and into Monday's open, this could just be a major shakeout till the next move upwards.
A quick word on bitcoin tokenomics.
We're about 2 years from another bitcoin halving, we're the reward given to miners is reduced by half, and ever halving BTC creates another new ATH.
These happen every 4 years. 
As inflation increases, in fiat money, there will be a larger demand for bitcoin, coupled with the reducing supply that enters into circulation every 4 years being cut in half. It's not rocket science to tell where bitcoin is going to be in the future. 
It's simple supply and demand.
I'm 100% confident that the price of bitcoin will be greater than 69k one day.
So keep that in mind whether you're looking to become a long-term investor, wanting to get into crypto for the first time, or simply looking for another trade.
With that being said, I want to show y'all one of the most underrated charts in crypto.
🌈The Bitcoin Rainbow Chart
This is the Bitcoin Rainbow chart, I'll leave a live link for you here.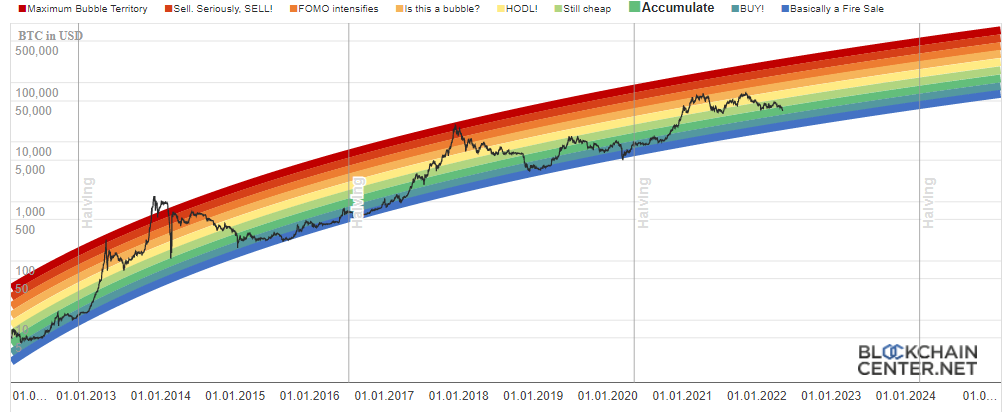 This is one of the most useful bitcoin charts you can find on the internet, and it really puts it all into perspective. After doing this for more than 10 years it can be easy to forget one of the most fundamental rules in crypto.
When in doubt, zoom out.
As far as the rainbow chart goes, we're in a heavy accumulation zone, very close to a major buy zone. So keep this chart in mind as you're looking at accumulating anything on this crypto pullback.
This is quite a useful tool.
The Bottom Line
Bitcoin could go either way right now, this is almost a no-mans-land for bitcoin trading. Especially with the volatility from the traditional markets and macroeconomic conditions to which bitcoin has been more tied to than usual lately.
Luckily we always cover more than bitcoin. Yes, it is the leading indicator for the crypto market, but there are opportunities elsewhere in this space. 
There are hundreds of defi farming projects, potentially NFT trades coming up, airdrops, stealth launches, and more! 
This space is just beaming with potential, it's truly the future of our economic system.
So when in doubt, zoom out.