There's so much volatility in the market, but nothing really outside of the norm. The market has been on a bull run for so many years, and we're in "dire" need of a 10%+ pullback. Now, I'm getting a lot of questions about the pullback and traders in the community are asking, "Is this pullback over?" Well, I think the pullback has subsided for now, but I still think the markets will be pretty volatile. That said, there are some suggestions I have when the market gets like this, and I think it's good to practice these "principles," especially if it's your first time experiencing volatility like this.
Reasons for the market drop
The recent market drop was due for quite some time. I think greed, complacency and leverage are some of the main reasons for the market drop in February 2018. Everyone was overly excited about the market and thought it could continue to make new highs. From small traders to large funds, we all starting sipping the bull market kool aid.
Here's a look at the SPDR S&P 500 ETF (SPY) on the daily chart: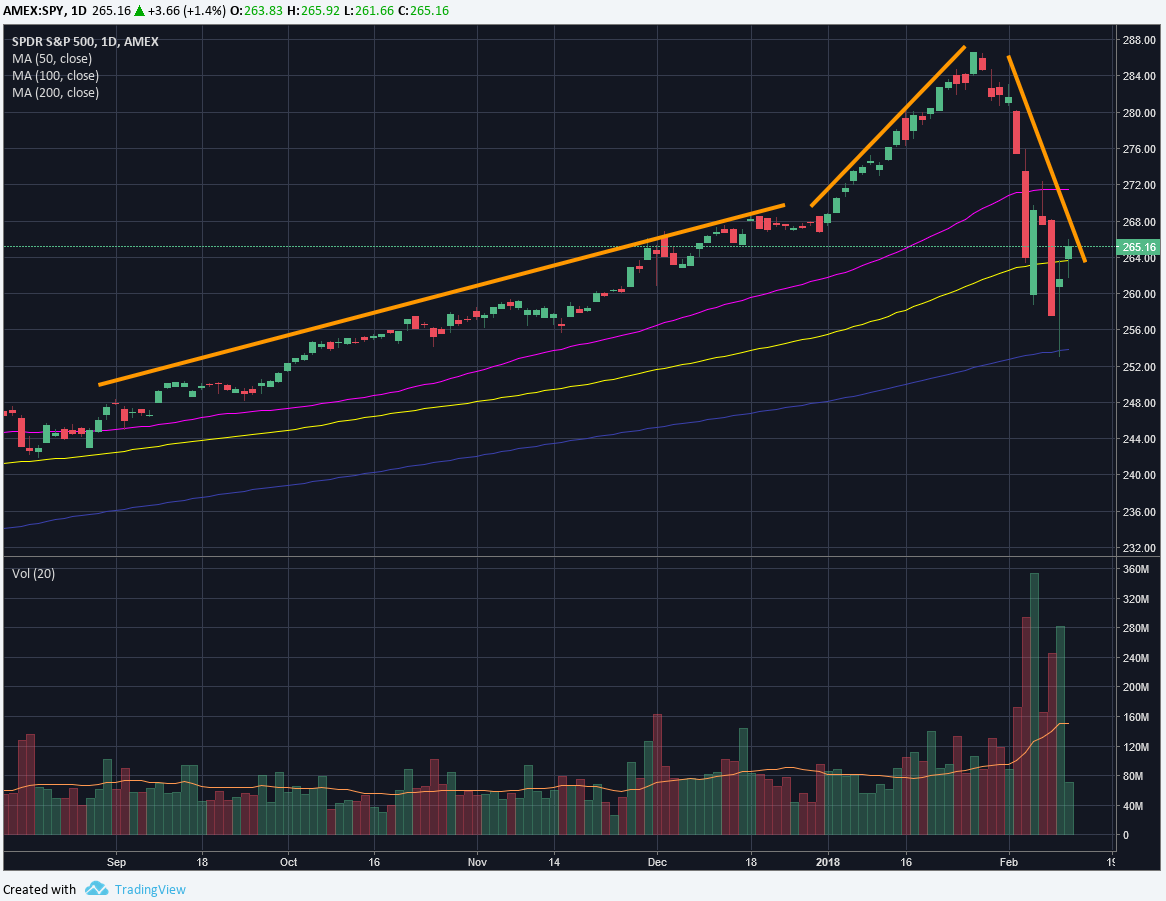 First China stocks ran higher, then penny stocks started to run. Thereafter, bitcoin stocks started to move higher. It was "controlled" madness. These moves continued to push the market to all-time highs.
With some large funds trading on huge margins, they started to bet against volatility. Some instruments, namely exchange-traded notes (ETNs), built for destruction, blew up in just one trading session. We saw the VelocityShares Daily Inverse VIX Short-Term ETN (XIV) fall from a peak of approximately $146 to just $5. Those who were long this are probably hurt…or worse, lost all their money and have no more skin in the game. I think this ultimately led the pullback in the market.
Suggestions for this volatile market
Here are some key takeaways for this type of market.
First, I think you need to remain patient. There are a ton of potential buying opportunities, and you need to be ready to pull the trigger if your indicators are telling you to buy.
However, you also need to be careful. Although the market selloff may have subsided, stocks could still be volatile. The last thing you want to do is buy a stock when there's choppy trading.
Now, you need to be aggressive. I don't mean be aggressive with how much you invest. Rather, you need to be aggressive with your trading plan. Always keep yourself honest and your risk defined to try to live to trade another day. The last thing you want to do is lose your money on a trade that's not your A+ set up.
With these principles, I was able to stay positive and avoid getting hurt in a volatile environment:

I'm looking to get more active once the markets calm down. For now, I'm going to stay patient and not try to get trapped long.
Related Articles: