We've all been there. Getting into a stock and holding onto it even if it goes against us, and then potentially forcing a swing trade to a buy-and-hold investment. This is the exact opposite of what successful traders do. When you're learning how to trade stocks, you should not hold onto a position for too long, especially if it goes against your initial thesis. This happens to a lot of new traders. Learning not to be a bag holder is one thing you need to be mindful of when you learn how to trade stocks.
How to Trade Stocks: Don't Get Married to A Position
Getting married to a position could ruin trading accounts especially if the stock does not have good fundamentals. Since trading is dynamic, you have to learn to cut your losses and not be stubborn. That said, let's take a look at some examples of stocks that could've crushed your portfolio if you were stubborn.
There are some stocks you buy and hold, while some you would just trade. For example, you would consider buying and holding a stock with a large market capitalization and is widely known. Blue chip stocks are meant to be bought and held. Conversely, you only want to trade "no-name" stocks over the short-term. You would not buy and hold a no-name stock that just came about due to the blockchain and bitcoin craze.
Never get stubborn when trading a stock
Remember a few months ago when a stock would announce it was getting into blockchain or cryptocurrencies, then doubled in a short period? If you traded that and made money, that's amazing to hear. A lot of traders in the community banked off some of those blockchain stocks, if you remember that. Companies would announce they were going to implement blockchain, and their stock would skyrocket. Now we know that was a fad.
If you traded these names and were mindful that it's a short-term trade, you would be ecstatic. However, if bought and held, you're probably kicking yourself. If you were long because of the increasing demand for blockchain technology and bullish trading in cryptocurrencies, and are still holding onto those stocks, you might want to consider getting out. Keep in mind, this was all fueled by the massive move higher in Bitcoin and alternative coins. However, once those cryptocurrencies reached highs and pulled back over 50%, those stocks followed suit.
Take a look at Riot Blockchain (RIOT).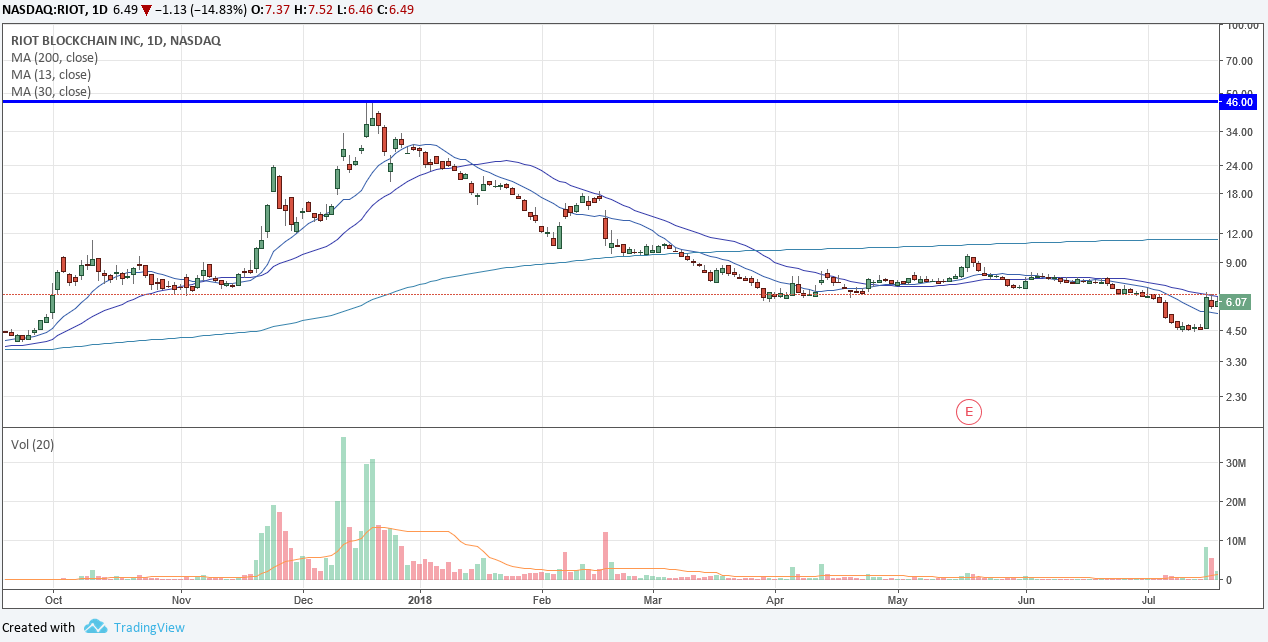 This thing was a penny stock at one point and went to over $40 in a short period. Now, if you don't know how to trade penny stocks, and just held onto this stock thinking it would be the next AAPL, your account could've been ruined. Moreover, if you bought into the craze near the highs in RIOT and held even though it went against you…well, you would have lost over 75% on the trade. On the other hand, if you traded it over the short term, you could have booked some profits trading this blockchain stock, just as some of the traders in the community did. This is one clear example of why you shouldn't fall in love with stocks all the time.
Only look to buy and hold a well-known stock
Again, stocks like this should not be owned for the long haul. However, blue chip stocks, say something like Disney (DIS) would be more of a long term hold. Chances are you can buy DIS and sustain the pullbacks because it could run higher.
Here's a look at the weekly chart of DIS.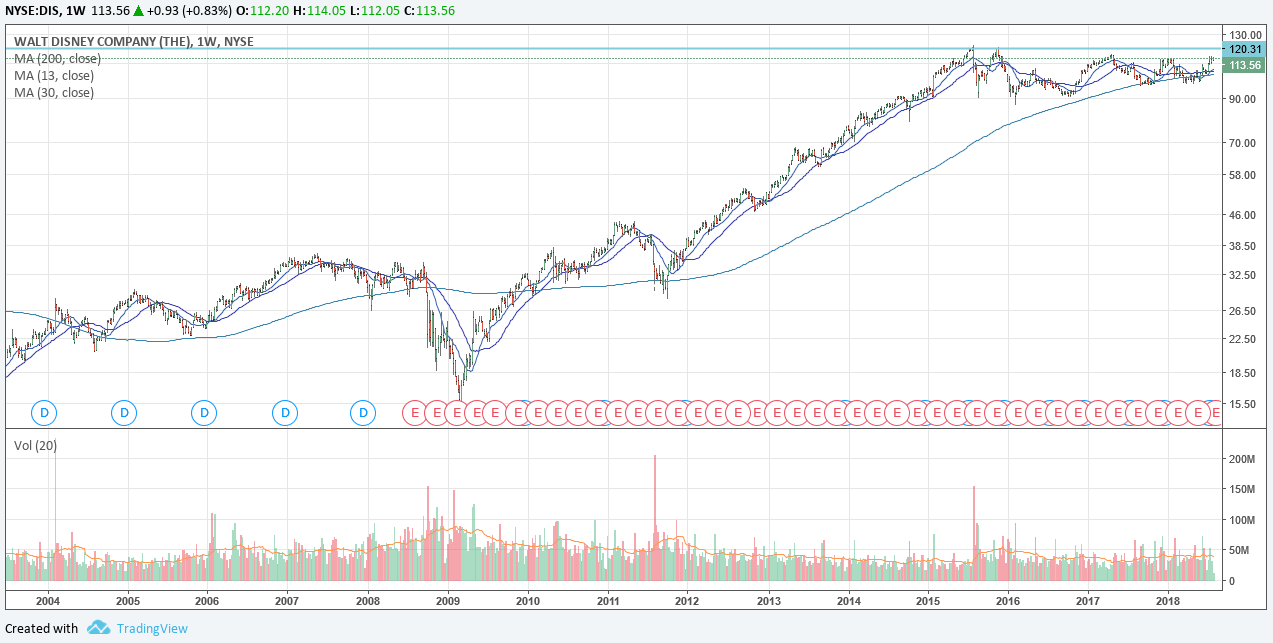 It's much better to get "married" to DIS than a stock like RIOT over multiple months or years.
The Bottom Line
If a stock is not a household name and is a micro- or small-cap, you should only trade it or hold it for a short period. You do not want to get married to these stocks because it it moves against you and you continue to hold, you could lose a significant portion of your capital.
#-#-#
 Jason Bond runs JasonBondTraining.com and is a swing trader of small-cap stocks.
Related Articles: