Good morning everyone,
Today we're talking about the markets (again), the US-China trade "war" (again), and Google's big day.
Enjoy the next 4 minutes and 11 seconds.
Keep raging,
Jeff & Jason
---
THE MARKETS

---
THE HEADLINES
Everyone, remain calm!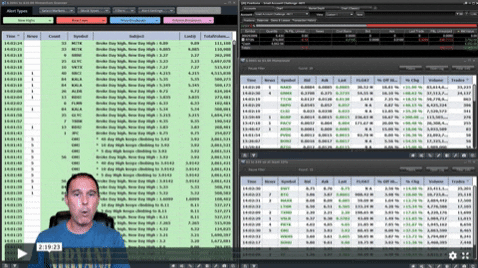 The Dow Jones dropped 473 points on Tuesday after the White House accused China of reneging on agreements it had made previously in trade talks. The Dow fell as much as 600 points, closing down 1.8%. The S&P and Nasdaq suffered similar fates, down 1.7% and 2% respectively.
There's still a chance …
Beijing announced that it will still be sending Vice Premier Liu to Washington, but Liu and Trump's meeting will start on Thursday, a day later than initially planned. While Liu is here, the delegations will discuss the US' demands … and probably a topic or two China wants to cover. If China doesn't agree? Well, tariffs on more than $200B worth of Chinese goods are still on the table, and they can be enacted as soon as Friday.
What are the chances?
According to Jeffrey Gundlach, Chief Investment Officer of DoubleLine Capital, the chances of those tariffs being implemented sits above 50%. Gundlach also called the US economy rudderless, which is a PC way of saying "sh*tty."
When asked, Chinese Foreign Minister, Geng Shuang, said: "It's only natural for the two sides to have differences." That's a very polite way to say, "we're all f*cked if this doesn't happen." 
Bottom line: "In my experience, asking your guests to bring anything besides a fan-friendly app never turns out well." – Jason
---
Sleeping with the enemy
Have you learned nothing from Nissan and Renault, GM? GM's self-driving arm, Cruise, has gotten into bed with Honda (and others) … again. Hussy.
Cruise raised another $1.15B from a who's who of investors including Honda, T. Rowe Price and SoftBank on its way to a $19B valuation. In the past year alone, the AV company has secured more than $7.25B in funding.
How to spend it
The car company plans to spend most of its cash on real estate. Wait, what? Technically the GM arm will spend its money on personnel, mostly engineers, but will need to set up workspace for its additional 1k employees. The company plans to tap the engineering talent pool in Seattle where a new office is being built out and continue its expansion in the Bay Area, taking over Dropbox's former HQ.
So how will the company justify raising the mind-boggling amount of cash money? By leaving its competitors in the rearview mirror, of course. You see, Cruise has been more aggressive than your college buddy who works for Northwestern Mutual and really, really thinks you need a term life insurance plan … it plans to launch vehicles for commercial use this year.
State of affairs
GM seems to have outkicked its coverage with its acquisition of Cruise. The little company who could has helped GM become a leader in the autonomous space as others toil in the "trough of disillusionment."
But Cruise faces stiff competition from the likes of Waymo (we see you, Google), Ford, and a Toyota-Uber collab. Although investment and partnerships have slowed a bit, large sums of money remain as vehicle makers and tech companies look to share the financial burden of being first to market.
Bottom line: "Of course Uber almost went and ruined it for everyone back in March of last year. We didn't forget, Dara." – Jeff
---
Google it
Google held its annual I/O conference yesterday. And in case you were wondering, Vince Vaughn and Owen Wilson were not in attendance … we checked.
First on the list of announcements was the Pixel 3a, a $399 version of the Pixel phone, with most of the bells and whistles of the original besides the wireless charging and facial recognition (the camera is supposedly very similar, so at least the nudes will be high res). But that's not the important part … headphones are back baby!
Siris higher functioning, less cleverly named cousin, The Google Assistant, was reintroduced to the world. Shrinking the size of its machine learning capabilities from 100GB to 0.5GB, the Assistant is able to provide information and feedback to the user at a much faster speed. There are also new features such as personalized answers based on your interests and completely useless reminders that won't let you forget to finish a song or podcast that you had started during your commute but never had time to finish.
The newest iteration of Google's operating system, Android Q, was seemingly designed with privacy and screen management in mind. Reminders will be provided periodically when apps are using your location and users will be able to temporarily disable distracting apps through the new 'Focus Mode'.
But that's not all
Beyond the announcements detailed above, a protester flew a plane with the phrase 'Google control is not privacy #savelocalnews' on a banner. No word on if Tim Cook has a pilots license or not …
Bottom line: "Can't wait for the Ask.com conference next month." – Jason
---
IN OTHER NEWS
Related Articles: