Good morning everyone,
Today we're recapping the markets wild day and the roller coaster of emotions thanks to the ongoing US-China trade "drama" (technically, it's not a war … yet).
Enjoy the next 4 minutes and 17 seconds.
Keep raging,
Jeff & Jason
---
THE MARKETS

---
THE HEADLINES
Everyone, remain calm!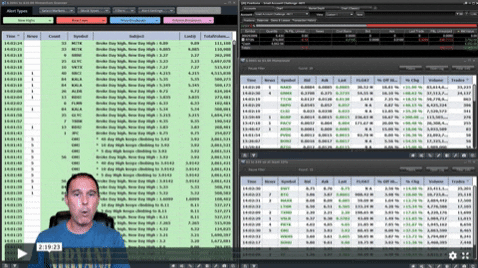 Donald Trump's weekend tweet threatening new tariffs on China sent the Dow Jones into a tailspin after hours on Sunday. On Cinco de Mayo, no less! Investors worried that Donny T's tweets might deter China from attending this week's trade meetings and that all hell might break loose between the countries. As a result, the market dropped 471 points to kick off the week.
Just when it appeared that all was lost, however, Chinese Vice Premier Liu assured the world that he still planned to make the trip to the US, albeit with a much smaller delegation than the 100 originally planned. Likely after asking the diplomatic equivalent of "so, who's going to be there?"
Mr. Trump's wild ride
News that the trade talks remain very much "a go" gave investors hope that a deal might still be reached, helping The Dow recover, closing down only 66 points. The S&P and Nasdaq were also in the red at the close, at just 0.4% and 0.5%, respectively.
According to Goldman Sachs analysts, a tariff hike is unlikely. GS places odds of an increase at 40%. I wonder who they like at the Preakness? Citi also believes that as long as talks don't cease entirely, and even if Liu's trip were to be canceled, the current tensions are still a long way off from a full-blown trade war.
Bottom line: "This meeting is going to be more awkward than having dinner at your friend's house when their parents get in a fight." – Jason
---
It's not you, it's me
After ten years at Bridgewater Associates, Eileen Murray's catching feelings for someone else. Not anyone in particular … just not Ray Dalio.
Currently the co-CEO, alongside David McCormick, Murray has 'allegedly' discussed fatigue associated with Bridgewater's culture, a place where employees are encouraged to openly argue with each other and are rated in real time based on over a hundred attributes.
Who's hiring?
With Bridgewater weighing in at $160B under management, Eileen is by far the most prominent females in the hedge fund industry and one of the most well-respected in fínáncé. And although she has a non-compete, she did not sign a lifetime non-compete (read: blood oath) as some others have with the cult of Dalio.
If you can believe it, her options outside of the hedge fund industry are seemingly unlimited. Wells has reached out to her about the vacant CEO position. She even mentioned the job possibility to others at Bridgewater. Radical transparency, folks.
And Wells isn't the only financial institution to inquire. Bank of New York and Northern Trust have tried to woo the leading lady of Wall Street. She also had several interviews with Uber when the tech company was looking to hire a new Chief Executive.
Bottom line: "I heard Deutsche Bank is hiring." – Jeff
---
"Bah gawd, that's Vince McMahon's music!"
The XFL just gave itself a fighting chance. The spring football league bankrolled by Vince McMahon's personal $500M investment has inked deals with Disney (read: ESPN and ABC) and Fox to carry the league for 3 years.
No money will change hands but He Hate Me's former league will give Disney and Fox the entire ad inventory for all 43 televised games. Vince McMahon's league will retain rights to sponsorships.
A fighting chance
Of course, XFL 1.0 will best be remembered as a dumpster fire memorialized with an ESPN 30 For 30. But this time things seem … different. First and foremost the latest iteration most certainly isn't NFL Blitz IRL.
The league isn't looking to be the CTE breeding ground it was the first time around. No official rules have been released yet but the Commish (Andrew Luck's dad, Oliver) has indicated the league will focus on high-quality play. The XFL is also looking to keep games under 3 hours because there isn't enough Ritalin in the world to keep people engaged in the only on-field product more pathetic than Ivy League football (don't @ me).
Not to mention the sports media landscape has changed dramatically since '01. Thanks, cord-cutters. Most of the inaugural season's games won't be played in primetime. Instead, they'll air on Saturday and Sunday afternoons during a relatively dead time for sports. Oh, and did I mention games won't be played on UPN?
Plus, say what you want about the Alliance of American Football, the spring football league that shuttered just weeks into its first season, but its ratings showed that there's at the very least an appetite for this type of content.
Bottom line: "Mark my words, if they even think about changing the 'scramble' to a coin toss I will never watch an XFL game … unless of course, Dwayne Johnson returns to ask 'Can you smell what the XFL is cooking?'" – Jason
---
IN OTHER NEWS
---
MAKING MOVES
↗ Sinclair, FTW. The broadcast group rose 35% on Monday following confirmation that it will buy 21 of 22 regional sports networks that Disney had put up for sale. You might remember that the house that Walt built was forced to divest the "RSNs" per its agreement with Uncle Sam as part of its deal to buy Fox. Disney already owns ESPN. Sinclair will become a sports giant with the $10.6B acquisition in what is still one of the remaining lucrative cable businesses.
↘ Share of Taco Bell's slightly more appealing cousin, Del Taco, fell more than 6% after hours following a profit miss for the quarter. Del Taco earned 4 cents per share vs. 8 cents per share during Q1 last year. Why? Weather in California (apparently it wasn't taco eatin' snz) and a late Lent. Sure, blame Jesus.
Related Articles: