Good morning everyone,
Before we head into the weekend, we've got commerce to discuss. Today we're talking Beyond Meat's big day, Tesla securing funding and Stephen Moore bowing out.
Enjoy the next 4 minutes and 8 seconds.
Keep raging,
Jeff & Jason
---
THE MARKETS

---
THE HEADLINES
C.R.E.A.M.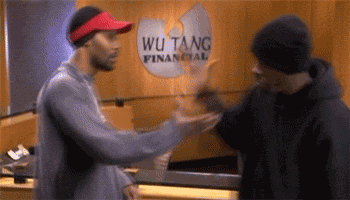 In honor of RZA's appearance on CNBC last week, Elon Musk and Tesla are looking to raise that Randy Moss through an equity and bond offering.
Things were all "funding secured" at the Silicon Valley-based EV maker up until its last quarterly report showed that it was hemorrhaging cash. The company's reserves dropped 40% in Q1 alone. In total, Tesla is looking to raise a total of $2.3B in cash through its offering to sustain operations.
Most of the losses can be attributed to production problems with the "affordable" Model 3. The company suffered from lower orders along with issues shipping the cars to China and Europe.
Initially, the plan was for the company to produce enough Model 3's to generate the cash flow needed for growth. But the delays in production and subsequent communication of that delay resulted in the stock plummeting from all-time highs in December to $244.10 as of close yesterday.
Not today
At one point during 2018, Elon thought that Tesla would die. For what it's worth, he also thought that Saudi Arabia's sovereign wealth fund would help him take TSLA private at $420.
Despite not being profitable in Q2 this year, Tesla is standing by its claim to produce 400k vehicles this year. Time will tell if Elon can deliver.
Bottom line: "As an auditor, it makes me wonder if the guys from Enron are the same ones preparing Tesla's financial reports." – Jason
---
Beat the meat
Beyond Meat beat even analyst's wildest expectations for its IPO. Shares of the faux-meat maker soared 163% in its market debut. To match that success you'd have to go all the way back to March 2000 when Palm debuted during the peak of the dot-com boom.
Shares were priced at $25 but started trading on the Nasdaq at $46 and hit an intraday high of $73. This has 'millennials on margin' written all over it.
The preferred burger manufacturer of people who donate to the PETA and drive a Prius sold 9.5M shares on its way to raising some $240M. Beyond plans to use the cash to build out production facilities and fund R&D (Can you say Beyond Fish?!).
Beyond food
Co-founded by Ev Williams, the "food" company is about as far from "big food" as The Water Coolest is from The Wall Street Journal. Exhibit A: Beyond Meat is valued at 44x revenue. Where is the typical food brand valued? Not more than 2x top line.
But BM has already proven to be wildly popular, with its burgers sold in more than 12k restaurants. And investors seem to think that its ambitious growth and patented technology can allow it to take a bite out of the $1.4T (real) meat market.
Bottom line: "Morningstar has to be pissed. They've been making tasteless, meatless burgers since like 1975." – Jeff
---
Another one bites the dust
Another one of President Trump's picks for the Federal Reserve Board of Governors has backed out. This time, Stephen Moore withdrew his nomination just hours after he claimed to be "all in." Moore's withdrawal comes on the heels of Herman Cain removing his hat from the ring amid sexual assault allegations.
Moore, an economic commentator and Trump campaign advisor in 2016, has been receiving backlash over comments he made about women and the part they play in sports. Doubt cast by Republican Senators all but sealed his fate. With only 54 Republican Senators, a nominee will need all the GOP support he or she can get.
But wait, there's Moore
Moore cited strain on his family related to the nomination as a reason he'd be withdrawing his name. According to Mr. Moore, "The unrelenting attacks on my character have become untenable for me and my family, and three more months of this would be too hard on us."
As of now, it remains TBD as to who Donny Deals will nominate for the remaining Fed slots, but given his recent track record, it could be harder than expected to get those seats filled.
Bottom line: "If only there were a tested reality TV show format that the President could use to pick a nominee." – Jason
---
IN OTHER NEWS
---
MAKING MOVES
↗ The Oprah effect is real. Weight Watchers shares jumped 15% following a Q1 that wasn't as terrible as expected. Oh, and the brand promised to bring in the big (ok, maybe not the best word choice) guns to get 2019 headed in the right direction. Oprah herself will be pitching the brand which has recently been burned by potential subscribers turning to the keto diet and more users opting for online weight loss regimens.
Related Articles: