Good morning everyone,
Today we're talking trade war (… because, what else is new?), Dara Khosrowshahi's really bad day, and Elon being Elon.
Enjoy the next 4 minutes and 13 seconds.
Keep raging,
Jeff & Jason
---
THE MARKETS

---
THE HEADLINES
Back to the drawing board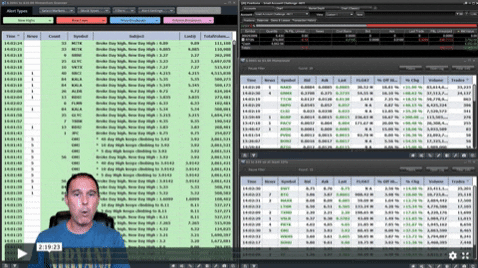 It's safe to say that last week's trade summit between the US and China was a bigger disappointment than the Amazon Fire Phone. Donald Trump made good on his additional 25% tariffs on more than $200B worth of Chinese goods, which he had threatened (on Twitter, of course) last weekend.
DJT claimed that while the Chinese were being punished for reneging on previous agreements, the talks were "candid and constructive," and his relationship with Chinese President Xi Jinping "remains a very strong one." I have a feeling Xi has a different opinion.
The ride continues
Despite the international sh*tshow, stocks made a comeback on Friday, with the S&P and Dow rising 0.4% and the Nasdaq climbing 0.1% after Treasury Secretary Steve Mnuchin called the talks productive. While the S&P rose, it still suffered its largest weekly drop of the year of our Lord 2019.
That market rebound was short-lived, however, as the Dow dropped 0.8% and the S&P 0.9% in pre-market trading as investors began to weigh the costs of the tariffs, and China threatened retaliation. Things could be awkward when Trump and Xi likely meet again at the July G20 Summit in Japan.
What's this mean for us?
White House economic advisor Larry Kudlow broke down what the tariffs really mean to US importers, saying "both sides will suffer." He further explained that it's not the Chinese that pay the tariffs, but rather the importers bringing the goods to the US, and that cost increases usually gets passed down to the consumers.
According to Ludlow, China will suffer a significant hit to GDP. The US will also experience a drop, but it won't be as significant due to Uncle Sam's economy being in "terrific shape." Tell that to the consumers that have to pay an extra $3 on that new knock-off iPhone charger they ordered. 
Bottom line: "I'm going to be really pissed off if this trade war crashes the global economy and we go back to trading seashells in exchange for goods and services." – Jason
---
Blue $42
Despite all the hype Uber's IPO turned out to be a flop on Friday. The ride-share company's IPO was the most highly anticipated public offering of the year. But when the bell tolled on Friday and the company officially went public, the markets gave Uber shares a two-star rating at best.
Uber had been conservative with its approach to its public launch after seeing competitor Lyft price near the top of its range and fail spectacularly. The company even went as far as to set Friday's IPO price at $45, at the bottom of its range. Even with the prudent approach, the stock closed at $41.57.
But why?
Some investors might not like the fact that Uber lost $3.7B last year and faces stiff competition, state restrictions, and driver unrest. Too bad the company doesn't have a fire-breathing dragon like the Mad Queen to smite its haters.
Plus, the drop seems to be a product of poor timing. Ongoing trade war concerns have dragged down the market and the Lyft IPO wasn't exactly a ringing endorsement. 
Bottom line: "Well, at least Travis Kalanick didn't show up uninvited. What's that? He did?" – Jeff
---
Dumb and dumber
Two of the most controversial figures in transportation, Elon Musk and Travis Kalanick decided to raise a little hell last week …
Almost as awkward as Uber's stock performance was ex-CEO and founder Travis Kalanick showing up and attempting to ring the opening bell with the company … after being told he wouldn't be allowed to. T-Pain rolled up to the NYSE in an Uber, of course, with his father. Talk about overstepping boundaries.
Travis Kalanick, who co-founded Uber back in 2009, was not invited to ring the opening bell as after being pushed out of the company amid sexual harassment allegations, a data breach scandal, and allegations of bribery.
Elon being Elon
Mr. Musk, was at it again on Twitter last Friday when commenting on the now infamous adult entertainment video that was filmed in a Tesla. He first tweeted 'Turns out there's more ways to use Autopilot than we imagined', followed up by 'shoulda seen it coming …' *cue the cymbals*
This comes just weeks after Elon and the SEC agreed that certain tweets pertaining to Tesla's business going-ons would be subject to a securities lawyer's oversight. No word on if tweeting about amateur porn violates the agreement.
Bottom line: "Lots of SEC computers Googling "Tesla porn" on Friday for "research" purposes." – Jason
---
IN OTHER NEWS