Trading gives people financial freedom and they could potentially make millions of dollars, if they get it right. However, traders go through drawdowns, that's just part of the game. However, you need to approach trading with grit. Even if you lose money, it doesn't mean you should stop trading for good. You have to grind through it to potentially flourish. You don't need to trade all the time, especially if you don't see your ideal setups.
Sitting on your hands is always an option
The recent market drop is all over the news. It's okay if you didn't see the big drop coming. It's also okay if you took some losses. Since I left teaching around 7 years ago, I've made some mistakes but I've also made 7 figures trading, part-time. Now, I don't think this market is a place for me to trade because no one really knows what's going on. It's okay to take a break from trading stocks for a bit just to clear your head.
Sometimes, cash is a great position, especially when the markets are choppy. There's always a time and place to be a hero, but I don't think buying on the large market drops was the right play for me, especially since no one knew what was going on with volatility ETFs, which spilled over to stocks.
Now, you shouldn't just stay away from trading all at once. You could still follow the markets and get better. For example, you could review your trades and look at what you could've done better. Even if you sit on your hands and do nothing, it pays off to talk to other traders in the community to get different perspectives on the market. Again, if you want to be a successful trader, you'll need some help along the way, talk to people, journal your trades and review those trades.
One thing I learned is to remain patient in my years of trading. I'm going to practice what I preach and talk to traders in the community and review my trades until I figure out a direction in the market. However, just because I'm not as active, it doesn't mean others are sitting on their hands too.
Traders in the community are still crushing it
Now, another way to potentially play for market drops is to trade options. This limits your risk, and you know your maximum loss limit if you're long options. For example, Jeff Bishop, a key component in the Millionaire Roadmap program, crushed an options trade.
Jeff bought put options in Weight Watchers (WTW) not too long ago, and nearly doubled his money. Jeff made nearly $10K on this one trade. It's pretty hard to make money in this market right now.
Here's what Jeff is watching: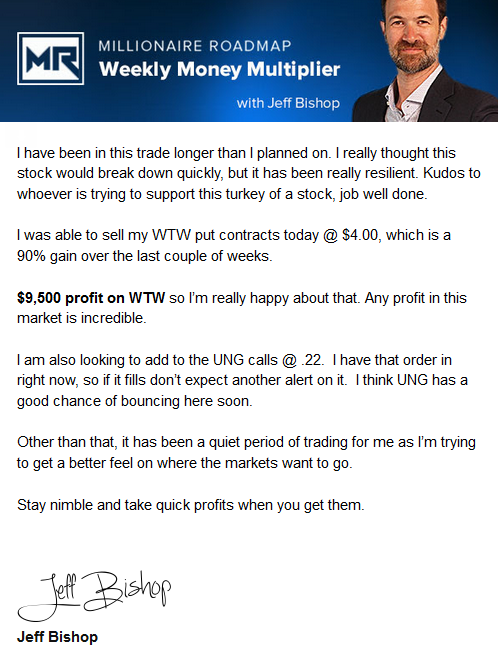 We're not as active since we're trying to get a better feel for the market's direction. That said, we're not really away from the markets. Our community is still going over trades and trying to figure out the next step. Once we figure out where the market could potentially head, we'll be more active. Until then, we're going to wait until the dust settles.
#-#-#
Jason Bond runs JasonBondTraining.com and is a swing trader of small-cap stocks.
Related Articles: