Over the recent months, I've been in the middle of a hot affair.
But it's not what you think…
I'm married, though fortunately my wife has allowed me to take one additional lover— trending digital IPOs.
See, a lot of people think that social distancing trends are settling down, but I have a different view.
The new digital economy has paved the way for successes in a number of these new stocks, and they keep making headlines.
So unsurprisingly, I keep bagging gains on them.
In the past few days alone, I took 150% on my second piece of Chewy (CHWY) calls and 150% on my first piece of Stitch Fix (SFIX) calls.*
I just love these IPO Paydays.
Today, I want to share two more remote life/work stocks that I'm looking into.
One of them is an old favorite, which has an upcoming catalyst that's similar to the last time I won with it.
Pinterest (PINS)
Ecommerce and social media trends have caught a huge boost in response to the pandemic, as shoppers have been forced out of brick-and-mortars.
Pinterest (PINS) supports that space directly by giving shoppers visual ideas and hosting ads that direct to online retailers.
Pinterest shows huge monthly active users growth of 39% year over year.
The online advertising market as a whole is also growing right now.
Given that sales have been hot in this online retail space, I'm expecting that we could see a good earnings report from PINS.
Revenue growth in July was an impressive 50% year over year, and for the 2020 year as a whole the company is expecting a revenue growth in the mid-30%'s.
Therefore, the PINS Q3 2020 earnings release, next Wednesday (10/28) is a catalyst that I'm looking to play right now.
My enthusiasm for this catalyst isn't pure speculation though.
Last time PINS reported earnings, the stock exploded.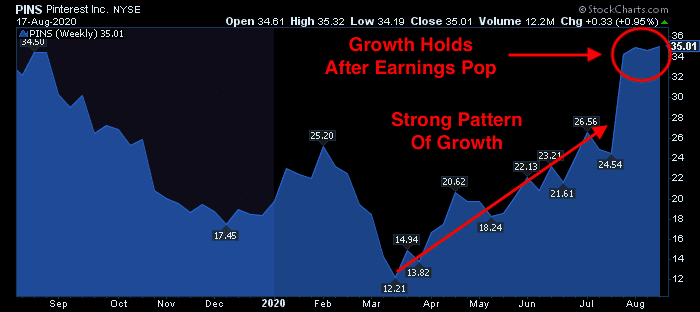 I outlined in one of my August posts why I was looking into PINS even after the earnings pop, given that it was continuing to hold steady.
Then in September, I followed up with an additional post explaining how I managed to successfully trade PINS.
Despite taking an 8% loss initially in my position, I proceeded to take a 100% gain.
I'm hoping to see similar results ahead of earnings this coming week.
Here's the chart: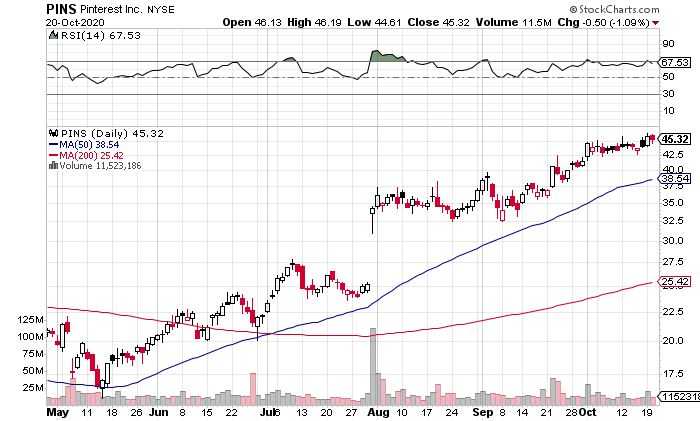 I'm looking for a reentry in PINS here— probably Oct 30 $41 calls.
Slack (WORK)
Zoom is not the only digital application that's been powering remote employees over the recent months.
Slack allows employees to instantly message through their well-designed application portal.
Zoom actually even announced plans to partner with Slack— as well as Microsoft— in order to better integrate their office chatroom products.
This news was recently announced by Eric Yuan, Zoom's CEO.
"We really integrate very well with Slack, with Teams," Yuan said. "We give customers flexibility. We are picking a very open-minded approach. We are not saying we want to build our own chat to compete against others. I don't think we need that, because video and voice, that's our focus."
This all seemed to bode well for Slack (WORK), which has been on a steady grind since early September.
It almost looked as if WORK was gearing up for a breakout past resistance, until yesterday happened.
The stock broke down and left many longs completely dumbfounded.
Such change of character is the one thing I really love for reversal trades— it forces people to get out and generates plenty of further downside.
All of this means now might be a good time to look into puts instead of calls.
That's on top of the fact that I think Slack is seeing heavy competition from Microsoft— plus Google just announced that it plans to make its own version of Slack.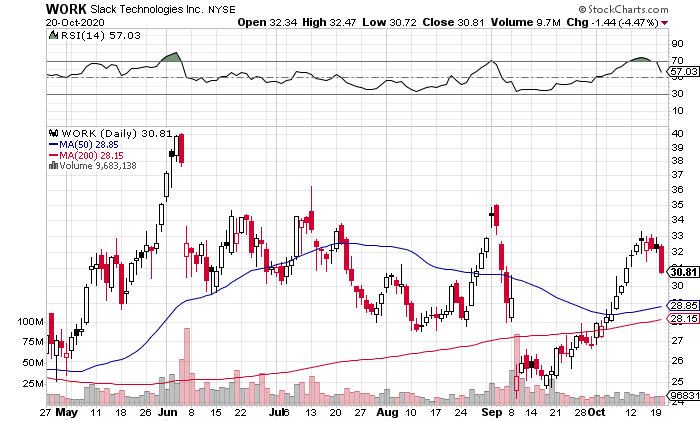 I'm looking to trade further downside in WORK here— Nov 6 $29 Puts look good.
Receive My Critical IPO Payday Alerts
If I decide to jump into either PINS or WORK, my IPO Payday subscribers will be the first to know.
To learn the exact strategies I'm using to trade stocks like these in real-time, check out my latest IPO trading workshop here.