I put out a watchlist this past Sunday announcing 3 stocks on my post-elections radar.
The very first stock I shared on that watchlist was Array Technologies (ARRY), a solar stock.
To those of you who took the idea and made it your own — congrats.
In the first hour of trading yesterday, the stock shot up over 13%— making it, at one point, yesterday's number 1 mover of all companies that held their IPO price within the past year.

The election results are by no means finalized, but Biden's edge in the elections yesterday meant that traders were piling into solar stocks.
Clean energy stocks are one of the areas of the market we would expect to be helped by Biden, given his pro climate policies. He apparently would hope to spend trillions of dollars to make the U.S. greener.
ARRY was among a number of other solar stocks that jumped yesterday, including First Solar (FSLR), Sunpower (SPWR), and Jinko Solar (JKS)— as well as another solar company that held its IPO within the past year, Maxeon Solar Technologies (MAXN).
Today I want to provide a more detailed review of the trading potential in solar IPOs ARRY and MAXN, in the event that Biden takes office.
Array (ARRY)
ARRY shot up as high as $42 yesterday by 10:30 in the morning, before retreating down to around $39. But the question is whether it can move further from here.
Smart traders jumped in at the very onset of the trading day, anticipating that a Biden election edge would propel it higher. If Biden does win the election though, I think that the stock will have even more legs in the short-term future.
The stock is very solid from a fundamentals standpoint. As a pioneering solar power company based in New Mexico, Array has been in operation for 30 years.
The company has an opportunity to gain a competitive edge in the solar marketplace by capitalizing on the trend of growing demand for solar equipment.
They manufacture ground-mounting systems that move solar panels by tracking the sun, and their flagship products are DuraTrack and SmartTrack. It will position them well in a global solar tracker market that's expected to grow 45% by 2025.
On the technical side, I'll be looking to see whether ARRY can break all time highs of $44, set just a week after its IPO. If it does, we could expect to see a potentially exciting ride from there.
While a Biden victory would be a strong catalyst to push ARRY above and beyond that level, there's also something else we should be aware of.
Array just reported incredibly strong 3rd quarter results after the markets closed yesterday. The company saw revenues increase by 64% to $692.1 million during the nine month period that ended on September 30, as opposed to $423.2 million from the year before.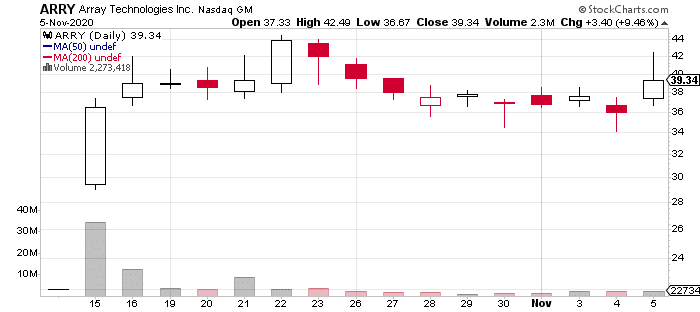 Maxeon Solar Technologies (MAXN)
Like ARRY, MAXN also saw shares jump during the initial hours of trading yesterday. The stock moved up to a price of around $17.
MAXN could mutually benefit from a Biden election because the company manufacturers solar panels.
The company is currently the exclusive supplier to Sunpower (SPWR), which it spun off of this past August.
The California-based Sunpower will focus on serving a primarily North American market and will conduct early stage research with an emphasis on development and commercialization.
By contrast, Singapore-based Maxeon will sell its solar panels across over 100 countries and maintain a network of 1,100 sales and installation partners.
With that in mind, SPWR is a stock that we also want to keep a close eye on when trading MAXN. The stocks will likely move in lockstep with one another.
Of course, the success of MAXN is going to depend a whole lot on the outcome of the election. If Biden wins, I'll be waiting to see if MAXN can break all-time highs of $21 for a potential opportunity to enter.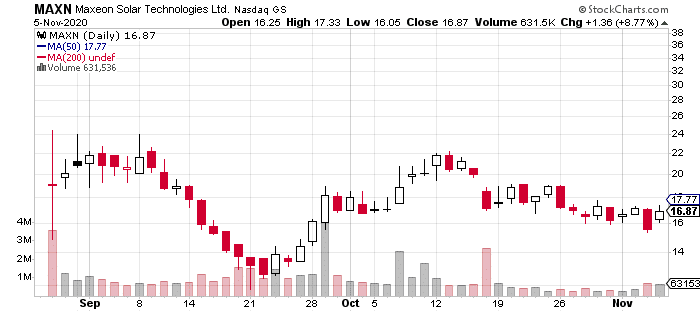 Learn How I'm Trading IPOs in Real-Time
Whether or not I decide to trade ARRY and MAXN from this point forward will depend on the final election results and whether they break all-time highs.
If I do decide to trade them, my IPO Payday subscribers will be the first to find out.
To learn how else I'm trading new public companies— and to see my real-time IPO trading portfolio— take advantage of this special quarterly offer I just extended here.