It's a chopfest out there in the market, which means we've been seeing a lot of overall sideways price action.
But one of the things I like to do in this market environment is look for the outliers.
That means finding some of the fastest movers— the growth stocks.
Improving fundamentals are definitely a factor for consideration— though for me, it really comes down to a combination of a few factors…
Right now, we've seeing a large amount of growth stock activity in the IPO space.
Cloud service providers and other digital stocks have really taken a shine during the pandemic— it's a trend that's still showing few signs of slowing.
Gartner, the tech research firm, anticipates a growth in public cloud computing spending to show a 6.3% growth rate for the year of 2020, with plenty of room to continue.
Case in point, I recently decided to take a shot at web infrastructure/security provider, Cloudflare (NET), which grew its sales 48% year over year last quarter.
I just took 3 rounds of profits on my position… 100% on the first leg, 150% on the second, and 200% on the remainder.*
I continue to see a tremendous amount of potential in this growing digital space, so I want to share 3 more picks on my watchlist.
Fastly Inc (FSLY):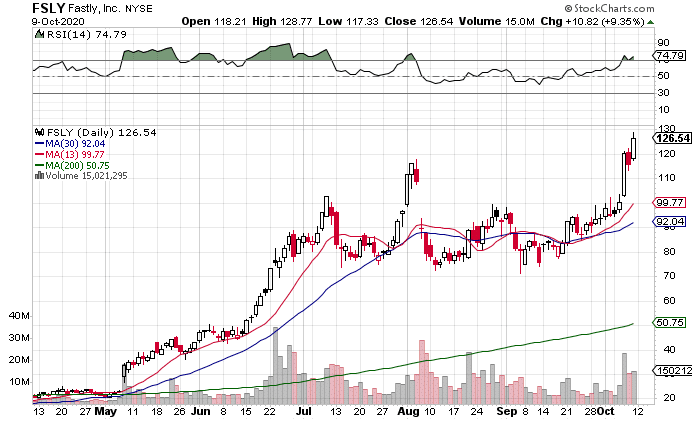 Fastly provides infrastructure software. The company offers cloud computing, image optimization, security and streaming solutions
In the past couple of days the stock attracted a lot of attention from investors and traders. And rightfully so: the stock went from $99 to $120 in just one day of a massive breakout

Even though I usually prefer to buy stocks right when they break out, FSLY has shown so much momentum, it's impossible to ignore

I think this idea is more suitable for aggressive traders who are looking for high reward situations and are able to stomach more risk

I would like to buy this one on dips as long as the $118 area holds. I think we could see $160 pretty quickly should it break above $130
Unity Software Inc (U):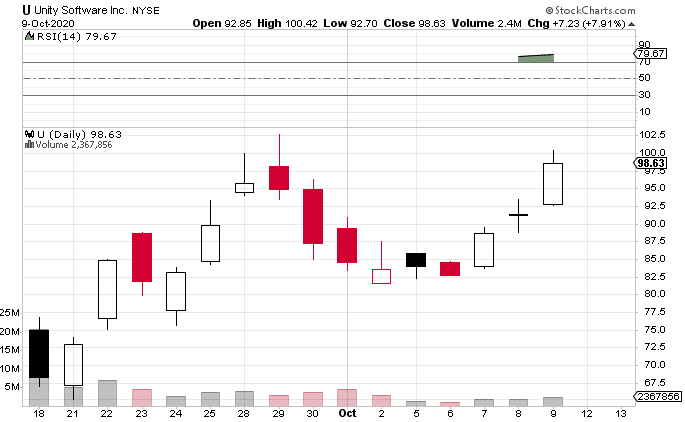 Unity Software Inc. operates a platform which provides software solutions to integrate interactive, real-time 2D and 3D content for mobile phones, tablets, PCs, consoles, and augmented and virtual reality devices. The company has customers globally
The stock is a recent IPO. It opened for trading at $75 on 9/18/2020 after pricing at $52

Unity Software is used for anything gaming and VR related, which is one of the hottest areas of growth for the next decade

I like how much strength the chart is showing: after a quick run to the highs of $102.63, the stock pulled into $82 area where it found support and is now showing signs of another leg higher

I think this is a great long setup. If U momentum continues next week, it could see $120 within the next 8 weeks and possibly even higher in the longer term. I wouldn't want to see it get below $94
GoodRX Holdings (GDRX):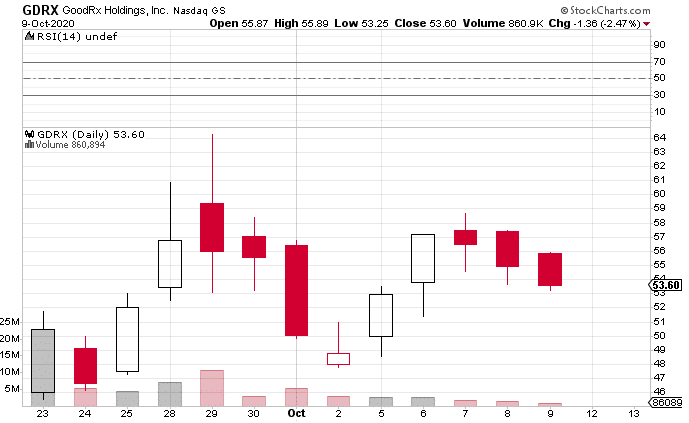 While this might seem like a biopharmaceutical company based on its name, in reality it's a tech company which operates a digital healthcare platform. It operates in the United States
GDRX is another recent IPO. It opened for trading at $46 on 9/23/2020 after pricing at $33

The stock of its main rivals TDOC, went from $75 to $220 since the beginning of the year, which means that investors are predicting accelerating growth for the sector

This chart is displaying similar traits as U: after a quick pop to the highs of $64.22, GDRX has pulled back to $48 area and is now consolidating at $55

I believe that this one is another great setup for a medium to long-term hold. As long as the stock manages to stay above $50, I think we could see $80 in a couple of months
Check out These Trades in Real-Time
These trades have high potential due to a combination of strong growth and good technicals.
Whether I actually decide to trade them, I won't know until Monday.
If I do, my IPO Payday subscribers will be the first to find out.