The market is predominantly in wait-and-see mode right now, given the amount of uncertainty we're experiencing ahead of elections.
However, we just wrapped up one of the busiest IPO weeks— in what's been a hugely successful IPO year.
We also have the world's largest IPOs from Ant Group coming next week, so I believe IPOs are going to get some more spotlight.
I believe it's safer to approach IPO trading this week like the regular market— lots of caution.
However, I'm still on the hunt for IPO ideas, and I have several in my sights and it's important to be ready to pull the trigger after the election based on outcome and response.
That said, I want to share 3 recent IPOs that I'll have my eyes on post-elections, two of which began trading this week.
Array Technologies (ARRY)
Array Technologies is a pioneering solar power company that has been in operation for 30 years. They manufacture ground-mounting systems that move solar panels by tracking the sun. Their flagship products are DuraTrack and SmartTrack.
ARRY stock soared during its IPO on Thursday, October 15. Stock went up as much as 65% to above $36 in the first major solar IPO of 2020.
Array sold 7 million shares in the IPO, raising $154 million. The money will be used to help the company grow and attract new customers.
Solar is a fast moving industry, and September through October were especially strong months for solar— with stocks like JKS seeing peak gains of over 330%. In particular, over the next 5 years, the global solar tracker market that ARRY serves is expected to grow 45%
ARRY has pulled back with the overall market this week, due to uncertainty around elections. But I'll be looking to get long on ARRY

after elections

and after it's Q3 earnings results on November 5, especially if the stock moves back into the $40's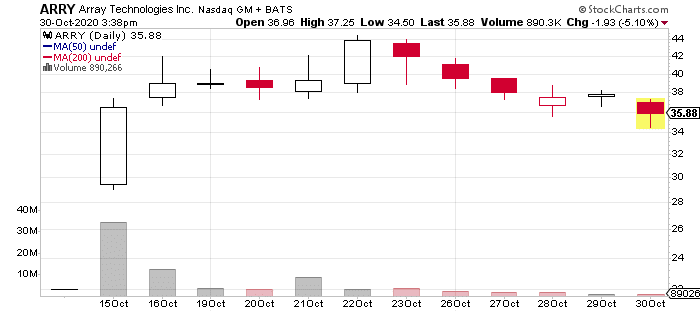 Media Alpha (MAX)
Media Alpha is a digital advertising company that serves the insurance industry. Advertisers can purchase clicks, calls, and leads from insurance publishers, all thanks to its platform.
Ther revenue looks super solid, having increased by nearly 42% over the last year. Net income in the past 6 months was 19 million dollars, which is a 6,000% increase over the .3 million dollar net loss of the first 6 months in 2019.
The stock began trading under the ticker MAX past Wednesday— the IPO soared by 64%, outdoing even the ROOT IPO that a lot of people were excited about.
Given the overall down market conditions this week, MAX was a fantastic sign of strength. It opened at $23 on Wednesday and ended trading at $31.15. The stock even maintained strength until the end of the week.
I'm going to be keeping an eye on MAX over the next week to see if momentum holds. If it does, it's one I definitely will look to get long on.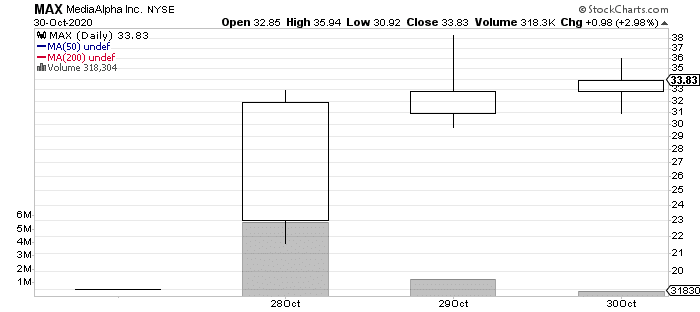 Lufax (LU)
Lufax is an online Chinese financial services platform. The company is focused primarily on wealth management and lending, and specifically addresses growing middle class and affluent populations
LU started its initial trading during its IPO on Friday, opening at $11.60 and rising 3.38% before falling back near its original price. The company raised $2.6B in one of this year's largest IPOs.
Lufax is backed by Ping An Insurance, China's largest insurer, which gives the company credibility. Ping An now owns nearly 40% of Lufax following the IPO.
As a Chinese financial services provider, LU is in direct competition with Ant Group, which will be the world's largest IPO on November 5. At the same time, LU could be a good candidate for a sympathy play if Ant Group's IPO goes well.
A lot of chinese stocks have come and gone this year without too much action. But LU can get any momentum, I'll look to get a starter position.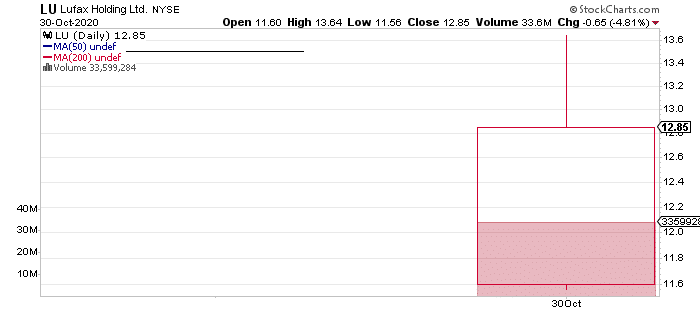 Learn How I'm Trading IPOs Now
I'm expecting to see some big IPO trading opportunities coming up, regardless of whether I decide to trade ARRY, MAX, or LU specifically.
Already this year, we've seen over 170 initial public offerings, and the Renaissance IPO ETF is up 76% year-to-date.
That's over 9 times the growth of the S&P 500!
In October, I took triple digit gains on 10 newly public companies.*
That includes Cloudflare (NET), which I took an average of 150% gains on; Crowdstrike (CRWD), which I took a 100% win on; and JFrog (FROG), which I took a 100% win on.*
Take advantage of my special quarterly price, with no long-term obligation, to test drive IPO Payday for the next 3 months.