Conducting a thorough 'review' is one of the most important things we can do as traders.
For me, that comes down to two parts.
First, reviewing the opportunities that I'm seeing in the markets.
And second, reviewing my actual trading.
As you will have already noticed if you decided to join Daily Deposits after my Power of One training event, I send out a series of alerts for my daily SPY trades.
The first alert is a "premarket video" where I share what I am seeing in the overnight futures market.
I'm reviewing what I'm seeing on a global level, since what's happening overseas is bound to impact how the U.S. markets will open.
If you can know where economic momentum is heading, it's almost like having a crystal ball into the future.
I tally my top 5 macro indicators into something I call my "conviction index," it's my sexy new way of picking out what's most important from this premarket review.
I'm then reviewing what the opportunity looks like on the short-term daily/hourly chart, and I send my "trade of the day" and "trade plan executed" alerts.
Finally, I send out my "trade of the day recap" alert, which is where I provide a video review of the entire trade.
I want to show you how I walked traders through that entire process and snagged a nice 80% win, the day after my Power of One training event on Thursday.

You often hear people talk about A+ setups.
That is not for a lack of good reason— patiently waiting for when things are "perfect" pays off and pays off well.
With Daily Deposits, our goal is to find one high-conviction setup a day and alert traders to it.
While each strategy is different, it's fair to say that A+ happens when all of the factors align together, form a clear picture, and provide you with the necessary conviction.
This was exactly the case with our Friday SPY trade, which I put on the day after our LIVE Power of One training event.
So, how did it all come together?
Well, first, the overnight action looked good:
Big picture, the markets were looking as strong and healthy as they could be and pointing to continuing upside momentum.
Here're some of my early notes:

More importantly, our highly coveted "Conviction Index" was reading +3.5 (on a scale from -5 to +5) in a sign of broad market strength.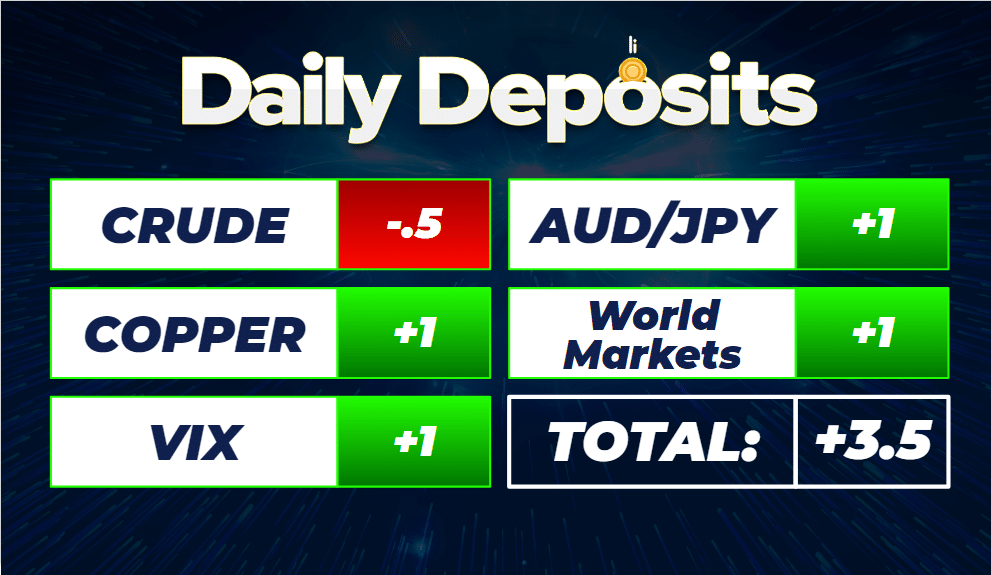 The big picture was pointing to a bright day ahead.
Next I needed to see the early strength confirm intraday.
There were 2 bullish intraday scenarios that fit my definition of A+, so i sent them both to my subscribers:
A strong breakout higher off the open on a 5- or 15-minute chart where I'd be looking for dips for continuation

A small pull-back off the open and then base and bounce higher either off VWAP or off Fibonacci retracement at $345.50
SPY went lower off the open, but quickly found massive support in the $345 area.
It then started forming a base and holding above $345.50 triggering the bounce trade plan.
Further confirming the upside momentum, TICKS were highly positive and VIX was on the downtrend.
Last, but not least, only adding to the conviction, the market remained strong across the board with Nasdaq and tech leading the way higher.
All the stars (criterias) aligned— hence, my trade alert went out: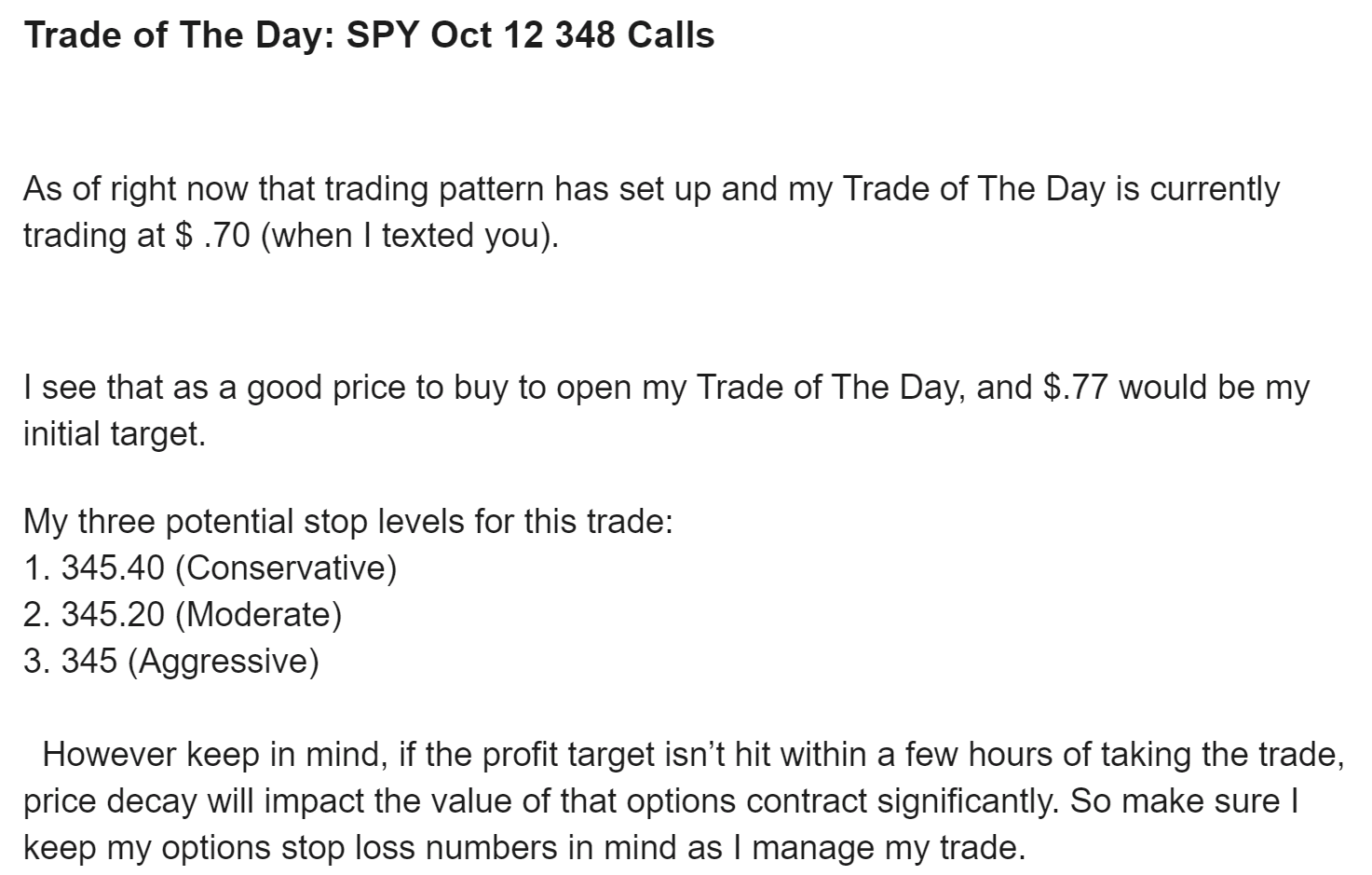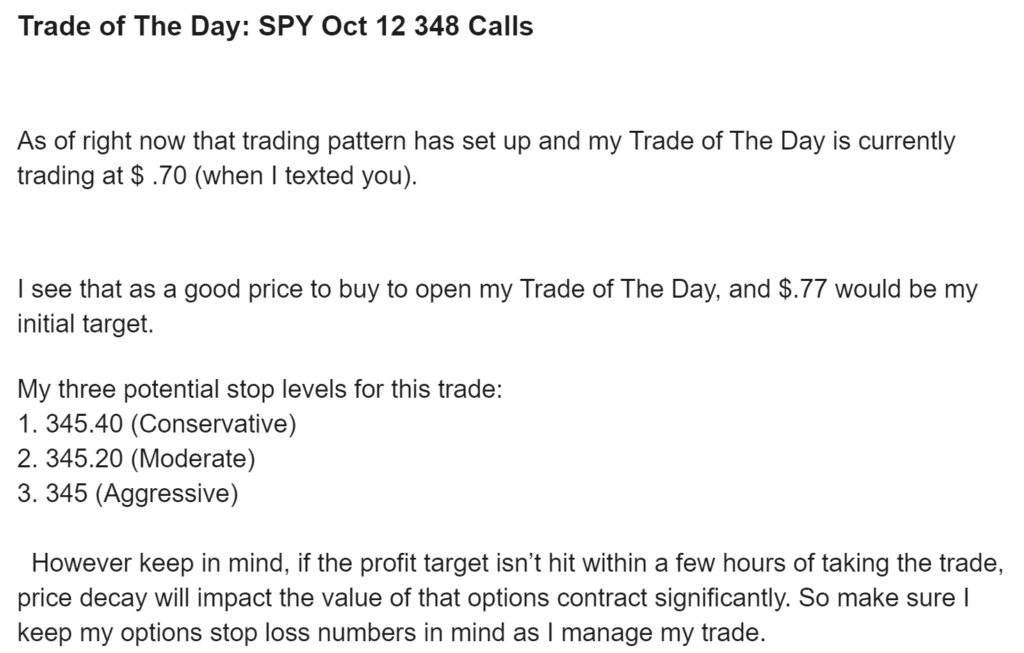 The last part proved irrelevant— SPY moved sharply higher within the next 30 minutes and never looked back.
My Call options went from the entry at $0.70 to $1.30 in a matter of 15 minutes providing an over 80% gain.
Check Out My Power of One Training

I'm deadlining a special offer on my Daily Dospits service at 11:59 ET tonight.