Not too long ago stocks were at all time highs but now we are worried about the next collapse.
The headlines are building up fear as we enter the upcoming election, concerns over the Affordable Care Act, and the economic outlook for 2021, pandemic cases rising, and weak Q3 earnings.
But if you can look through the mayhem, there is always opportunity to make money in these markets
Take Jim Cramer's Investing Rule 25: There is always a bull market somewhere, and I will try to find it for you!
As corny and cliche as it sounds…it's true.
You see, despite the sell-off we've seen this week, there is still a bull market.
That "hidden" bull market can be found in the dark pools.
Dark pools are one of my favorite places to look for momentum and where the money flows in the markets
It's where the major institutions go to trade outside of the public's eyes.
And I follow the momentum from the order flow in order to gain an edge in these chaotic markets
So I leave you with this…
There is a health and fitness stock that I've come to love that could be my next trade from the dark pools.
Just give me 2 minutes of your time and maybe I can help you find the bull market you are looking for.
There Is A Bull Market Somewhere
Every morning before the market opens I send a watchlist out to my dark pool subscribers to prepare them for the day ahead.
And on my dark pool watchlist I've told everyone to keep an eye out for strong price action in this one health and fitness stock that I've grown to really like.
I'm not talking about your mom's Richard Simmons DVD's either…
Instead, I'm talking about the hot (and hip) new company, Peloton (PTON), which is taking the group fitness market by storm.
And it's been on my radar since I last traded it.
You see, just because I trade a stock and exit doesn't mean I forget about it. Sometimes new price action sets up in the stock and I want to make sure it's on my watchlist to get in a second time.
The bottom line, don't fear "double-dipping" into a stock but instead, think that it's the gift that keeps on giving.
At the end of the day, PTON shows a ton of dark pool money flowing through the stock
Here is what I saw in the dark pools today on my Dark Pool Scanner


So let's break this down further…
In my option, PTON has been strong recently and has seen a slight pullback in the last few weeks. I've noticed that PTON has hit the scanner several times over the past week, but nothing of this size.
What I saw today was that a trader put nearly $100 million into the stock at the end of the day.
With the stock sitting at critical support levels, PTON could be setting up to make it's next leg higher at any point now.
Here's a daily chart of PTON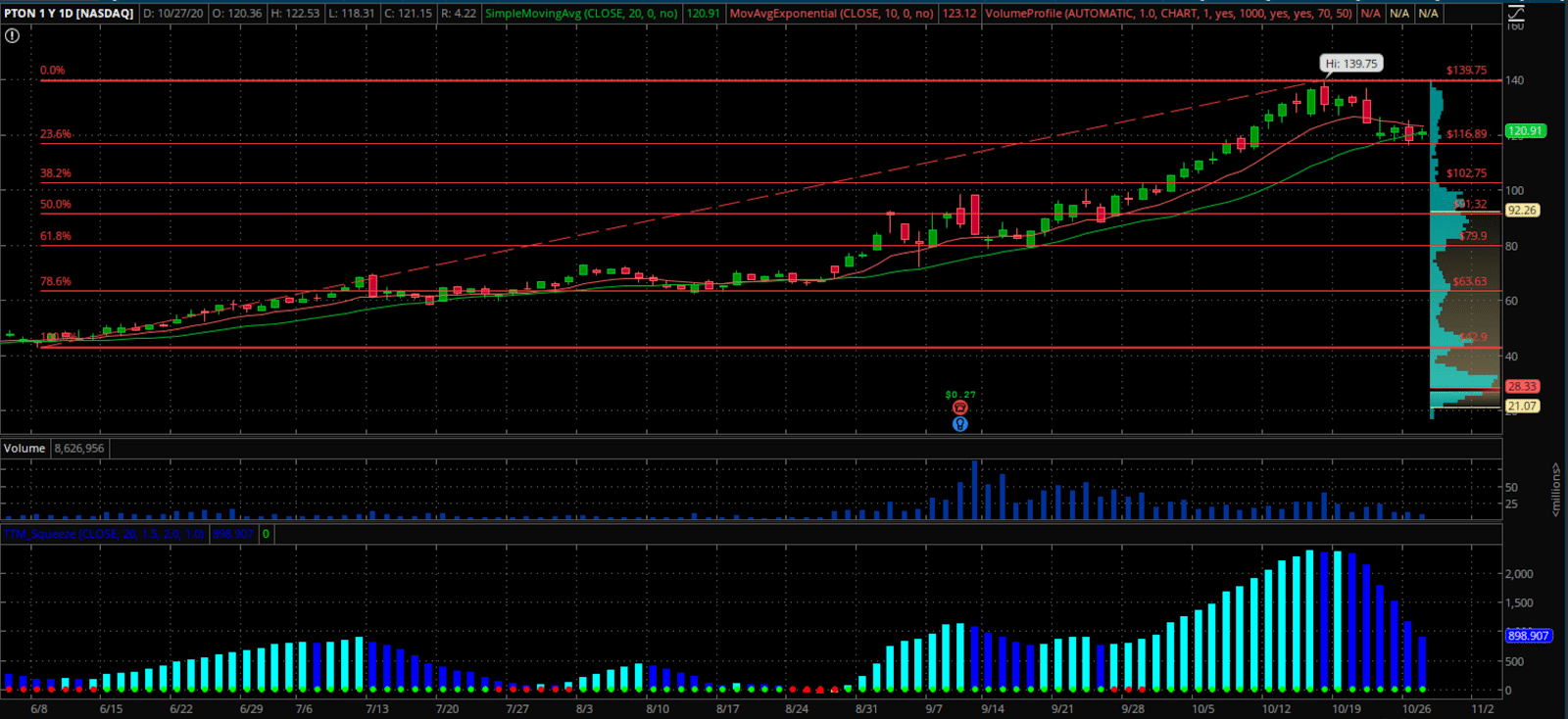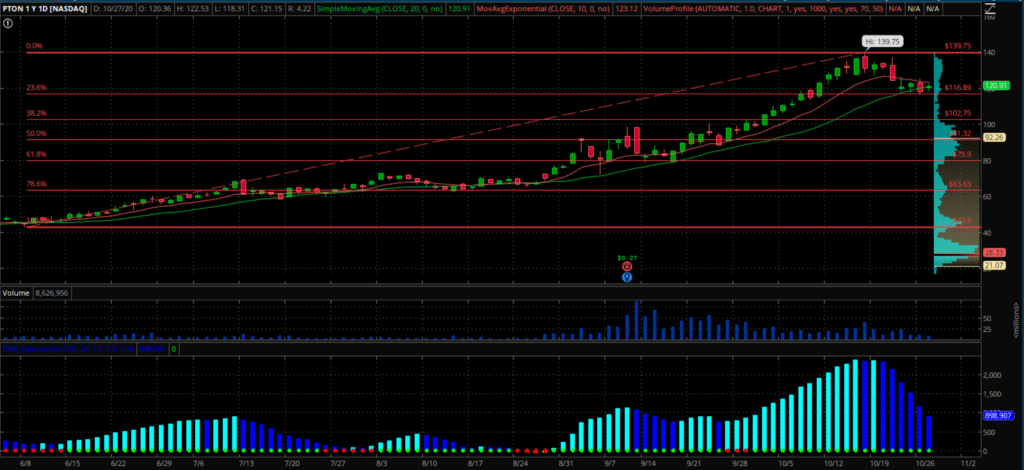 Source: Thinkorswim
Recently, PTON has been consolidating near its moving average support levels and it's 23.6% Fibonacci Retracement level.
In my opinion, this is starting to shape up to be a strong level of support for this stock. Now, according to the volatility squeeze indicator, it appears that buyers have backed off, and sellers are starting to take hold, as volatility is tapering off from it's highs.
Now, this doesn't necessarily mean it's a short, but that the bulls and bears are just fighting it out on the court.
But I need more information, so I will drop down into a 4 hour chart to find more information about the stock intraday.
Here is the 1 hour chart on PTON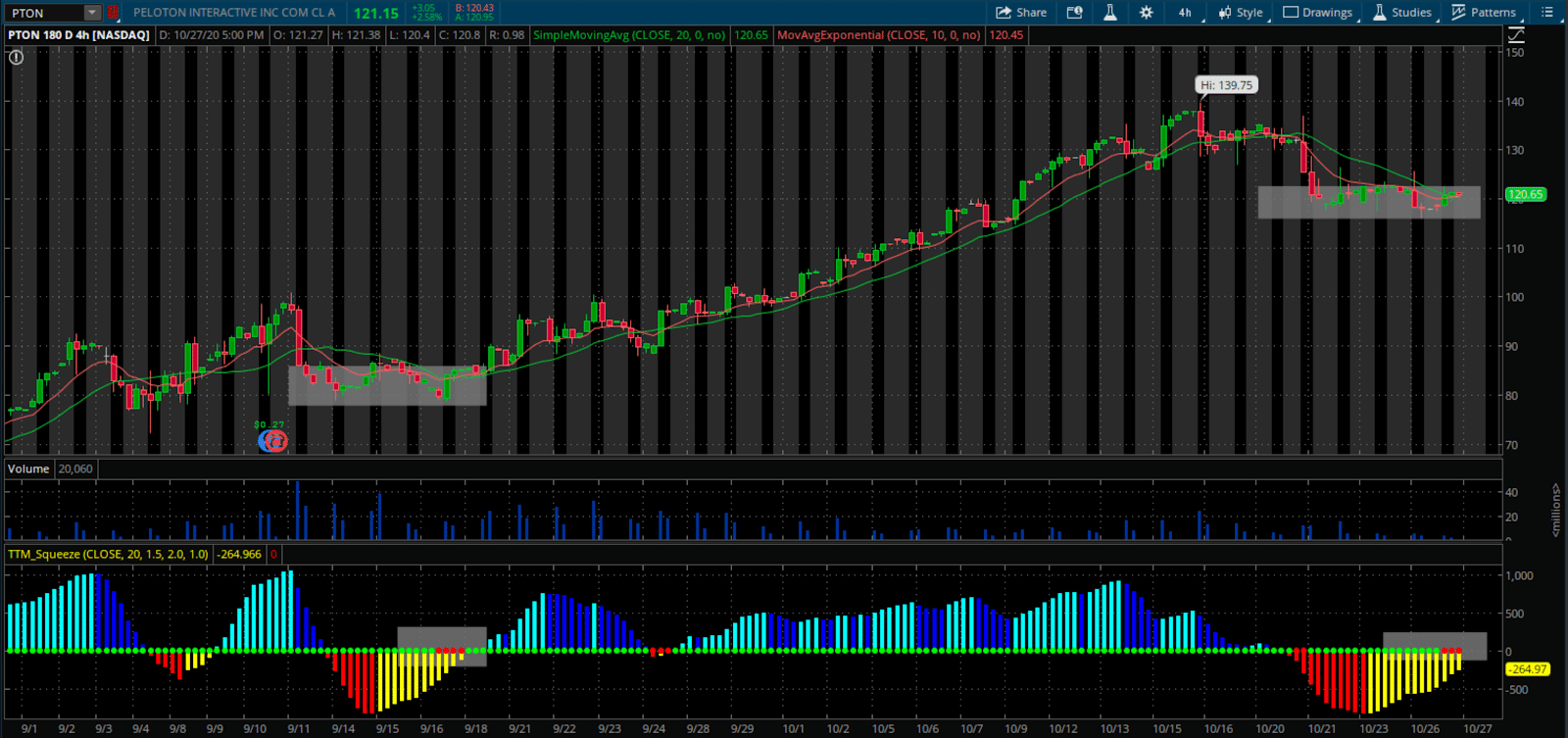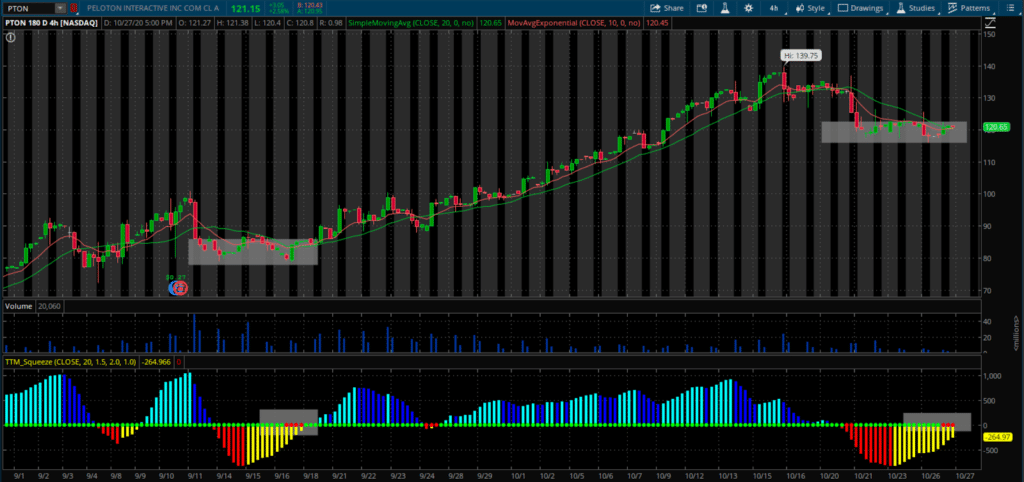 Source: Thinkorswim
Over the last few days, PTON has been consolidating at the $120 price level as also seen on the daily chart.
At the same time, it appears that the bears have grown exhausted and the bulls are starting to take control of the stock price again.
This can be seen in the volatility squeeze indicator a red zone is forming, meaning that the bulls and the bears cannot agree on a direction to take the stock.
But this indicator doesn't tell me what the future holds… that's where dark pool order-flow, short floats, and previous occurrences can help pick a direction.
Let's break down the 3 criteria here:
Previously, there was consolidation in early September around prior support levels. The bulls and bears could not pick a direction, and a volatility squeeze was formed. This ultimately led to the bulls winning, and the stock broke all time highs at $100 and ran 40% higher!

Dark pools are confirming interest in PTON, with nearly $100 million transacted on this stock today at the close. If these are buyers, this is an extremely aggressive trade and could send the stock soaring higher.

The short float on this stock is considered to be moderately heavy. Typically, a stock like AAPL (or similarly neutral stock) will have a 0% to 0.5% short float on average. PTON has around a 5% short float.
What does a high short float mean?
Having a high short float means that the stock is heavily shorted and momentum traders may look to pile in and drive the stock higher
Let's break this down further.
There are 239.27M shares floating. In other words, the number of shares that are available for people to trade.
Of those 239.27M shares, there are nearly 20M shares that are short, which equals around a 5% short float
That means PTON is a moderately/heavily shorted stock and to me, this creates a potential short squeeze.
And if PTON continues higher… the shorts may no longer be able to take the pain and be forced to cover (buying the stock) which will further cause the price to go higher, in my opinion.
In turn, this can cause demand for NIO to pick up… and you know what that means.
Demand rises, and supply remains the same… prices go up!
But I'm not trading it just yet!
I'm going to keep a close eye on it the rest of this week because on the daily chart, there is still no volatility squeeze occurring.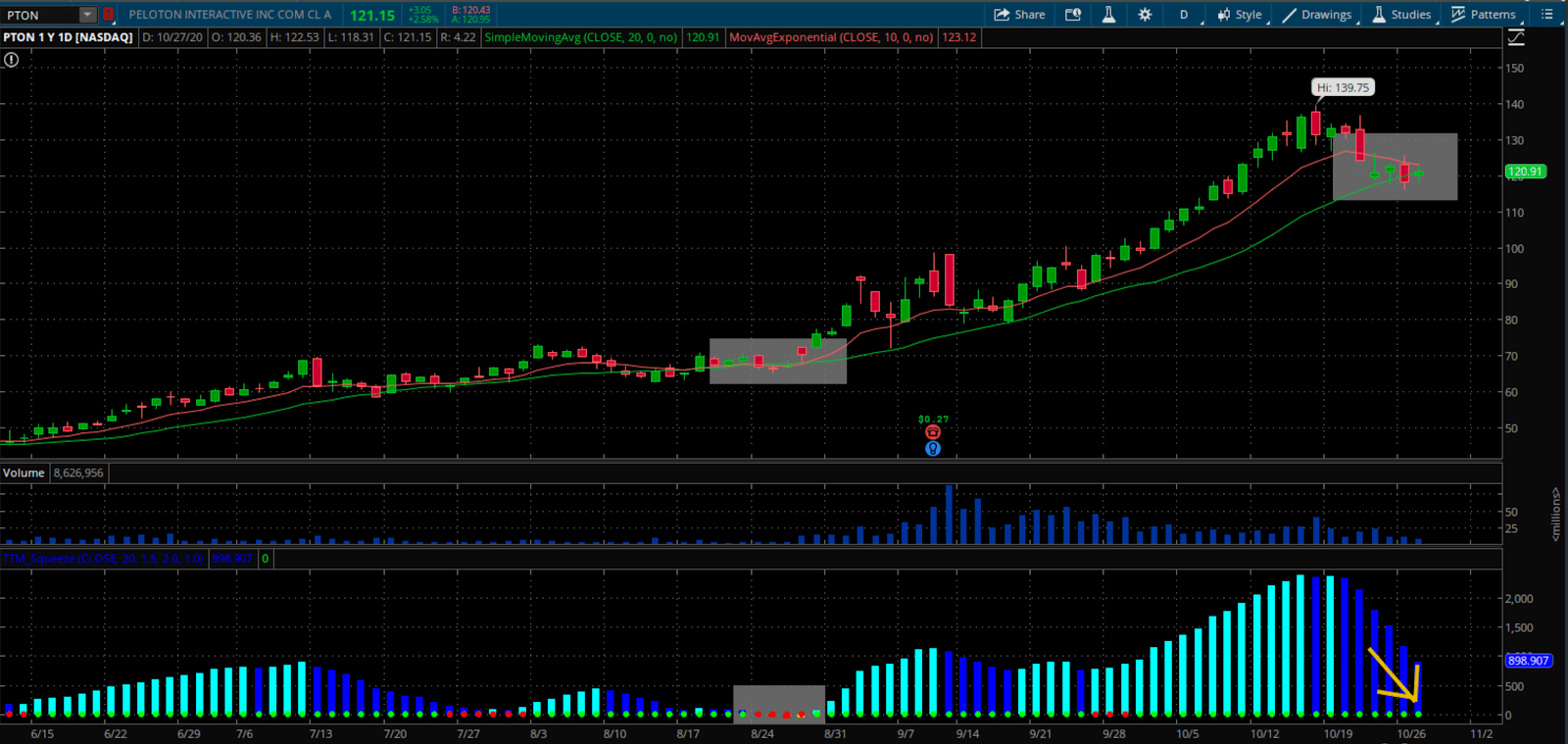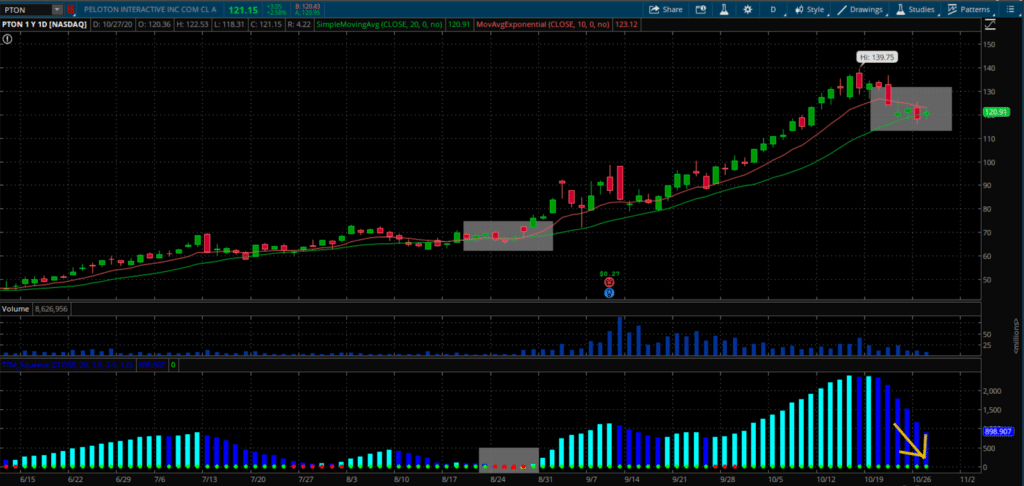 Source: Thinkorswim
Now in my opinion, I am going to wait for one of two events to happen…
The squeeze to get triggered in the stock, and if it holds up near these support levels, PTON could be in a spot for a huge run through all time highs again.

More buyers come into PTON in the dark pools causing a short squeeze to occur and force the price higher as the current short sellers are forced to cover
So traders, PTON is on my radar! And I'll be sure to let my subscribers know in real-time if I make any moves.
Make sure you don't miss out by signing up to Dark Pool Profits today!