Support and resistance levels are two of the most basic technical indicators we can look at when analyzing a chart setup.
Support levels can act like a sturdy ground floor that a stock can bounce off of, whereas resistance levels act like a ceiling that can prevent the stock from moving higher.
But how do we know when that ceiling is made of glass and a stock is set to shatter through it?
Intuition and "gut feelings" are never something that we can rely upon, which is why I like to look at activity in the dark pools.
Because while I may have a strong conviction about how things will go, I'm just one person— alternatively, orders placed in the dark pools represent large institutions, possibly event governments.
In other words, I like to follow the volume and ride the momentum.
Right now, I'm seeing a spree of dark pool prints come through on my scanner, indicating institutional buying interest in stocks pushing long-term resistance.
If the overall market moves higher from here, especially in spite of a stimulus, these stocks could be breakout candidates.
I want to share 3 of those stocks off my dark pools watchlist here today.
A familiar name, Uber is associated with a number of functions beyond vehicles for hire— including food and package delivery, freight transportation, and scooter rental through its partnership with Lime

The stock has been on the move since the beginning of this week, following the company's confirmation of its profit goal for the fiscal year of 2021. The company announced that its prices will rise in large cities, as well as small cities in California.

That's in addition to the breaking news that Uber has offered $1.2B to BMW and Daimler to buy Free Now, Uber's major competitor in London. This is following Ubers' recent appeal win that allows it to continue operating in London for another 18 months

The stock was up as much as 7.19% on Tuesday to $36.69, and it's coming up on its 52-week high of $41.86. We're currently seeing a nice support level forming at the $33 level, which has been sustained 3 times.

It's favorable to buy stocks before they break out, and right now I'm watching for a break and hold above long term resistance at $38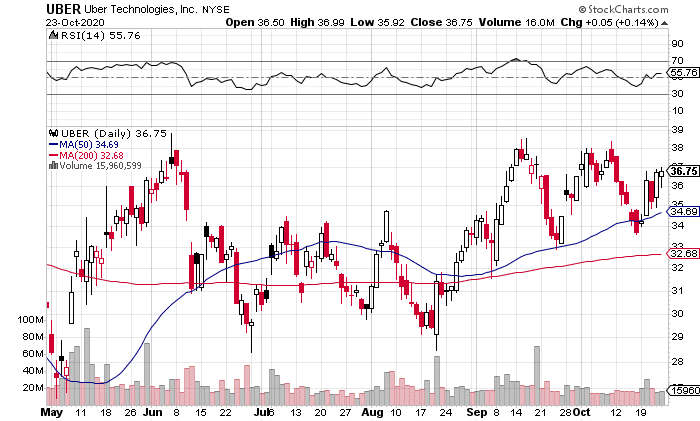 Norfolk Southern Corp. (NSC)
Norfolk Southern Corp. operates one of the nation's premier railways, operating 19,420 route miles in 22 eastern states

Institutional ownership in NSC is 75.9%, or $40,072M, with the top holders being Vanguard, Blackrock, and JP Morgan Chase. I've been seeing dark pool activity in the stock recently, with the stock just this week experiencing a very heavy trading volume of around 1,347,938 shares. 498 institutional holders raised their position in NSC by roughly 13,642,821 shares

So it came as no surprise that the stock received an analyst upgrade on Thursday. A Barclay's analyst just suggested a new price target of $230

The company announced on Wednesday (10/21) that a new technology joint venture— between GATX Corporation, Genesee & Wyoming, TrinityRail, and Watco— could transform its rail shipping. It's called Rail Pulse, and it will accelerate GPS adoption

The latest RSI for NSC over the recent two-week period is around 44.91, indicating that the stock is oversold. I'll be keeping an eye out for a potential breakout above $220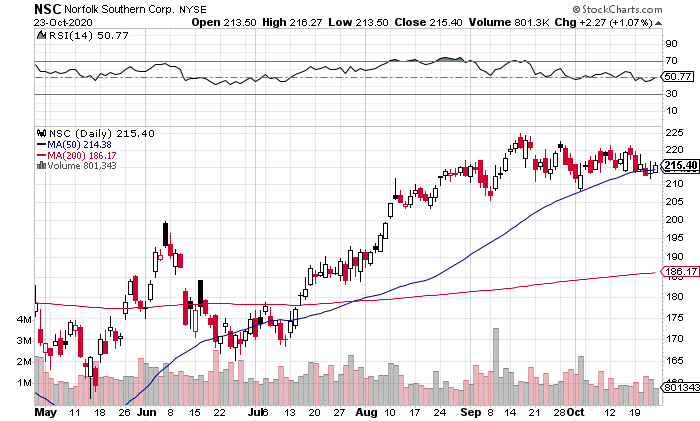 Duke Energy (DUK)
Duke Energy is an electric power holding company, which is helping cities reach climate goals in the U.S. as well as Canada

Clean energy has been one of the big winners over the past month. DKS shot up from 82.41 to 93.89 over the past month— along with similar stocks like Jinko Solar (JKS), which saw a significant gain

Duke Energy had a notable earnings report for the last quarter, reporting a profit of $1.18 billion and revenue increase to $5.42 billion.

The current average trading volume in DKS is high, about 3.53 million shares, evidenced by lots of recent dark pool activity. The reason for that increased volume likely results from the value proposition surrounding it's good earnings

DUK currently presents an interesting risk/reward opportunity, and I will be keeping an eye on its peers as it historically follows them in price action. I'll be looking for the stock to break above resistance at $93.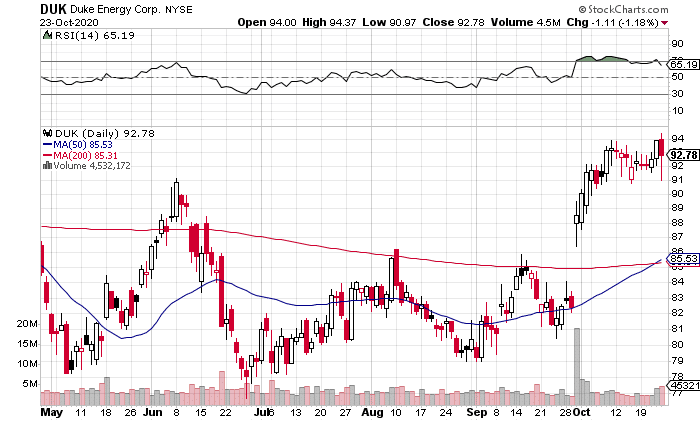 Learn How I'm Trading Dark Pools Activity in Real-Time
These trades have high potential due to a combination of high trading volume and good technicals.
Whether I actually decide to trade them, I won't know until Monday.
If I do, my Dark Pools Profits subscribers will be the first to find out.