Election uncertainty over the past week has meant that lots of traders have been sitting on the sidelines in fear.
I really can't blame them. These markets have been pretty darn tough to read.
However, for institutional investors with state-of-the art technology— it's been much easier to get a clearer picture of what's actually going on.
Which is why I've been tracking dark pools activity to pick up on their moves.
In fact, it helped me bag one of my biggest trading wins of the year on October 16. The trade was in the "Chinese Tesla" stock, NIO.
After scaling out of the position multiple times, I took average gains of 250% on the trade, including this final piece here*…


*See disclaimer below
Well, it just so happens that my dark pools scanner just alerted me again to NIO— so suffice to say, I'm pretty excited.
Check out the print…

It means that one "smart money" trader came in and scooped up $15.3M worth of shares.
My scanner also just alerted me to another Chinese EV stock, LI automotives (LI).
I want to share a little more about why the dark pools are saying both these stocks could potentially rip higher.
The Chinese EV Market Shows Massive Potential
There's a lot of good reasons to like the Chinese electric vehicle space right now.
The country accounts for over 50% of global EV deliveries, and by 2025 their government wants 25% of all new vehicles sold to be electric.
China is also the world's biggest market for new vehicles— so the outlook for Chinese car manufacturing stocks looks healthy, regardless of the environmental perspective.
In September, new vehicle sales were up 13% year over year.
One good thing about trading Chinese EV alternatives to Tesla is that they have so much more room to grow.
Both NIO and LI are currently priced like TSLA was well before 2015.
Let's look at their short term outlooks, based in large part on what the Dark Pools are saying…
Nio (NIO)
NIO is currently sitting at a price of around $34 per share.
The stock continues to set all-time highs— and that has been the case again this week, following a recent announcement that it doubled its deliveries in October.
The electric vehicle manufacturer cranked out 5,055 units in October, which is a year-over-year increase of 100%. Total units delivered this year is 31,430.
Nio will report its 3rd quarter earnings on November 17th, which is a catalyst that I'm anticipating a potential runup into. Analysts are also expecting the report to be positive.
So it comes as no surprise that NIO is showing huge order flow in the dark pools.
Just two days ago, it showed 146M in trading volume.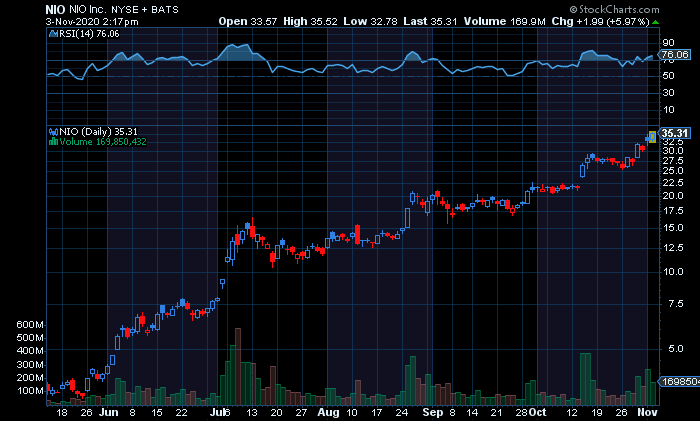 Li Automotive (LI)
Just like NIO, LI set all-time highs yesterday. It currently sits at a price of around $23 per share.
While not a completely zero emissions vehicle— their vehicle is "range extended," meaning that a small gas engine serves as a generator for the battery— the company is nevertheless seeing similar success to NIO.
The delivery report that LI put out on Monday indicated that the company had delivered 3,692 Li ONEs during the month of October— a number that beat its previous monthly record.
In total, LI has delivered 21,852 vehicles in the first 10 months of 2020.
The dark pool activity that I spotted in LI two days ago confirmed that institutions acknowledge this growth.
LI had 11.5M volume in the dark pools last I checked.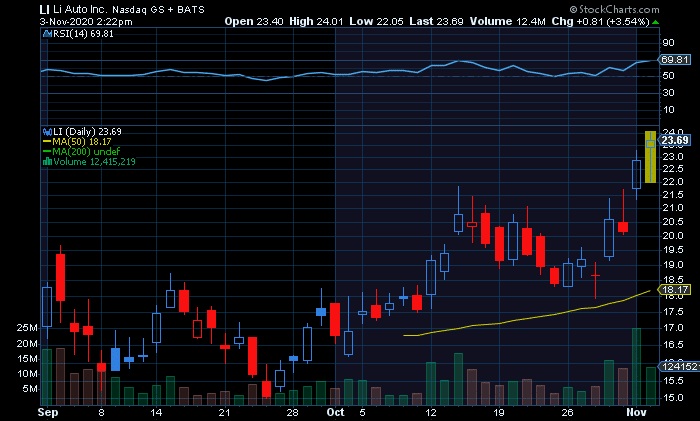 A Way to Steal from Wall Street?
I haven't put on a position in NIO or LI quite yet, but I'll be sharing more about how I'm implementing information from the dark pool in my next event on Thursday, November 5 at 2 PM ET.
Traders who decide to join my Dark Pools service after the event will be the first to find out what next moves I plan to take.
Register for the LIVE event here.
*Results presented are not typical and may vary from person to person. Please see our Testimonials Disclaimer here: https://ragingbull.com/disclaimer