We all know that TSLA was on a massive tear over the recent 6 months.
Millennial Robinhood traders were partying with TSLA calls like there was no tomorrow.
And for a while there, it looked like the "dumb money" was the "smart money."
…until it didn't.
The stock took a massive 33% nosedive during the Nasdaq selloff and the news that it wouldn't be joining the S&P 500 this quarter.
But with Tesla's battery day coming up on September 22, the stock is once again showing signs of heading for new highs.
Now, I'm not one to buy the hype usually, but something recently convinced me that it was time to jump into the EV market.
Institutional players may have been wary of EV stocks like TSLA in recent times, but earlier this month I saw some dark pool activity suggesting they wanted in on one in particular…
Workhorse (WKHS).
I thought WKHS had the potential to show some divergence when TSLA was in the middle of its steep dropoff, which it did.
And thanks to that, WKHS handed me 3 rounds of triple-digit gains on my position, after hitting my initial 50% target.
I want to walk you through this WKHS play and explain why there may still be some more massive upside from here.
While TSLA Went Down, WKHS Continued Up
Was TSLA's setback a window of opportunity for new EV companies to emerge?
In the case of WKHS, it looks to be the case.
You would expect EV stocks to move in tandem with each other, especially when their market leader heads south.
But the dark pool print I saw in WKHS indicated that at least one huge institutional player thought otherwise.
Sure enough, WKHS sprang out of its pattern of consolidation midway through TSLA's dropoff.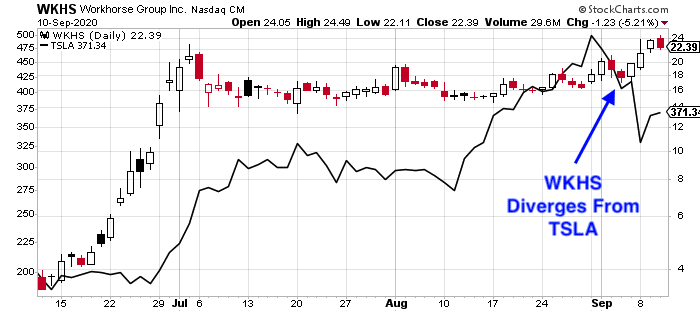 Did this institutional player know something?
The dark pool print I saw in WKHS gave me the conviction to hold onto my position in the stock, even while TSLA was tanking.
There was a lot of dark pool volume on this print and WKHS was already moving up strongly above it.
The chart was also looking strong.
So, I bought WKHS Sep 18 $17 calls at $3.00.
I was looking for an initial 50% move on this one, so my first stop for profit was at $4.50.
I sold my first piece early last week as soon as I hit that initial target, and sat tight for additional gains.
Then I sold another piece this past Tuesday for a 100% winner, and then two additional pieces on Thursday for 130% and 150% wins.
So why did WKHS move up, even while TSLA was headed down?
A few reasons…
With a focus on utility vehicles, WKHS differentiates itself in a competitive EV market

WKHS has a smaller valuation of $2.4 billion.
It also has lots of vehicles already in circulation

It has order in backlog to the tune of multi-millions of dollars

UPS and Germany's DHL are are customers

It also maintains a drone delivery business
But I think there could be even more to the story…
Is Even More Good WKHS News in the Pipeline?
When I look for a good stock play, I love to see a great chart paired with at least one good catalyst.
Seeing dark pool prints come through on my scanner is icing on top.
In the case of Workhorse, I've been seeing all three.
As for catalysts, Workhorse recently partnered with Lordstown Motors.
Lordstown intends to make a new truck called Endurance, which is a light-duty EV pickup.
Because Workhorse licences Lordstown its technology, Workhorse receives a 1% royalty on the first 200,000 Endurance orders.
And there's one more thing, which is a big one…
Workhorse has a potential USPS contract in the pipeline.
I'll be keeping an eye out for more dark pool prints that could potentially confirm this.
If it's true, WKHS could be trading a big bargain right now.
To learn how I'm potentially trading more shares in WKHS, sign up to receive my premium Dark Pools Profits alerts here.