Hello trader,
Chances are if you are reading this email, you're looking for ways to put yourself in a position to make money.
Given the way the market is moving, I believe it's the perfect opportunity to learn about my most reliable ETF trading strategy.
Listen, I've landed a 95% win rate for October and a 90% win rate for September.*
Talk about one heck of a win rate, right?
Of course, I can't guarantee my performance will be above 90% in the future, but I can promise you I'm up bright and early every trading day analyzing the market.
You see, I've put together a set of custom technical indicators that put me in a position to have the best chance to lock in a winning trade.
So stop dragging your feet, and take your trading success into your own hands…
Daily Deposits is a momentum trading strategy that is based upon a unique blend of technical and fundamental analysis.
Technical analysis is a tool used by traders to time and predict the direction of the markets.
And if used correctly, a trader could pull down massive returns in a few minutes of trading!
So… in order to successfully achieve these high returns, I have combined a set of indicators that can pinpoint explosive moves in the SPY!
So why did I decide to choose to trade call optionsbefore the market even made its move higher?
It all starts with the pre market ranking system where I determine the strength of the overnight markets. Here is a review of my Conviction Index that I send out to members every morning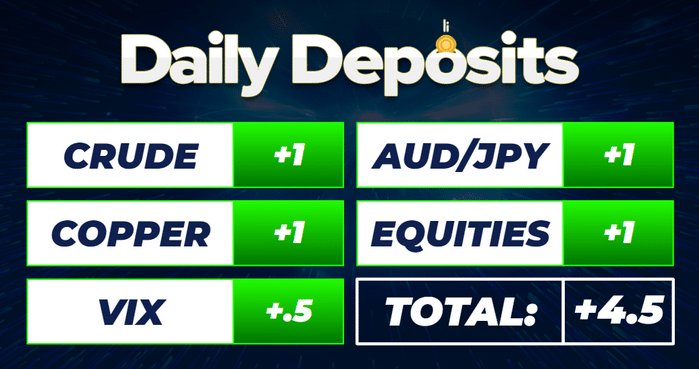 You see, this is shaping up to be one strong day coming up, fueled by the international markets.
Technical Analysis
Daily Deposits is based around a set of momentum indicators that were selected to identify market direction prior to the market open.
And recently, these have been put to the test in one of the hardest markets to trade in history!
The pre market analysis starts with:
The global overnight outlook

Sector review to identify strength in the US Markets

Premarket momentum and technical analysis review on the SPY
When analyzing the premarket session there are two primary things you want to reference when determining the trend of the markets.
The two pre market trend signals are:
The overall trend is positive or negative

The moving averages support the direction of the trend
Now there are many ways that a trader can determine a trend, but I find the easiest way to do this is by using moving averages, and a volatility squeeze indicator.
Once I have determined what my trade is going to be, I alert my members of Daily Deposits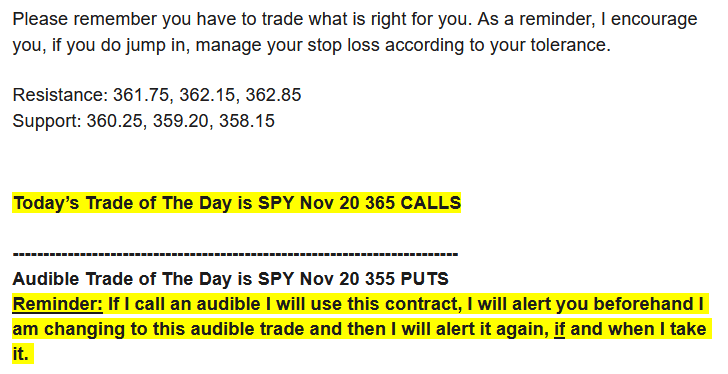 You see, I want to make sure my members have a gameplan for the day ahead. And it's the same game plan that I will be following with them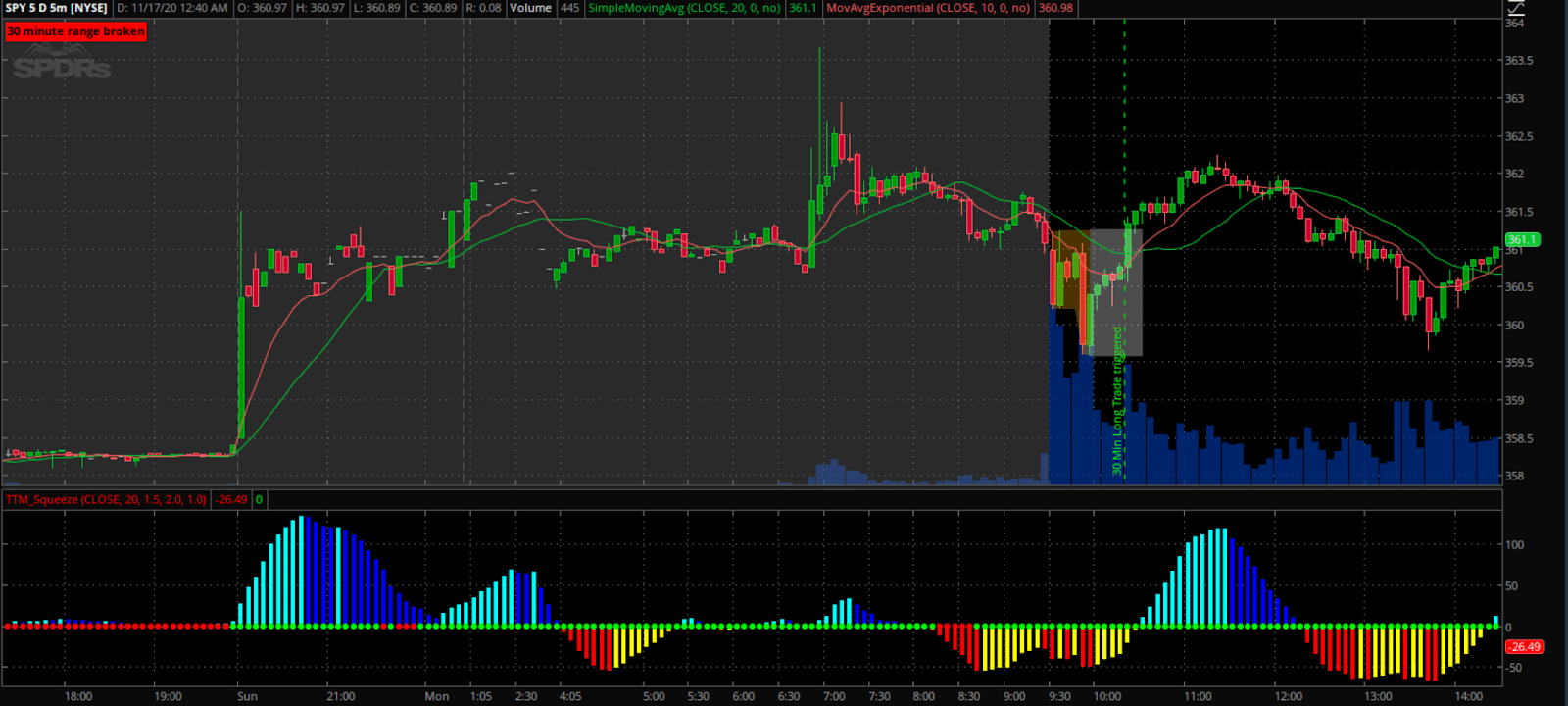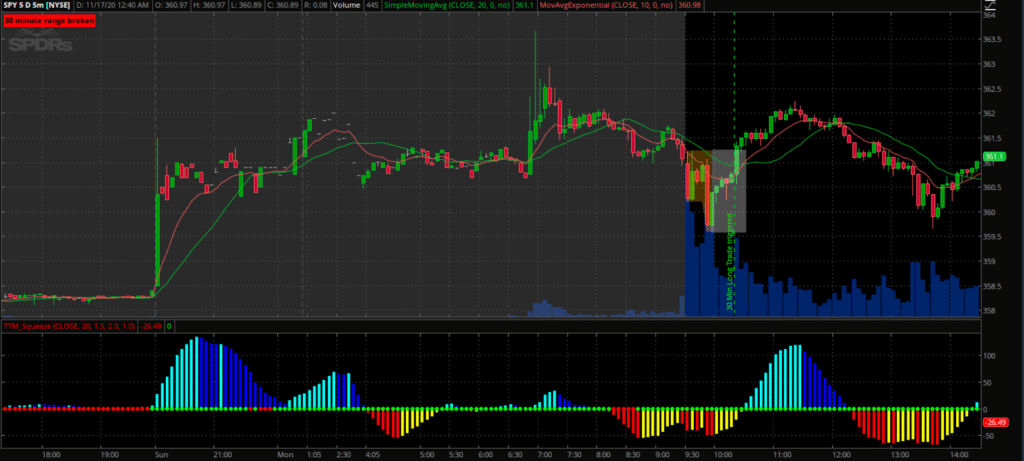 So why did this happen?
Because the Global Markets were putting upward pressure on the US Markets to head higher
…and did they respond or what!
And what did this do for the options that day?
It launched the call options higher to let meland a modest 15% profit on this trade!
Now, you might be wondering why I'm bragging about 15%…
But that's 15% per day!
And just check out the other huge winners I had, with a money doubling 100% winner
Investors who buy and hold the markets dream they could return that much.
Unfortunately for them, that 15% is all they will get ALL YEAR…and I've done it in a single day!
Just take a look at my record for November so far…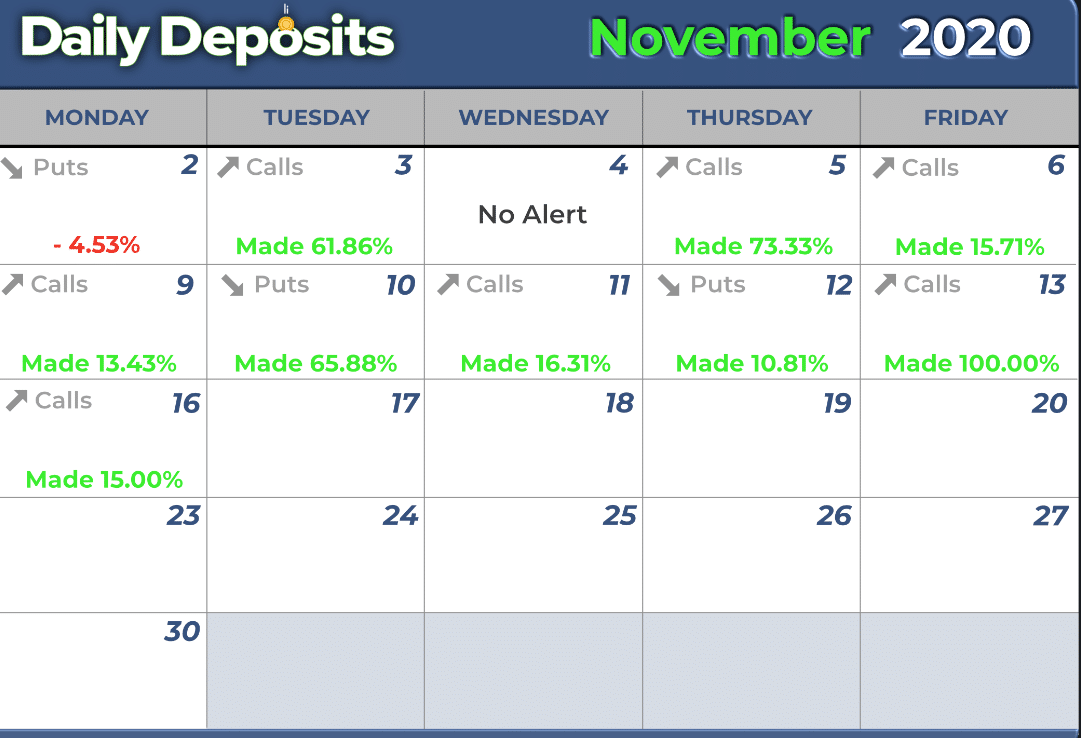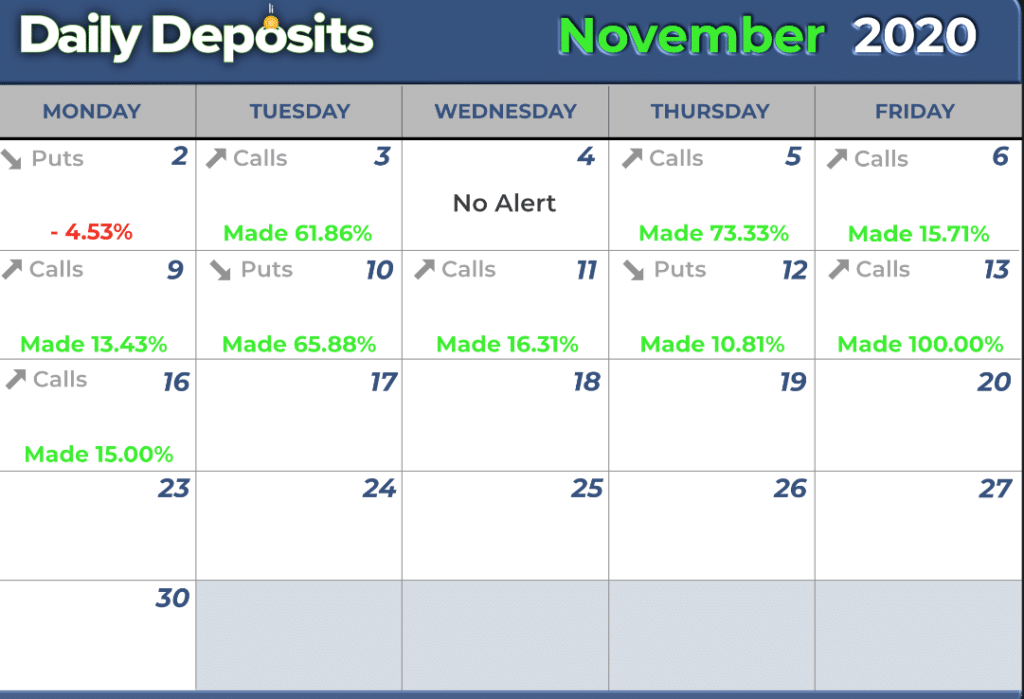 I know there is a bit of time left in the month, but so far, I am on pace for over a 90% win rate!
Take Action Now
Hey traders… I bet you are thinking, let me wait and see what November shapes up as
But you see, you'll be too late by the time you find out
I could be at 1,000% gains by the end of the month if the markets give me the opportunity
And you'll be sitting on the sidelines watching
Now, that won't change how I trade… you'll only be hurting yourself by not taking advantage of this limited membership
You see, I like to teach traders how to find an edge in the markets
And that's what I do with Daily Deposits every day
It's important to remember that Daily Deposits is a powerful new trading strategy that was designed to help me declutter and organize my trading.
So if you're ready to learn more…
Click here to find out how it all works and join Daily Deposits today!
*Results presented are not typical and may vary from person to person. Please review our full disclaimer located at ragingbull.com/disclaimer.