Fall is for two things, Pumpkin Spice Lattes and Sports.
You have college basketball and football, the NFL season, and the playoffs for Major League Baseball that make the work week go by just a little faster.
And the economy is gradually getting back on track.
Americans are gambling more as casinos slowly reopen and live sports have restarted.
In the past it was only possible if you lived near a casino but that is being flipped on its head in recent months.
And it's the idea of online gambling and the explosive growth of the industry that has really grabbed my attention
But there is one company that is set out to change the betting industry and bring it up to the digital age by being one of the first unified online betting companies out there.
And it has been on my radar since the day it IPO'd and has run a whopping 200% since it's market debut.
Now I want to show you how I use these custom tools to research the Dark Pool trading volumes and how I spotted Draft Kings and pulled in 100% profits*
Dark Pool Profits
Dark Pools are an unknown trading venue, created by some of the largest institutions in the world, and shrouded in complete mystery.
And these mysterious exchanges account for over 40% of all of the trading volume in the markets
Now I will not go into detail about how the Dark Pools are created and how the SEC fails to govern their trading
Instead, I want to show you how I use tools to research the Dark Pool trading volumes and how I spotted Draft Kings and pulled in 100% profits in almost no time at all.
How It All Started
When a large institutional trader is moving stock, sometimes greed can get in the way they let their guard down.
And that's exactly what I am looking for in the Dark Pools.
I want to see the greedy and the reckless traders who are pushing money around without any fear of being caught.
And it's that lack of fear that usually turns up more than you would imagine.
But you need to first find these trades
And I've become good at spotting these and identifying where the smart money is putting its money to work.
Now let's take a look at a chart of when the large Dark Pool trades started going off in the markets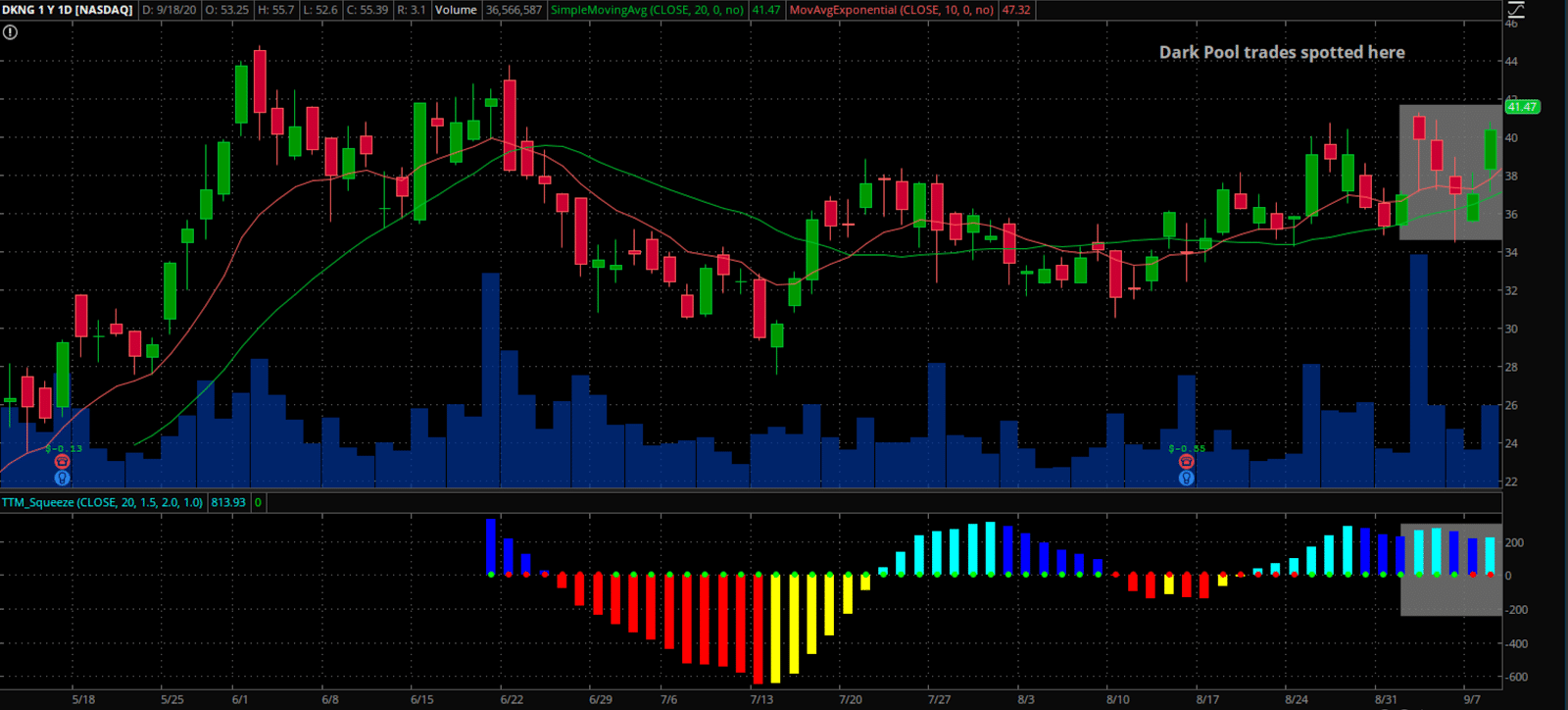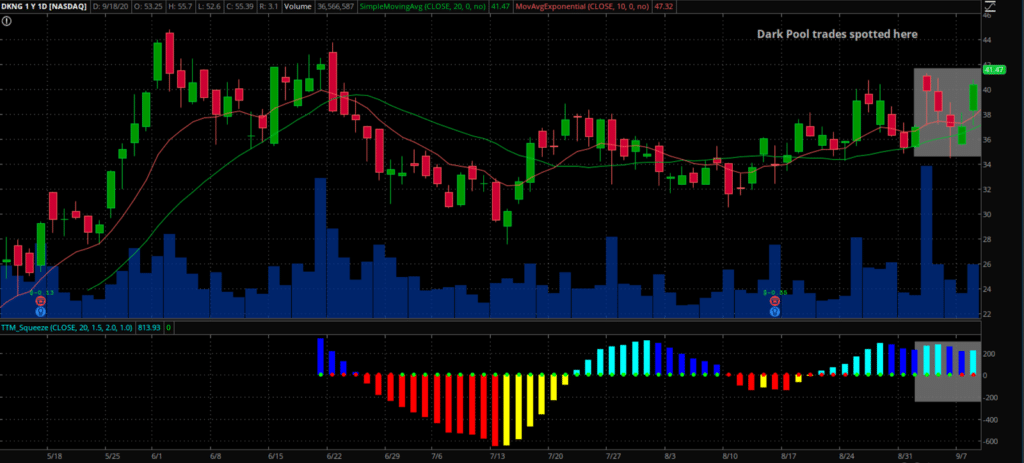 Source: Thinkorswim
And also with the Dark Pool trades hitting the tapes, there was a TTM Squeeze that occurred right at the same time.
So now only did the traders know there was news coming out on DKNG, they also acted when nobody else was watching when the TTM Squeeze was turning red.
Remember : Dark Pool trades usually always occur when nobody is expecting them to hit.
And then the news broke


Think that's coincidence?
Just look at how the stock rallied right after this news broke…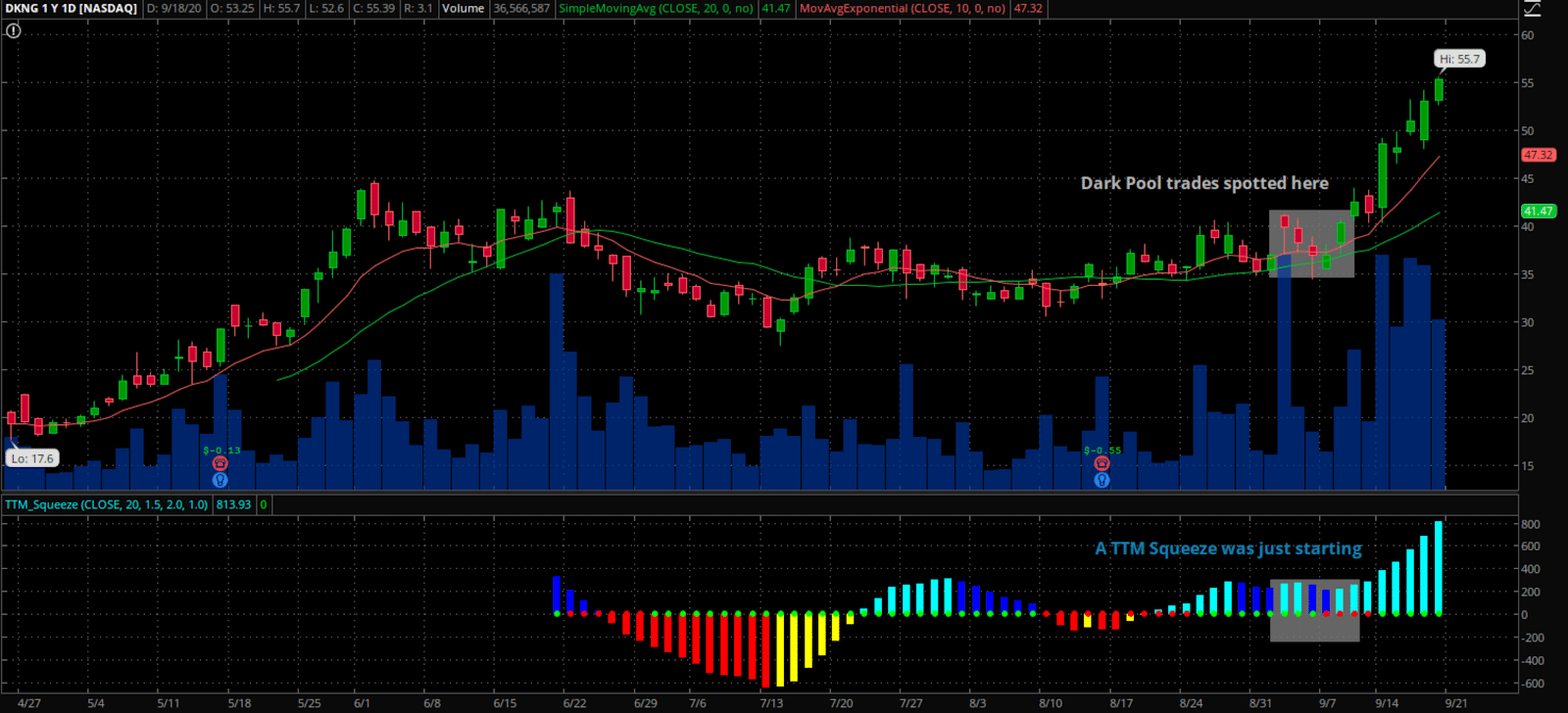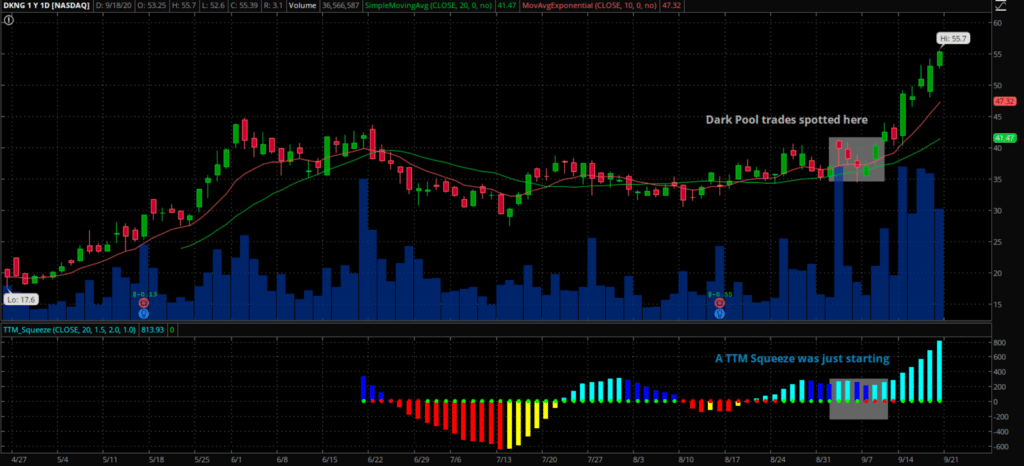 Source: Thinkorswim
It was like the floodgates opened and the news started pouring in.

And then ESPN got involved into the mix since it knew it couldn't stop this train of online betting.
But what's surprising is this actually didn't come sooner!


And then the analysts showed up to the party.
Out of nearly two-dozen Entertainment – Casinos/Gambling stocks, DKNG is ranked first. Of the 14 analysts who have studied DKNG, 9 rate it as a Buy and 5 rate it as a Hold. No analysts advise selling DKNG.
Which is why I bought calls on this stock knowing it could explode.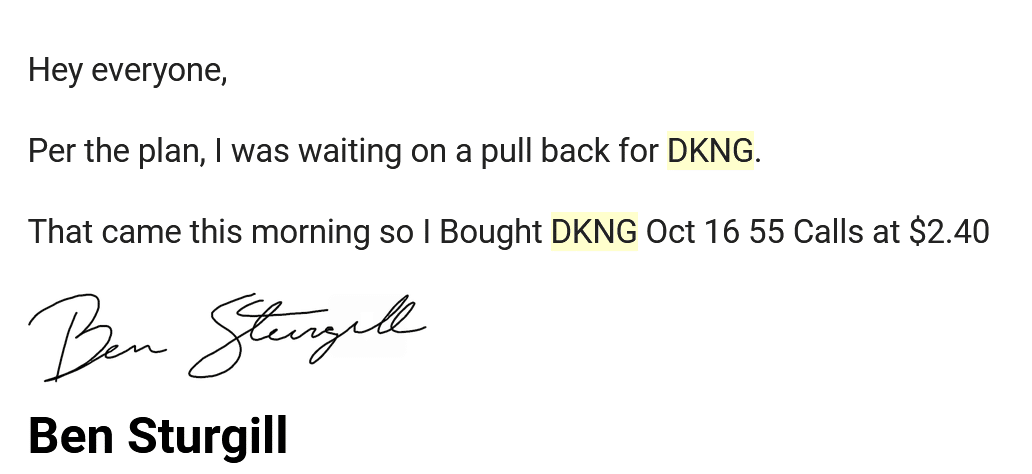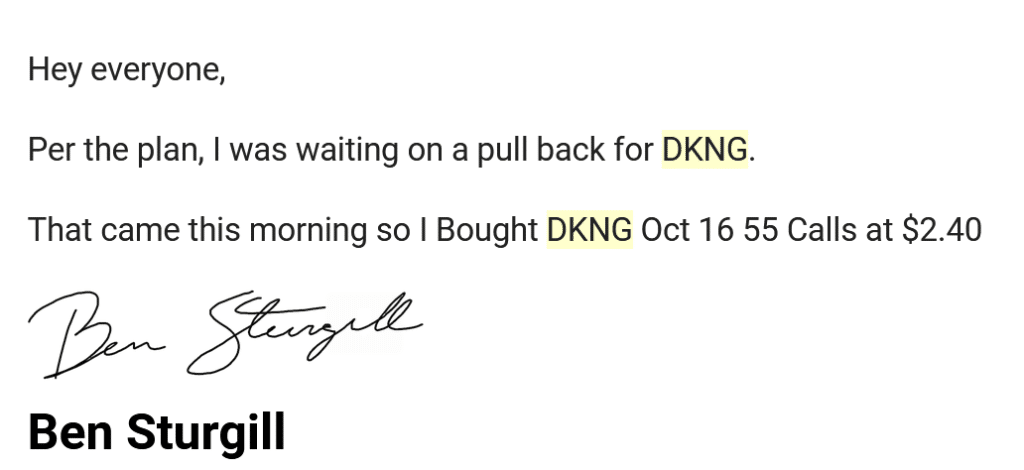 And within just a few days, these options erupted to 100% profits on my trade just riding the coattails of the smart money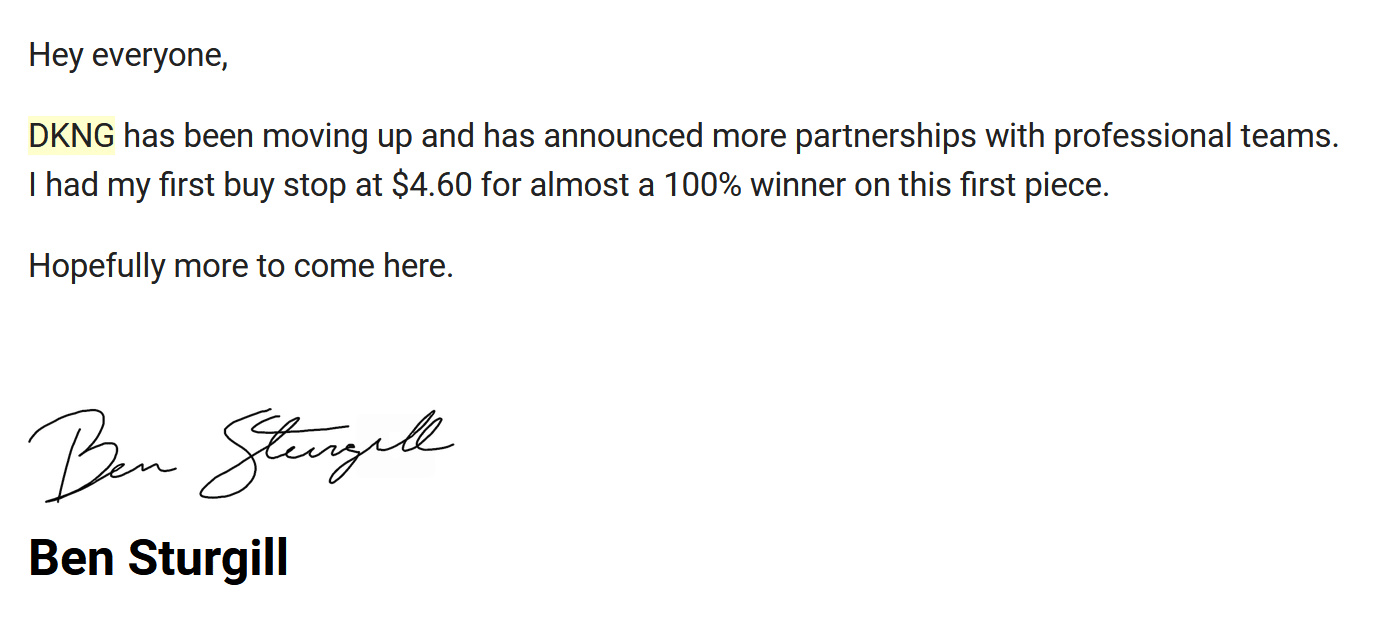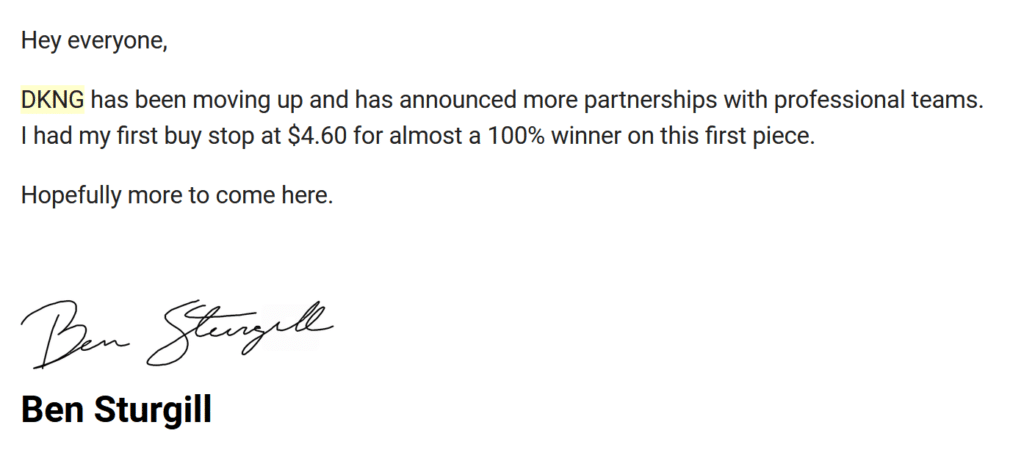 You see, even at the current levels that DKNG trades at, DKNG still has plenty of legs left in its days ahead.
And now that it's broken out of its recent highs, that key momentum breakout level means there's nothing to hold it back now.
Then by using Fib levels, I was able to come up with my next target level on DKNG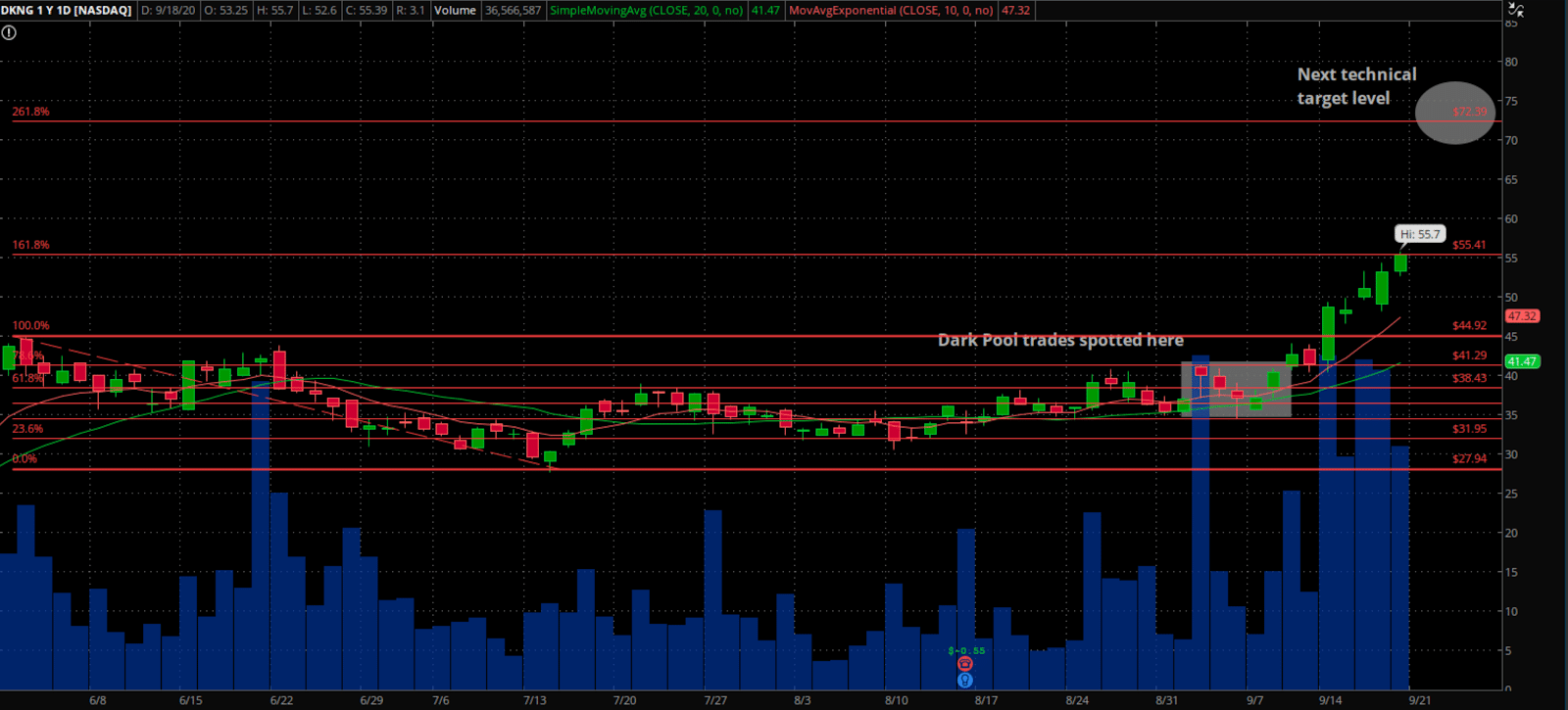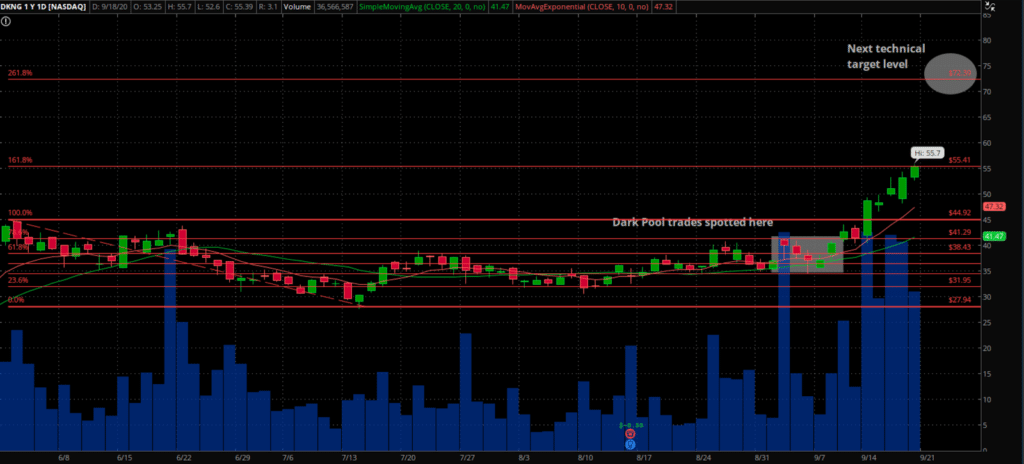 Source: Thinkorswim
Now even though this is my target, I'll be waiting for pullbacks and more Dark Pool alerts throughout the upcoming weeks to get into this stock at better levels again.
And you see, I'll also be keeping my eye out for these 3 sympathy stocks hitting the scanner next in the upcoming weeks for more unusual trading activity
You don't want to miss the 3 stocks I'll be looking for in the Dark Pools
To see exactly how I'll be trading DKNG and stay up to date with my Dark Pool trades, be sure to join my Dark Pool Profits trading service here.
*Results presented are not typical and may vary from person to person. Please review our full disclaimer located at ragingbull.com/disclaimer.