Today's a big day…
I am going to reveal a little-known "smart money" tracking tool — so you can learn to trade with a unique edge in the market…
And piggyback off some of the largest players in the game.
Until today, only a very few were able to see how I tapped into the Dark Pool markets and found "hidden" momentum even when the markets were in a downward spiral.
Let's check out some recent trades*: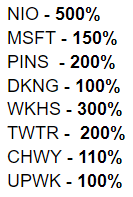 And this is done by tracking what the whales trade in the dark pools…
Just check out how many times I landed huge returns in MIK as the stock kept rising!*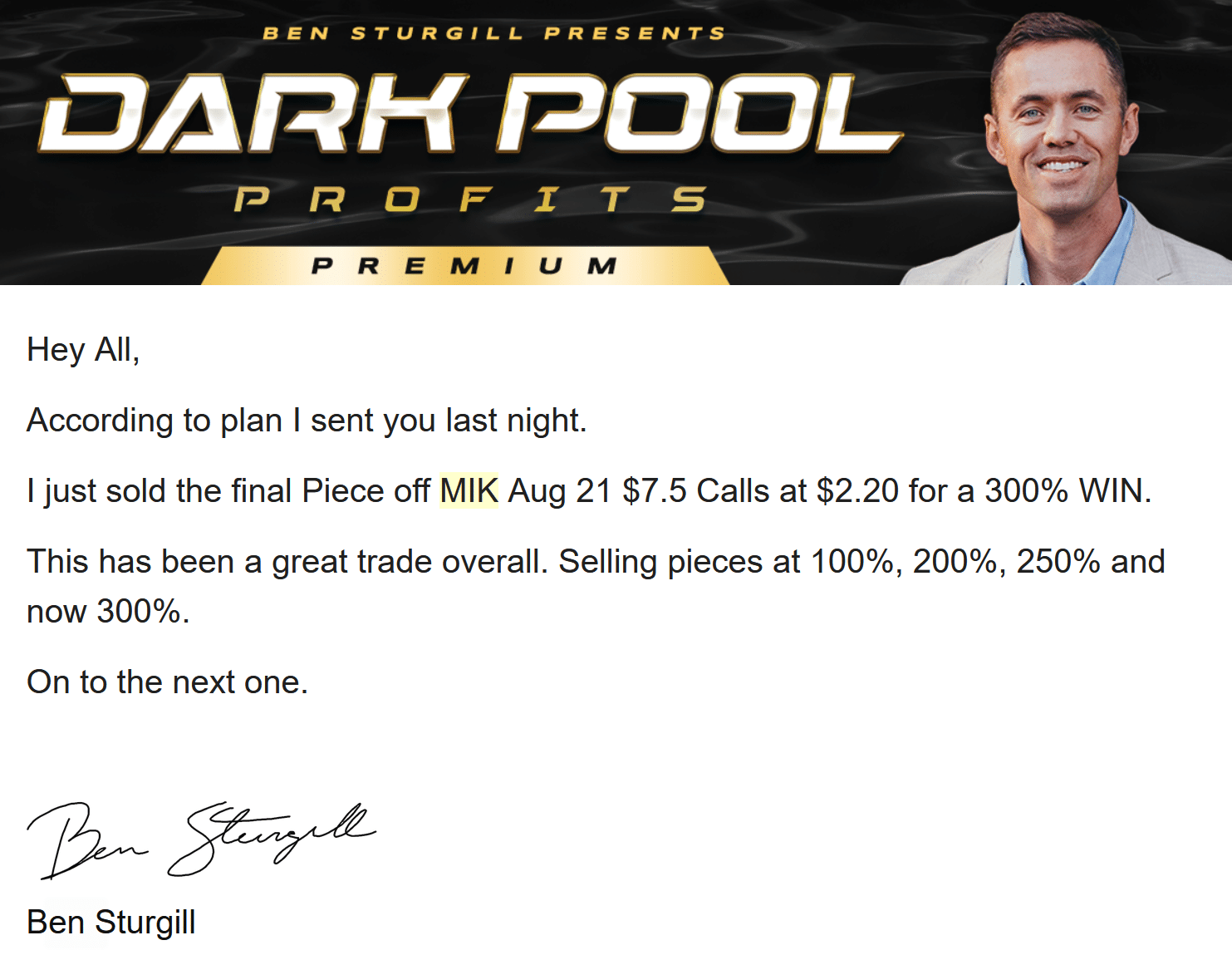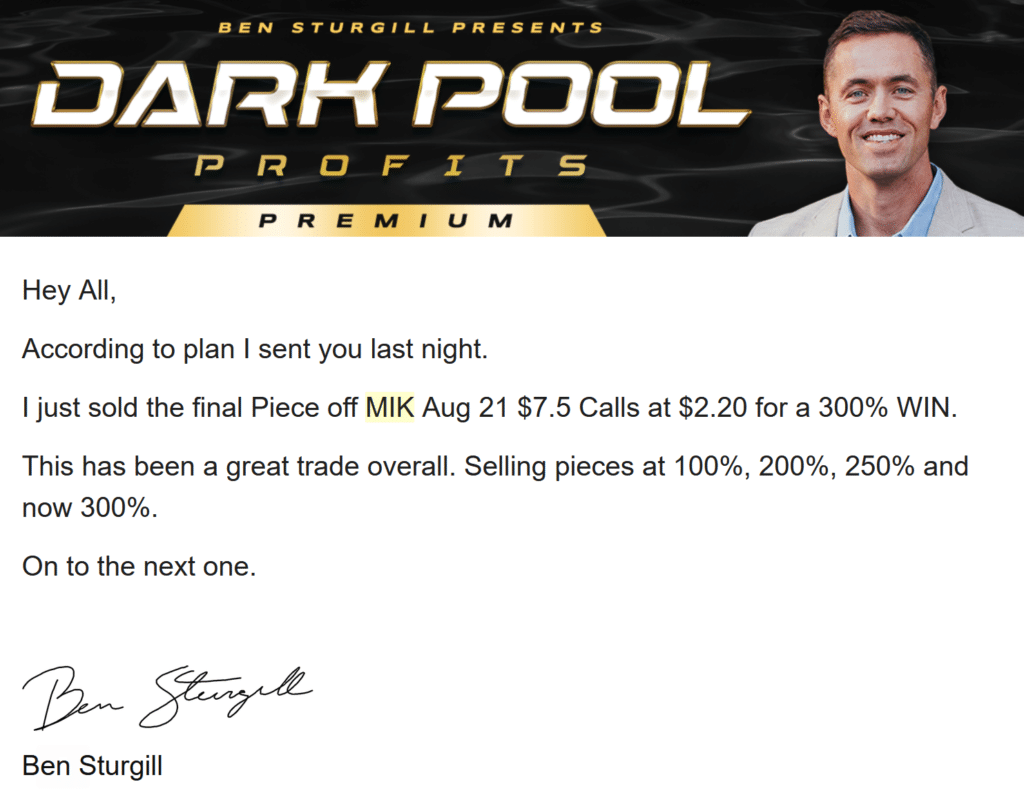 You don't want to miss this action today when I draw back the curtains and show you my strategy to target the Dark Pools!
[Make sure you register for the 2pm event here to get access to this exclusive event]
Let me show you how this works …
For the most part, my edge comes from reading order flow and monitoring the dark pool markets.
Which is why I follow the "smart money" that goes into these trades in the dark pools.
But what are the dark pools, anyways?
Think of it like the VIP section, roped off and upstairs away from the rest of the crowd at a swanky downtown club.
That special area is for the VIP's who want to spend serious cash in the club… and the dark pools are the same for the financial markets.
[Make sure you register for the 2pm event here to get access to this exclusive event]
It's a place for the uber-wealthy to place their hidden trades where no one else can see them…all in the privacy of their own network
Until now…
When looking for dark pool trades, timing is everything on these alerts.
So – you need to keep an eye on these markets and pay attention to what goes on.
But, I do the heavy-lifting and curate a watchlist using my experience in the markets to bring the best-of-the-best to your attention when they cross my radar.
Timing Matters
So how does this work?
Remember, my edge comes from reading order flow and monitoring the dark pool markets.
It all starts by scanning the Dark Pool markets for trades that are large block trades signaling that hedge funds are getting behind these stocks
And this is the exact strategy that I want to share with you, a strategy that you can follow just by learning from the pros
This strategy is jam-packed with daily research of stocks and monitoring the trading activity on every stock..
My goal is to get into trades following the dark pool traders and exit with a 100% profit in just a few days!
Just check out what happened to CVA days after the dark pools signaled buyers were entering the stock.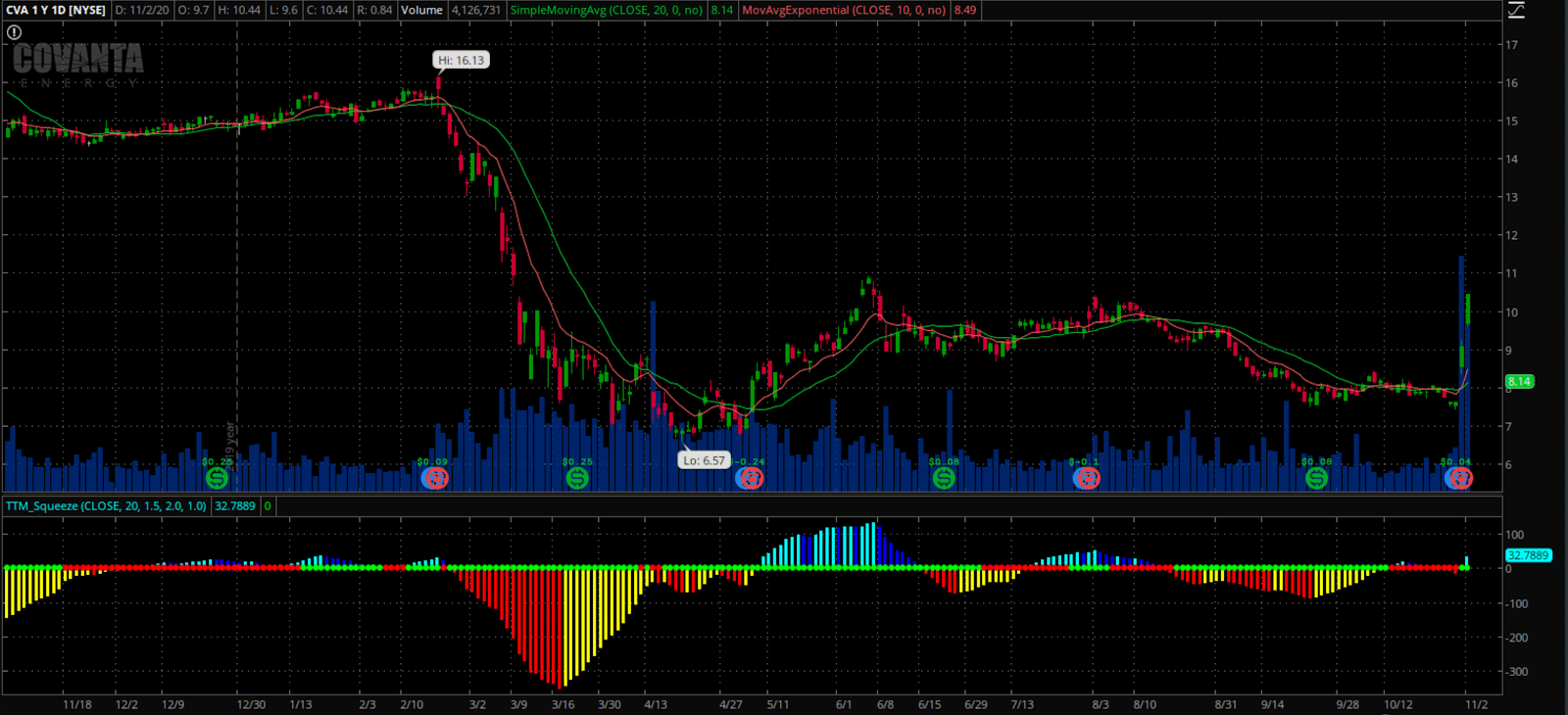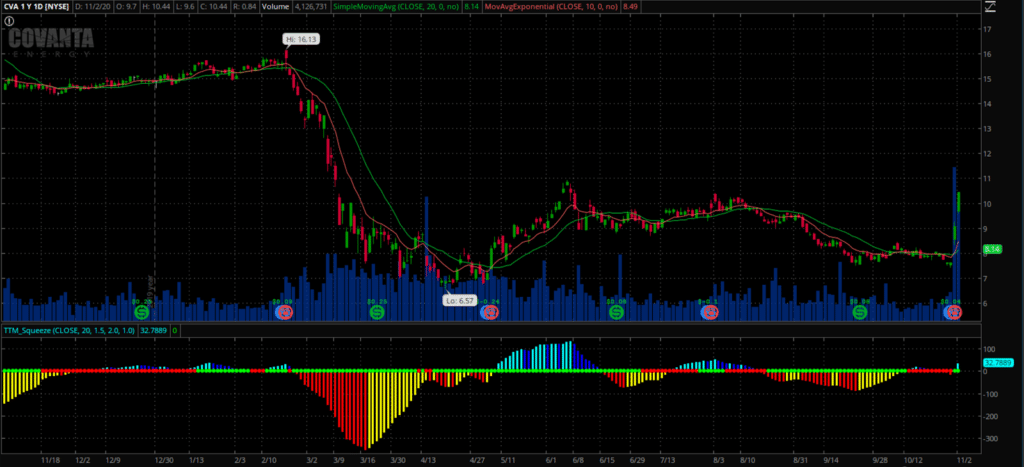 Source: Thinkorswim
Still skeptical?
Here's a trade I took in NIO just the other day for a 500% win!*
And what's funny, I exited WAY too early as this stock is still running today!
Let's check into NIO and see what happened
NIO, The Trade And When The Dust Settles
The dark pools may have given away the direction in NIO recently
From looking at the scanner, I noticed that the stock was getting more trading action than usual.
Something must be going on in this stock that has the hedge funds getting excited to put huge money into this stock
I started with these 4 questions that I had to answer first:
NIO is hitting the dark pools for the first time in a while, but it had a lot of activity in the past

Volume has been steadily increasing in NIO as it consolidates near highs

NIO is showing some large single block trades.

Some of the dark pool block trades were also intermarket sweep orders.
And after looking over my 4 criteria for a dark pool trade – that's exactly why I wanted a piece of the action in NIO!

And then NIO just took off to the races!
There was almost nothing that could stop this stock from going higher since there was so much buying pressure in this name.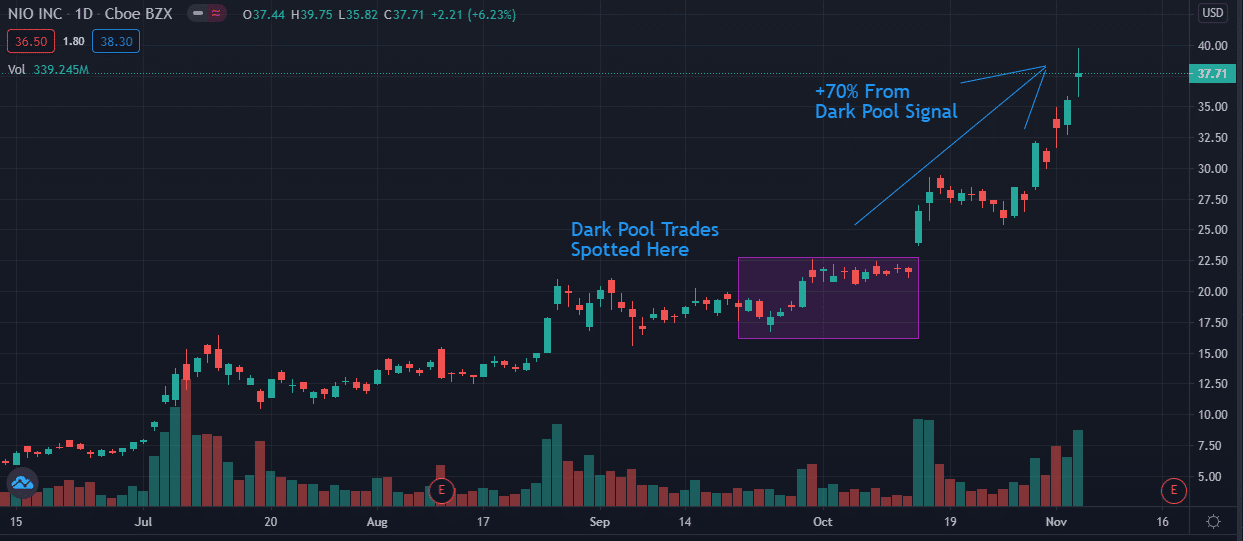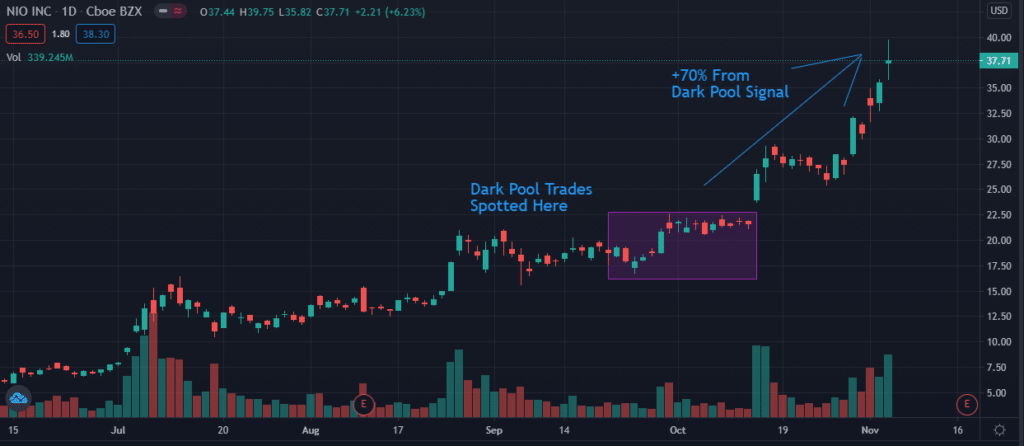 Source: Tradingview
Now, I am not sure what the future holds for NIO… but up here, I am out of my trade and watching from the sidelines.
After a 500% gain on this trade, double-dipping just sounds too dangerous to enter it again right now.*
But if there is any buying pressure hitting the dark pools, then I will be looking for a pullback to trade the momentum higher.
Wrapping Up
But since all trade information is public information, I'm just riding the coattails of the smart money who spend millions of dollars on research.
And if they put their money to work they must be doing it for good reason!
As you can see, this stock just soared after the dark pool trades were seen hitting the tapes.
I continue to monitor the Dark Pools for more and more of this trading activity every single day
Now I want to show you exactly how this works
And I think that this stock I saw hitting the Dark Pools last week could end up being my next 500% winner!*
Click here to find out what stock I'm talking about now!
*Results presented are not typical and may vary from person to person. Please review our full disclaimer located at ragingbull.com/disclaimer.