Wow, NIO.
Are you kidding me?
While the overall market has been moving down this week, NIO has a totally different idea.
It exploded!
And I was fortunate to grab a piece of it— numerous pieces actually.
I scaled out on 5 separate legs… each for triple digit gains, including this final piece here…

But while I'd love to sit here and brag about my success on this trade, I wasn't the genius behind it.
It was the institutional players in the dark pools that tipped me off to it.
Check out my dark pools chalk talk here
where I reveal how I'm copying institutional players.
But more importantly, I just spotted more dark pool activity on my scanner.
It alerted me to 3 stocks that the institutional players are liking this week.
PayPal Inc (PYPL):
PYPL operates a global digital payment platform. The company serves consumers and merchants worldwide
Since the beginning of global quarantine, e-commerce use has grown exponentially. All the companies catering to e-commerce have benefitted by new customer acquisition and higher usage volumes

The online payment sector is extremely strong with stocks like Visa, MasterCard, Square, and PayPal trading at or close to their all-time highs

I believe that PYPL is getting ready for another leg higher in the coming weeks. I am a bullish as long $194 area holds, which is a confluence of 20 and 50 day Moving Averages. My target would be $220 on the first leg up after the breakout above $212.45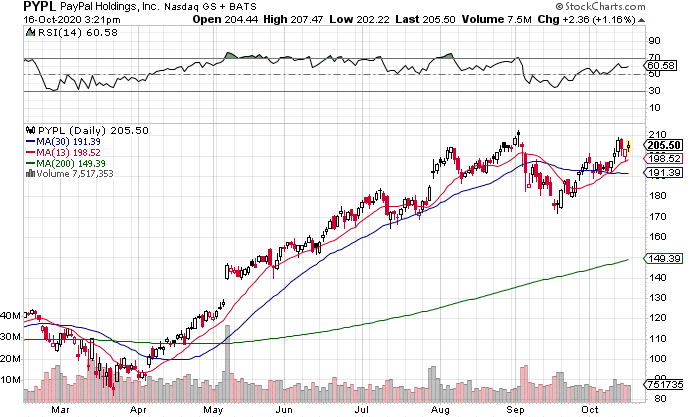 Canada Goose Holdings (GOOS):
The company designs, manufactures and distributes outerwear apparel for customers globally

The stock has recently been upgraded to outperform by 5 analysts

I believe this chart deserves some attention here: GOOS is displaying strong uptrend while holding above key moving averages like 200 day, 50 day, and 20 day

I am looking for this one to continue the strong uptrend into the next week. I will be looking to buy this one on dips and add if the stock is able to close above $36. I am bullish as long as the stock doesn't close below $32.5 and my target is $40 in the coming few weeks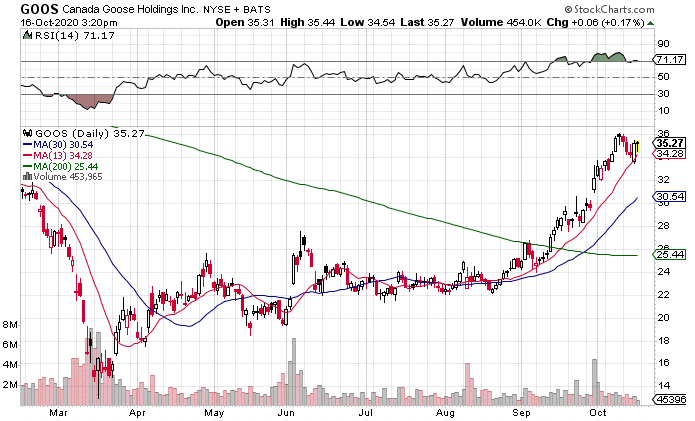 Beyond Meat Inc (BYND):
Beyond Meat develops plant based protein food products. The company offers burgers, sausages, strips and other related products. The company serves customers in the United States

Recently, the company started expanding its presence at KFC China. Beyond Meat launched at more than 210 locations

The stock has more than tripled since the March 2020 lows. In my opinion, it is soon to make another move higher

I am closely watching the consolidation at $183 area. I will look to buy the stock on strength if it closes above $188 putting my stop right under $183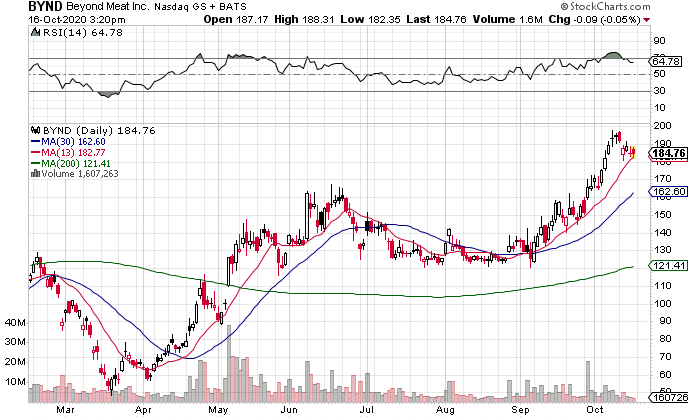 Want to Learn How to Trade Dark Pool Activity
I consider myself a smart guy.
But sometimes, I just have to defer to the "smart money."
These are the big dogs on Wall Street who sometimes move millions of shares— in a single order!
Talk about conviction.
That's why I'm teaching traders how to take advantage of these plays.
Check out my Dark Pools training here to learn.