Dark Pools are mysterious.
They hide the dark secrets of Wall St. and allow the elite to trade unnoticed
And many times, they're used for illicit insider trading to get into a trade before news is released
But sometimes, they're actually used by large institutions as a place to source liquidity and get into a trade after news has hit
And having the ability to find both of these opportunities is what makes my proprietary dark pool scanner so exciting to use.
Now let me show you how this impossible to find trade turned out to be an absolute monster trade today.
Let's dig into how this one trade really stood out and shined today for over 100% gains in a single day!
Dark Pool Profits
Dark Pool Profits is focused on identifying unique and obscured trading activity that is done in one of the most secretive markets.
This is so secretive that nobody can trade in it without some serious capital, and being registered as a hedge fund.
Now we don't need to worry about secrecy and anaymonty with Dark Pool Profits… Since I monitor these markets and find the trades that stand out as suspicious.
And once a trade hits the tape it's considered public information…
Meaning you don't have to worry about insider trading violations!
So let's take a closer look at how unusual dark pool trading activity gave away the move in GRNQ
Unusual Dark Pool Trading Activity
Let me explain how this works…
It's important to remember that Dark Pools come in two different flavors:
A market for insiders or people "in the know" to place trades discreetly without impacting the public markets

A market for hedge funds and large institutions to execute trades on stocks they want to buy aggressively
Now, these are two reasons why monitoring the Dark Pools is so lucrative.
It boils down to just two main things…
Greedy and supply and demand!
Now let's talk about how I found and spotted the trade in GRNQ that tipped off the move before it even happened!
Did Someone Know Something?
While it's really hard to determine whether or not a trade is placed based on insider information, the only thing I know is that the trade happened.
But I also know more than just that…
I built a scanner that monitors the average dark pool volume and alerts me to when something out of the ordinary stands out!
And that's exactly what happened in GRNQ today
Now let's take a look at what I saw:


So what does this show me
Well… it was one of the first couple trades on the day, and right at 9:40am, it was already trading at significant multiples of its average volume!
And why is that important?
The Breakdown
You see, this stock showed up right at 9:40am on my proprietary Dark Pool scanning system.
But why?
Now this is where I need to channel my inner Sherlock Holmes and think about what's going on here.
What's happening:
Nobody would ever allocate MILLIONS of capital into a trade without having a good reason to do so

Institutions must be behind this move if it's push that type of volume into a single stock

Dark Pools are alerting trades, meaning that someone doesn't want to impact the public markets
So, what could this possibly mean?
Remember, I always question…
WHY is a stock trading at 200% it's average volume at 9:40 am without a significant catalyst, such as earning?
After quick investigation, some firm must have done serious research into this stock based on this news headline:

Source: Thinkorswim
Remember, this trading system is designed to alert me to the smart money trades and give me the alerts that these professional traders are interested in a stock
And for these big firms to place money into a trade, it MUST mean something big is happening!
These traders just don't allocate funds to a stock they don't have an edge in after all
Here's how the chart looked right in the morning as well: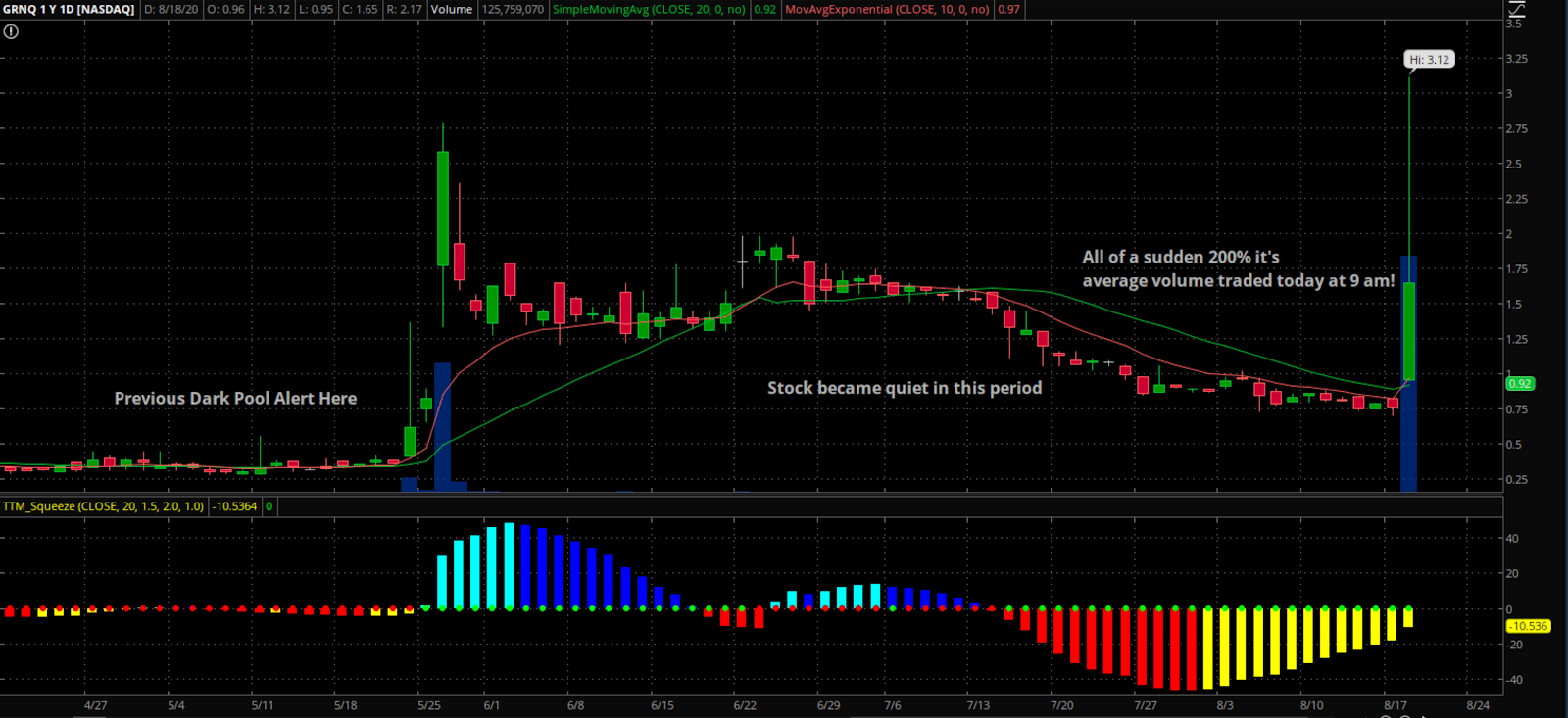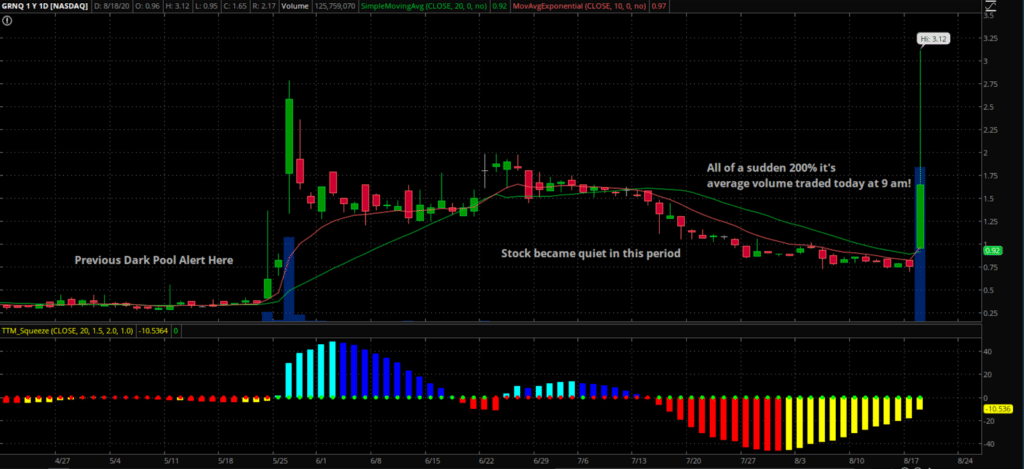 Source: Thinkorswim
The daily chart painted a really interesting picture… now let's take a look at the intraday chart right when the trade went off: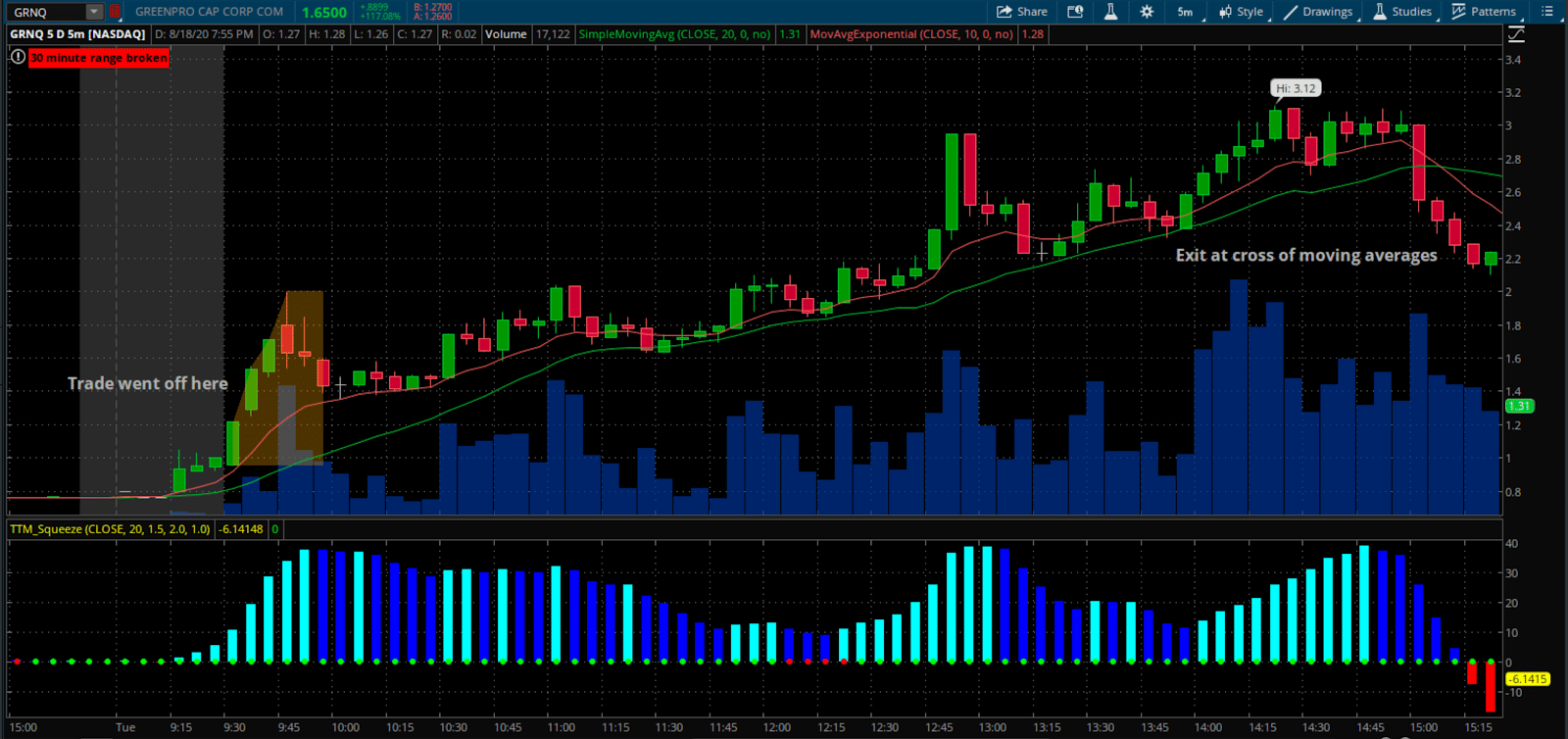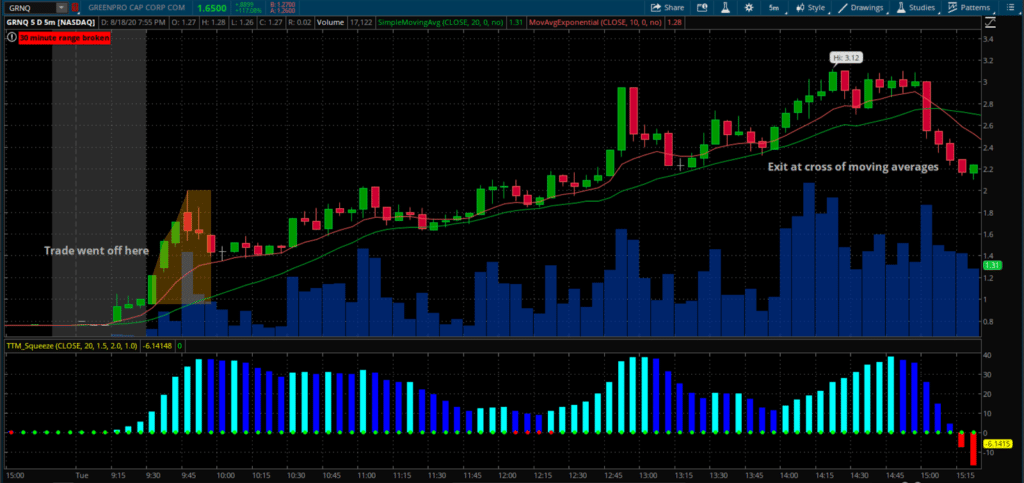 Source: Thinkorswim
And by using simple technical analysis, you could have easily picked up over 100% gains on this trade just by following the signal the dark pool scanner alerted!
Wrapping up
Now unfortunately, even though I didn't get a chance to trade this stock due to technical outages at the brokerage firm…
I wanted to share with you the details of the picture-perfect setup and why it's a trade I would take time and time again if I saw it
It's important to remember two things…only institutions can trade in the dark pools, and only smart money places large trades in secret.
And by remembering those two key points, you can understand exactly what the dark pools are doing and why the pro traders are targeting these stocks to trade.
So there's no way to get access to this information without Dark Pool Profits and if you're interested in getting advanced alerts to moves like GRNQ.
Click here to sign up for Dark Pool Profits today!