Every single trading day there are opportunities in the markets to profit on.
And I'm thinking there is going to be even more of these opportunities as we close out 2020 and head into 2021.
And now that Janet Yellen is going to turn the money-printing machines to their max, these hedge funds are going to need a place to trade without hitting the markets.
This means they are going to turn to one place…
Dark Pools
These are "private" exchangesfor trading that are typically not accessible by the investing public.
And I really believe 2021 could be one of the most profitable years for me if the Dark Poolsare going to be this active.
From what I can already tell, there is going to be a lot of sector specific trading opportunities, and if you can spot them, you can put yourself in a position to make money
Now let me show you how I leveraged the Dark Pools to land this 200% gain and how I'll be using this exact strategy to monitor for more trades just like this one*
It's only fitting that 2020 ends with fireworks
And we are not missing out one bit as markets are soaring back through all-time highs.
Now with a change in power, more stimulus is around the corner to support the economy.
I can't afford to be complacent, because maybe it won't happen. I'll be watching the markets closely for news of the slightest change.
After all, I'm just making an educated projection of what I think is going to happen in 2021.
So, what does this mean for stocks?
I think as money is being thrown into the markets, it will be like tossing water on a grease fire.
Grab your popcorn and just wait for the action to pop off.
But what does this mean exactly?
Well, when money is being thrown at the markets in large quantities, hedge funds can't simply go and execute into any brokerage.
They are usually too big
This means they need to go to a major bank, such as Goldman Sachs, and submit their trades to them.
Then, Goldman Sachs will need to execute this trade. Now, they won't be executing into TOS, but insead, they will internally, typically at a Dark Pool. Once this trade is executed, they will report this trade to a 3rd party reporting facility, completing the transaction.
Now of course you're wondering…"how can you actually uncover these trading opportunities?"
For me, it's simple
Every day, I look at a scanner and filter for stocks to trade. For the most part, I want to look for stocks that are hitting the scanner multiple times, and at large volumes of their daily average.
And I look through all of the charts to find opportunities, and charts that look good to trade.
You see, it's not a lot of stocks to look through compared to the entire market.
Which gives me a focused list of stocks to trade
One stock that looked interesting to trade was CHWY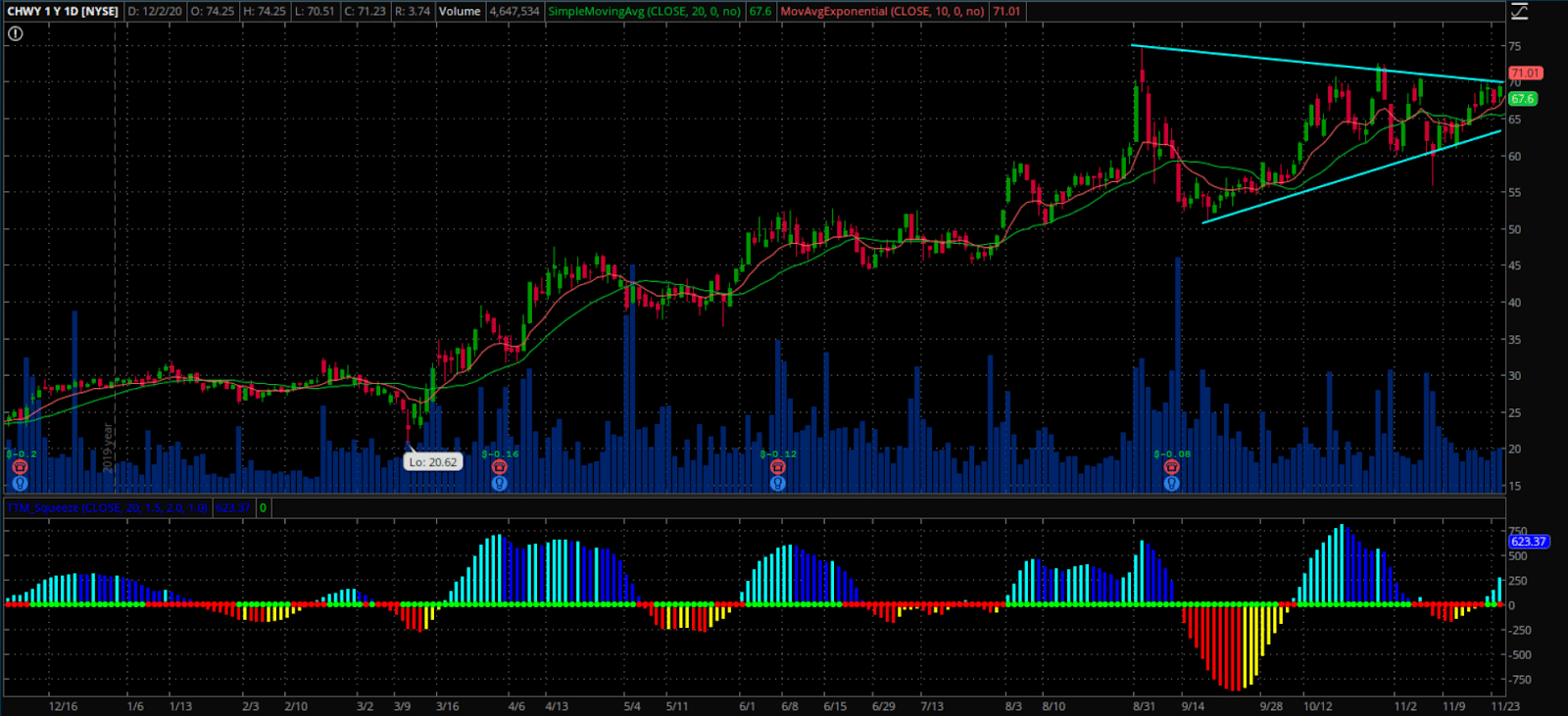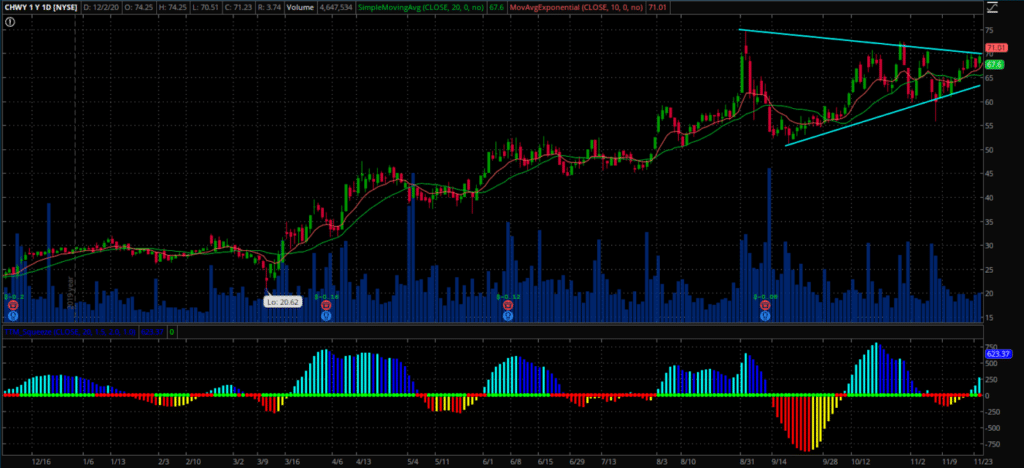 You see this stock is forming a wedge pattern between its lower highs and higher lows as it approaches an all-time high.
And this pattern can't go on forever, as either the bears or the bulls need to win.
If the bears win, the stock could fall down to $60 / share
If the bulls in, the stock could rip to over $75 / share
Which is when I noticed that large trades were starting to hit the Dark Pools…
So I alerted my Dark Pool Profits subscribers that I was going to be taking this trade.
Then all of a sudden, the stock starting heading higher based on this price action I saw in the Dark Pools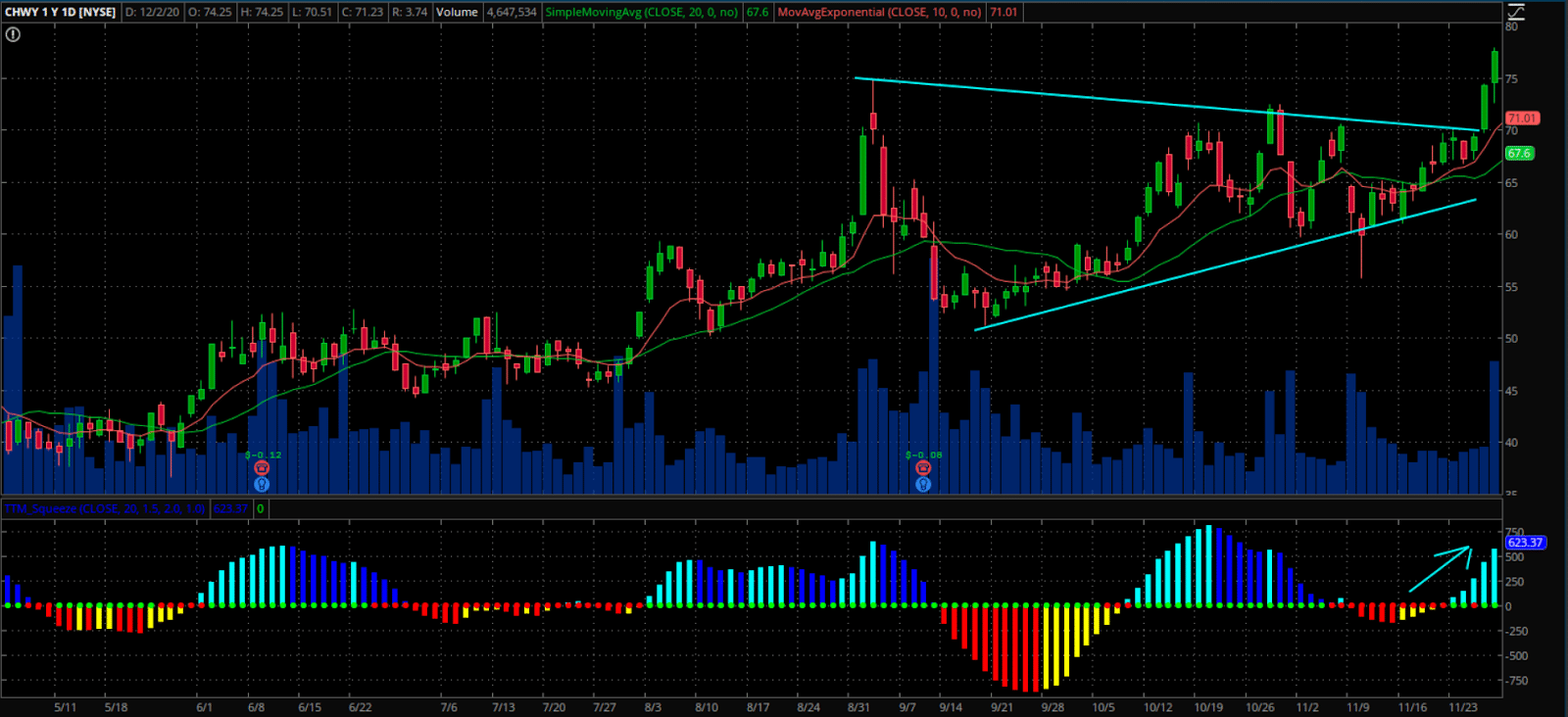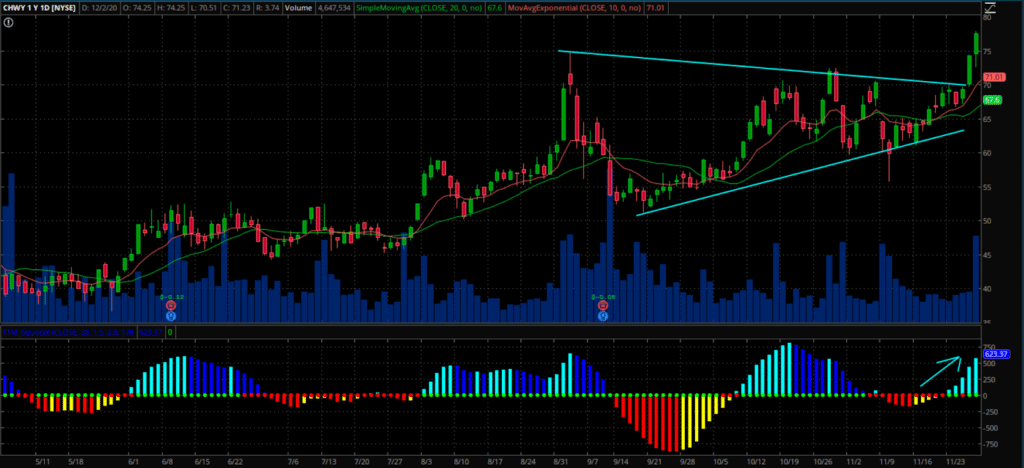 And the stock ripped higher as the bulls took control of the stock, and the momentum signaled a long trade once the squeeze released its energy
I knew with this type of move I had to take my profits off the table…
On Nov 30, at 10am, I sent out that it's time to exit my trade.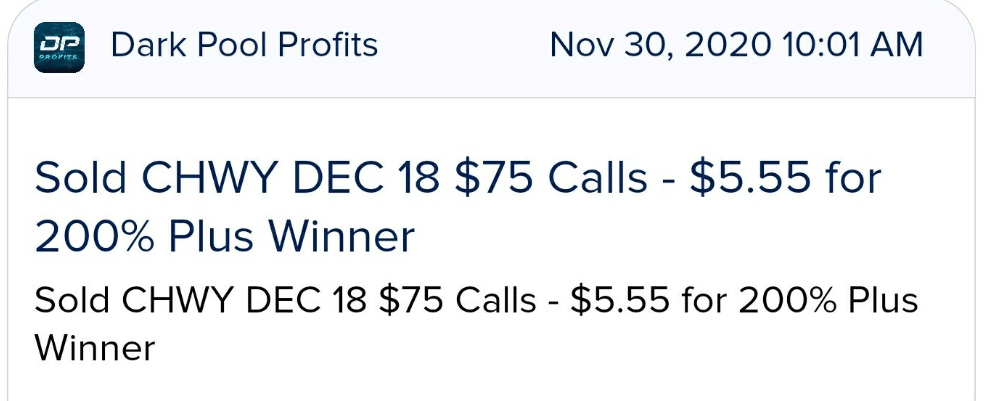 You see, I don't need to be the researchers who are digging through every stocks financial statements
Instead, I let the trades come to me, simply by monitoring the Dark Pools… and then I can ride the coattails of these large traders
Of course, I can't predict the future and I don't know what is around the corner…
Since the Dark Pools have been this active during times of uncertainty, I can only imagine how lucrative they are going to be in times of unlimited money being poured into the economy.
So make sure you're part of the Dark Pool Profits community and join now to stay up to date with my latest trades
This is a limited time offer and make sure you sign up here now before time runs out and I'm forced to close registration