How do you pick stocks to trade when there are over thirty thousand names to choose from.
Throw darts or pick out a hat?
I don't think so!
Instead, I find my edge by tracking what the pros trade and monitoring the trading exchanges they target…
Sometimes, financial institutions and Wall Street whales will throw down large bets in the dark pools…
That's why I created a way to monitor these dark pools and piggy back on the trades these hedge funds don't want everyone to see.
This edge has let me reel out some large returns before…
And helped me uncover an EV stock that just caught a pop again when the markets were down 10%.
Want to get a piece of this action?
Finding Your Trading Edge
Everyone needs to find their unique trading style in the markets.
Just think of any professional athlete, a traders edge is a unique attribute just as a basketball jump shot, a pitcher's wind up, or a batter's swing.
And my edge is by monitoring the Dark Pools and finding trades that I can jump into and make the 50%, 100%, 200% or greater returns that I'm striving for!
Now let me show you what I did in this recent WKSH trade
And how I crushed it with a 100% ROI in just a short period of time.
One of my go-to strategies is uncovering strange and unusual activity in the dark pool markets. I make sure to identify dark pool trades in specific stocks and get in on the action!
I want to profit off the research made by some of the biggest investors in the world!
Since they have the experts in their industry researching drug trials, news, and earnings reports, why should I have to do all of that when they do it for me
You see, every trade that hits the stock market is public information
But you need to have a way to find that trade in all of the noise plus make sense of what it means.
Which is why I do all of this heavy lifting for you with my custom scanner!
And looking at the scanner, I noticed that WKHS was getting a lot of attention late in the trading day
But why?
So I always start by asking 4 main questions before taking a trade:
Is this a first time for hitting the Dark Pools

Is this considered unusual trading activity for this stock

Are there any unusually large block trades going off

Are there any

Intermarket Sweep Orders to confirm aggressive trades
And what happened?
I have not seen this hit the dark pools scanner before.

There was a lot of block trades and dark pool going off in this stock throughout the afternoon

Not a lot of Intermarket Sweep Orders that stood out on this trade.
But when I saw this technical pattern I knew I had to be involved in this stock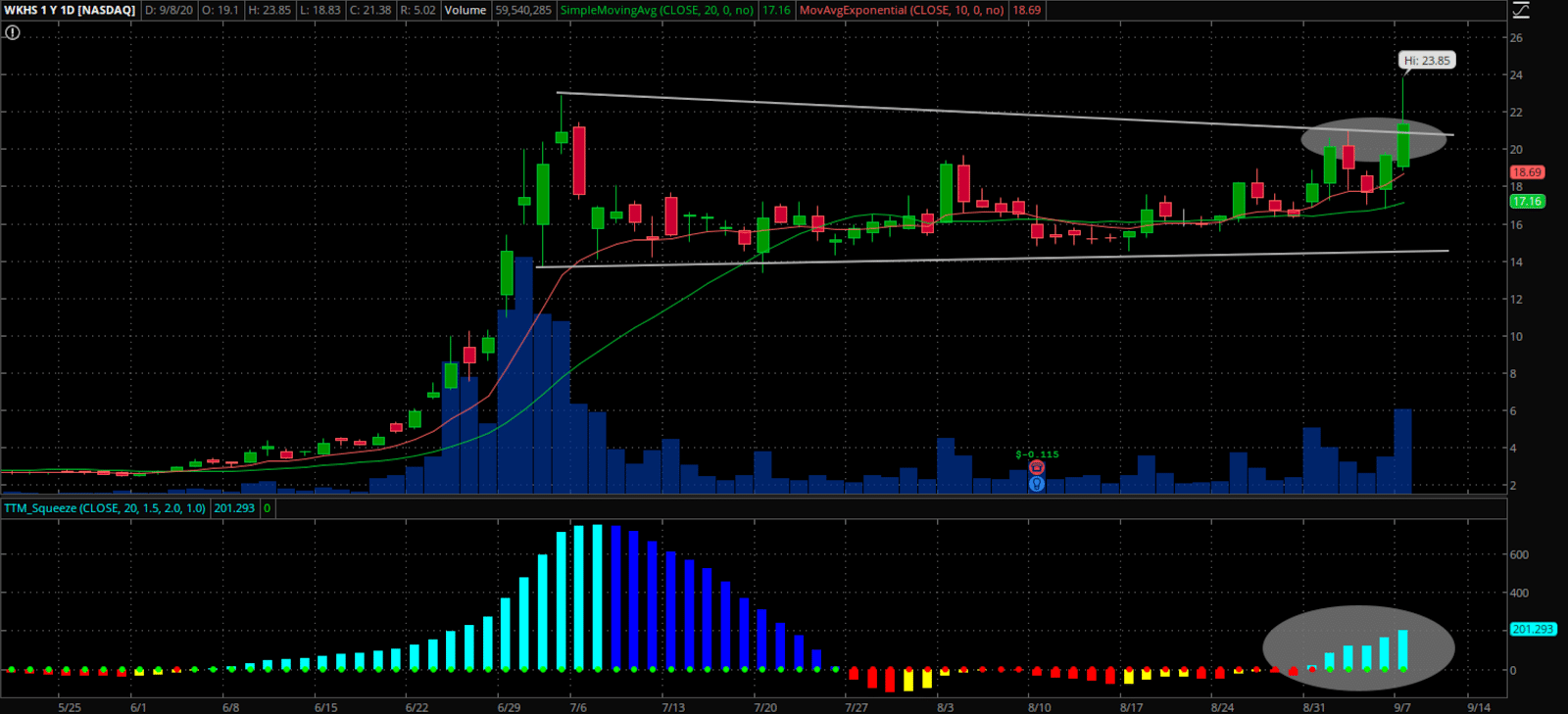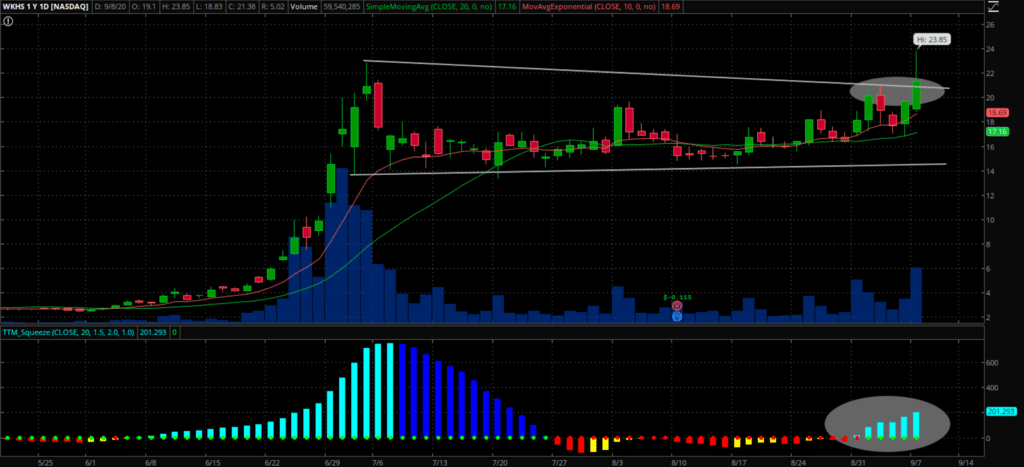 Source: Thinkorswim
And by looking at this chart, I could see why someone was this bullish on the trade.
This was the alert I sent out for Dark Pool Profits

As you can see, this stock just soared after the dark pool trades were seen hitting the tapes.
And that's why I absolutely love trading the quick money in the Dark Pools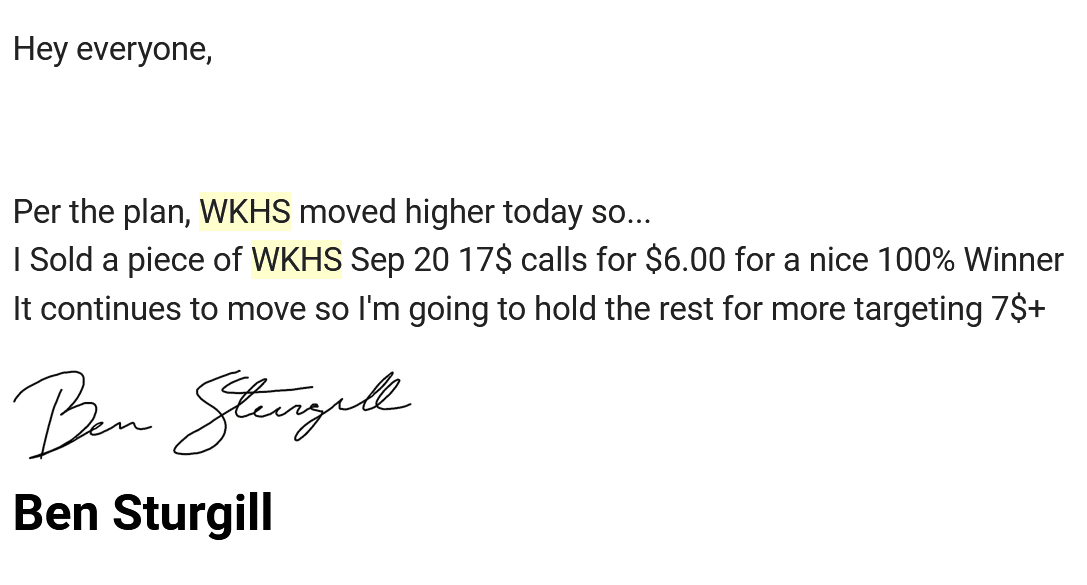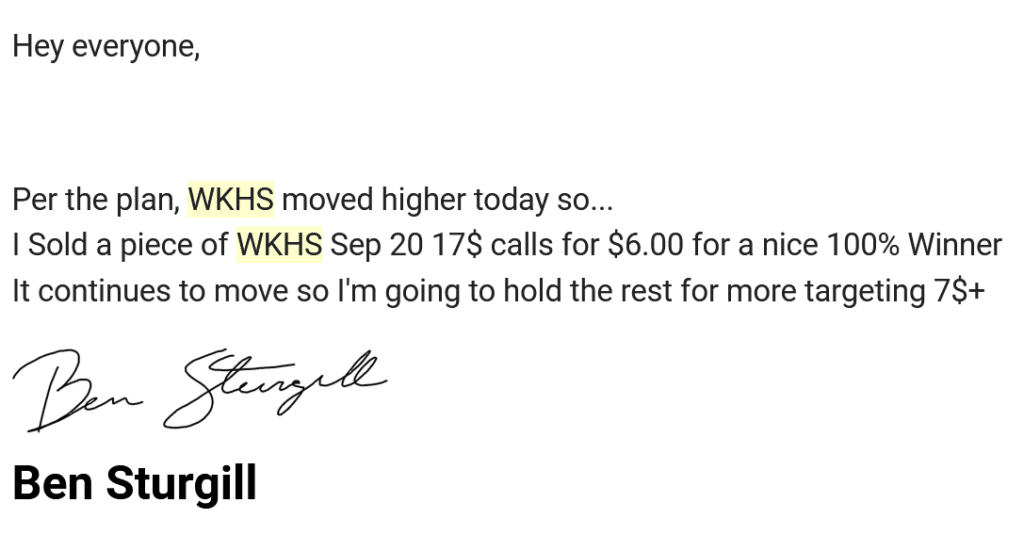 And that's the alert to the traders just the other day when I was locking in my profits of 100% on that stock!
But I think there is more left in the tank
Which is why I only took a partial exit on this trade.
Since the technical patterns look like a bullish breakout ascending triangle on the daily chart I want to keep a piece on to see what's left in the bank for this trade!
Now if you are looking for your real edge in the markets don't look any further than Dark Pool Profits
When you learn how this strategy works your trading will be changed forever
Don't miss out on this opportunity to jump into these huge trades from major institutions and hedge funds that are identified by monitoring the Dark Pools directly.