For many traders, one of the most exciting things is watching hard work pay off on a great trade.
Now I know that some trades don't always work out as planned…
But when you trade the Dark Pools and the stars align – you can be sure to watch something spectacular happen
And that is exactly what's happening right now with my trade WKHS
I'm talking about four trades that are averaging 100% ROI with a few options still left on for the chance to run even further!
And each week I send out all of my trades and a watch list for Dark Pool Profits subscribers/
Inside, traders can expect detailed plans, along with stocks to keep on your radar for a breakout move in the upcoming days.
But not just any stock makes my list…I am going to show you what I look for in these Dark Pool trades
And that's a stock that has unusual trades in Dark Pools
Then recently there was Dark Pool activity in this popular Chinese EV car stock that is giving TSLA a run for its money that hit my scanner just the other day.
Once I saw this trade, I knew I had to be involved!
When I first started trading I had a limited understanding of what Dark Pools were even used for.
It's time where I needed to figure out a way to trade the Dark Pools so I can pull down profits
Now how do I do this?
I started with these 4 questions that I had to answer first:
Have I seen this stock trade in the Dark Pools lately?

Is the dark pool volume larger than its average?

Are there any large single dark pool trades?

Are there any Intermarket Sweep Orders?
Now for me, I found that the more boxes that are checked off the list, the better signal there is for the dark pool scanner.
Let's take a look at how I found this 100% winner in WHKS just by scanning the Dark Pools
For the most part, my edge comes from reading order flow and monitoring the dark pool markets.
It all starts by scanning the Dark Pool markets for trades that are large block trades signaling that hedge funds are getting behind these stocks
And this is the exact strategy that I want to share with you
This strategy is jam-packed with daily research of stocks and monitoring the trading activity on every stock..
My goal is to get into trades following the dark pool traders and exit with a 100% profit in just a few days!
And recently, WKHS didn't skip out providing plenty of excitement in the last week.
From looking at the scanner, I noticed that the stock was getting more trading action than usual. Something must be going on in this stock that has the hedge funds getting excited to put huge money into this stock
I started with these four questions that I had to answer first:
WKHS is hitting the dark pools for the first time in a while

The dark pool total volume seems to be in line with the average

WKHS is showing some large single block trades. A dark pool block trade is when millions of dollars worth of stock trading are trading at single clips from large traders and hedge funds

Some of the dark pool block trades were also intermarket sweep orders. An Intermarket Sweep Order (ISO) is an extremely aggressive order type used by hedge funds exclusively to find liquidity for a stock they want to buy
And after looking over my 4 criteria for a dark pool trade – that's exactly why I wanted a piece of the action in WKHS!
Here's what I sent out that day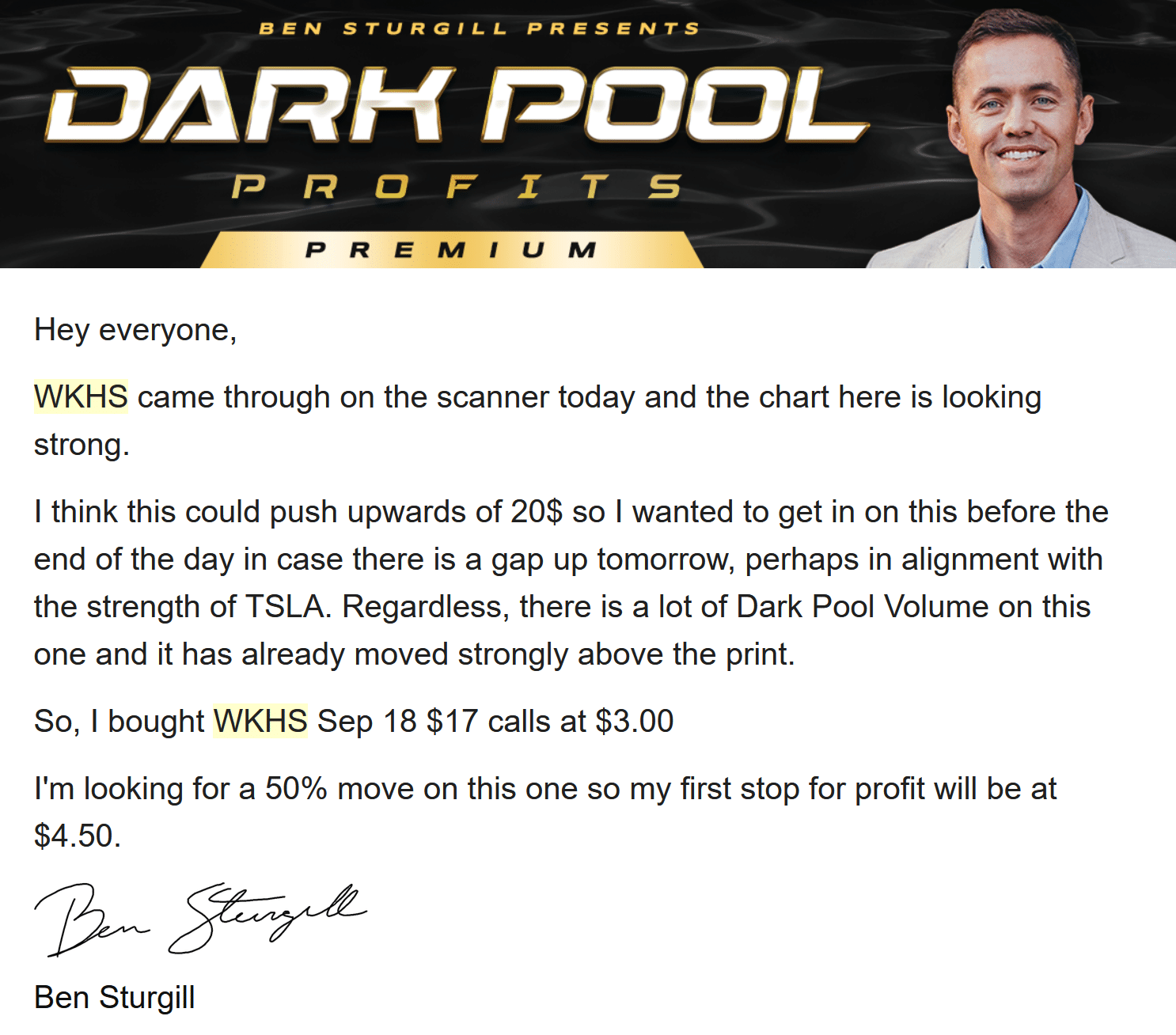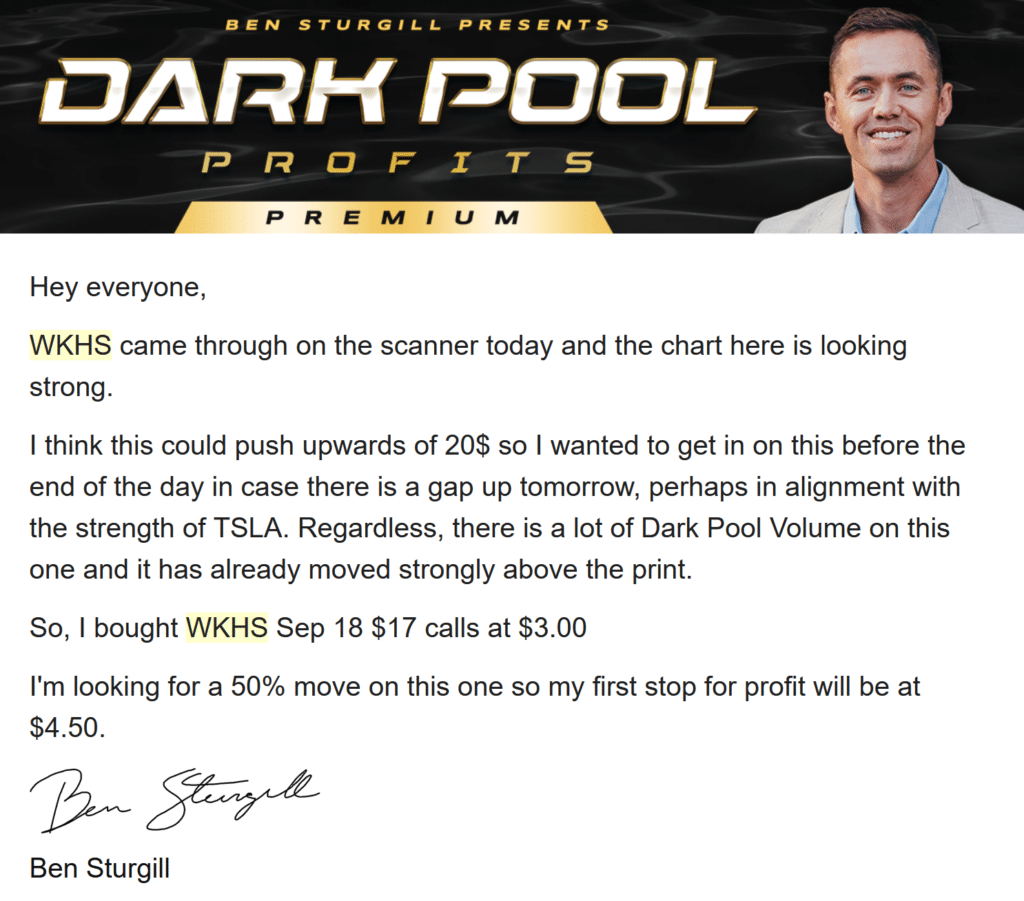 And the chart looked amazing, here is what I saw as a technical pattern for this trade.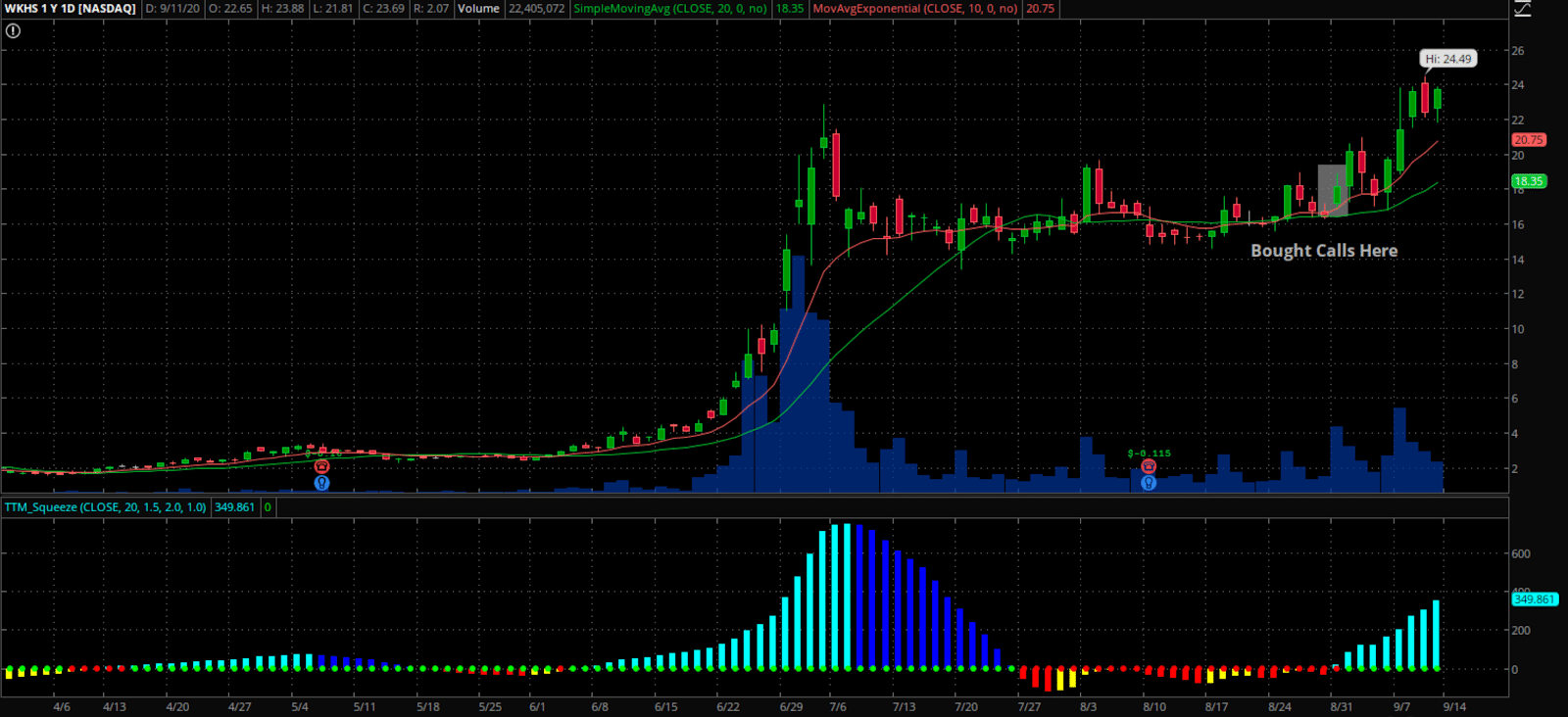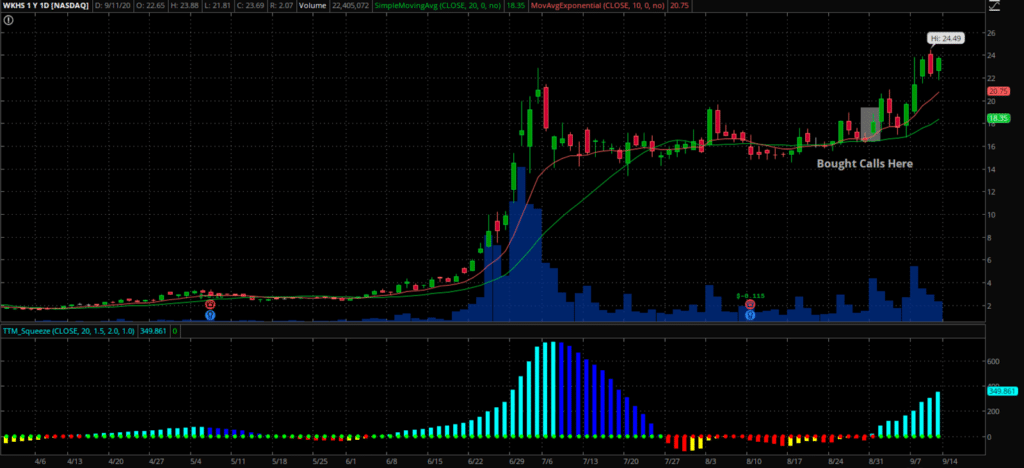 Source: Thinkorswim
And after the alert I sent out, the stock managed to run over 30% from the entry price, which caused the options to skyrocket over 100% from when I entered
Now you might be asking if this is considered insider trading
Don't worry, it's not!
You see, all information is considered to be public once it hits the trade tapes, allowing me to ride the coattails of some of the smartest investors on Wall Street.
And if they put their money to work they must be doing it for good reason!
As you can see, this stock just soared after the dark pool trades were seen hitting the tapes.
I continue to monitor the Dark Pools for more and more of this trading activity every single day.
Now I want to show you exactly how this works