You've heard me say it before…
The coronavirus continues to be a driver for stocks providing solutions to new social distancing norms.
Which is why I've been taking full advantage of these trends in my IPO Payday service.
I pocketed nice 60% and 105% gains on two legs of my position in Chewy (CHWY) on Tuesday and Wednesday, and I also snagged 125% gains on Peloton (PTON) on Thursday.*
While some retailers and gyms are opening back up, many people are growing more and more accustomed to the alternatives provided by companies like Chewy and Peloton.
And if you think about it, a lot of the solutions provided in response to the pandemic were going to happen anyways…
We were already transitioning to a more fully digital economy, but the pandemic simply pressed fast-forward on the innovation timeline.
With companies like Chewy and Peloton putting up such good sales numbers these days, one thing that I've been looking out for is trading them around earnings.
So I want to reveal how I found good setups on CHWY and PTON, including PTON's run into September 10 earnings.
CHWY's Resistance Level Pointed to a Quick Pop
CHWY has been getting more attention over the recent months as pet-owners have been forced to buy more of their pet food and supplies online.
In the past 52 weeks, CHWY has been on a tear, up over 89%. That's compared to 21% for the S&P.
A large part of CHWY's recent price surge was it's earnings that acted as a catalyst.
The company put up a profit of $378.71 million in the recent quarter and saw revenues increase to $1.62 billion.
The stock's low over the past year was $22 and it's high is nearly $59, which is the most recent resistance level that it set.
I had my eyes on CHWY given that it had good earnings and I wanted to take a quick shot with the idea that it could move up at least to current resistance at $59.
I would have closed them out if they moved below $56.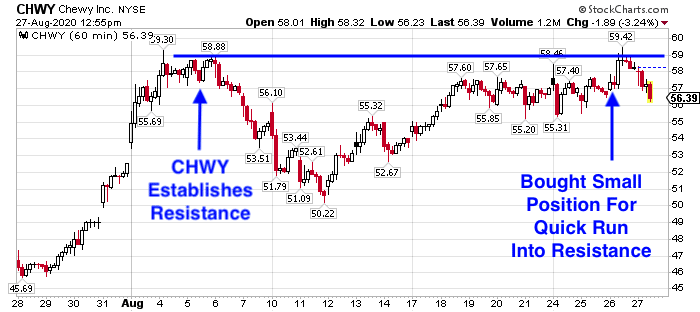 I bought a small position in CHWY Aug 28 $57 Calls for $1.00.
The calls were expiring on Friday and decided to target at least $1.50 them.
I sold my first piece of CHWY Aug 28 $57 Calls at $1.60 for a quick 60% win on Tuesday…. and then at $2.05 for an even better 105% win on Wednesday.*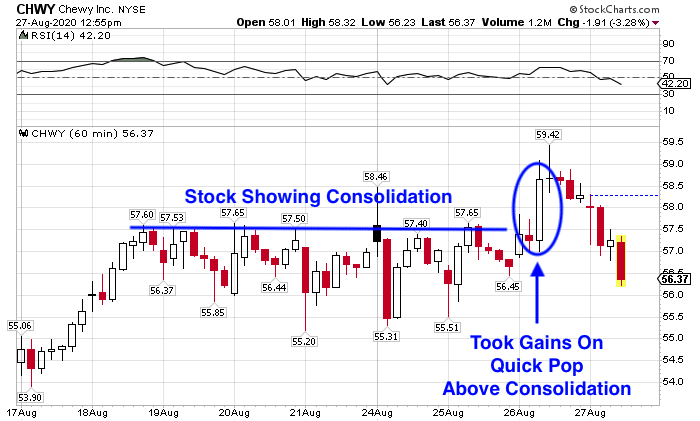 PTON's Q3 Earnings Set the Tone for This Q4 Run Up
PTON's bikes, which cost $2,245, have been in hot demand ever since the gyms were shut down.
The company recently held one of its largest classes of more than 23,000 people streaming.
The company reported Q3 earnings of $524.6 million in sales, as opposed to the $491.08 million that were anticipated.
I've been anticipating that PTON could see a similar move into upcoming Q4 earnings on September 10 as with Q3 earnings.
With the pandemic still in full swing, I anticipate that the company is still selling as many, if not more, of their bikes.
Ahead of Q3 earnings, PTON had a brief runup, followed by a massive 3-month tear.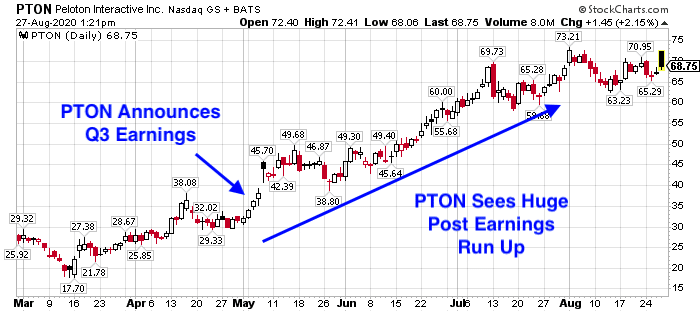 I noticed that PTON had pulled back to sit at the daily 21 EMA this past Monday and I wanted to give it a shot from there.
I was also seeing some squeezes happening on the daily and 78 min chart.
I went ahead and bought PTON Aug 28 $70 Calls for $.96.
This was a smaller starter position, and I would have closed it out if the stock fell below $66.
I had intended to hold until this past Friday for them to reach my target, but they popped on Thursday.
I sold my PTON Aug 28 70$ Calls at $2.25 for 125% win.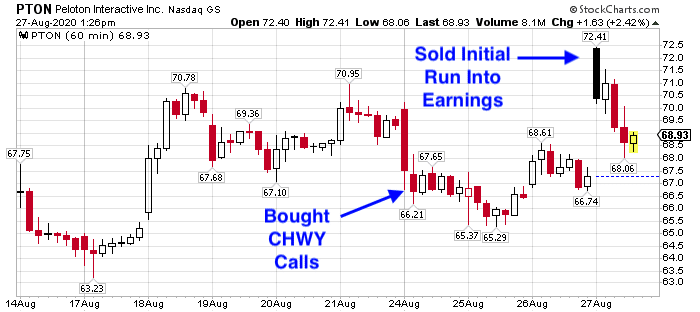 Subscribe for My Latest IPO Alerts
Every week, I'm alerting my premium IPO Payday subscribers on which IPOs I'm giving my green, yellow, and red light signals.
To learn more about how I'm attacking this exciting corner of the market— and releasing my watchlist and real-time trade alerts everyday— consider joining my upcoming IPO trading workshop here.
*Results presented are not typical and may vary from person to person. Please see our Testimonials Disclaimer here: https://ragingbull.com/disclaimer