With the upcoming election only weeks away, the possibility of a stimulus deal around every corner has caused the markets to swirl.
And early market gains are wiped out in the blink of an eye…
Plus traders who chase stocks are getting shaken out of trades left and right.
Now while traders are struggling to find their trades… I have been absolutely crushing it focusing on only looking for trades in dark pools.
And just the other day when the markets couldn't find a direction, I managed to squeak out a cool 500% gain.*
Just check out some of my most recent trades*:
NIO – 500% gains

MSFT – 125% gains

UPWK – 100% gains

DKNG – 200% gains
You see, this back and forth in the markets is causing tremendous opportunity to trade momentum in these stocks
And that's why I've focused on hunting momentum in the dark pools and have been landing lunker-size profits trade after trade.
Dark Pool Profits
Finding trades is hard to do and many times traders get stuck in "analysis paralysis" until they lose all their money on the account
But not everyone struggles with this
You see, huge institutions have research desks that focus on finding the best ideas for the traders
And that puts us at a huge disadvantage when it comes to doing our own research and trading with limited tools
Then I learned about Dark Pools and everything changed
But when I first started trading I had a limited understanding of what Dark Pools were even used for and knew I had to learn
It's time where I needed to figure out a way to trade the Dark Pools so I can pull down profits
Now how do I do this?
I started with these 4 questions that I had to answer first:
Have I seen this stock trade in the Dark Pools lately?

Is the dark pool volume larger than its average?

Are there any large single dark pool trades?

Are there any Intermarket Sweep Orders?
Now for me, I found that the more boxes that are checked off the list, the better signal there is for the dark pool scanner.
Recently, I used these four steps to land huge profits in NIO and now MSFT as it approaches earnings!
Check this out to see how I found a 500% winner in NIO just by scanning the Dark Pools
Hunting Momentum In The Dark Pools
When it comes to the basics, two of my favorite indicators is momentum and volume that give me an edge
And my real edge comes down to combining these ideas and reading order flow and finding momentum in the dark pool markets
And this is the exact strategy that I want to share with you, a a strategy that you can follow just by learning from the pros
This strategy is jam-packed with daily research of stocks and monitoring the trading activity on every stock..
My goal is to get into trades following the dark pool traders and exit with a 100% profit in just a few days!
Now, I know you are wondering… Does this even work?
Well, I think it does!
Just check out some of these wins, a one of the highest-conviction trade idea service produced
Moving on to my most recent trade where I pulled in huge returns in just a few short days!
It Comes Down To The Timing
The dark pools may have given away the direction of one of my largest trades WEEKS BEFORE it actually hit
From the scanner, I noticed a few things that were happening that were out of the ordinary for this stock
Something must be going on in this stock that has the hedge funds getting excited to put huge money into this stock
Then I broke down and analyzed this trade using my 4 step process
NIO hit the dark pools repetitively and caused a tremendous amount of momentum on this stock

Increasing volume and consolidating near the highs indicates the stock is ready to break out as buyers and sellers can't find a direction they want to take

Large trade blocks start to come in, growing in size each time

Intermarket sweep orders, or the "I want it now" order type that traders use to fill their shares started to come in and move the stock around
So right away after looking over the 4 criteria for dark pool trades, I needed a piece of that action in NIO
It's All In The Charts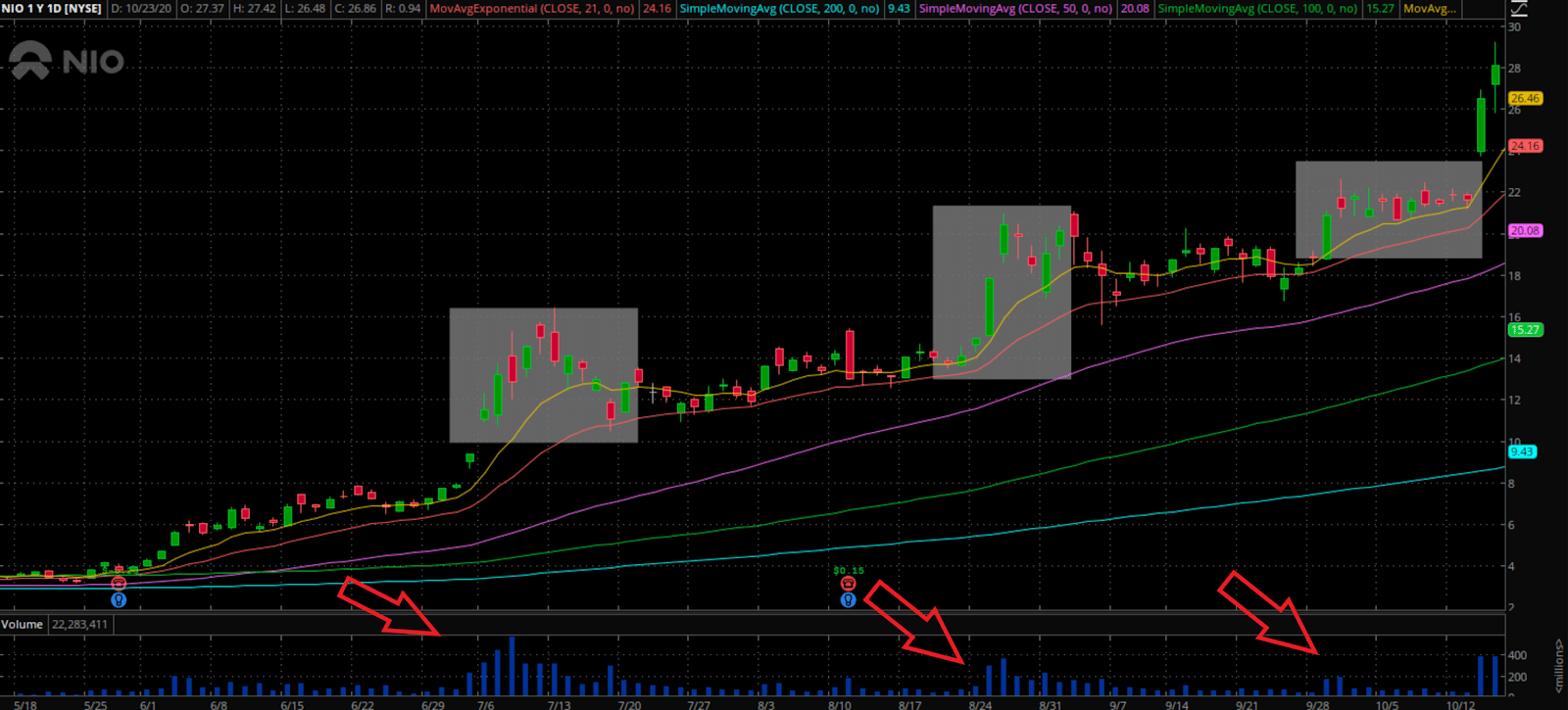 Source: Thinkorswim
What Happens Next Is Huge
Shortly after I bought these calls in NIO, the momentum started picking up as more and more institutions and traders entered the stock.
And this demand was causing the price to jump higher
Just take a look at what happened over the course of the next few days and caused my options that I alerted to members to skyrocket for a massive 500% gain
But since all trade information is public information, I'm just riding the coattails of the smart money who spend millions of dollars on research.
And if they put their money to work they must be doing it for good reason!
As you can see, this stock just soared after the dark pool trades were seen hitting the tapes.
I continue to monitor the Dark Pools for more and more of this trading activity every single day
And I will alert my members of Dark Pool Profits first when more trades like these come around and hit the markets.
So if you don't want to miss the next trade like this that could land you a 500% profit …
Sign up now to Dark Pool Profits and learn how the dark pools can take your trading to the next level