It's the second day of December, and winter is fast approaching.
It makes perfect sense then that this year's most successful IPO, Snowflake (SNOW), reports Q3 earnings today.
In fact, SNOW is just one of several recent cloud technology IPOs that are reporting today. Crowdstrike (CRWD) and Zscaler (ZS) are also sharing their numbers after the close.
Look, it's been a wild ride for stocks providing digital services this year… and I know these companies are trading at high valuations right now…
If you ask a lot of the talking heads on CNBC or Fox Business what they think of cloud stocks now, they'll say "It's all over."
But do you want to know something?
All this news around Pfizer, BioNTech, and Modera is really getting to people's heads…
Cloud remains an incredibly strong growth industry and these cloud companies will still be in high demand regardless whether the economy completely reopens, in my opinion.
There's no shortage of trading opportunities in them now at least.
Case in point, my win in Cloudflare (NET) just a few trading sessions ago…*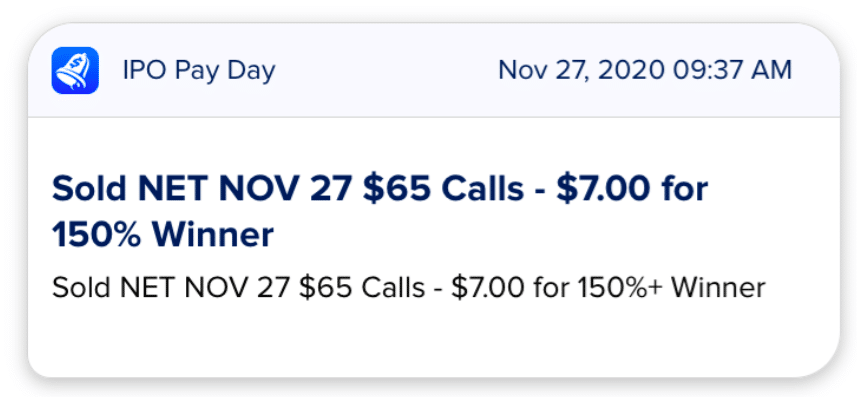 I'm actually enjoying watching all these shorts come in and apply pressure.
While they're doubting, I'm watching the daily and hourly charts squeezing… and patiently awaiting my opportunity to strike.
Check out what opportunity I'm seeing in SNOW, CRWD, and ZS right now…
How I'm Trading Cloud Company Earnings
With earnings coming up on these cloud companies, we're going to want to pay close attention to how well they report.
We want to see whether the companies put up good numbers and whether those numbers beat expectations.
But, at the same rate, we can't take this information as the gospel.
Listen, I know that it can be tempting to just jump in blindly to these stocks anytime there is good news…
But more importantly, we have to also look at what the price action is telling us.
Case in point, if you had gotten long after the Sales Force (CRM) reported yesterday, you would have put a little dent into your trading account.
Let's look at what the charts are saying for SNOW, CRWD, and ZS…
Snowflake (SNOW)
SNOW has come a long since selling off initially during the month of September when it had such a knockout debut.
The stock rallied big time during the month of November and more recently pulled back.
The stock is trading a lower volume at the moment— 2.6M as compared to the average 3.5M.
The RSI is at 48, which indicates its moving closer to oversold territory… but not quite there yet.
That said, you can bet that the shorts are still betting pretty strongly against this name.
I'll probably pass on SNOW for right now. The stock broke below the 30 day moving average— and the last time that happened on 11/9, the stock DUMPED.
However, the stock has a short float of 19.6%, which means that it's poised for a bigger breakout if we successfully get long on the stock here.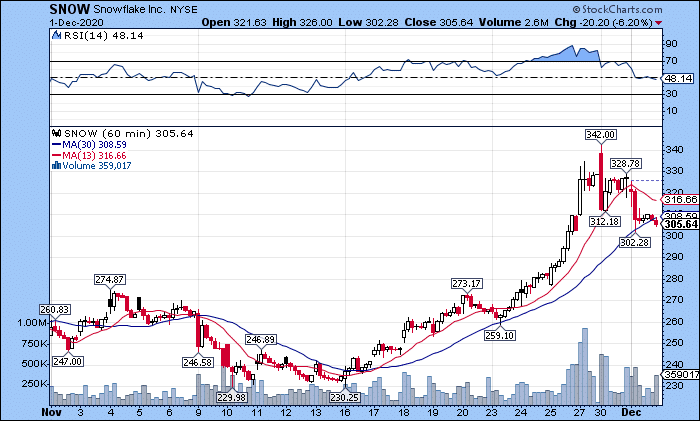 Crowdstrike (CRWD)
CRWD is showing a similar setup to SNOW.
The stock has pulled back nearly 10 points since it's mid-December surge.
However, the stock is leveling out and showing better signs of a reversal.
RSI sits at 45, lower than SNOW.
Short float is 6.61%, so the potential upside in getting long on CRWD is not quite as big as SNOW.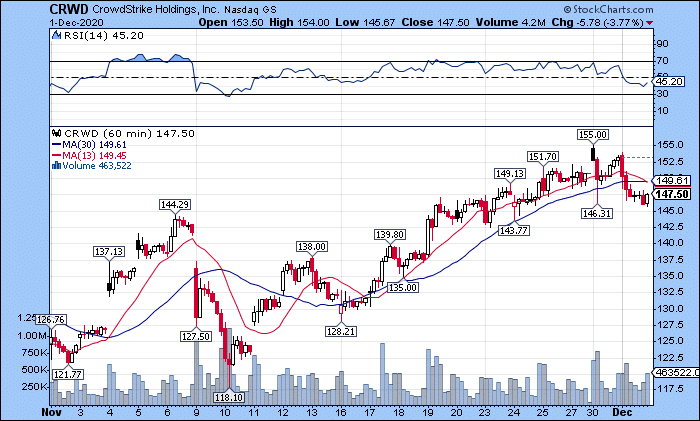 Zscaler (ZS)
Once again, ZS saw a big runup followed by a two-day period of heavy selling.
RSI sits at 56 and short float is 10.83%, somewhere in between that of SNOW and CRWD.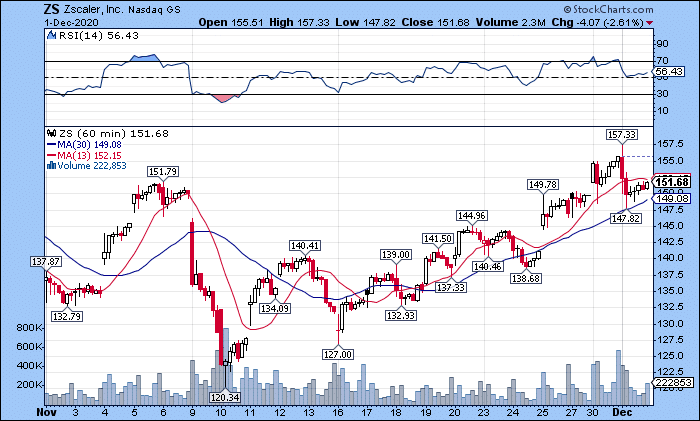 Join IPO Payday Today
Whether or not I decide to trade SNOW, CRWD, or ZS will depend on how traders react to the earnings news today.
I could care less whether these stocks report good earnings or not.
Sometimes stocks go up on good earnings, sometimes down.
At the end of the day, it's all just price action, price action, price action…
Join IPO Payday here to learn exactly how I'm trading these stocks if I do decide to trade them.