How would you like to earn not 25%…not 50%… not even 100%… but over 150% just by trading one symbol for a few hours during the trading day?*
What if I told you that returns like this aren't uncommon, but in fact occurring on a regular basis?*
Before you think it's just hypothetical returns, just take a look at this live trading record for last month!
And check out that insane first week of trading with a 500% winner.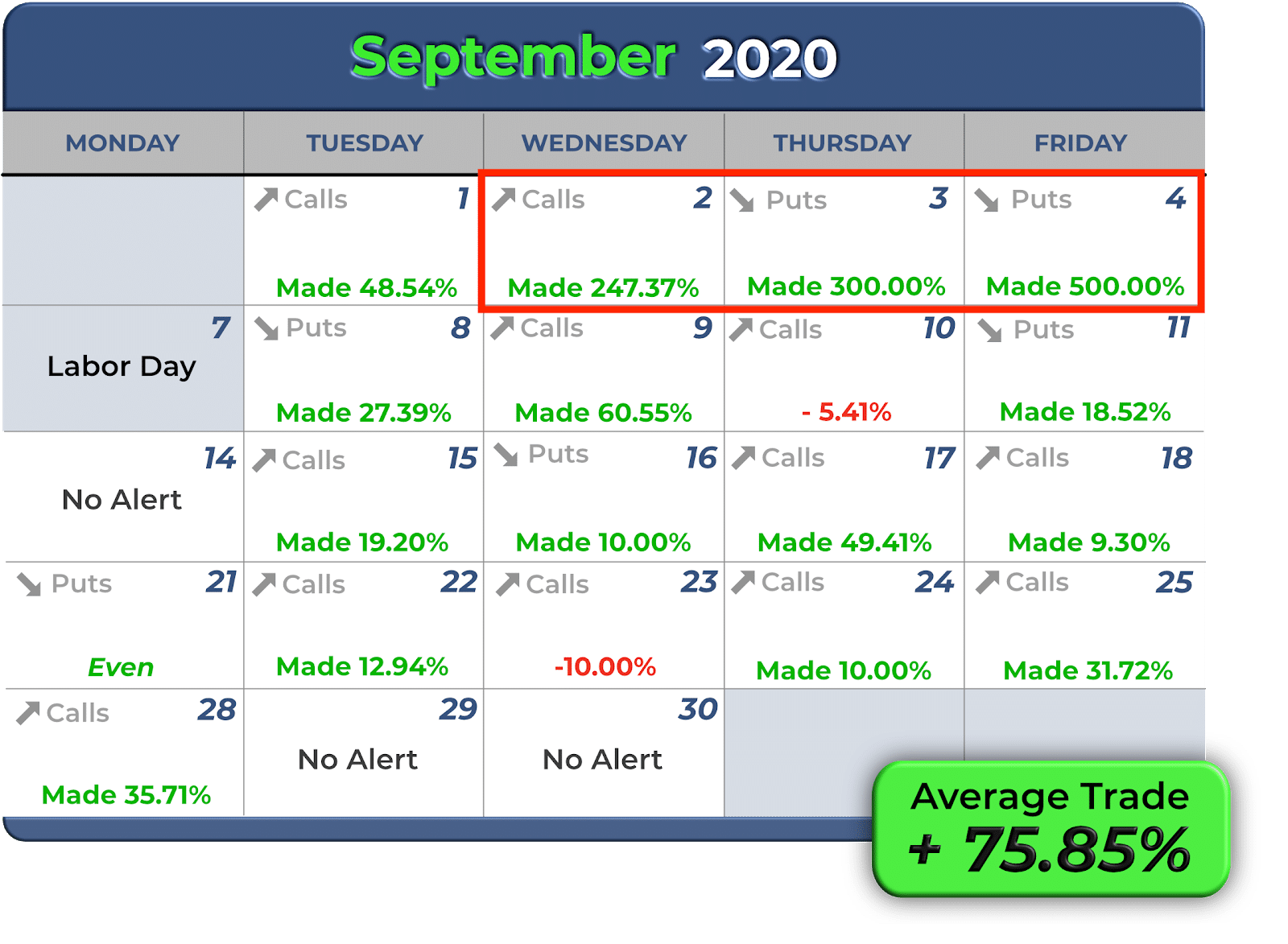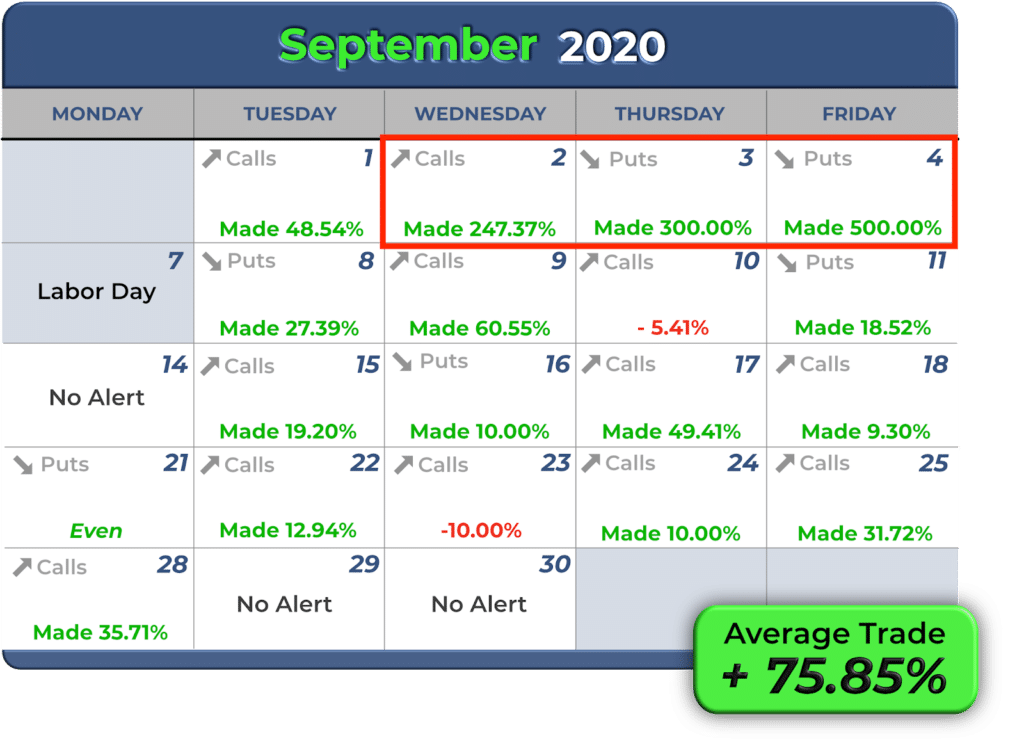 And so far I'm 8/8 on my trading for October with my most recent trade coming in at a whopping 160% returns in only a few hours of trading!
You see, I don't bother chasing thousands of stocks looking for obscured patterns or "images" traders claim to see on a stock chart.
I could never quiet see the same thing they did. It was too subjective.
That's why I only trade what matters, the Supply and Demand of the markets.
And I realized I just need to focus on trading a single stock every day
Since I've decluttered my trading and narrowed my focus down to a single stock, I've averaged over a 90% win rate in one of the most volatile markets since the Great Depression.
Still skeptical?
Give me a couple minutes of your day and I'll explain everything I look at and you can decide for yourself if this is a strategy you want to stand behind.
Daily Deposits is a momentum trading strategy that is based upon a unique blend of technical and fundamental analysis.
Technical analysis is a tool used by traders to time and predict the direction of the markets.
And if used correctly, a trader could pull down massive returns in a few minutes of trading!
So… in order to successfully achieve these high returns, I have combined a set of indicators that can pinpoint explosive moves in the SPY!
So why did I decide to choose to trade call optionsbefore the market even made its move higher?
Let me explain…
The Pre Market
The pre market is the make or break for the stock market.
You see, when the US Markets open, more than three quarters of the world is already more than half finished trading for the day, with some Asian markets closed!
That's trillions of dollars moving around the world in the global economy before the US Markets are even open!
I know that the popular feeling is that the world is focused on Wall St…. and it is!
But not for the reasons you might think!
You see, the world looks at the US Markets during our trading day to determine what they will be doing for their trading day which opens shortly after the US Markets close.
And around in circles this pattern goes.
So what do I do to look at the pre market trading session?
Let's go back to Monday morning and what I spotted for the day ahead.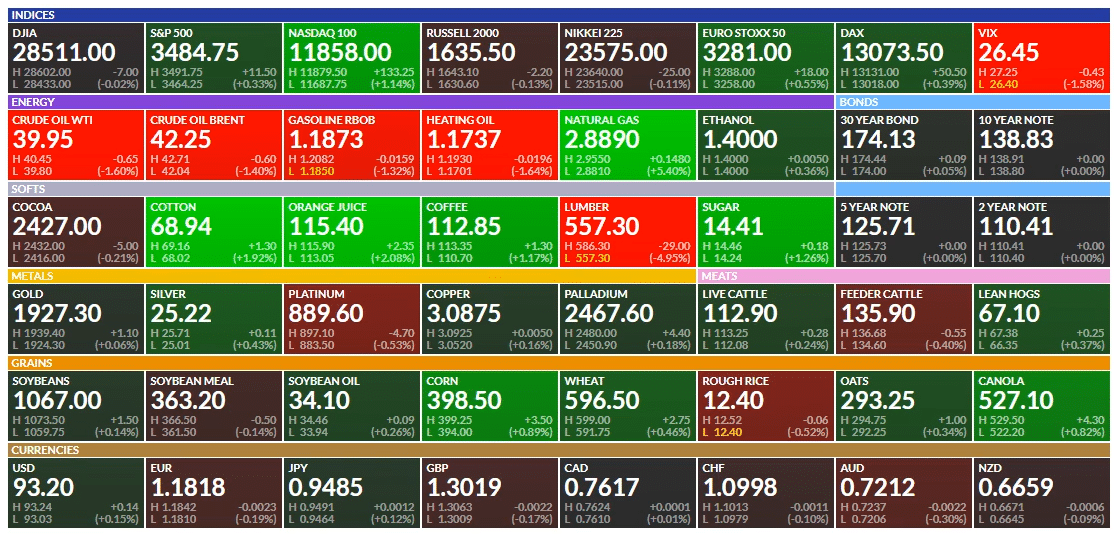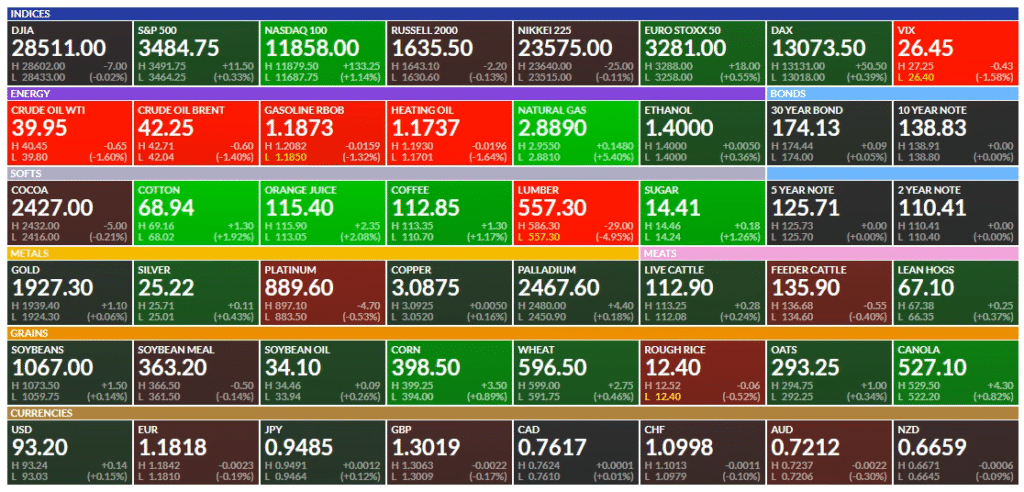 Source: Finviz
Just by referencing this simple grid I am able to get a quick overview of the global markets ahead of the US Market open.
This allows me to get a birds eye view of the economy and what we should expect for the upcoming trading day.
But even though we get an overall view of the markets, there's pre market technical analysis that should be looked at prior to making any trading decisions.
Technical Analysis
Daily Deposits is based around a set of momentum indicators that were selected to identify market direction prior to the market open.
And recently, these have been put to the test in one of the hardest markets to trade in history!
The pre market analysis starts with:
The global overnight outlook

Sector review to identify strength in the US Markets

Premarket momentum and technical analysis review on the SPY
When analyzing the premarket session there are two primary things you want to reference when determining the trend of the markets.
The two pre market trend signals are:
The overall trend is positive or negative

The moving averages support the direction of the trend
Now there are many ways that a trader can determine a trend, but I find the easiest way to do this is by using moving averages, and a volatility squeeze indicator.
So what did I see on Monday morning before the markets opened?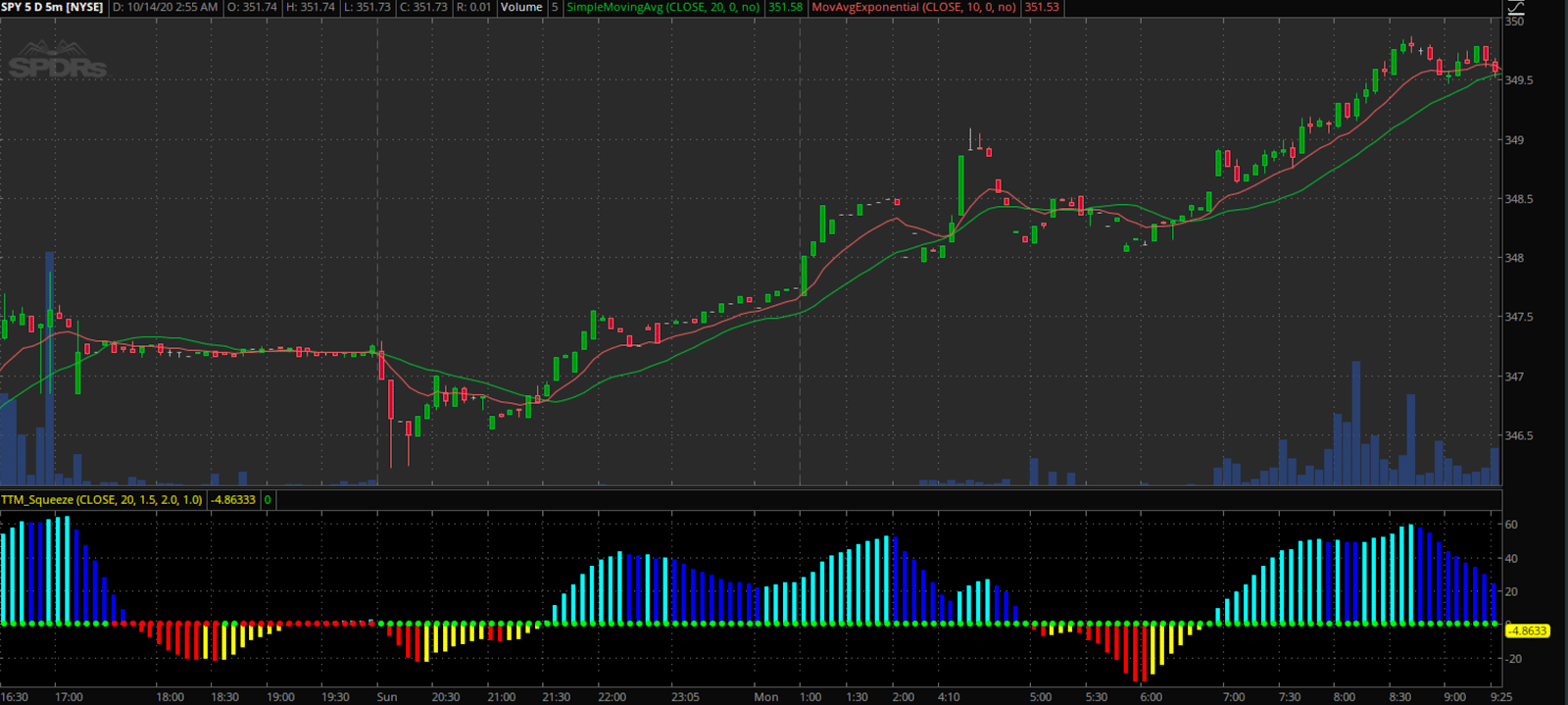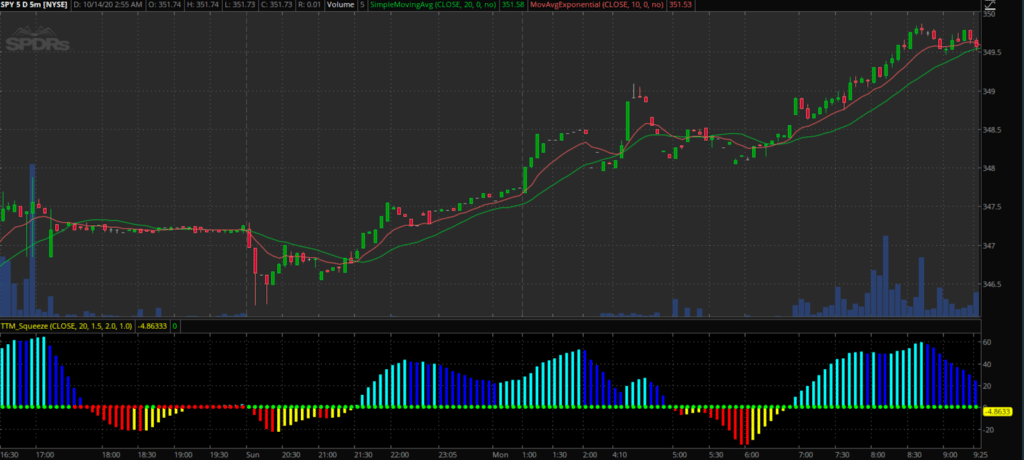 Source: ThinkOrSwim
As we can quickly see, this is a strong bullish pre-market trading session that was entirely fueled by the global markets overnight!
The Jedi Moves Unveiled
After reviewing all of the pre market information, I put the pieces together and determine a direction for the upcoming trading day.
This is what I call a Conviction Index, and it's a measure to how strong the markets are in the pre market heading into the opening bell for the US Markets.
So let's take a look at what the Conviction Index reported for the day ahead.
The Conviction Index heading into the open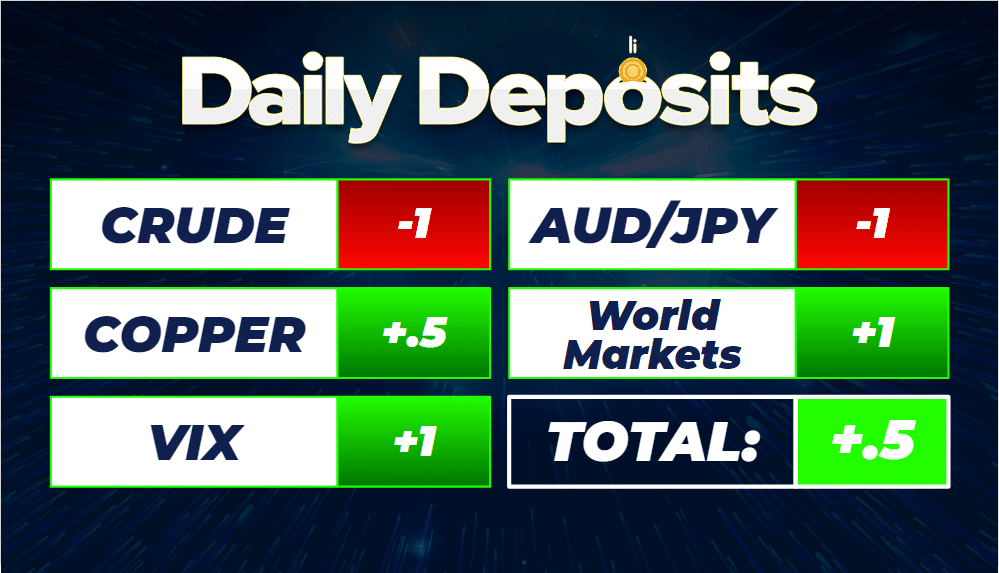 Once I'm able to review my checklist, I prepare for the Trade of the Day.
My pre market checklist:
Monitor global markets

Analyze pre market trends

Find entry/exit levels to trade options
And once I was finished with the checklist, I announced the Trade of the Day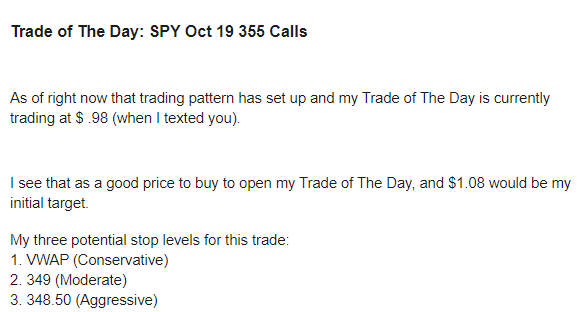 And every morning the Daily Deposit team gets an email about how I plan on trading the markets for the day ahead.
So this way you learn exactly what I'm doing in my pre market research and how I plan to trade the markets every day.
The Aftermath
So what happened after the markets opened?
Fireworks!
Just take a look at how the SPY's erupted higher throughout the entire day.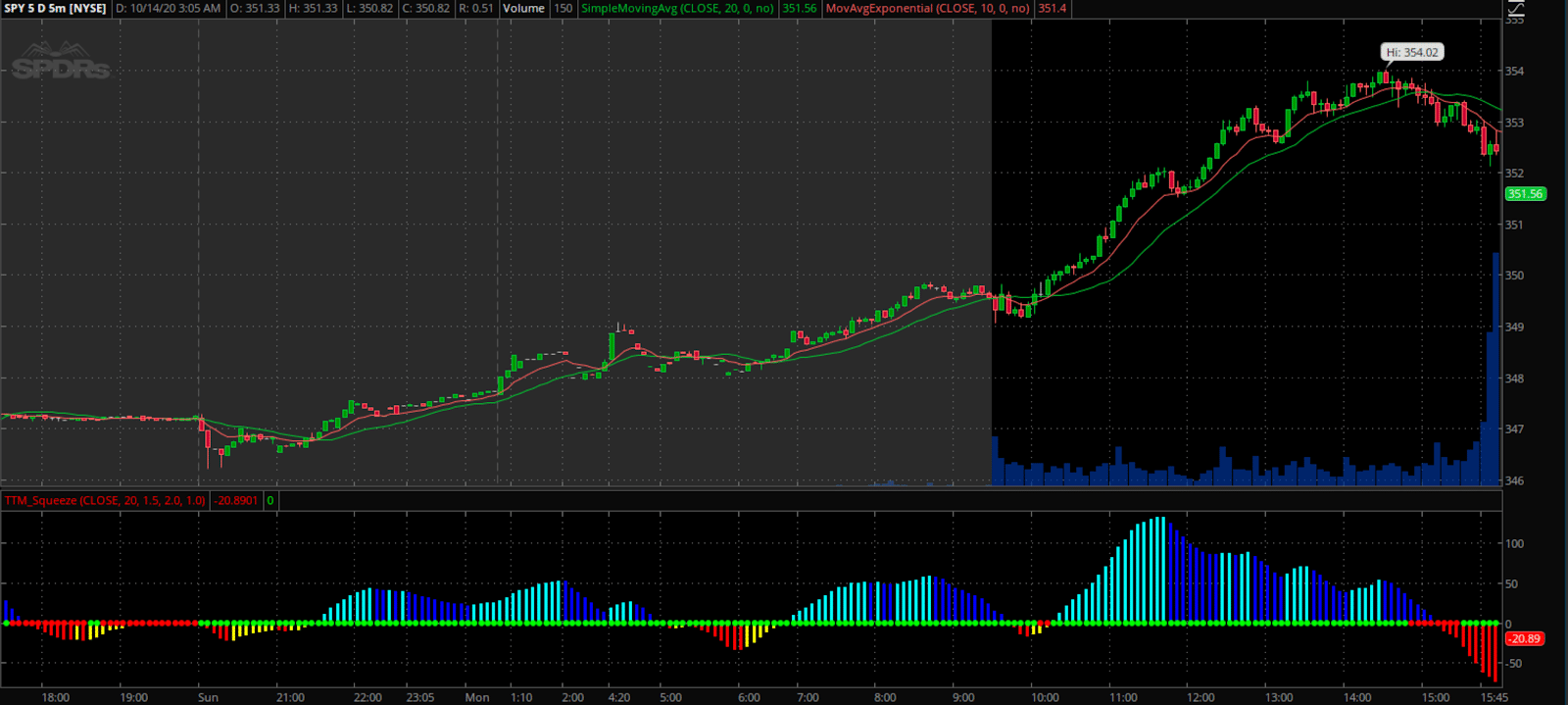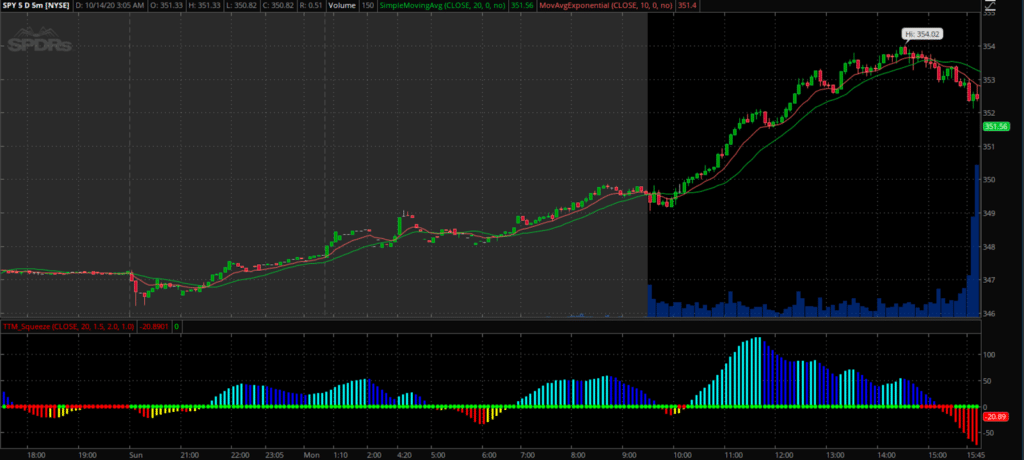 Source: ThinkOrSwim
Just take a look at the price of the SPY calls erupting higher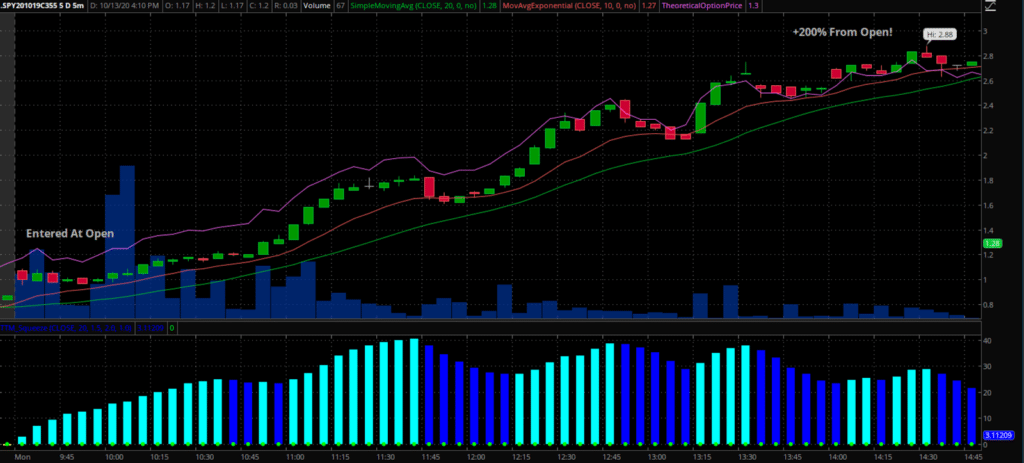 Source: ThinkOrSwim
So why did this happen?
Because the Global Markets were putting upward pressure on the US Markets to head higher
…and did they respond or what!
And what did this do for the options that day?
It launched the call options higher to let meland a whopping 163.27% profit on this trade!
Wrapping Up
When I was just starting off, I noticed right away that I couldn't focus on what I needed to be a successful trader with so much noise and clutter in the markets.
And like many new traders, I got distracted by things that just didn't matter.
Finally, I was fed up with this mess, dumped out my trading drawer and started over to create a new system that was centered around my core beliefs.
I needed a simplistic trading system based around a single symbol using only a handful of indicators.
Daily Deposits is a powerful new trading strategy that was designed to help me declutter and organize my trading.
So if you're ready to learn more about Daily Deposits