Ever wonder what the pro traders are watching every day?
One thing I can say, it's similar to a poker game — they keep their cards tight to their chest and are territorial with what they share.
These guys don't want you to get a whiff of what they are trading, in fear you are going to steal their profits.
Now, I think that's just crazy because the market is large enough for everyone to get in on the action…
Except there is one thing that would cause them to trade like this
You see, why would they be so paranoid?
Perhaps they know something other traders don't, and have an unfair advantage?
Who knows, I can only speculate on that.
After countless hours of studying and trading dark pools, I came to a realization…
Those who trade in the dark pools generally have some sort of edge against the rest of us.
Now, I don't know if it's an unfair advantage or 'edge' they have…but after watching the trading activity recently, these traders do know more than main-street traders.
This is why I turn to my proprietary dark pool scanner to give me a glimpse into what these traders are looking at.
And recently I've seen some insane activity in the dark pools on this newly listed stock.
Now I want to share what I've spotted, and show you why it's on my watchlist for a possible huge move higher.
Every day I monitor the dark pools searching for the next stock that I should be paying attention to
And I use a proprietary dark pool scanner to do the heavy lifting for me
Dark pools come in two flavors, a single trade that is an outlier, or a total aggregate of every order being placed that are targeting the dark pools directly.
And this time around, I've spotted a stock that not only a single institution is targeting, but possibly all of Wall Street
[Need to learn more about Dark Pools? Check out my how-to guide here for everything you need to know!]
What's Hot, What's Not
Let me start off with the bad news… the stock market is definitely not hot right now.
But individual stocks certainly are on fire even during the market drop
You see, Wall Street firms are stock traders not market traders… so they don't really care what the SPY is doing
Why's that?
Well, only mutual funds and possibly your RIA account will only be focused on the market returns…
As for the traders inside hedge funds, their goals are to beat the markets day in and out.
And just the other day, I saw some crazy dark pool action popping off in this newly IPO'd stock, SNOW
Here's what I saw in the dark pool scanner just the other day

Let's break this down a little bit further
In my opinion, SNOW is in the heart of the technology sector and has tremendous potential to lead this space due to its ecosystem of product offerings.
And with technology, AI, and the cloud growing at exponential rates that have never been seen (partially thanks to the contagion we are living in), this could be a great time to invest in this stock.
Oh, and did I mention that this is backed by Microsoft?
But I don't like to buy stocks just because they are new to IPO… but you see, I like to wait for a catalyst or a pattern to stand out before jumping in.
And that's exactly what I saw in SNOW last week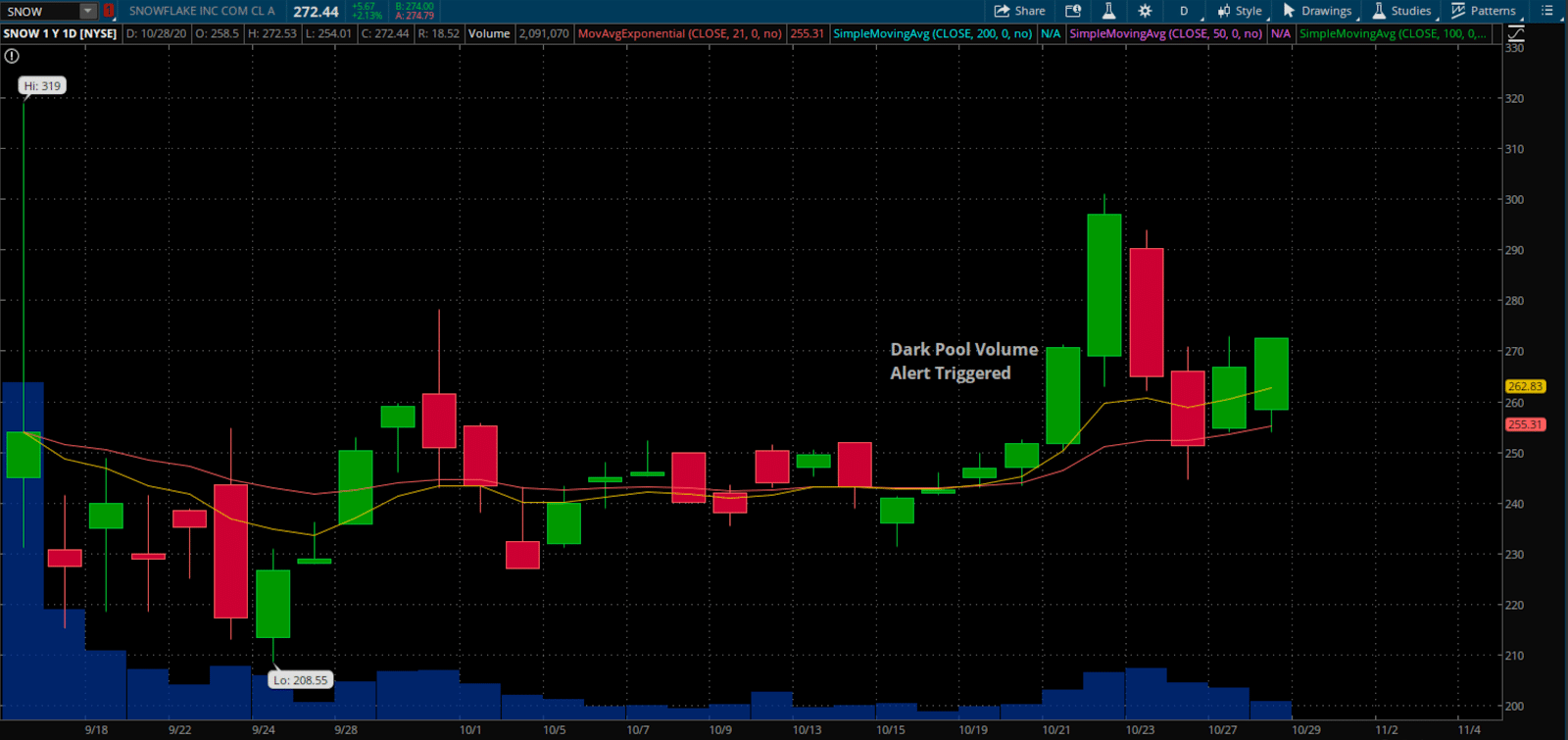 Source: Thinkorswim
But looking at that chart, I knew I could get a quick pop… but I'm not a trader who likes to chase the stock
So I anticipated the pullback and now I am waiting patiently for a chance to enter this trade.
And as a momentum hunting trader, I don't want to fall into the "buy the dip" mentality, so instead I am going to target two entry points to trade this stock around.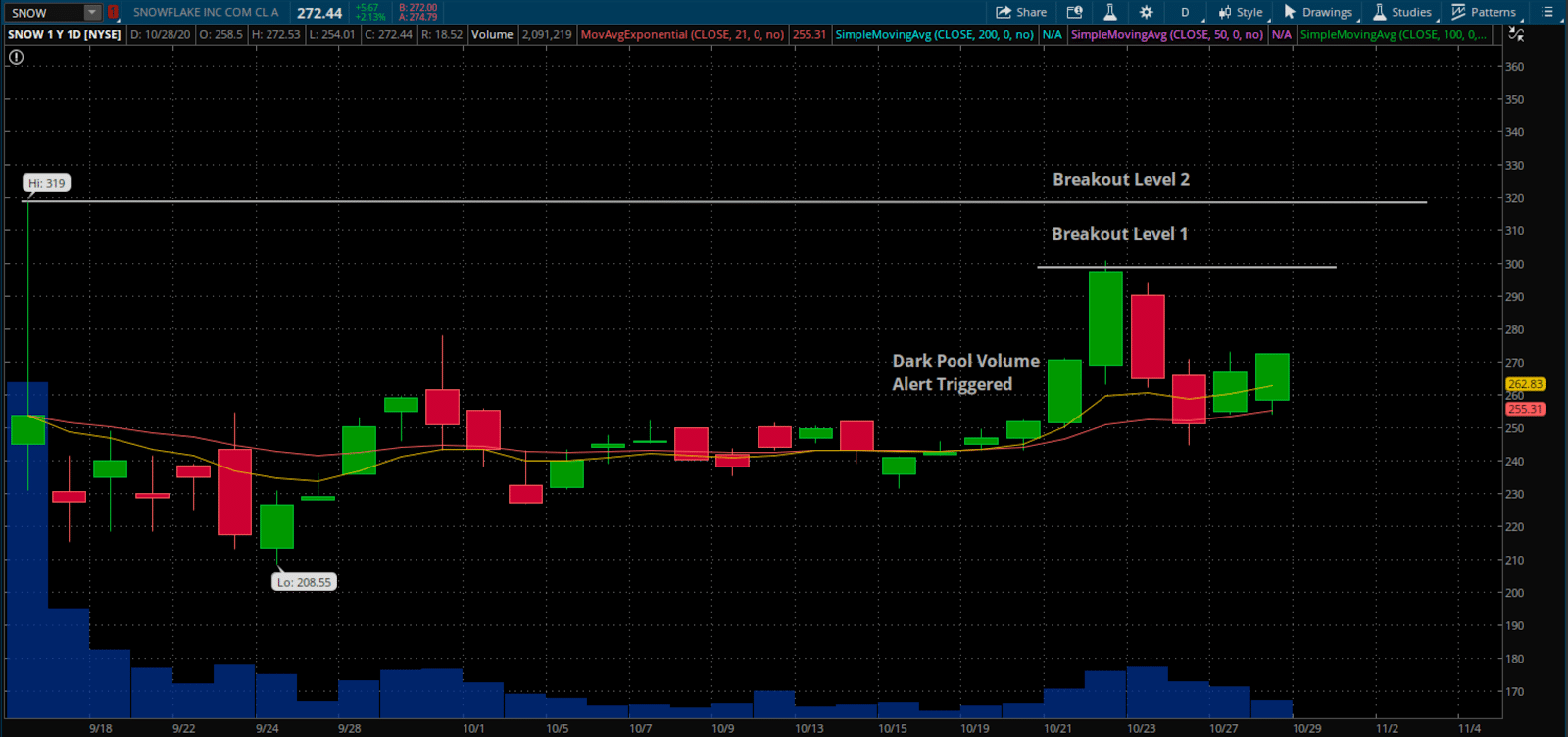 Source: Thinkorswim
In my opinion, I believe the two primary levels of momentum can be seen at the $300 and $320 levels. These were the most recent highs and the IPO highs that were seen in the stock since it started trading last month.
Another indicator of possible momentum can be a short squeeze that is setting up in this stock.
What is a short float?
Well… typically, a stock like AAPL has around a 0% short float at any given time. This means that between the buyers and the sellers, there is an "agreed on" neutral outlook on the future of the stock.
Now, when bears begin to take control or skepticism starts to grow, you can see the short float increase in size.
What does having a high short float mean?
If a stock has a high short float, this means that the stock is heavily shorted by traders. And when this happens, the sellers are looking to push the price of the stock lower.
In many cases, this is when momentum traders are looking to jump in and cause what is known as "short squeeze" making the shorts cover their positions, accelerating the movement higher.
Let's take a closer look:
310.14M Shares Outstanding

36.21M Shares Floating

Short Float 15.11%
This means as each one of those resistance levels break, more and more shorts are going to have to cover in order to prevent significant losses to their account.
And each of those stops signifies additional buyers hitting the stock, in turn causing an eruption higher in the stock price
Now in my opinion, I am going to wait for one of two things to happen before entering this trade…
The buyers to continue to come into the stock and maintaining the support levels at $250

The break of the first resistance level to signify momentum is kicking in and buyers are here to stay
So SNOW is now on my radar, but I won't be trading it right away! But I'll be sure to let my subscribers know in real-time if I make any move in this stock.
Make sure you don't miss out on this trade by signing up to Dark Pool Profits today!