Ironically enough, a company with the name 'ant' will very likely have the biggest IPO in history.
Ant Group Co, the Chinese financial affiliate of Jack Ma's Alibaba (BABA), is set to go public in late September or early October.
It's expected to raise $30B on top of its current value of $210B.
That would beat the previous record that Ma set when raising $25B though BABA, a number only topped this past year by Saudi Aramco's IPO.
Ant Group may already be the largest financial tech company in the world, but it has the potential for even more growth.
There's huge adoption, which I want to elaborate a little more on today.
The company will list on the Hong Kong stock exchange and the Shanghai stock exchange's STAR market, which is the Chinese equivalent to the Nasdaq.
Now, I don't know about you, but I expect to see some strong sympathy plays when a company of this size goes public, irregardless of where it takes place.
We may have seen a big selloff in tech over the past week, but I will be keeping my eye on the payment sector for a handful of runups in U.S. equities surrounding the Ant Group IPO.
A few names immediately come to mind.
Ant Group Has Control of Over Half China's Entire Mobile Payments Market
As I'm sure you already know, Alibaba (BABA) is a Chinese multinational technology conglomerate, which specializes in e-commerce, internet, and technology.
Since online shopping is a big part of Alibaba's many services, you can bet that electronic payments play an equally massive role.
Alibaba currently represents the world's largest marketplaces, including Alibaba.com (B2B), Taobao (C2C), and Tmall (B2C).
Since 2015, Alibaba's online sales and profits topped those of Walmart, Amazon, and eBay combined.
With all those huge revenues, it's no surprise that Ant Group's IPO is going to make some massive waves.
But what's behind Ant's huge success as a mobile payment provider?
Alipay.
This platform has gained enormous adoption in China and controls 55% of the country's mobile-payments market.
WeChat Pay, Alipay's closest rival, has a 39% share.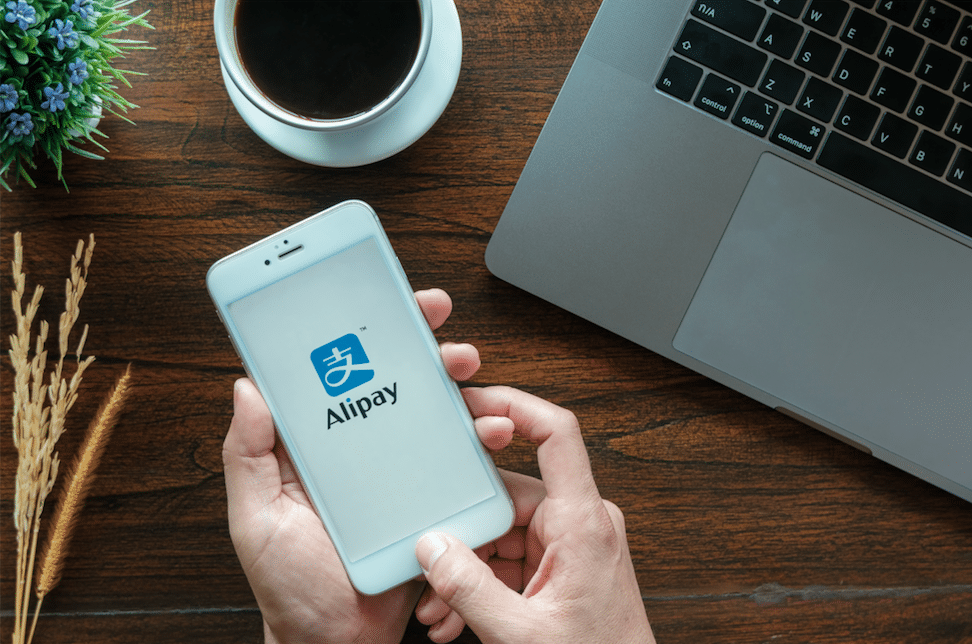 There's a couple of U.S. companies that provide services very similar to Alipay, and they could be set for breakouts following Ant Group's IPO.
Last week, both of these companies usurped 151-year old investment bank, Goldman Sachs, in terms of market cap.
PayPal (PYPL)
PayPal is now worth more than every major bank, with the exception of JP Morgan Chase.
There's no doubt that PYPL caught a bump during the pandemic as consumers have shifted to purchasing online… shares have soared 90% so far this year.
We're literally in the middle of a payments revolution with some exciting new features emerging in this sector.
One of those features, which you may or may not be familiar with yet, is interest free payment installments.
Klarna, QuadPay, Affirm, Sezzle are a few of the platforms that offer this so-called "Buy now, pay later" (BNPL) feature.
Paypal is about to enter the running with a similar BNPL feature they're calling "Pay in 4."
Since unemployment has been high throughout the pandemic, we could expect this payments feature to gain popularity over interest-charging credit cards.
Given this new feature and the impending Ant Group IPO, I would not be surprised to see a new runup in PYPL despite last week's tech selloff.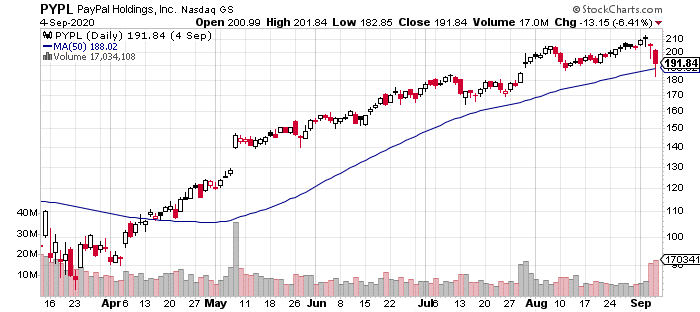 Square (SQ)
Another company whose adoption has been accelerated by COVID-19 is Square.
You may have thought of Square as a mobile payment processor focused mainly on facilitating in-person merchant payments, but that's not the full story.
Square has a mobile payments app called Cash App, which is much like the PayPal app.
It allows users to send money to each other via their smartphone— and even invest in Bitcoin.
Cash App has doubled its revenues from a year earlier to $325 million.
A large percentage of that revenue came from the 1.5% fees it charged users who wanted to instantly transfer money out of their accounts.
Shares of SQ have climbed 140% so far this year.
Although it's trading at a multiple of 174 times its expected earnings over the next 12 months, I wouldn't be surprised if it popped following Ant Group's IPO.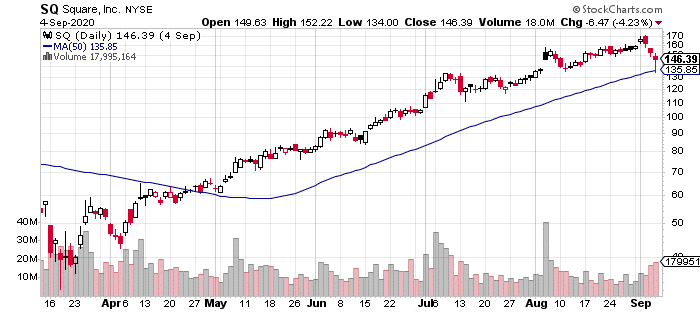 Receive My Critical Alerts Before and After Ant Group's IPO
I believe the Ant IPO will play favorably to the digital payments and fintech industry.
I'm going to be keeping an eye out for profitable entries in sympathy plays like PYPL and SQ, especially immediately following the Ant Group IPO.
To learn more about my real-time IPO alerts, check out my IPO Payday trading service here.