Dark Pools are one of the most widely used venues for trading stocks among large institutions
It's claimed that almost 40% of the entire trading volume is done in the shadows of these unknown markets…
But finding alpha in the Dark Pools can be a tricky thing to do.
If you can master it, then it's possible to step up your trading to a level you never thought was a possibility
The thing is, not just any old stock makes my list.
You see, unusual dark pool trades come in many different styles…
From large single block trades to extremely large dark pool volume, there are many different ways to find the next hot stocks.
I am going to show you what I look for in these Dark Pool trades, and how I turn the information into gains.

When monitoring the Dark Pools and the trading activity… it's important to watch single trades that execute in the dark pools along with the total volumes to find any irregularities.
But while it's difficult to know why a trade occurred, it's usually for a reason.
And to find these types of trades, I built a scanner that helped me uncover these mysterious trades and alerts me to when something stands out.
And that's exactly what happened in these two stocks from the other day.
One of my favorite trades are watching for investors that place large trades into the Dark Pools so aggressively they don't even bother hiding it
Like the trades I saw going off in WKHS throughout the week landing me over 200% returns on my options trades.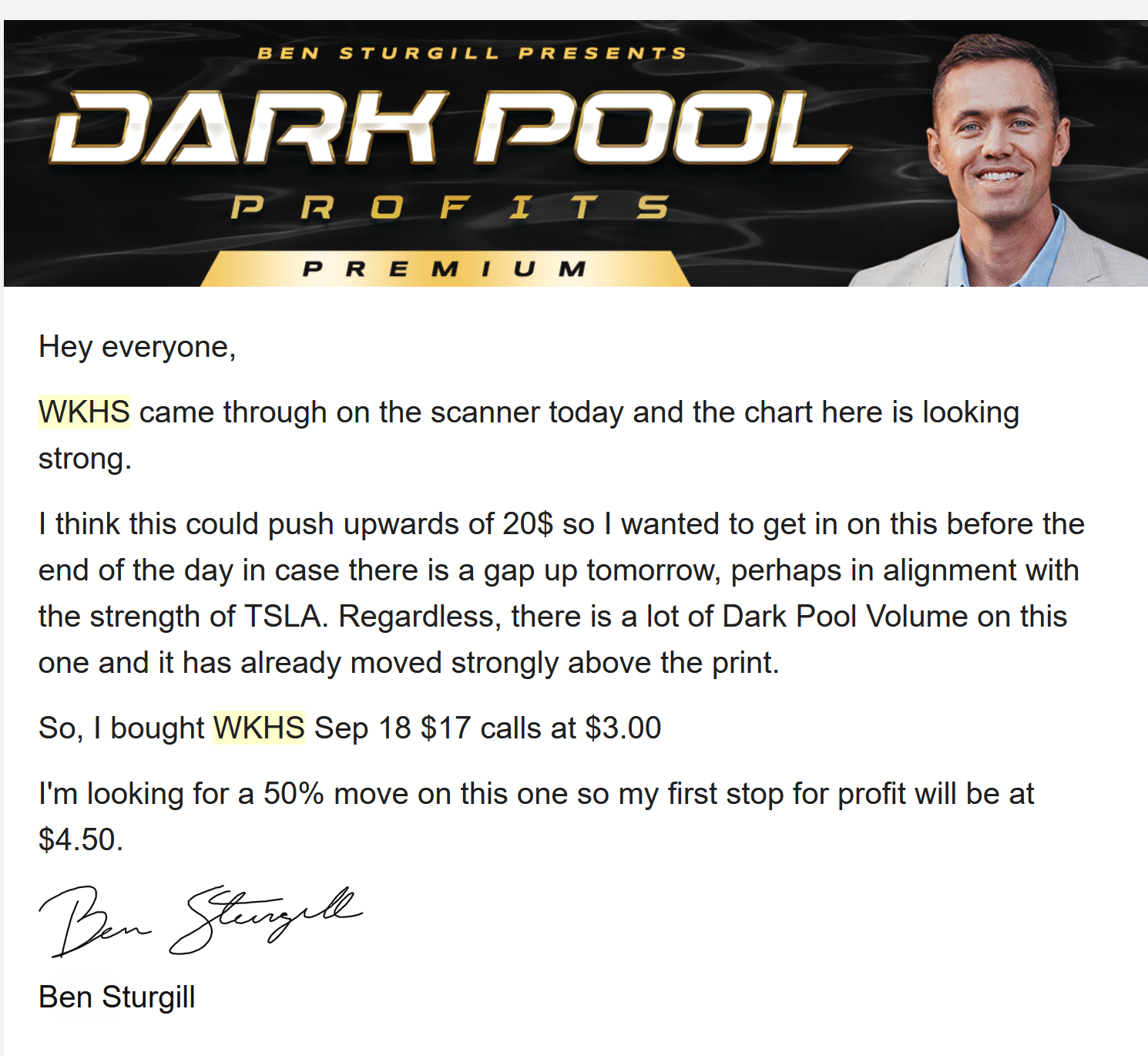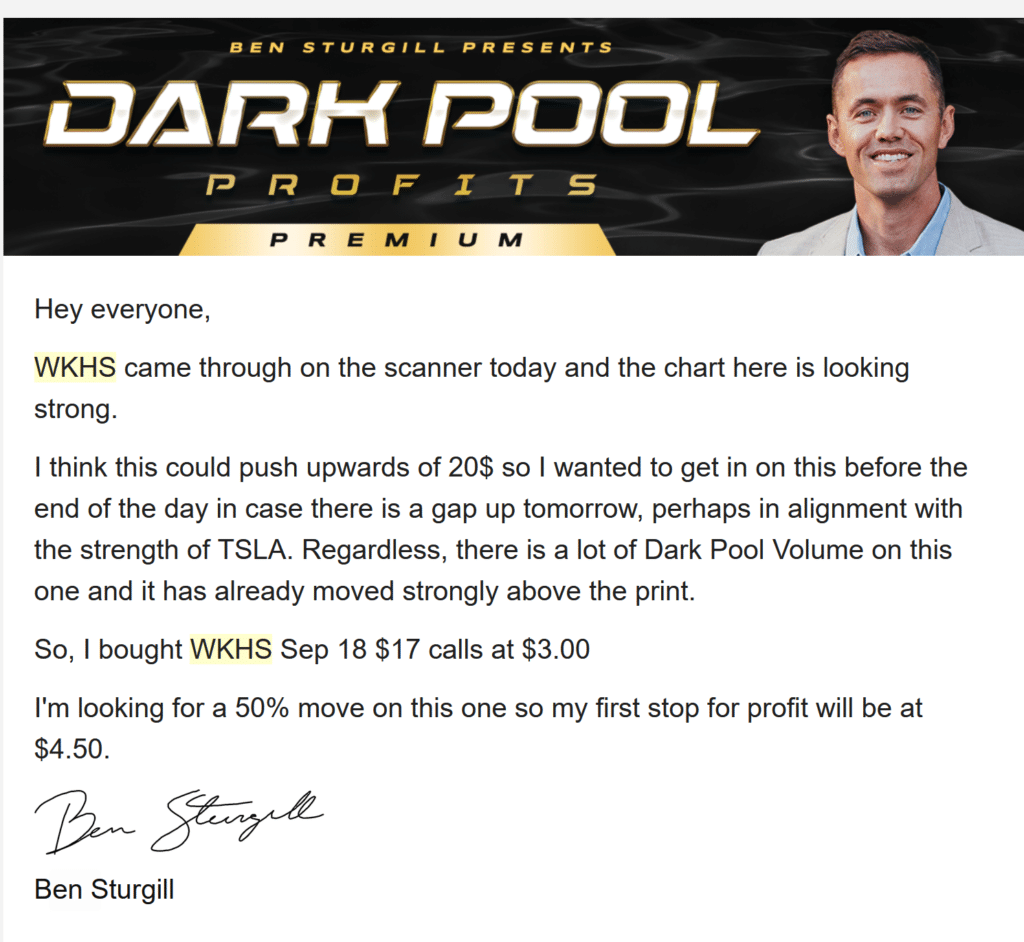 And as a member, you get timely and actionable trade alerts to get involved with this action right when I do!
Plus, think you won't know when I get out?
Don't worry, I send out information about when to get out of the trade as well


Now there's another stock that I missed out on and I'm kicking myself for it… but it's worthy enough to share with you about the power of the Dark Pool Total Volume scanner
The Dark Pool Total Volume Scanner

Now looking at the other scanner, I noticed that one stock caught my interest right away in the morning.
And this stock is Cassava Sciences Inc Com (SAVA) and is alerting me to above average Dark Pool trading volumes going off on this stock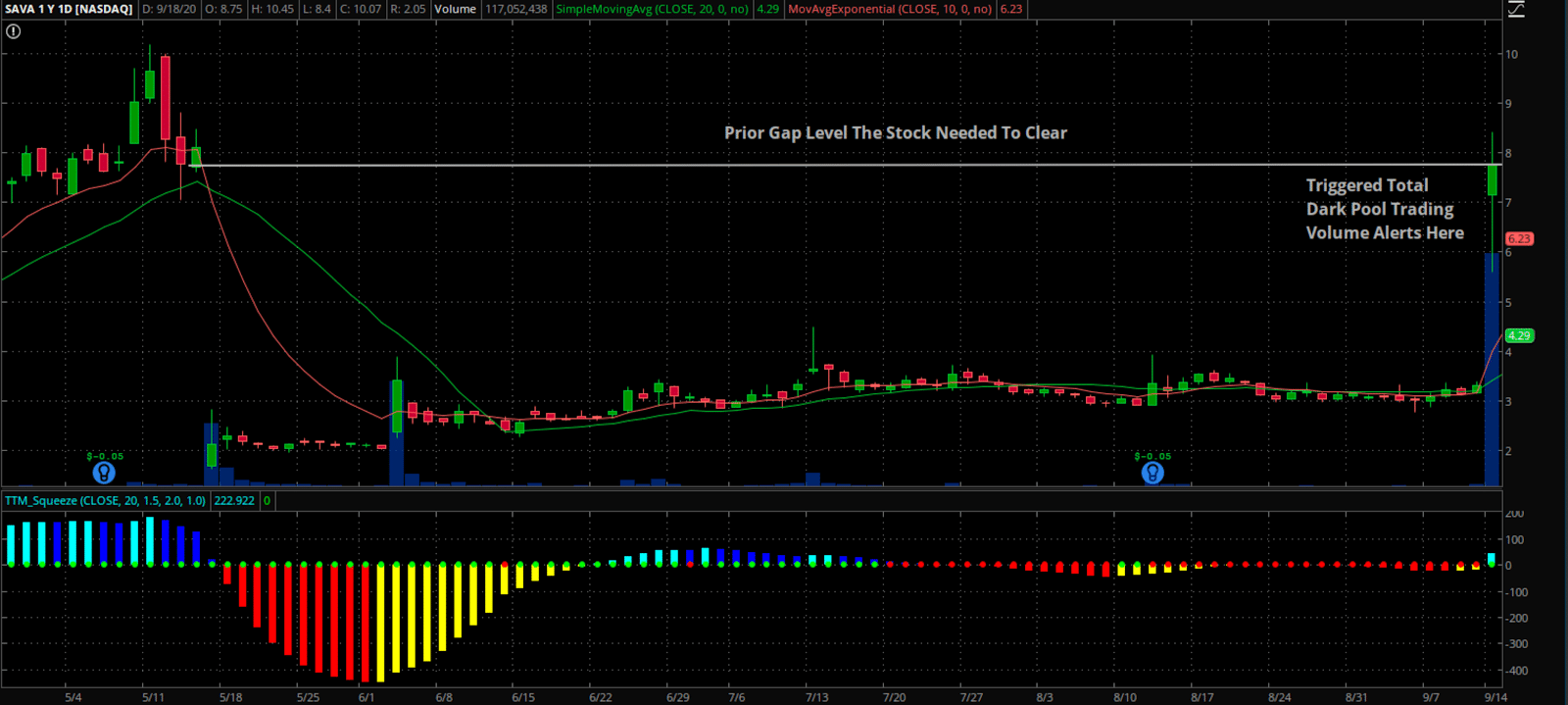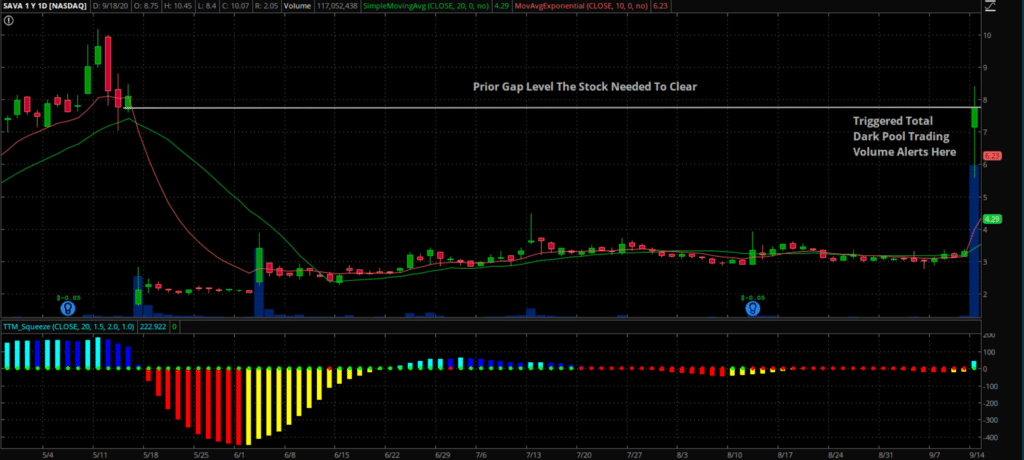 Source: Thinkorswim
And technically one thing stood out to me, and that was the price of the gap and how it's having a hard time staying above that price level.
So it's a stock that I might want to put on my radar instead of taking the same day after seeing that price action.
So let's take a look at the stock chart in day after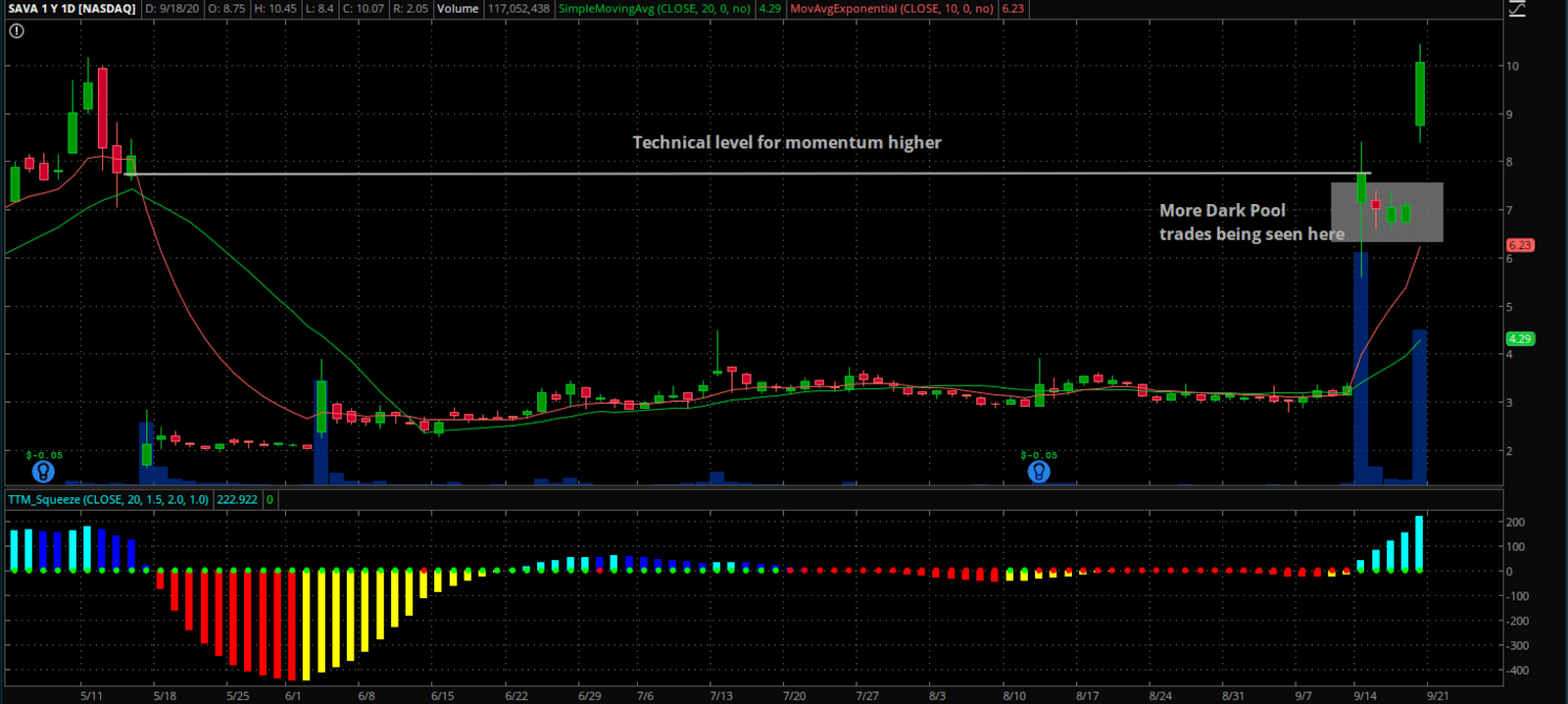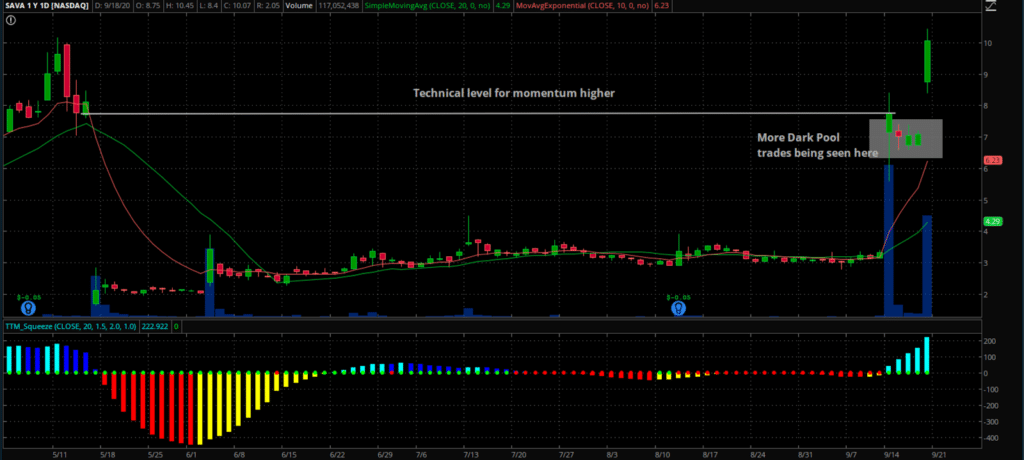 Source: Thinkorswim
And in the days after, the stock found support by even more Dark Pool trades coming across the wires.
Then the news comes out on the stock sending it soaring 40% higher!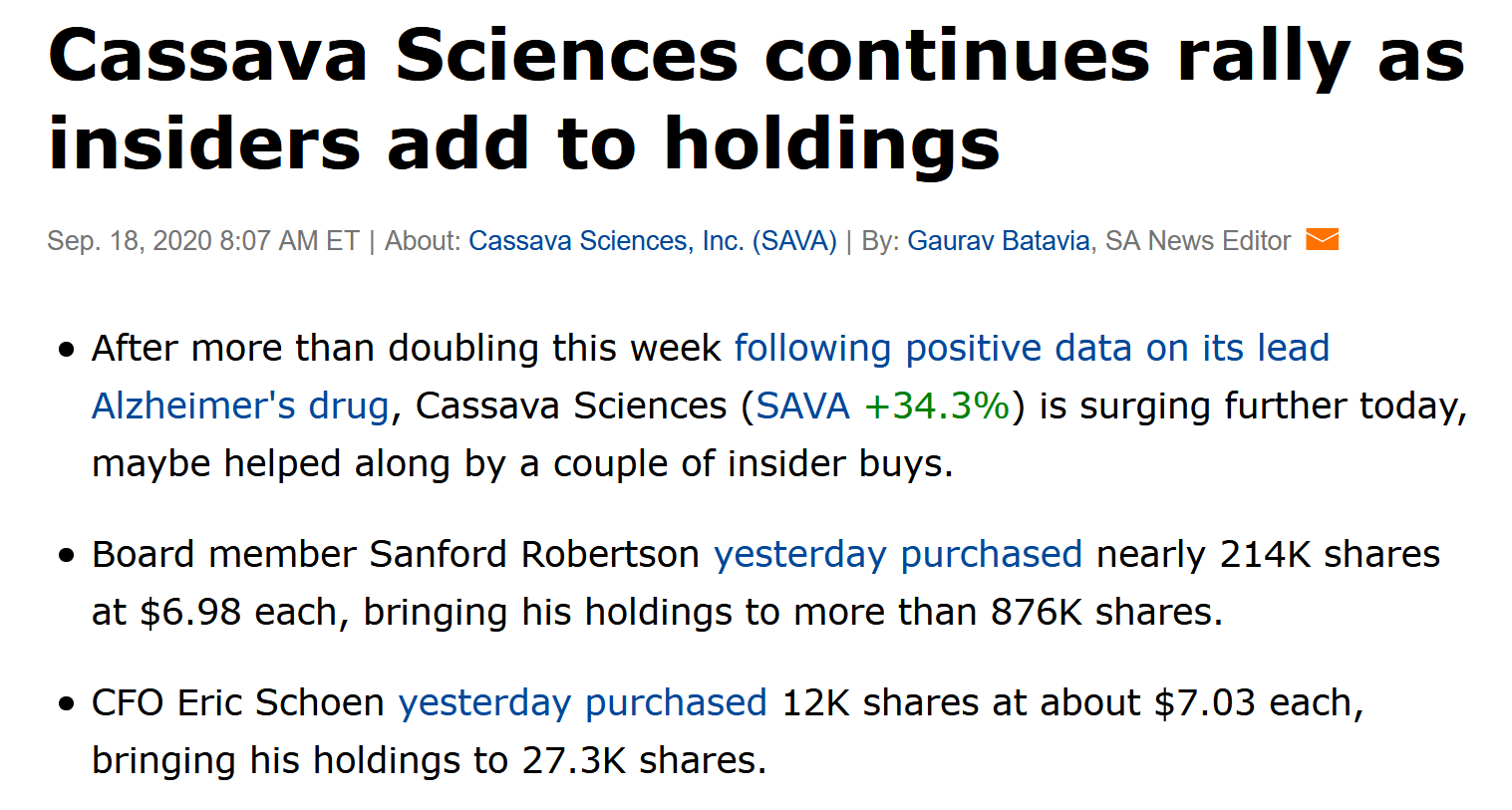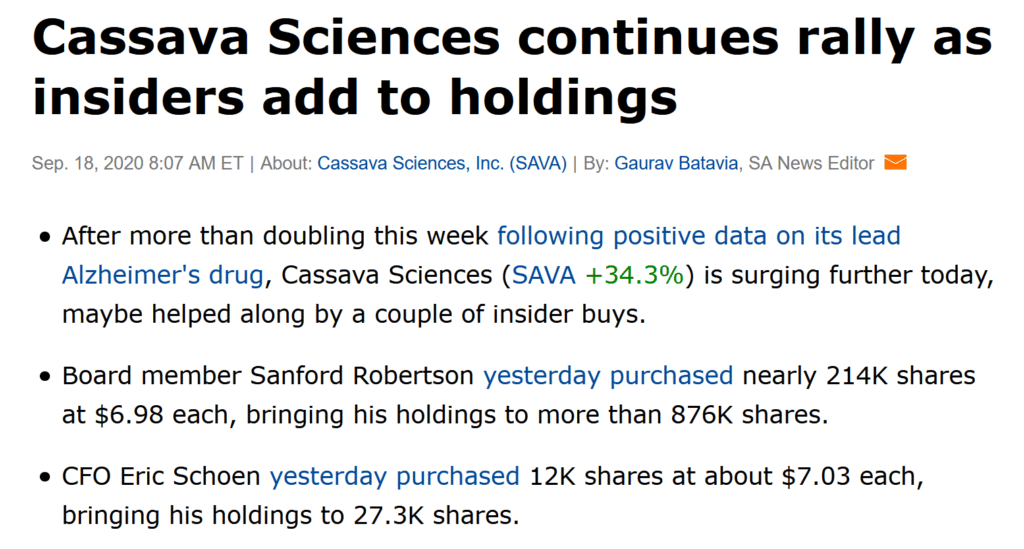 Now, is it a coincidence that these insiders might have been in the right place at the right time… or maybe they knew something?
Either way – it's public information once it hits those tapes and piggy-backing off of the smart money is always a sure bet
If you want to see what other stocks are on my radar in the upcoming days be sure to sign up for Dark Pool Profits here!