As a former pro basketball player, you can bet I get fired up anytime a new sports season starts.
And that includes football.
Now, this year has been different for a lot of us football fans— we can't put on our jerseys and get out there in the stands.
But frankly, there's still a whole lot of fun to be had by sitting and watching the games at home.
At least a whole lot of fans think so— because interest in DraftKings (DKNG), the fantasy sports contest and sports betting operator, has been through the roof.
If you remember from late April, I mentioned that DKNG could skyrocket once sports reopened.
DKNG had just gone public thanks to a reverse merger deal with Diamond Eagle Acquisition Corp, as a special purpose acquisition company (SPAC).
And skyrocket is exactly what DKNG has done, gaining 170% since its debut.
But with all the anticipation around football season and a new deal with ESPN that got announced, I think there's another chance to jump in and ride some more potential momentum.
With ESPN Onboard, DKNG Could Be Headed for a Touchdown
Immediately after a deal with ESPN was announced on Monday, shares of DKNG popped 12%.
Shares of Caesars (CZR) also caught a bounce, since it was also granted an exclusive deal with ESPN.
ESPN will link its website exclusively to both DKNG and CZR's sportsbooks.
It's all part of an effort on behalf of ESPN to expand into the sports betting space, and ESPN's president Mike Morrison calls it "a significant milestone."
Gambling is no longer taboo for sports networks, since the Supreme Court removed a ban on betting in 2018.
That's opened up opportunities for several states to legalize betting… and for gambling companies and sports networks to find a new way to thrive.
DKNG will power content on ESPNs TV platform, including fantasy sports segments.
Nevermind that MJ Wants In— This Setup Looks Gorgeous
ESPN isn't the only one that wants a piece of DKNG— Michael Jordan himself will be an investor and special advisor.
But I want to put all the fundamentals and catalysts aside for a second and direct your attention to this beautiful setup.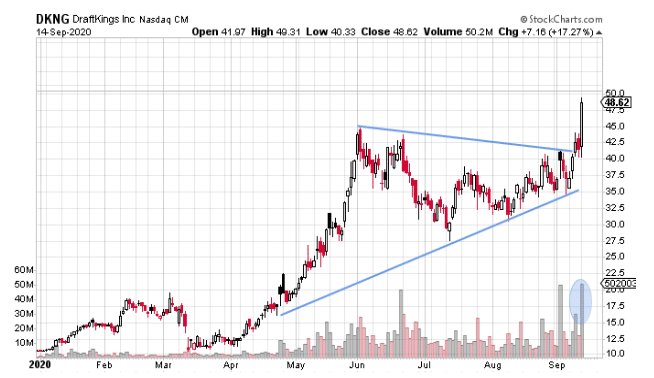 This chart is offering a great risk-reward setup.
As you can see, the most obvious thing about DKNG's setup is the powerful momentum to the upside.
When the market was weak, DKNG held up like a champion.
With the recent news, the stock managed to get above all-time highs, gaining 17% in yesterday's session.
At current levels, DKNG, being one of the hottest stocks of the pandemic, is absolutely on fire.
With all this in mind, DKNG definitely deserves a good price target.
Evercore recently upgraded its price target to $60, citing an easing regulatory environment.
But I see even more potential.
If bulls are able to close this one above $45, I believe the stock could go as high as $80 in the next few months.
Even shorter term, I think that DKNG has the potential to hand traders some nice gains.
To see exactly how I'm trading DKNG, join my IPO Payday trading service here.